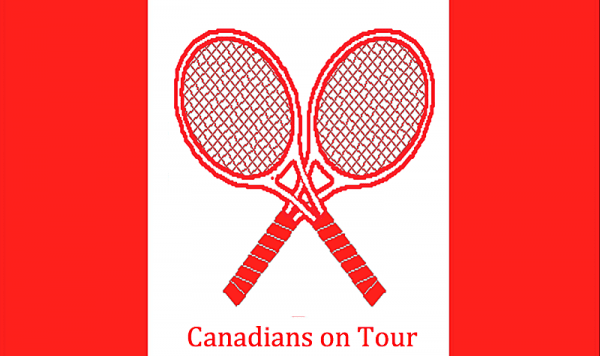 –
Technically, the BNP Paribas Open began last week.
But because of the backloaded nature of the 10-day event, most of the Canadians in the tournament are still alive as it spills over to the second week.
Meanwhile, the rest of the tennis ecosystem turned the corner on one week, and on to the next.
*************************
BNP Paribas Open
Indian Wells, Calif. (

ATP 1000

/

WTA 1000

)
Men's singles
[9] Denis Shapovalov
1st rd: Bye
2nd rd: def Vasek Pospisil (CAN) 30 retd
3rd rd: lost to [19] Aslan Karatsev (RUS) 75 62
[7] Félix Auger-Aliassime
1st rd: Bye
2nd rd: lost to Albert Ramos-Viñolas (ESP) 64 62
Vasek Pospisil
1st rd: def [WC] J.J. Wolf (USA) 64 46 64
2nd rd: lost to [9] Denis Shapovalov (CAN) 30 retd
[Q] Alejandro Tabilo (CHI)
1st rd: def Denis Kudla (USA) 61 76 (0)
2nd rd: lost to [5] Matteo Berrettini (ITA) 64 75
Women's singles
[16] Bianca Andreescu
1st rd: Bye
2nd rd: def Alison Riske (USA) 76 (2) 57 62
3rd rd: lost to [18] Anett Kontaveit (EST) 76 (5) 63
[23] Leylah Fernandez
1st rd: Bye
2nd rd: def Alizé Cornet (FRA) 62 63
3rd rd: def. [9] Anastasia Pavlyuchenkova (RUS) 57 63 64
4th rd: lost to Shelby Rogers (USA) 26 61 76 (4)
Women's doubles
Leylah Fernandez / Coco Gauff (USA)
1st rd: def Irina-Camelia Begu (ROU) / Renata Voracova (CZE) 61 61
2nd rd: def [5] Nicole Melichar-Martinez (USA) / Demi Schuurs (NED) 63 62
QF: lost to [2] Hsieh Su-Wei (TPE) / Elise Mertens (BEL) 75 64
[6] Gabriela Dabrowski / Hayley Carter (USA)
1st rd: def. Erin Routliffe (NZL) / Kaitlyn Christian (USA) 64 64
2nd rd: lost to Lyudmyla Kichenok (UKR) / Jelena Ostapenko (LAT) 64 62
[8] Sharon Fichman / Giuliana Olmos (MEX)
1st rd: def Daria Kasatkina (RUS) / Anett Kontaveit (EST) 63 64
2nd rd: lost to Makoto Ninimoya (JPN) / Sabrina Santamaria (USA) 64 62
Men's doubles
Denis Shapovalov / Rohan Bopanna (IND)
1st rd: def. Félix Auger-Aliassime (CAN) / Hubert Hurkacz (POL) 61 26 [10-4]
2nd rd: def. Jan-Lennard Struff / Alexander Zverev (GER) 75 63
QF: lost to Aslan Karatsev / Andrey Rublev (RUS) 64 64
_______________
Rancho Santa Fe Open
Rancho Santa Fe, Calif. (ITF Women's $60K)
Singles
Rebecca Marino
1st rd: def Maddison Inglis (AUS) 64 63
2nd rd: lost to [3] Madison Brengle (USA) 61 62
Doubles
[2] Rebecca Marino / Liang En-Shuo (TPE)
1st rd: def Erica Oosterhout (USA) / Martine Partaud (FRA) 62 64
QF: def. [WC] Solymar Golding / Elisabeth Goldsmith (USA) 76 (5) 61
SF: def Angela Kulikov / Rianna Valdes (USA) 06 75 [10-8]
F: lost to [1] Katarzyna Kawa (POL) / Tereza Mihalikova (SVK) 63 46 [10-6]
Ayan Broomfield / Holly Verner (USA)
1st rd: lost to [1] Katarzyna Kawa (POL) / Tereza Mihalikova (SVK) 64 61
_______________
Dove Men+Care Legion Sudamericana
Santiago, Chile (ATP Tour Challenger)
Doubles
Alexis Galarneau / Thiago Seyboth Wild (BRA)
1st rd: lost to [1] Rafael Matos / Felipe Meligeni Rodriguez Alves (BRA) WALKOVER
Singles qualifying
[3] Alexis Galarneau
1st rd: def. [WC] Daniel Alejandro Ortiz (CHI) 62 61
Final rd: lost to [5] Oliver Crawford (USA) 63 64
_______________
W25 Florence, S.C.
Florence, SC (Womens $25K ITF)
Singles
Françoise Abanda
1st rd: def [8] Alycia Parks (USA) 62 76 (6)
2nd rd: lost to Maria Mateas (USA) 26 76 (5) 62
Doubles
Katherine Sebov / Tessah Andrianjafitrimo (FRA)
1st rd: lost to [4] Paula Ormaechea (ARG) / Fernanda Contreras Gomez (MEX) 64 61
_______________
Norman Open Series Women's $15K
Norman, Okla. (Womens $15K ITF)
Singles
Annabelle Xu (JR)
1st rd: def [1] Oona Orpana (FIN) 60 75
2nd rd: def. [Q] Kianah Motosono (USA) 26 62 61
QF: def. [8] Tamara Barad Ithzaki (ISR) 64 62
SF: def. Martina Zerulo (ITA) 64 64
F: lost to Raveena Kingsley (USA) 62 60
[Q] Victoria Mboko
1st rd: def Stefania Rogozinska Dzik (POL) 64 64
2nd rd: lost to [Q] Alexandra Pisareva (UKR) 76 (5) 36 63
[Q] Mia Kupres
1st rd: vs [2] Mananchaya Sawangkaew (THA) 64 76 (5)
2nd rd: lost to Raveena Kingsley (USA) 62 75
[Q] Cadence Brace
1st rd: def Ayumi Miyamoto (JPN) 61 75
2nd rd: lost to[WC] Ivana Corley (USA) 75 46 63
Doubles
[ALT] Annabelle Xu / Cadence Brace
1st rd: lost to Emily Meyer (AUT) / Maria Teixido Garcia (ESP) 63 75
Singles qualifying
[10] Mia Kupres
1st rd: def Miah Webb (USA) 60 63
Final rd: def [7] Kristina Novak (SLO) 62 64
[11] Cadence Brace
1st rd: def Sumvruta Iyengar (USA) 60 60
Final rd: WALKOVER
Victoria Mboko
1st rd: def. Sabine Mardarenko (LAT) 60 60
Final rd: def. [1] Mercedes Aristegui (ESP) 60 62
Scarlett Nicholson
1st rd: lost to [5] Anita Sahdiieva (UKR) 46 62 [10-7]
Kayla Cross
1st rd: def [8] McKenna Schaefbauer (USA) 57 64 [10-2]
Final rd: lost to [9] Marcelina Podlinska (POL) 62 61
_______________
Soho Square
Sharm El-Sheikh, Egypt (ITF Men's and Women's 15K)
Men's Singles
Kelsey Stevenson
1st rd: def Cezar Cretu (ROU) 61 16 75
2nd rd: lost to [Q] Lukas Pokorny (SVK) 63 63
Women's Singles
[7] Carson Branstine
[Q] Maria Patrascu
1st rd: lost to Bai Zhuoxuan (CHN) 63 62
Men's Doubles
Kelsey Stevenson / Palaphoom Kovapitukted (THA)
1st rd: def Akram El Sallaly (EGY) / Mario Gonzalez Fernandez (ESP) 64 62
QF: lost to [2] Cezar Cretu (ROU) / Marek Gengel (CZE) 63 76 (5)
Women's Doubles
[2] Carson Branstine / Sandra Samir (EGY)
1st rd: lost to Eudice Chong / Hong Yi (Cody) Wong (HKG) WALKOVER
Women's singles qualifying
Maria Patrascu
1st rd: Bye
2nd rd: def [2] Magdalena Stolikovska (MKD) 63 62
Final rd: def. [11] Kaaviya Balasubramanian (IND) 62 61
Maria Anam
1st rd: lost to Marina Popova (RUS) 60 61
_______________
World Tennis Tour Cancun 2021
Cancun, Mexico (ITF 15K)
Singles
[7] Stacey Fung
1st rd: def Nadia Echeverria Alam (VEN) 76 (7) 75
2nd rd: def. Stephanie Kent (USA) 63 63
QF: lost to [3] Pamela Montez (USA) 64 46 64
Noelly Longi Nsimba
1st rd: lost to [Q] Paris Corley (USA) 62 60`
Doubles
Stacey Fung / Hina Inoue (JPN)
1st rd: lost to [1] Darja Semenistaja (LAT) / Anna Ulyashchenko (USA) 63 62
Noelly Longi Nsimba / Stephanie Kent (USA)
1st rd: lost to [4] Anna Sinclair Rogers / Christina Rosca (USA) 60 62
Singles qualifying
[WC] Melissa Holmberg
1st rd: lost to Caroline Lampl (USA) 60 60
_______________
ASC BMW $15,000 Men's World Tennis Tour
Naples, Fla. (Mens $15K ITF)
Singles
[6] Liam Draxl
1st rd: def [Q] Marco de Rossi (SAN) 75 60
2nd rd: lost to [Q] Juan Manuel Benitez Chavarriaga (COL) 63 64
[LL] Christian Lakoseljac
1st rd: lost to [LL] Blu Baker (GBR) 64 63
Doubles
[2 Liam Draxl / Jesse Witten (USA)
1st rd: lost to Bruno Kuzuhara (USA) / Abedellah Shelbayh (JOR) 62 62
Singles qualifying
[9] Christian Lakoseljac
1st rd: Bye
2nd rd: def Kyle Overmyer (USA) 64 60
Final rd: lost to Rubin Stathan (NZL) 63 60
_______________
Magic Hotel Tours


Monastir, Tunisia (ITF 15K)
Men's singles qualifying
Stefan Frljanic
1st rd: def Abhay Dogra (IND) 62 60
2nd rd: lost to [13] Max Cunat (FRA) 60 61
_______________
Loulé Open


Loulé, Portugal (ITF 25K)
Singles qualifying
Sid Donarski
1st rd: def. David Gabor (HUN) 61 60
2nd rd: lost to [8] Amaury Raynel (FRA) 36 62 [10-8]
David Lopato-Miguel
1st rd: lost to Illia Stollar (POR) 63 62
William Binnie
1st rd: lost to Bernardo Teixeira (POR) 62 63
_______________
Dove Men+Care Legion Sudamericana


Lima, Peru (ITF 25K)
Singles qualifying
Masood Eisa-Beygi
1st rd: lost to Felipe Souza (BRA) 62 64
About Post Author