–
There was no joy in Fernandez's mien as she and Coco Gauff ended their Indian Wells runs in doubles Tuesday night.
Both were running on fumes after a challenging season both physically and mentally.
And once they lost in singles – with Fernandez's defeat a heartbreaker in the third-set tiebreak earlier Tuesday to Shelby Rogers – there wasn't much left.
Open Court can confirm that Fernandez has – as she hinted in her post-doubles press conference late Tuesday – decided against leading the Canadian squad in the Billie Jean King Cup finals next month in Prague.
The 19-year-old hasn't announced it officially.
During the Zoom conference, she first indicated she would discuss the rest of the season with her team either Tuesday night, or today.
"We were going to have a meeting actually later tonight to see what I'm going to do. Representing Canada is an honor. We'll see. We'll see what's to come next," she said.
A little later, pushed by Open Court to elaborate on what appeared to be a change of heart about that one, last, scheduled competition in the context of this very trying year, she did elaborate – a bit.
"Yeah, it's been a long season. It's different this season compared to the other seasons. There's the bubbles, the quarantine, the testing. We all have to adapt. I think every player is excited to go back home, regroup, see what's to come next," she said.
"Like I said, we're just going to see what the body says, what the mind says, and we'll go from there."
From what we can see, Fernandez hasn't entered any of the remaining smaller events on the WTA Tour calender.
So it's fairly safe to posit her 2021 campaign has come to a close.
Andreescu also out
A week ago, Canadian No. 1 Bianca Andreescu announced that she, too, would not be in Prague for the team competition final.
Andreescu is still entered in the Moscow WTA event next week.
But it's been a tough year for her as well, on many levels.
You know these aren't the only two struggling with pushing the year well into November.
Threadbare team, tough pool group
But all of that leaves Canada rather bereft, as it was already up against it in a pool with France and Russia.
As it was, Françoise Abanda had already been drafted to return to Billie Jean Cup play for the first time since 2019.
Abanda, now 24, has hardly played at all in 2021.
She did take part in a $15,000 tournament on Har-Tru in South Carolina last week, one that suffered quite a few rain delays.
After winning her first-round match against a qualifier, she withdrew.
Abanda is due to play Alycia Parks of the U.S. in a first-round match at a $25,000 ITF Wednesday.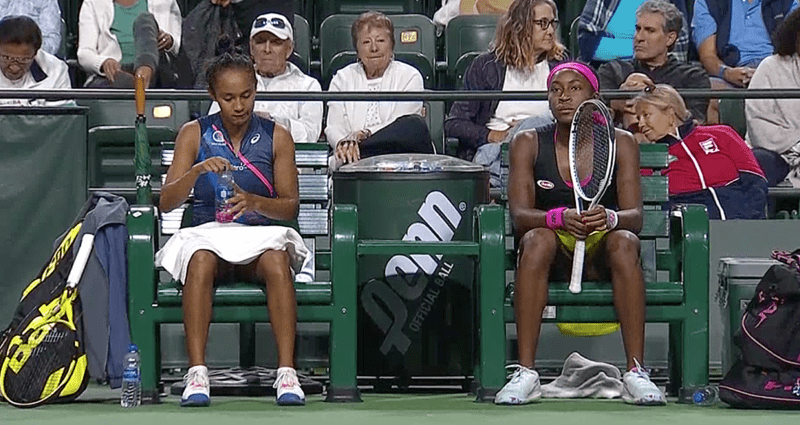 Outdoor Har-Tru in the humidity, it goes without saying, isn't exactly ideal preparation for an indoor hard court event. But the main thing is, at least she's getting some matches.
Rebecca Marino, ranked just outside the top 150, now will be expected to lead the squad, which is now down to three, with doubles specialist Gabriela Dabrowski the third player.
So they'll have to recruit a replacement (ideally, two).
Captain Heidi el Tabakh also won't be on hand, as it conflicts with her upcoming wedding.