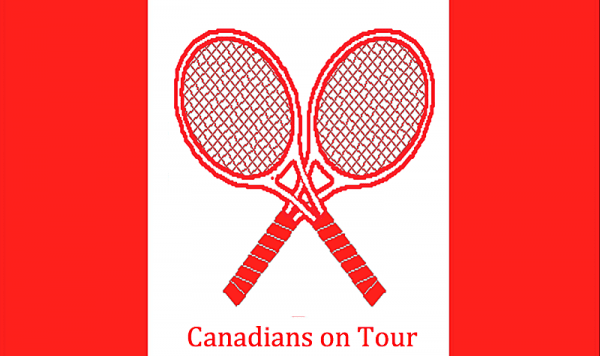 –
It's not nearly as dense a Canucks week as it was supposed to be.
Félix Auger-Aliassime pulled out of Antwerp. And then Bianca Andreescu and Vasek Pospisil withdrew from Moscow.
There isn't a single Canadian competing at the ATP or WTA Tour level this week other than Cana-Kiwi Erin Routliffe in doubles in Moscow.
Still, plenty of action around the tours.
*************************
VTB Kremlin Cup


Moscow, Russia (WTA 500)
Doubles
Kaitlyn Christian (USA) / Erin Routliffe (NZL)
1st rd: lost to Anna Kalinskaya / Anastasia Potapova (RUS) 64 60
_______________
Capricorn Records Mercer Tennis Classic
Macon, GA (ITF Women's $80K)
Singles
[8] Rebecca Marino
1st rd: lost to Katie Volynets (USA) 63 26 62
Singles qualifying
[13] Françoise Abanda
1st rd: lost to [WC] Alana Smith (USA) 36 62 [10-8]
[12] Katherine Sebov
1st rd: lost to Abbie Myers (AUS) 26 61 [10-7]
_______________
Bogotá Open
Bogotá, Colombia (ATP Tour Challenger)
Singles
Alexis Galarneau
1st rd: def Enrique Peña (COL) 61 61
2nd rd: def. [2] Daniel Altmaier (GER) 63 36 63
QF: lost to Facundo Mena (ARG) 61 64
_______________
Netenya Open $25,000
Netenya, Israel (Womens $25K ITF)
Singles
Carol Zhao
1st rd: lost to [Q] Freya Christie (GBR) 62 76 (5)
_____________
Nur-Sultan ITF International Tournament


Nur-Sultan, Kazakhstan (ITF 25K)
Singles
[8] Filip Peliwo


1st rd: def [WC] Beibit Zhukayev (KAZ) 62 16 76 (3)
2nd rd: def. [Q] Petr Bar Biryukov (RUS) 36 75 63
QF: def. [Q] Ivan Lyutarevich (BLR) 62 62
SF: def. [4] Denis Yevseyev (KAZ) 76 (8) 57 63
F: def. [1] Andrey Kuznetsov (RUS) 63 75
Doubles
Filip Peliwo / Michal Dembek (POL)
1st rd: lost to [1] Bogdan Bobrov (RUS) / Vladyslav Manafov (UKR) 64 26 [10-5]
_______________
Soho Square
Sharm El-Sheikh, Egypt (ITF Men's and Women's 15K)
Men's Singles
Kelsey Stevenson
1st rd: lost to Hady Habib (LBN) 63 22 retd
Men's Doubles
Kelsey Stevenson / Akram El Sallaly (EGY)
1st rd: def Illya Beloborodko (UKR) / Saba Purtseladze (GEO) 63 64
QF: lost to [2] Marek Gengel (CZE) / Emiliano Maggioli (ITA) 61 62
Women's singles qualifying
[9] Maria Patrascu
1st rd: lost to Xin Ton Wang (CHN) 62 46 [10-7]
Men's singles qualifying
Adam Hobbs
1st rd: lost to Gian Matias Di Natale (ARG) 60 60
_______________
World Tennis Tour Cancun 2021
Cancun, Mexico (ITF 15K)
Singles
Joshua Peck
1st rd: def [Q] Luis Britto (BRA) 75 36 75
2nd rd: lost to Giles Hussey (GBR) 61 63
Doubles
[4] Joshua Peck

/ Mwendwa Mbithi (USA)


1st rd: def Juan Sebastian Osorio (COL) / Lucca Pinto (BRA) 61 63
QF: def. [WC] Jake Bhangdia (USA) / Adrian Contreras (MEX) 62 62
SF: vs. [2] Alejandro Mendoza (BOL) / Andres Urrea (COL) 63 76 (7)
F: def. [1] Peter Bertran (DOM) / Jorge Brian Panta (PER) 75 76 (4)
Singles qualifying
Michael Younan
1st rd: lost to [4] Ivar José Aramburu Contreras (MEX) 63 64
[WC] Aurel Ciocanu
1st rd: lost to [10] Gabriel Evans (USA) 36 76 [10-5]
_______________
Mardy Fish Children's Foundation Tennis Championships
Vero Beach, Fla. (Mens $15K ITF)
Singles
[6] Liam Draxl
1st rd: vs Alan Kohen (ISR) 61 62
2nd rd: def. Loris Pourroy (FRA) 75 64
QF: def. [4] Ben Shelton (USA) 61 67 (3) 64
SF: lost to Juncheng Shang (CHN) 64 64
Singles
[2] Liam Draxl / Ben Shelton (USA)
1st rd: def [WC] Cooper Williams / Michael Zheng (USA) 75 64
QF: def. Federico Bertuccioli (ITA) / Marco de Rossi (SAN) 75 63
SF: def. [4] Benjamin Kittay / Israel Alexander Ore (USA) 36 64 [10-5]
F: lost to. Johannes Ingildsen (DEN) / Duarte Vale (POR) 63 64
Singles qualifying
[11] Christian Lakoseljac
1st rd: def Matthew Foster-Estwick (BAR) 64 76
Final rd: lost to [8] Reece Falck (NZL) 64 64
_______________
Magic Hotel Tours


Monastir, Tunisia (ITF 15K)
Men's singles qualifying
Stefan Frljanic
1st rd: def Preston Connor (IRL) 61 62
2nd rd: lost to Josef Southcombe (GBR) 63 64
_______________
The Campus Open


Quinto do Lago, Portugal (ITF 25K)
Singles qualifying
David Lopato-Miguel
1st rd: lost to Matt Ponchet (FRA) 62 62
Austin Hoole
1st rd: lost to Jesus Echevarri (ESP) WALKOVER
_______________
M15 CT Girona


Girona, Spain (ITF 15K)
Singles qualifying
Socrates Leonardo Bousbouras Romero
1st rd: lost to Hans Albert Schubert (CHI) 62 60 retd
Emiliano Jorquera
1st rd: lost to [7] Alex Barrena (ARG) 61 60