–
It was not your typical BNP Paribas Open.
But how could it be. At the end of a trying season rather than its relatively early blush. And a fairly last-minute organization after the tournament was first cancelled in March 2020, and then again in March 2021.
That they were able to hold it at all – with full prize money – far overshadows any quibbles anyone might have.
But the circumstances were such that those who made it to the end were not those you expected.
And on Sunday, it was a coming-out party for the plucky Paula Badosa.
Badosa survived Victoria Azarenka serving for the match at 6-5 in the third set. And then she rolled in the tiebreak for the biggest title of her career.
Note: the two-week span since the last updated rankings means that there are two weeks of results contained in this week's version.
The other thing is that the points from the 2020 French Open, held this week a year ago, are falling off this week. And that means some big drops completely unrelated to any Indian Wells results.
Basically, the rankings are nuts this week.
Click here for the full picture.
ON THE UPSWING
Barbora Krejcikova (CZE): No. 5 =======> No. 4 (The Czech lost in the fourth round at Indian Wells, but still moves up to a career high).
Garbiñe Muguruza (ESP): No. 6 =======> No. 5 (Back into the top five for the Spaniard).
Maria Sakkari (GRE): No. 9 =======> No. 7 (Sakkari lost in the second round , but still squeezes up two spots to a career high No. 7 in the rankings).
Ons Jabeur (TUN): No. 14 =======> No. 9 (More history for Jabeur, who becomes the first Tunisian, the first Arab woman to make the top 10 after her effort to get to the semifinals).
Naomi Osaka (JPN): No. 12 =======> No. 10 (And … the vacationing Osaka is back into the top 10, obviously not because of anything she actually did. But the rankings are all over the place on this fine Monday(
Paula Badosa (ESP): No. 27 =======> No. 13 (The 23-year-old's impressive effort at Indian Wells not only earned her the biggest title of her career. It also has her leaping 16 spots to No. 11 in the rankings. She's just 30 points behind Naomi Osaka and the top 10).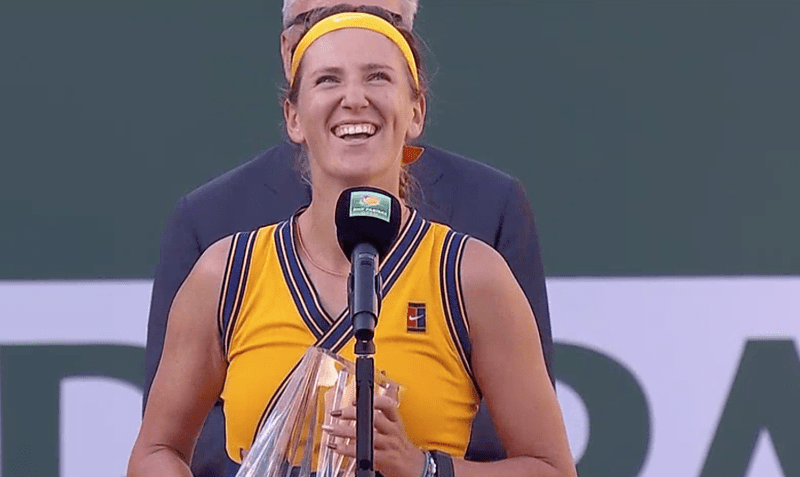 Victoria Azarenka (BLR): No. 32 =======> No. 26 (Indian Wells runner-up Azarenka might drop a little as other players continue to play. But at least she ends her 2021 season on a good note with a great effort in the desert).
Sloane Stephens (USA): No. 73 =======> No. 59 (Stephens lost in the second round, but still moves up. A lot).
Ann Li (USA): No. 69 =======> No. 60 (Same for Li, who lost in the first round but also reaches a career high).
Arantxa Rus (NED): No. 68 =======> No. 61 (At age 30, the Dutch lefty hits a career high despite losing in the second round at Indian Wells).
Mayer Sherif (EGY): No. 72 =======> No. 64 (Another player who hits a career high at age 25. It's awfully tight, points-wise, through the 50s and 60s and there is likely to be move movement in there before we're done).
Ana Konjuh (CRO): No. 78 =======> No. 67
Qiang Wang (USA): No. 86 =======> No. 77 (The only matches Wang has played since Roland Garros were at the Tokyo Olympics. So that's a gift).
Madison Brengle (USA): No. 88 =======> No. 78 (Brengle made the semifinals at the $60K ITF in Rancho Santa Fe)
Vera Zvonareva (USA): No. 85 =======> No. 75 (Zvonareva hasn't played since losing to Ashleigh Barty in the first round of the US Open. But take it if you can get it).
Aliaksandra Sasnovich (BLR): No. 100 =======> No. 84 (Sasnovich made the fourth round – and showed off her gift of gab and sense of humour, in knocking off some seeds in the desert including newly-minted US Open champion Emma Raducanu).
Beatriz Haddad Maia (BRA): No. 115 =======> No. 94 (The 25-year-old Brazilian has fought her way after a doping suspensions, through the depths of pro tennis, and back to the top 100).
Rebecca Marino (CAN): No. 157 =======> No. 147 (The Canadian is back into the top 150 with her effort in Rancho Santa Fe last week. She also made the doubles final).
Ellen Perez (AUS): No. 236 =======> No. 201 (The Aussie, better known for her doubles, gets the results from three tournaments in Portugal all at once: two finals and a final in singles. She has the same number of points as Liang En-Shuo, who is No. 200).
ON THE DOWNSWING
Iga Swiatek (POL): No. 4 =======> No. 11 (From No. 4 all the way out of the top 10 after her points from winning last fall's Roland Garros. She mitigated it somewhat by reaching the fourth round in Indian Wells).
Sofia Kenin (USA): No. 8 =======> No. 14 (Last fall's Roland Garros finalist, who is in a witness protection programme these days – that's how out of sight she has been – drops out of the top 10).
Petra Kvitova (CZE): No. 11 =======> No. 15
Coco Gauff (USA): No. 19 =======> No. 23 (Out of the top 20 for the 17-year-old, who has sort of ended the season with a whimper even if she could have more doubles left to play).
Danielle Collins (USA): No. 25 =======> No. 31
Nadia Podoroska (ARG): No. 36 =======> No. 82 (Podoroska's ranking probably was held artificially high because of the pandemic rules. But reality sets in Monday as she drops 44 spots).
Kristina Mladenovic (FRA): No. 67 =======> No. 91 (Mladenovic has ended her season – including the BJK Cup Finals. But that's not the way to end it).
Rebecca Peterson (SWE): No. 76 =======> No. 97 (Despite winning the $60K ITF in California during the second week of Indian Wells, the 26-year-old still drops 20 spots and isn't far from dropping out of the top 100 because of her Roland Garros points).
Martina Trevisan (ITA): No. 66 =======> No. 112 (A tough drop for Trevisan, who delighted fans with her run in Roland Garros last fall. Trevisan qualified at Indian Wells and got to the second round, but it wasn't nearly enough to mitigate).
Laura Siegemund (GER): No. 56 =======> No. 122 (Tough blow for the 33-year-old, who will find herself in the qualifying for the Australian Open).
Kristyna Pliskova (CZE): No. 130 =======> No. 150
Patricia Maria Tig (ROU): No. 164 =======> No. 211 (The Romanian hasn't played since Wimbledon).
Eugenie Bouchard (CAN): No. 173 =======> No. 230 (She'll have a protected ranking just inside the top 120 whenever she returns from shoulder surgery. But those third-round points from the 2020 French Open drop off. And the reality hurts the eyes. Although she's been there before, and climbed back).
Tsvetana Pironkova (BUL): No. 185 =======> No. 244 (Pironkova has made one appearance since Wimbledon – to New York to pick her first-round cheque at the US Open. Her third-round points from 2020's Roland Garros fall off).
Career high bonanza
Per the "Live Rankings", there are a number of players who are at new career highs on this fall Monday – four of them in the top 11.
Here's a (non-exhaustive) list:
-Barbora Krejcikova (No. 4)
-Maria Sakkari (No. 7)
-Ons Jabeur (No. 9)
-Paula Badosa (No. 11)
-Jessica Pegula (No. 21)
-Sara Sorribes Tormo (No. 34)
-Tereza Martincova (No. 51)
-Marta Kostyuk (No. 53)
-Jasmine Paolini (No. 54)
-Ann Li (No. 60)
-Maria Camila Osorio Serrano (No. 63)
-Mayar Sherif (No. 64)
-Nuria Parrizas Diaz (No. 65)
-Greet Minnen (No. 69)
-Clara Burel (No. 75)
-Elena-Gabriela Ruse (No. 83)
-Claire Liu (No. 88)
-Magdalena Frech (No. 99)
And that's just in the top 100.
The Canadians
Road to Guadalajara