–
As with the women, the two Indian Wells finalists were not the ones you'd have picked off the list, before the start of the tournament.
But they were the sturdiest of the lot.
And it was Cameron Norrie who outlasted the blast from Nikoloz Basilashvili to enjoy the bucket-list moment at the BNP Paribas Open.
In other news, Rafael Nadal moves back up to No. 5 in the world while doing not a thing. And Roger Federer FINALLY drops out of the top 10 (to No. 11) .
Despite his abjectly limited play the last two years, he has hung in there through the grace of the special COVID ranking rules.
For the complete ATP Tour rankings picture, click here.
ON THE UPSWING
Casper Ruud (NOR): No. 10 ========> No. 9 (The Norwegian player moves up a spot to another career high, despite running out of gas in the desert).
Hubert Hurkacz (POL): No. 12 ========> No. 10 (The Miami Open champion made the quarterfinals at Indian Wells, and leaps into the top 10 for the first time of his career).
Cameron Norrie (GBR): No. 26 ========> No. 16 (A great tournament run by the Brit-Kiwi-South African who played college tennis in Texas. Even if his 2021 season was building up to this, who would have thought he'd win Indian Wells? And now, he's top 16 in the world. Unreal).
Grigor Dimitrov (BUL): No. 28 ========> No. 11 (He fell jus short of making it to the final. But a tough 18 months is turning around for the Bulgarian, who is almost back into the top 20).
Nikoloz Basilashvili (GEO): No. 36 ========> No. 27 (He was denied in the final by a patient Norrie, but a nice jump for Basilashvili, back into the top 30).
Taylor Fritz (USA): No. 39 ========> No. 30 (It probably should have been more, after a heartbreaker in the semifinals. But the American will move up nine spots).
Kevin Anderson (RSA): No. 69 ========> No. 59 (A third round effort brings dividends for the 35-year-old South African).
Jenson Brooskby (USA): No. 79 ========> No. 70 (The 20-year-old moves to another career high after winning a round in the desert).
Richard Gasquet (FRA): No. 81 ========> No. 73 (Gasquet didn't travel to California, but he still moves up).
Tallon Griekspoor (NED): No. 118 ========> No. 89 (After winning back-to-back Challengers in Naples the last two weeks, the 25-year-old from the Netherlands leaps into the top 100 for the first time in his career).
ON THE DOWNSWING
Andrey Rublev (RUS): No. 5 ========> No. 6 (Rublev could have kept his top-five spot with another win at Indian Wells, but he bowed out in the third round. He's the top seed at the Kremlin Cup this week).
Roger Federer (SUI): No. 9 ========> No. 11 (Federer drops the last 300 points from a long ago Indian Wells and another 180 from a long-ago Shanghai, and finally drops out of the top 10).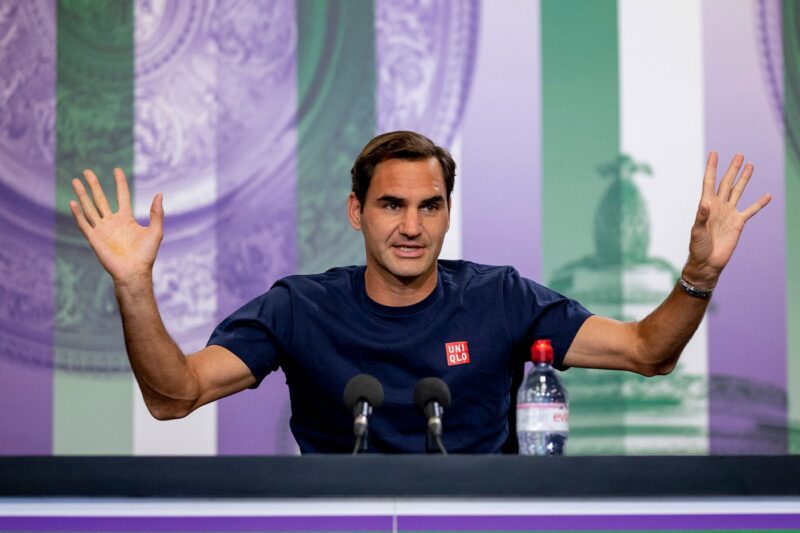 Jannik Sinner (ITA): No. 14 ========> No. 16 (Sinner was pushed out of the top 15 by Norrie – they're in a virtual tie for that spot – but we're not worried about him too much).
Reilly Opelka (USA): No. 20 ========> No. 25 (Opelka has fallen out of the top 20. But it's still the top American. It's probably because the media sucks).
John Isner (USA): No. 25 ========> No. 29 (Tough to know what Isner might have done at Indian Wells – the call of impending fatherhood (John McInley Isner) had him pull out out of the tournament and head home to Texas. Good reason!)
Milos Raonic (CAN): No. 32 ========> No. 46 (Raonic drops the last 180 points from his 2019 Indian Wells quarterfinals – luckily, he had nothing to defend from Shanghai – and drops to his lowest ranking since (gulp) Feb. 2011. Just 7-5 on the season, Raonic has played just one match since Miami back in March).
Stan Wawrinka (SUI): No. 46 ========> No. 57 (Wawrinka drops Indian Wells points and St. Petersburg points, and he has Paris Masters and Basel points still to come in the next few weeks. The Swiss star hasn't played since Doha in March and while his Insta does have him hitting the gym, there's no sign yet of him hitting the courts).
Borna Coric (CRO): No. 52 ========> No. 66 (Another player missing in action, Coric drops 300 from reaching the St. Petersburg final last fall, and a few more from Shanghai and Indian Wells in 2019. Coric has been out since Rotterdam).
Lorenzo Musetti (ITA): No. 62 ========> No. 69 (The Italian teenager's trajectory hasn't been quite the rocket his countryman Jannik Sinner's has been. But he's goooood).
Vasek Pospisil (CAN): No. 68 ========> No. 86 (The Canadian's back went out on him in his second match at Indian Wells against countryman Denis Shapovalov. And he pulled out of Moscow this week, as well. He drops points from winning the Vegas Challenger, and making the round of 16 in Shanghai, both in 2019).
Marco Cecchinato (ITA): No. 82 ========> No. 104 (The Italian drops points from Shanghai in 2019, from winning a Challenger in Sardinia last fall and making the quarterfinals of another in Parma).
Andy Murray (GBR): No. 121 ========> No. 172 (His actual ranking doesn't matter all that much. Still, that's a tough number, despite making the third round at Indian Wells. He drops Shanghai points, as well as the 250 he earned for winning Antwerp a year ago. He'll try to make those back this week, in that same city).
Career Highs
(Per the "Live Rankings" site, here are the new career highs for this week – a big number, just in the top 100 alone).
–Casper Ruud (No. 9)
–Hubert Hurkacz (No. 10)
–Jannik Sinner (No. 13)
–Cameron Norrie (No. 15)
–Aslan Karatsev (No. 22)
–Sebastian Korda (No. 38)
–Ilya Ivashka (No. 43)
–James Duckworth (No. 52)
–Mackenzie McDonald (No. 55)
–Arthur Rinderknech (No. 65)
–Jenson Brooksby (No. 70)
–Brandon Nakashima (No. 79)
–Tallon Griekspoor (No. 89)
The Canadians
Road to Turin
Road to Milan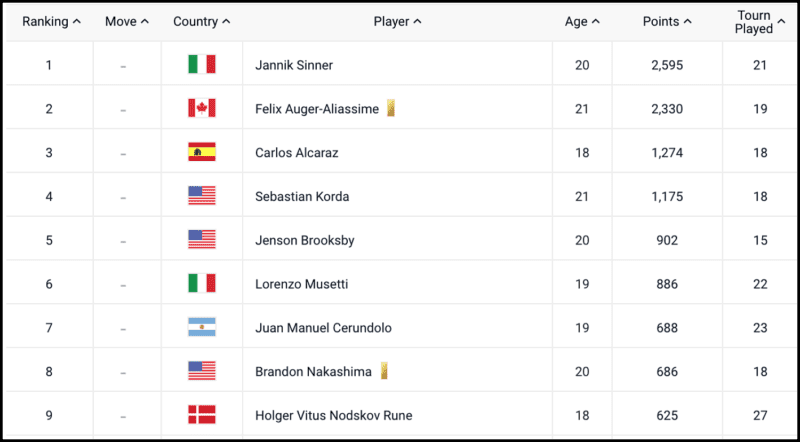 About Post Author