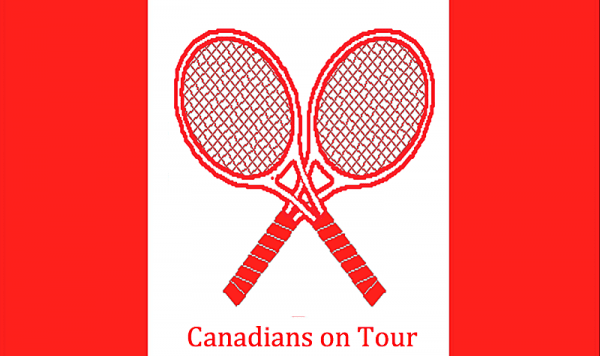 After a lean week at the ATP and WTA levels, Félix Auger-Aliassime is back in singles and doubles at the 500 in Vienna.
And Denis Shapovalov is in action in both disciplines in St. Petersburg.
Bianca Andreescu's season looks over, as does that of Leylah Fernandez.
Meanwhile, players like Rebecca Marino, Carol Zhao and Françoise Abanda have to put aside their quests to improve their rankings at this late stage of the season, to go to Prague to carry the flag for those who are absent.
And in a pool with France and Russia, that's a serious mission.
The Billie Jean King Cup finals begin a week from Monday. But that commitment involves missing the week before and quite possibly the week after.
*************************
Erste Bank Open


Vienna, Austria (ATP 500)
Singles
Félix Auger-Aliassime
1st rd: def Ricardas Berankis (LTU) 63 62
2nd rd: def. Cameron Norrie (GBR) 26 76 (6) 64
QF: lost to [2] Alexander Zverev (GER) 64 36 63
Doubles
Félix Auger-Aliassime / Andreas Mies (GER)
1st rd: def Daniel Evans / Neal Skupski (GBR) 64 63
QF: lost to [2] Rajeev Ram (USA) / Joe Salisbury (GBR) 63 67 (7) [10-6]
_______________
St. Petersburg Open


St. Petersburg, Russia (ATP 250)
Singles
[2] Denis Shapovalov
1st rd: Bye
2nd rd: def. [PR] Pablo Andujar (ESP) 26 63 60
QF: lost to Jan-Lennard Struff (GER) 64 63
Doubles
Denis Shapovalov / Rohan Bopanna (IND)
1st rd: def [2] Ben McLachlan (JPN) / Raven Klaasen (RSA) 75 64
QF: def Karen Khachanov / Andrey Rublev (RUS) 64 57 [10-7]
SF: lost to [4] Andrey Golubev (KAZ) / Hugo Nys (MON) 64 26 [10-4]
_______________
Transylvania Open


Cluj-Napoca, Romania (WTA 250)
Doubles
Erin Routliffe (NZL) / Kaitlyn Christian (USA)
1st rd: lost to Alena Fomina / Ekaterina Yashina (RUS) 75 57 [10-7]
_______________
Las Vegas Tennis Open
Las Vegas, NV (ATP Tour Challenger)
Singles
Brayden Schnur
1st rd: lost to [2] Denis Kudla (USA) 63 62
Doubles
Peter Polansky / Stefan Kozlov (USA)
1st rd: lost to [3] Robert Galloway / Alex Lawson (USA) 64 76 (5)
_______________
Lima Challenger
Lima Peru (ATP Tour Challenger)
Singles
[LL] Alexis Galarneau
1st rd: def [WC] Connor Huertas del Pino (PER) 63 64
2nd rd: lost to [1] Juan Manuel Cerundolo (ARG) 75 64
Alejandro Tabilo (CHI)
1st rd: def [Q] Alexander Lazarov (BUL) 61 64
2nd rd: def [PR] Gerald Melzer (AUT) 63 63
QF: lost to Nicolas Jarry (CHI) 76 (6) 62
Doubles
Alexis Galarneau / Luca Castelnuovo (SUI)
1st rd: lost to [3] Fernando Romboli (BRA) / Federico Zeballos (BOL) 62 75
Alejandro Tabilo (CHI) / Tomas Barrios Vera (CHI)
1st rd: def Diego Hidalgo (ECU) / Cristian Rodriguez (COL) 57 76 (4) [10-5]
QF: def. [3] Fernando Romboli (BRA) / Federico Zeballos (BOL) 46 62 [11-9]
SF: def. Herman Casanova / Andrea Collarini (ARG) 57 62 [11-9]
F: lost to [2] Sergio Galdos (PER) / Goncalo Oliveira (POR) 62 26 [10-5]
Singles qualifying
Alexis Galarneau
1st rd: def [WC] Ignacio Buse (PER) 76 (2) 46 63
Final rd: lost to [ALT] Jaroslav Pospisil (CZE) 64 64
_______________
H-E-B Women's Pro Tennis Open
Austin, TX (ITF Women's $25K)
Singles
Katherine Sebov
1st rd: def [7] Lu Jiu-Jing (CHN) 63 61
2nd rd: lost to Sofia Shapatava (GEO) 64 63
Doubles
Katherine Sebov / Hsu Chieh-Yu (TPE)
1st rd: lost to Charlotte Chavatipon (USA) / Fernandez Labrana (CHI) 63 63
Ariana Arseneault / Valentina Ivanov (AUS)
1st rd: lost to [WC] Ashley Lahey / Maribella Zamarripa (USA) 76 (12) 46 [10-4]
Singles qualifying
[14] Ariana Arseneault
1st rd: def Sahaja Yamalapalli (IND) 62 62
Final rd: lost to [7] Tiphanie Fiquet (FRA) 75 63
_______________
W and M25 Guayaquil
Guayaquil, Ecuador (ITF $25K)
Singles
Stacey Fung
1st rd: lost to [8] Vanda Lukacs (HUN) 64 62
Bianca Jolie Fernandez
1st rd: def Nadia Echeverria Alam (VEN) 75 57 60
2nd rd: lost to [8] Vanda Lukacs (HUN) 61 64
Doubles
Bianca Jolie Fernandez / Tania Isabel Andrade Sabando (ECU)
1st rd: lost to Katarina Jokic (SRB) / Antonia Samudio (COL) 61 26 [10-4]
Men's singles qualifying
Alex Ross
1st rd: lost to Luis Geovanny Cevallos Mieles (ECU) WALKOVER
______________
Nur-Sultan ITF International Tournament


Nur-Sultan, Kazakhstan (ITF 25K)
Singles
[4] Filip Peliwo
1st rd: def [WC] Nikita Sidorov (KAZ) 61 76 (4)
2nd rd: def. [Q] Ivan Denisov (RUS) 75 64
QF: def. Beibit Khukayev (KAZ) 67 (1) 75 62
SF: lost to [6] Bogdan Bobrov (RUS) 62 63
_________
Portimao Futures $25,000


Portimao, Portugal (ITF 25K)
Singles
[Q] Sid Donarski
1st rd: lost to [Q] Gonçalo Falcao (POR) 64 63
Singles qualifying
Sid Donarski
1st rd: def Sanith Juneja (IND) 63 61
2nd rd: def. [1] Matthew Romios (AUS) 26 64 64
Final rd: def Valentino de Pellegrin (ARG) 64 62
David Lopato-Miguel
1st rd: lost to Lennart Melzer (LUX) 62 26 [10-7]
Austin Hoole
1st rd: lost to Andre Stewart (POR) 61 61
_______________
Soho Square
Sharm El-Sheikh, Egypt (ITF Men's and Women's 15K)
Men's Singles
Kelsey Stevenson
1st rd: def Lo Chien-Hsun (TPE) 63 60
2nd rd: def. Volodymyr Uzhylovskyi (UKR) 64 64
QF: def. [WC] Amr Asrawy (EGY) 76 (6) 76 (0)
SF: lost to [PR] Nam Hoang Ly (VIE) 61 64
Men's Doubles
Kelsey Stevenson / Roy Hobbs (SGP)
1st rd: lost to [4] Amr Asrawy / Akram El Sallaly (EGY) 63 36 [10-2]
Women's Doubles
Maria Patrascu / Diana Maria Mihail (ROU)
1st rd: lost to Tamari Gagoshidze / Nino Natsvlishvili (GEO) 63 63
Women's singles qualifying
[9] Maria Patrascu
1st rd: Bye
2nd rd: lost to Xichen Zhao (CHN) 76 63
Maria Anam
1st rd: lost to Polina Zelentsova (UKR) 60 60
_______________
Tallahassee Open
Tallahassee, Fla. (Mens $15K ITF)
Singles
Liam Draxl
1st rd: lost to [3] Vasil Kirkov (USA) 63 63
[Q] Christian Lakoseljac
1st rd: def [7] Dusty Boyer (USA) 57 76 (6) 76 (6)
2nd rd: lost to Ryan Shane (USA) 62 64
Doubles
[4] Liam Draxl

/ John McNally (USA)


1st rd: def Matt Kuhar (USA) / Youcef Rihane (ALG) 61 36 [10-7]
QF: def Johannes Ingildsen (DEN) / Duarte Vale (POR) 57 62 [10-0]
SF: def. [2] Ben Shelton (USA) / Matthias Siimar (EST) 64 64
F: def. [1] Thomas Fancutt (AUS) / Colin Sinclair (NMA) 62 63
Singles qualifying
[3] Joshua Peck
1st rd: def Maks Silagy (USA) 62 62
Final rd: lost to [16] Andres Andrade (ECU) 6`1 60
Christian Lakoseljac
1st rd: def [4] Dhruv Sunish (IND) 76 63
Final rd: def. [15] Carles Hernandez (ESP) 76 63
_______________
Magic Hotel Tours


Monastir, Tunisia (ITF 15K)
Men's singles qualifying
Stefan Frljanic
1st rd: def [WC] Yessine Kerouat (TUN) 60 64
2nd rd: def. [10] Giannicola Misasi (ITA) 63 64
FInal rd: lost to [7] Mayeul Darras (FRA) 62 61
_______________
–