–
Casper Ruud (at No. 8) and Hubert Hurkacz (at No. 9) move up a spot to new career bests because Dominic Thiem dropped the 500 points from his … 2019 Vienna title and fell two spots.
So it's a new-look top 10. And only Alexander Zverev, Rafael Nadal, Andrey Rublev and Thiem are not at career highs.
And … did you know? There's a battle shaping up for the year-end No. 1 with the Americans.
John Isner is at home nesting with the new baby. But Reilly Opelka and Taylor Fritz are in action this week.
(Full, updated ATP Tour rankings are here).
ON THE UPSWING
Jannik Sinner (ITA): No. 13 =======> No. 11 (The 20-year-old wunderkind ripped through the Antwerp draw and now stands just 55 points away from his top-10 debut. He'll look for that in Vienna this week).
Denis Shapovalov (CAN): No. 15 =======> No. 13 (The Canadian moves up two spots, even though he didn't play, and is right behind countryman Félix Auger-Aliassime in the rankings)
Cameron Norrie (GBR): No. 16 =======> No. 14 (A little extra bonus with the drop by Roger Federer as the Indian Wells champion moves up to another career high).
Aslan Karatsev (RUS): No. 22 =======> No. 19 (Into the top 20 for the first time is the 28-year-old Russian, who began the season on fire, understandably cooled off, but is finishing strong with the title in Moscow).
Marin Cilic (CRO): No. 41 =======> No. 35 (The veteran Croat did himself some good by reaching the Moscow final. And he can do himself more good in a quest for a seed in Melbourne by following it up in St. Petersburg this week).
Brandon Nakashima (USA): No. 79 =======> No. 69 (He's quiet, but by qualifying and getting to the quarters in Antwerp, the 20-year-old american moves to another career high).
Carlos Taberner (ESP): No. 111 =======> No. 93 (A career high for the 24-year-old after winning the Losinj Challenger. That should do him some good for January's AO main draw).
Juan Manuel Cerundolo (ARG): No. 102 =======> No. 94 (A trip to the top 100 for the first time for the 19-year-old, who reached the semis of a Challenger in Buenos Aires. And in the end, he makes it before his older brother Francisco, who also made the semis there but whose career high, so far, stands at No. 103).
Ricardas Berankis (LTU): No. 108 =======> No. 99 (Going from the qualies to the semis in Moscow brings Berankis back into the top 100).
Andy Murray (GBR): No. 172 =======> No. 156 (Not where he wants to be. But at least going the right way).
Gerald Melzer (AUT): No. 421 =======> No. 297 (After battling injury for a couple of years, the 31-year-old gets back into the top 300 by winning the Challenger in Bogotá. This week, older brother Jürgen (he swears), is finally retiring at his home-country event, where he's playing doubles with Alexander Zverev).
Alexis Galarneau (CAN): No. 354 =======> No. 336 (A career high for the 22-year-old Canadian as he made the Bogota Challenger semis. He's in the qualifying of another clay Challenger this week in Peru).
Juan Martin del Potro (ARG): No. 747 =======> No. 742 (Did you know? Delpo is still in the rankings. And he moved up five spots this week. He still has five points from the 2019 Madrid tournament, and 23 from the 2019 Queen's Club tournament, on his ranking until next spring. Hopefully, we'll see him on the court by then).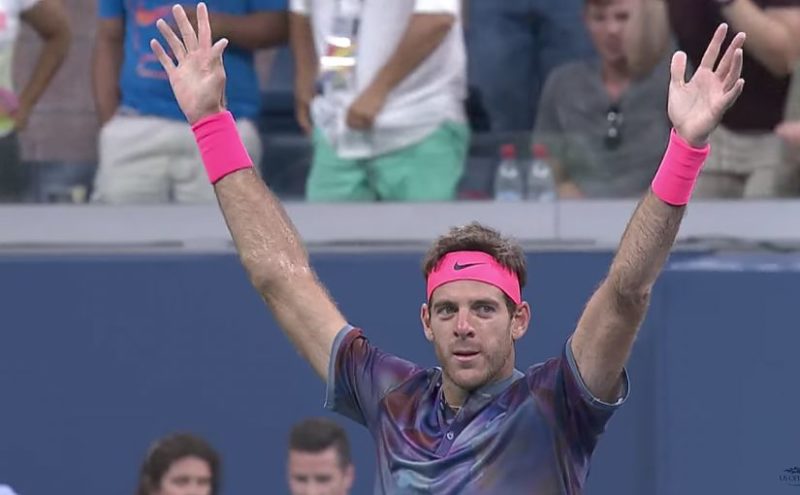 ON THE DOWNSWING
Dominic Thiem (AUT): No. 8 =======> No. 10 (It has taken two years for the points from Thiem's 2019 Vienna title to drop. And it means he drops two spots – with several players from the next-next gen not far behind him).
Roger Federer (SUI): No. 11 =======> No. 15 (The points from his 2019 title at home in Basel finally drop. In a couple of weeks he'll have 400 more dropping from the 2019 ATP Tour Finals. Still, it's amazing how many 2019 points – or partial points, like from the Miami Open – he still has on his resumé).
Diego Schwartzman (ARG): No. 14 =======> No. 16 (Tough for Schwartzman, who reached the Antwerp final for the third time, and lost in the final for the third time – AND dropped two spots in the rankings. He loses. his 300 points from the 2019 Vienna final. But he can still smile, because he's Diego).
Gael Monfils (FRA): No. 19 =======> No. 21 (La Monf' drops out of the top 20, but only by 13 points. A decent run in Vienna this week can take care of that).
Alex de Minaur (AUS): No. 26 =======> No. 32 (De Minaur's run to the Antwerp final a year ago falls off; the Aussie lost in the first round this year).
Botic van de Zandschulp (NED): No. 62 =======> No. 69 (The quick rise in 2021 for the heretofore obscure Dutchman is braked a bit, as he drops seven spots. Rather a normal state of affaires for someone who did well on the Challenger circuit, and is navigating the top level while trying to defend those points).
Sam Querrey (USA): No. 94 =======> No. 102 (The 34-year-old drops out of the top 100 for the first time since April, 2012).
Pierre-Hugues Herbert (FRA): No. 97 =======> No. 104 (The focus on singles isn't paying huge dividends at the moment, after he lost in the Antwerp qualifying. He'll try to get it going again at the Brest Challenger this week).
Aljaz Bedene (SLO): No. 90 =======> No. 110 (The 32-year-old drops out of the top 100 for the first time since March, 2017).
Hyeon Chung (KOR): No. 373 =======> No. 493 (Where is the 25-year-old former No. 19? Only the shadow knows. But he won't like where his ranking is).
THE CANADIANS
RACE TO TURIN
RACE TO MILAN
About Post Author