–
Anett Kontveit, against all odds, is still alive in the race to qualification for the WTA Tour Finals.
The Estonian was down a set and 3-0 – two breaks – in the second set of the Moscow women's final before pushing it to a decider.
And opponent Ekaterina Alexandrova served for it at 5-4 in the third set, too, before Kontaveit prevailed 7-5 in a match that took two hours, 22 minutes.
Without that win, Kontaveit was eliminated from contention for the final spot in the WTA Tour Finals. With it, she now must reach the final in Cluj-Napoca this week to make it.
She got some help from Ons Jabeur, who withdrew from the tournament in Courmayeur, Italy this weekend long after the draw was made with an elbow injury. Otherwise, Jabeur would have had to lose before the semis, and Kontaveit would have had to win in Cluj.
The twist to all this occurred all the way back in February, when Kontaveit and Ann Li (who, as it happened, also won a Tour Title on Sunday) were to play the final of the 500-level Grampians' trophy event before the Australian Open.
Weather shortened the event (some matches ended in a match tiebreak and not a full third set). And in the end, the final was not played at all.
Both Kontaveit and Li got finalist's points (305 points). Had they played and Kontaveit won, it would have been another 165 points, and Kontaveit would have had to do a lot less this week. Even if they had added the winner's and runner-up's points together and divided them in half, she'd still have earned 82 more points and would only have had to make the quarterfinals this week to grab that final spot.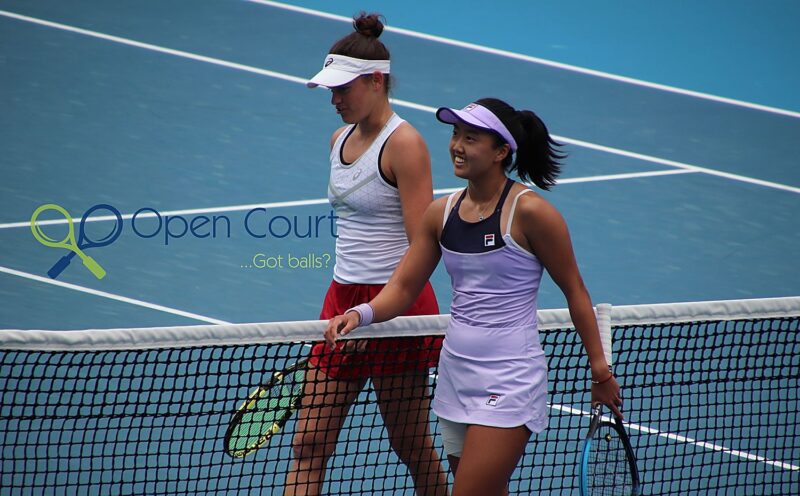 There are no changes in the top 10, with five of the top eight all sitting at career highs.
For the full, updated WTA rankings, click here.
ON THE UPSWING
Anett Kontaveit (EST): No. 20 ========> No. 14 (The 25-year-old Estonian not only matches her career high with her win at the WTA 500 in Moscow, she keeps her hopes alive of qualifying for her first WTA Tour Finals. But she'll have to keep that run going all the way to the Cluj-Napoca final this week).
Leylah Fernandez (CAN): No. 27 ========> No. 26 (While she was sunning on the beaches of Turks and Caicos, the Canadian rose one spot to a new career high, as Victoria Azarenka drops her points from the final in Ostrava in Oct. 2020 to fall behind her).
Ekaterina Alexandrova (RUS): No. 37 ========> No. 33 (Alexandrova peaked at No. 25, but she's generally ranked in the 30s. She missed a great opportunity in the Moscow final to move up a few more spots).
Ann Li (USA): No. 60 ========> No. 48 (The run to the Tenerife title vaulted the 21-year-old American into the top 50 for the first time).
Maria Camila Osorio Serrano (COL): No. 63 ========> No. 53 (Osorio was no match for Li in the Tenerife final. But she rises 10 spots to a new career hig hand and is just 60 points from the top 50 as she looks for more in Cluj-Napoca this week).
Alizé Cornet (FRA): No. 66 ========> No. 60 (A semifinal effort in Tenerife).
Madison Brengle (USA): No. 78 ========> No. 70 (The veteran American doesn't need the USTA's Australian Open wild card, awarded to the best finisher in the current series of U.S. hard-court events. But by winning the Macon ITF she is having an impact on whomever does end up getting it).
Zheng Saisai (CHN): No. 86 ========> No. 77 (A quarterfinal in Tenerife is worth nine spots in the rankings).
Victoria Duval (USA): No. 384 ========> No. 355 (Now 25, the Hodgkin's Lymphoma survivor has dealt with a number of injuries since then, and is still trying to come back. She qualified and reached the quarters of the Macon ITF, earning herself a leap of 29 spots).
Mlada hrvatska senzacija, 18-godišnja Antonia Ružić osvojila i drugi ITF turnir u nizu 🎾👏
Nakon Lagosa, najbolja je bila i u Hamburgu te će tako napredovati čak 394 mjesta na WTA ljestvici 🔥
Od sutra je 333. tenisačica svijeta i šesti hrvatski reket! pic.twitter.com/E3S34LEJ9n

— Luka Petković (@PetkoLuka) October 24, 2021
<.center>

Antonia Ruzic (CRO): No. 727 ========> No. 451 (The 18-year-old from Croatia has not been on the radar yet. But the 66 points she earned from winning an ITF in Lagos, Nigeria out of the qualifying, – followed by a trip to Hamburg, Germany to win another $25K as a special exempt, meant a leap of …276 points. Notably, she won the Hamburg final when former top-25 singles player (and top doubles player) Timea Babos retired down 6-2, 4-1. Ruzic played just one junior event after the pandemic hit in March, 2020, the 18s European championships in July. And she knocked off some top hot shots including Brenda Fruhvirtova and Dianne Parry. That raised her junior ranking to a career-high No. 84. Which is nothing special. She has spent the bulk of her time other than during the pandemic stoppage grinding it out in 15k in Monastir, Tunisia, on clay).
ON THE DOWNSWING
Petra Kvitova (CZE): No. 15 ========> No. 17 (Kvitova's season is over. and it was an … okay but not great one. But she has no points to defend the rest of the season. So she can take a break and come out firing in 2022).
Sloane Stephens (USA): No. 59 ========> No. 63 (Any movement in the rankings are a function of what other players ranked around her do as Stephens wrapped her 2021 season with a middling 18-17 record.
THE CANADIANS
RACE TO GUADALAJARA
About Post Author