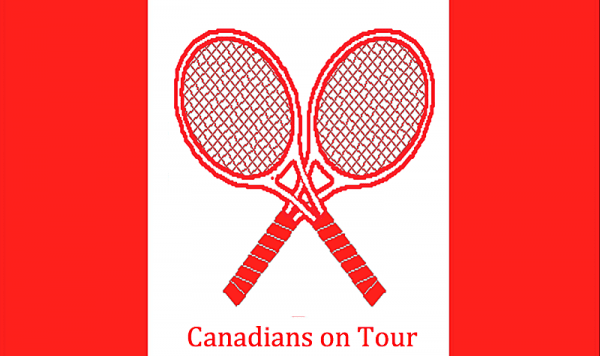 Without the participation of the two best players in the country, the Canadian BJK Cup Finals quest is going to be an uphill battle.
Especially as Canada is in a pool with … France and Russia.
Led by Rebecca Marino, the Canadians upset France, but were no match for Russia.
At the same time, the Paris Masters was being played without Milos Raonic and – a relatively late scratch – Denis Shapovalov.
Félix Auger-Aliassime was the No. 9 seed. But he went out early.
The great news for both Canada and Chile was that Alejandro Tabilo won his first career Challenger in Guayaquil. And with that, broke into the top 150 for the first time.
*************************
BJK Cup Finals


Prague, Czech Republic
Rebecca Marino
Carol Zhao
Françoise Abanda
Gabriela Dabrowski
Monday, Nov. 1
Canada 2, France 1
#2 Francoise Abanda (CAN) def #2 Fiona Ferro (FRA) 46 64 64
#1 Alizé Cornet (FRA) def. #1 Rebecca Marino (CAN) 64 76 (5)
Rebecca Marino / Gabriela Dabrowski (CAN) def Clara Burel / Alizé Cornet (FRA) 63 76 (6)
Tuesday, Nov. 2
Russia 3, Canada 0
#2 Daria Kasatkina (RUS) def. #2 Françoise Abanda Carol Zhao (CAN) 63 61
#2 Anastasia Pavlyuchenkova (RUS) def. #1 Rebecca Marino (CAN) 64 46 62
Ekaterina Alexandrova Liudmila Samsonova / Veronika Kudermetova (RUS) def. Rebecca Marino / Gabriela Dabrowski (CAN) 63 61
_______________
Rolex Paris Masters


Paris-Bercy, France (ATP 1000)
Singles
[9] Félix Auger-Aliassime
1st rd: def [Q] Gianluca Mager (ITA) 46 64 61
2nd rd: lost to [LL] Dominik Koepfer (GER) 63 75__
_______________
Charlottesville Men's Pro Challenger
Charlottesville, VA (ATP Tour Challenger)
Singles
[1] Vasek Pospisil
1st rd: lost to [WC] Emilio Nava (USA) 64 46 76 (3)
Brayden Schnur
1st rd: def Yasutaka Uchiyama (JPN) 26 62 60
2nd rd: def. [Q] Christian Harrison (USA) 76 (1) 67 (4) 76 (6)
QF: def. Prajnesh Gunneswaran (IND) 75 63
SF: lost to Aleksandar Vukic (AUS) 64 61

[PR] Peter Polansky
1st rd: lost to [Q] Inaki Montes de la Torre (ESP) 63 46 76 (5)
Doubles
Brayden Schnur / Bjorn Fratangelo (USA) (Fratangelo – toe)
[ALT] Peter Polansky / Stefan Kozlov (USA) (Kozlov – knee)

_______________
Dow Tennis Classic
Midland, Mich. (WTA Tour 125K)
Singles qualifying
[4] Katherine Sebov
1st rd: def Quinn Gleason (USA) 26 76 (7) 62
Final rd: lost to Ellie Douglas (USA) 62 63
_______________
Challenger Ciudad de Guayaquil
Guayaquil, Ecuador (ATP Tour Challenger)
Singles
[ALT] Alexis Galarneau
1st rd: lost to Nicolas Jarry (CHI) [Q] Alejandro Gonzalez (COL) 62 64
Alejandro Tabilo (CHI)
1st rd: def [1] Jaume Munar (ESP) 64 62
2nd rd: def. Darian King (BAR) 63 61
QF: def. Goncalo Oliveira (POR) 64 63
SF: def. [6] Thiago Seyboth Wild (POR) 62 76 (2)


F: def Jesper de Jong (NED) 61 75



Doubles
Alejandro Tabilo (CHI) / Roberto Cid Subervi (DOM)
1st rd: lost to [WC] Facundo Diaz Acosta (ARG) / Nick Hardt (DOM) 63 64

____________
Meitar Open in Memory of Liad Lavi


Meitar, Israel (ITF 25K)
Singles
[3] Filip Peliwo
1st rd: def [LL] Eduardo Cohen (ISR) 61 61
2nd rd: def. [WC] Shay Bar Menehem (ISR) 63 62
QF: def. [7] Edan Leshem (ISR) 67 (5) 62 retd
SF: lost to Stuart Parker (GBR) 75 57 63
Doubles
[2] Filip Peliwo / Ryan Nijboer (NED)
1st rd: def Orel Kimhi / Eduardo Cohen (ISR) 26 60 [10-7]
QF: def. Joshua Luck (RSA) / Yair Sarouk (ISR) 61 61
SF: lost to [4] Naoki Nakagawa / Rio Noguchi (JPN) WALKOVER
_________
Legacy Bank NWA Tennis Series
Fayetteville, ARK (Mens $15K ITF)
Singles
Liam Draxl
1st rd: lost to [Q] Henry Patten (GBR) 61 64
Doubles
[2] Liam Draxl / Sho Shimabukuro (JPN)
1st rd: lost to Michael Redlicki / Avery Zavara (USA) 63 61
Singles qualifying
[14] Christian Lakoseljac
1st rd: def Matthew Vos (USA) WALKOVER
Final rd: lost to [6] Chad Kissell (USA) WALKOVER
_______________
Dick Savitt Futures
Ithaca, NY (Mens $15K ITF)
Singles
Joshua Peck
1st rd: lost to [WC] Adit Sinha (USA) 63 36 76 (1)
[Q] Dan Martin
1st rd: def Benjamin Kittay (USA) 62 61
2nd rd: lost to [4] Roy Smith (USA) 61 62
[Q] Alexandre Leblanc
1st rd: lost to [WC] Evan Bynoe (USA) 61 46 63
[LL] Jonathan Sorbo
1st rd: lost to Connor Farren (USA) 76 (4) 64
Doubles
Joshua Peck

/ Alex Knaff (LUX)


1st rd: def [4] Anis Ghorbel (TUN) / Roy Smith (USA) 46 62 [10-7]
QF: def Cannon Kingsley / Alexander Kotzen (USA) WALKOVER
SF: def. Abraham Asaba (GHA) / Guy Orly Iradukunda (BDI) 64 64
F: lost to [3] Luke Johnson (GBR) / Vasil Kirkov (USA) 76 (3) 63
Dan Martin / Pietro Rimondini (USA)
1st rd: lost to [3] Luke Johnson (GBR) / Vasil Kirkov (USA) 64 64
Singles qualifying
[3] Dan Martin
1st rd: Bye
Final rd: [WC] Nathan Mao (USA) 63 61
[6] Jonathan Sorbo
1st rd: Bye
Final rd: lost to [9] Michael Zheng (AUS) 62 36 [10-6]
[11] Alexandre Leblanc
1st rd: def Lazar Dokov (BUL) WALKOVER
Final rd: def. [8] Nico Mostardi (USA) 67 64 [10-7]
_______________
Soho Square
Sharm El-Sheikh, Egypt (ITF Men's and Women's 15K)
Men's Singles
[6] Kelsey Stevenson
1st rd: def [WC] Ali Habib (GBR) 62 61
2nd rd: lost to Marco Miceli (ITA) 76 (8) 62
Women's singles
[Q] Maria Patrascu
1st rd: lost to [1] Sandra Samir (EGY) 62 30 retd
Men's Doubles
Kelsey Stevenson / Asram El Sallaly (EGY)
1st rd: lost to [2] Emiliano Maggioli (ITA) / Oleksandr Ovcharenko (UKR) 64 76 (3)
Women's singles qualifying
[7] Maria Patrascu
1st rd: Bye
2nd rd: def Tian Xin Chang (TPE) 64 60
Maria Anam
1st rd: lost to Sumin Kim (KOR) 60 40 retd
_______________
Torneig Internacional Vila de Torello


Torello, Spain (ITF 15K)
Men's singles qualifying
Emiliano Jorquera
1st rd: lost to [16] Jay Dylan Hara Friend (JPN) 61 61
_______________
M15 and

W15

Heraklion
Heraklion, Greece (ITF 15K)
Women's Doubles
Keira Blackbeard / Graziella Barrett (GBR)
1st rd: lost to Simona Ogescu (ROU) / Adriana Rajkovic (CRO) 61 62
Women's singles qualifying
[2] Keira Blackbeard
1st rd: Bye
Final rd: lost to Adreanna Christopoulou (GRE) 63 63
Laura Vasilescu
1st rd: lost to Tea Zivic (FRA) 63 75
Men's singles qualifying
[8] Michel-Alexandre Fortin
1st rd: Bye
Final rd: lost to Jonathan Backman (SWE) 64 64
Austin Hoole
1st rd: lost to Aleksandra Mihailovic (SRB) 60 60
_______________
–
About Post Author