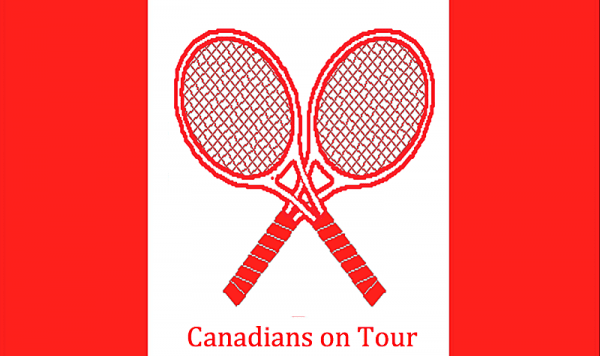 Félix Auger-Aliassime's longshot quest to make the ATP Tour Finals ended last week in Paris.
But his season's not done.
He is still playing Stockholm this notably (notably, instead of the Next Gen Finals).
And he's joined by countryman Denis Shapovalov. They are the No. 2 and No. 3 seeds.
In Guadalajara, Gabriela Dabrowski qualified for the Tour Finals with partner Luisa Stefani. But because of Stefani's knee surgery following an injury in the US Open semifinals, they can't make the date.
Sharon Fichman, whose partner Giuliana Olmos is Mexican, makes the date instead.
*************************
WTA Finals
Guadalajara, Mexico
Sharon Fichman / Giuliana Olmos (MEX) (El Tajín Group)
lost to [1] Barbora Krejcikova / Katerina Siniakova (CZE) 64 61
vs. [3] Hsieh Su-Wei (TPE) / Elise Mertens (BEL)
vs. [6] Alexa Guarachi (CHI) / Desirae Krawczyk (USA) (Saturday)
_______________
Stockholm Open


Stockholm Sweden (ATP 250)
Singles
[2] Félix Auger-Aliassime
1st rd: Bye
2nd rd: def. Filip Krajinovic (SRB) 63 64
QF: def. Botic Van de Zandschulp (NED) 64 63
SF: lost to [3] Denis Shapovalov (CAN) 64 75

[3] Denis Shapovalov
1st rd: Bye
2nd rd: def [Q] Andrea Vavassori (ITA) 76 (1) 61
QF: def. Arthur Rinderknech (FRA) 46 63 75
SF: def. [2] Félix Auger-Aliassime (CAN) 64 75
F: lost to Tommy Paul (USA) 64 26 64
_______________
Upper Austria Ladies Linz


Linz, Austria (WTA 250)
Doubles
[4] Erin Routliffe / Alicja Rosolska (POL)
1st rd: lost to Ekaterina Alexandrova / Yana Sizikova (RUS) 46 61 [12-10]
_________________________
Knoxville Challenger
Knoxville, TN (ATP Tour Challenger)
Singles
[3] Vasek Pospisil
1st rd: lost to Christopher Eubanks (USA) 26 62 63

[ALT] Peter Polansky
1st rd: def [1] Tennys Sandgren (USA) 36 76 (3) 76 (4)
2nd rd: lost to [WC] Emilio Nava (USA) 26 76 (2) retd

Singles qualifying
[1] Alexis Galarneau
1st rd: def. [ALT] Martin Damm (USA) 63 64
Final rd: lost to [5] Gijs Brouwer (NED) 63 62
______________________________
Open International de Tennis de Roanne
Roanne, France (ATP Tour Challenger)
Singles
Steven Diez
1st rd: lost to [WC] Giovanni Mpetshi Perricard (FRA) 76 (3) 46 63

Doubles
Steven Diez / David Vega Hernandez (ESP)
1st rd: lost to [1] Lloyd Glasspool (GBR) / Harri Heliovaara (FIN) WALKOVER
____________
Uruguay Open
Montevideo, Uruguay (ATP Tour Challenger)
Singles
Alejandro Tabilo (CHI)
1st rd: lost to Timofey Skatov (KAZ) 63 64
____________
Dove Men Care La Legion
Aparecida di Goiania, BRA (ITF 25K)
Singles



[8] Carol Zhao
1st rd: def Emily Welker (GER) 26 62 64
2nd rd: def. Martina Capurro Taborda (ARG) 63 64
QF: lost to [3] Ana Sofia Sanchez (MEX) 46 64 61
_________
25K Afula


Afula, Israel (ITF 25K)
Singles
[2] Filip Peliwo
1st rd: def Alexander Gaponenko (ISR) 62 46 62
2nd rd: def. Sahar Simon (ISR) 36 60 63
QF: def. [Q] Ro'ee Benya (ISR) 57 63 60
SF: lost to [4] Michael Pervolarakis (GRE) 62 63
_________
Soho Square
Sharm El-Sheikh, Egypt (ITF Men's and Women's 15K)
Men's Singles
Kelsey Stevenson
1st rd: def [Q] Huang Haoyuan (CHN) 76 (5) 63
2nd rd: lost to Marek Gengel (CZE) 63 63

Women's Singles



[Q] Maria Patrascu
1st rd: lost to Ng Man Yin Maggie (HKG) 63 76 (6)

Men's Doubles
Kelsey Stevenson / Karlo Cubelic (GER)
1st rd: def. [WC] Ali Habib (GBR) / Dusan Rajic (SRB) 46 64 [10-4]
QF: lost to [3] Ray Ho (TPE) / Grigoriy Lomakin (KAZ) 62 63
Women's Doubles



Maria Patrascu / Diana Maria Mihail (ROU)
1st rd: lost to Melanie Klaffner (AUT) / Barbora Matusova (SVK) 60 63
Women's singles qualifying
Maria Patrascu
1st rd: def Malannia Vashkevich (BLR) 60 61
2nd rd: def. [1] VIktoriya Petrenko (UKR) WALKOVER
Final rd: def. Lin Fang An (TPE) 76 (4) 57 [10-4]

Men's singles qualifying
Adam Hobbs
1st rd: lost to Lucien Forrestier (FRA) 61 60
_______________
M15 and

W15

Heraklion
Heraklion, Greece (ITF 15K)
Doubles
[WC] Laura Vasilescu / Natalia Fehr (SUI)
1st rd: lost to Giorgia Pinto / Sofia Rocchetti (ITA) 61 62

[ALT[ Keira Blackbeard / Graziella Barrett (GBR)
1st rd: lost to [4] Mariia Bergen (UKR) / Maria Krupenina (RUS) 60 60
Singles qualifying
[8] Keira Blackbeard
1st rd: Bye
Final rd: lost to Ginevra Parentini Vallaga Montebruno (ITA) 62 60

Laura Vasilescu
1st rd: def Maria Eleni Poulka (GRE) 75 63
Final rd: vs. [4] Sofia Rocchetti (ITA) 63 63

_______________
–