–
Novak Djokovic not only won his record 37th Masters 1000 title Sunday at the Paris Masters, he also sealed his record seventh year-end No. 1 ranking by making the final.
It didn't change the top two rankings. And, in fact, since this is that weird Monday where the points from last year's ATP Tour Finals drop off, it only expanded the gap between No. 1 and No. 2.
Djokovic netted 600 points on the week (1,000 minus the 400 from London last year), while Medvedev drops … 1,900 points net.
That puts him just over 1,000 ahead of both Alexander Zverev and Stefanos Tsitsipas. And it sets up a nifty battle for the year-end No. 2.
ON THE UPSWING
= new career high)
Alexander Zverev (GER): No. 4 ======> No. 3 (Zverev was well beaten in the semis. But he moves up to No. 3 and Tsitsipas drops to No. 4, even though technically they're tied with the same number of points).
Hubert Hurkacz (POL): No. 10 ======> No. 9 (A new career high, with his position looking safe as no one behind him in the rankings has qualified for the year-end finals).
Diego Schwartzman (ARG): No. 15 ======> No. 13 (Schwartzman loses a few points, net, after losing in the second round in Paris. But he moves up with Dominic Thiem dropping)
Fritz (USA): No. 26 ======> No. 23 (Fritz is ending the year in style, after reaching the Paris Quarterfinals. He's at a new career high, and edges out Isner and Opelka as the No. 1 American. He can add to that lead in Stockholm this week).
Carlos Alcaraz (ESP): No. 35 ======> No. 32 (Alcaraz, competing in the Next Gen Finals this week, reaches another career high and looks good for a seed at the Australian Open – although there are a few behind him who could still catch him – notably Alexander Bublik).
James Duckworth (AUS): No. 55 ======> No. 47 (The nearly year-long exile from his homeland is paying off for the 29-year-old Aussie, who leaps into the top 50 for the first time after a quarterfinal effort in Paris).
Lorenzo Musetti (ITA): No. 67 ======> No. 58 (It's been a learning curve for the 19-year-old Italian this season, but getting to the second round in Paris as a lucky loser gives him a nice bump. He's at the exhibition Next Gen finals event this week).
Alexei Popyrin (AUS): No. 71 ======> No. 59 (The lucky loser made the third round in Paris, and jumps ot a new career high).
Hugo Gaston (FRA): No. 103 ======> No. 67 (The days of qualifying at majors are done for Gaston, who qualified and made the quarters in Paris and thrilled the capacity crowds. He's also at the Next-Gen Finals this week).
Tallon Griekspoor (NED): No. 88 ======> No. 72 (The 25-year-old Dutchman played the Tenerife Challenger as the top seed, with Feliciano Lopez as No. 2 and Fernando Verdasco as No. 3. He beat both to win the title, and rises to a new career high).
Holger Vitus Nodskov Rune (DEN): No. 118 ======> No. 109 (It's too bad Rune is playing an event this week that doesn't offer him any points – the Next Gen Finals. He's less than 30 points from the top 100, which would give him a spot straight into the Australian Open. He won the Bergamo Challenger last week – the younger player to win one since Jannik Sinner did it two years ago, at the same event).
Alejandro Tabilo (CHI): No. 169 ======> No. 140 (The Chilean-Canadian reaches a career high, upsetting two seeds on his way to the final at the Guayaquil Challenger. *FINAL PENDING)
Stefan Kozlov (USA): No. 224 ======> No. 188 (Kozlov is coming back strong, and wins the Charlottesville Challenger. He began the season at No. 374).
Filip Peliwo (CAN): No. 423 ======> No. 409 (The former Wimbledon junior champion has had a lot of travails, but is back on the come-up).
ON THE DOWNSWING
Stefanos Tsitsipas (GRE): No. 3 ======> No. 4 (We'll see if the undisclosed injury that required Tsitsipas to retire in his opening match in Paris is a something-something that will affect him in Turin).
Dominic Thiem (AUT): No. 12 ======> No. 14 (Thiem's 800 points from last year's finals drop off).
Roger Federer (SUI): No. 14 ======> No. 16 (Federer finally drops 400 from the 2019 ATP Tour Finals. But he's … still in the top 20).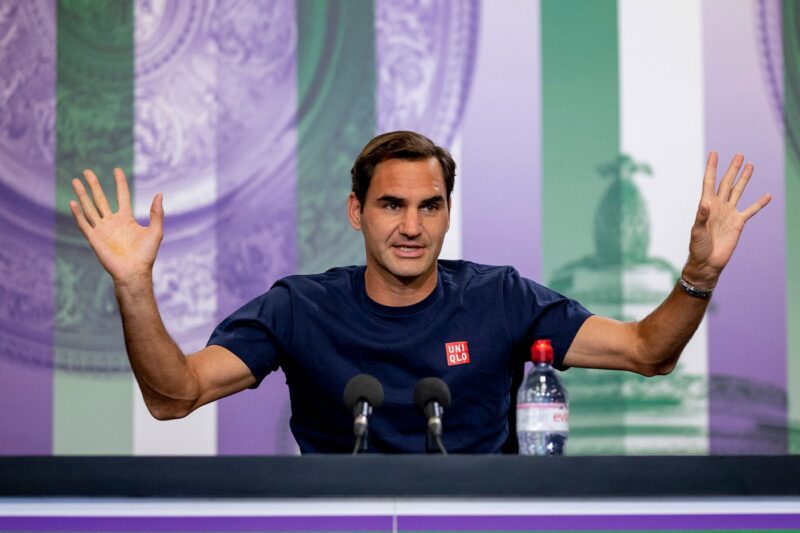 Pablo Carreño Busta (ESP): No. 17 ======> No. 20 (A second-round loss in Paris, with quarter-final points to defend, drops him three spots).
Ugo Humbert (FRA): No. 29 ======> No. 35 (Humbert called a relatively premature end to his season, and drops 170 points from last year's quarterfinal in Paris)
Adrian Mannarino (FRA): No. 59 ======> No. 66
Milos Raonic (CAN): No. 48 ======> No. 71 (Ouch for Raonic, whose points from his 2020 semifinal in Paris drop, and he finds himself at his lowest ranking since Feb. 2011 – right after his big breakthrough effort at the Australian Open that year. The Canadian has been unable to defend 585 points over the last month, from Antwerp, St. Petersburg and Paris).
Borna Coric (CRO): No. 70 ======> No. 75 (The Croat's ranking has dropped "relatively" little in 2021, despite the fact that he hasn't played since … When will we see him again? He posted a shot on Instagram of himself in the mirror at the gym, with the promise that he'd be "back soon).
Stan Wawrinka (SUI): No. 61 ======> No. 83 (Wawrinka seems to be hitting the gym, on his well-curated Instagram account. But we've yet to see him on the court).
Jaume Munar (ESP): No. 78 ======> No. 89 (Munar was upset by Canadian/Chilean Alejandro Tabilo in the first round of the Guayaquil Challenger).
Pierre-Hugues Herbert (FRA): No. 99 ======> No. 110 (Herbert is looking at the Melbourne qualies, after he lost his opening match in Paris last week. He'd made the second round a year ago).
Michael Mmoh (USA): No. 210 ======> No. 246 (Not sure what's happened in Mmoh's career – wasn't long ago that people expected him to be as good or better as his fellow Marylandian Frances Tiafoe).
THE CANADIANS