–
Maria Sakkari was about to close out the victory in her WTA Finals opener against Iga Swiatek Thursday.
At 40-love, match points in the offing, she was ready to serve.
But Iga Swiatek wasn't close to being ready to receive.
As Sakkari looked up at the chair umpire quizzically, Swiatek had her back turned to the court. The emotions – frustration, mostly – hit in a way many of us can relate to.
Those feelings come on like a tsunami. And the harder you try to amp up the stoicism and tamp them down, they more they hit you double-time.
Imagine having it happen with a lot of people right there, and many more watching from afar.
After what seemed an eternity given the circumstances but wasn't that long in reality, tears rolling down her cheeks and an anguished look on her face, Swiatek turned back towards the court for the final point of a 6-2, 6-4 defeat.
It was the first career WTA Finals match for both. Swiatek is the one with the Grand Slam title, the higher-ranked player of the two. But the 26-year-old Sakkari handled it all better than the 20-year-old from Poland, which is all to the credit of the Greek player's additional six years of life experience.
With a big assist from the two straight-sets victories she posted over Swiatek in the last six months. More notable was the one in the quarterfinals at Roland Garros, where Swiatek was the defending champion.
No Press Conference for Swiatek
About three hours after the match, the notice from the WTA was that "a transcript would be available from Swiatek shortly, in lieu of a press conference".
Typically, that amounts to a brief, two-sentence quote the Tour thinks will do the trick (but never does).
That transcript, in fact, took several more hours to materialize. But in the end, despite the rather banal questions, Swiatek was impressively forthcoming about the emotions of the day.
"I was just frustrated and sad that I couldn't overcome the stress. I keep, like, forgetting that I still have time to learn how to do that because playing in the Finals for me … It feels like I know a lot about sports, which is maybe sometimes not true, because still I haven't been in many situations in those moments. … I forget this is new for me, (that it's still) okay to lose some matches because of the stress," she said.
"For me, I feel like it's a big deal and I'm feeling a little bit ashamed that my level was like that. So I was just feeling pretty sad," she added.
Swiatek said it began going off the rails right from the first time Sakkari broke her. Despite herself, she was flashing back to their matches against in Ostrava and Paris, when Sakkari broke her. And she just couldn't shut those memories out.
"I know it isn't really constructive, but I guess the stress caused that I wasn't able to come back, like, (with) better thoughts, to just be more focused," she said.
Practice doesn't always make perfect
Swiatek mentioned several times that she'd been playing well in practice. "(In) practices I felt, like, twice more control than on matches when I was playing (those) hard shots," she said.
You hear that refrain a fair bit after losses, especially on the women's tour. "But I was playing well in practice," is a common go-to. It's as though there isn't acceptance of the quantum difference between hitting balls in practice that are (mostly) fed to you, without any match pressure – and the actual reality of matches with actual opponents and a big crowd watching.
At the same time, practicing well also is the biggest source of their confidence.
So it's a double-edged sword.
Swiatek felt that even if she played just 80 per cent of her practice level, the match would have looked totally different. That's an aspirational level, most of the time. It also undoubtedly was a true statement.
But she also should have been better prepared for that not to happen.
New format, new experiences for Swiatek
As Swiatek also pointed out, the round-robin format is something entirely new. In a normal tournament, you have a little time to settle in if you're a top player.
In the WTA Finals, the first opponent you meet on the first day you play is … a top-10 player.
And in Guadalajara, the conditions make form fragile. Because as soon as the footwork slips a bit, as soon as the decision-making fades even a touch, the ball flies long. And there can be a snowball effect.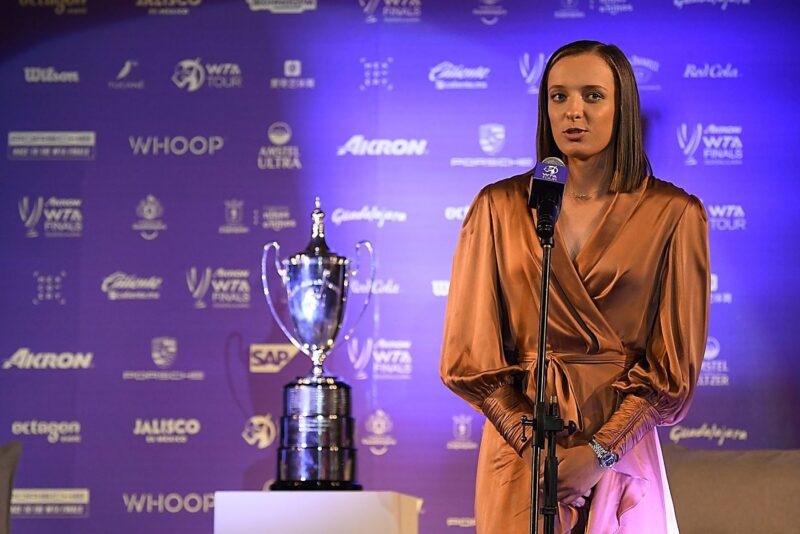 Not only that, you have to come back just two days after such a tough loss, process that you are by no means out of it the way you usually are – and play again.
"It's going to be just difficult to forget that match with Maria because, well, basically I played many hours here right now, and most of these hours were really positive and good because I was practicing really well," Swiatek said. "But, I mean, matches and moments on matches are the moments that matter the most."
What Swiatek hopes, with Aryna Sabalenka up next and then Paula Badosa after that, is that she can just "loosen up" a bit. Only time will tell whether or not she can shake it off.
It's already an uphill battle to eke out a semifinal berth after that first defeat.
But all is definitely not lost. There is still much to play for.
The silver lining, in the big picture, is that she added a few more lessons and experiences to the memory bank.
It's probably not much comfort now. But they will be there do draw upon, on the many occasions she'll have at the WTA Finals in her still very-young career.