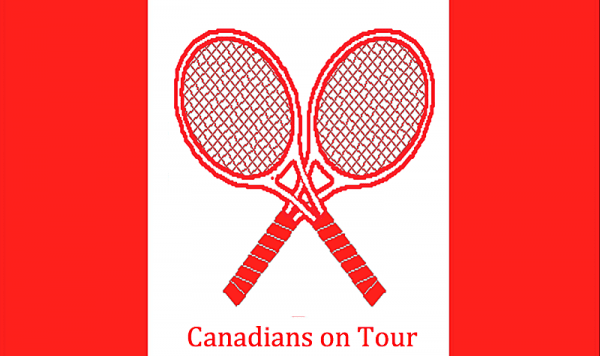 The ATP Tour season is done, although there still will be some Canadian action as the men head to the Davis Cup finals in two weeks.
That brings the season into December. And Denis Shapovalov said Saturday that he won't be a part of it. He's done like dinner.
In the meantime, there are Challenger level tournaments, as well as a whole bunch of $25Ks and $15Ks – three mens and one women's event just in the U.S. alone this week.
*************************
WTA Finals
Guadalajara, Mexico
Sharon Fichman / Giuliana Olmos (MEX) (El Tajín Group)
lost to [1] Barbora Krejcikova / Katerina Siniakova (CZE) 64 61
lost to [3] Hsieh Su-Wei (TPE) / Elise Mertens (BEL) 64 76 (3)
lost to [6] Alexa Guarachi (CHI) / Desirae Krawczyk (USA) 06 63 [11-9]
________________________________________
Champaign Challenger
Champaign, Ill. (ATP Tour Challenger)
Singles
Alexis Galarneau
1st rd: lost to Yosuke Watanuki (JPN) 64 46 60
Doubles
Alexis Galarneau / Nicolas Mejia (COL)
1st rd: def David Marrero (ESP) / Yasutaka Uchiyama (JPN) WALKOVER
QF: def [3] JC Aragone / Robert Galloway (USA) 64 46 [10-8]
SF: lost to [2] Treat Huey (PHI) / Max Schnur (USA) 60 62

______________________________
Terega Open Pau-Pyrénées
Pau, France (ATP Tour Challenger)
Singles
Steven Diez
1st rd: lost to [WC] Dan Added (FRA) 16 76 (2) 62

Doubles
Steven Diez / Alessandro Giannessi (ITA)
1st rd: lost to Georgii Kravchenko (UKR) / Nikolas Sanchez Izquierdo (ESP) 75 62
____________
Uruguay Open
Montevideo, Uruguay (WTA 125)
Singles



Carol Zhao
1st rd: def Valeriya Strakhova (UKR) 26 63 60
2nd rd: lost to [8] Laura Pigossi (BRA) 61 64

Doubles



Carol Zhao / You XIaodi (CHN)
1st rd: def Gabriela Lee (ROU) / Ana Sofia Sanchez (MEX) 62 64
QF: lost to [1] Irina Bara (ROU) / Ekaterine Gorgodze (GEO) 46 64 [10-5]
ASC BMW $25,000 Women's World Tennis Tour
Naples, Fla. (ITF $25K)
Doubles



Ariana Arseneault / Elysia Bolton (USA)
1st rd: def [3] Rasheeda McAdoo / Chanelle Van Nguyen (USA) 62 63
QF: lost to Anna Sinclair Rogers / Christina Rosca (USA) 67 (5) 75 [13-11]

Ayan Broomfield / Holly Verner (USA)
1st rd: lost to Anna Sinclair Rogers / Christina Rosca (USA) 63 63
Singles qualifying
Ariana Arseneault
1st rd: lost to [14] Hina Inoue (USA) 64 62

_________
Columbus M25 USTA Pro Circuit
Columbus, Ohio (ITF $25K)
Singles
Justin Boulais
1st rd: lost to [6] Cannon Kingsley (USA) 64 63
Taha Baadi
1st rd: def [Q] Credit Chaiyarin (THA) 60 30 retd
2nd rd: def. [4] Roy Smith (USA) 63 61
QF: def. Alafia Ayeni (USA) 75 61
SF: lost to [7] John McNally (USA) 61 63
Doubles
Justin Boulais / Cannon Kingsley (USA)
1st rd: def Axel Nefve / Quinn Vandecasteele (USA) 61 67 (2) [10-2]
QF: lost to [4] Adrien Burdet / Leandro Riedi (SUI) 62 62
Singles qualifying
[5] Jonathan Sorbo
1st rd: Bye
Final rd: lost to Drew Van Orderlain (USA) 64 60
Tom Dynka
1st rd: def Varun Luthra (USA) 60 60
Final rd: lost to [2] Credit Chaiyarin (THA) 61 61
_________
Dropshot Series Men's Pro Tennis Open
Austin, Texas (ITF $25K)
Singles
Juan Carlos Aguilar
1st rd: def. [5] Mark Whitehouse (GBR) 67 (2) 63 61
2nd rd: lost to [Q] Chris Rodesch (LUX) 67 (1) 64 64
Doubles
Juan Carlos Aguilar / Sander Jong (NED)
1st rd: lost to [4] Alfredo Perez (USA) / Duarte Vale (POR) 63 64
Cleeve Harper / Siem Woldeab (USA)
1st rd: lost to [WC] Evin McDonald / Eliot Spizzirri (USA) 76 (1) 62

Singles qualifying
[4] Cleeve Harper
1st rd: lost to Chris Rodesch (LUX) 60 61
_________
Capital City Tennis Classic
East Lansing, Mich. (ITF $15K)
Singles
Joshua Peck
1st rd: lost to [Q] Shunsuke Mitsui (JPN) 06 64 75
Gabriel Diallo
1st rd: def Jeffrey Von der Schulenberg (SUI) 61 62
2nd rd: def. [Q] Andres Andrade (ECU) 76 (7) 75
QF: def. [Q] Matt Kuhar (USA) 63 64
SF: def. [Q] Alex Knaff (LUX) 62 67 (2) 62
F: lost to [1] Raymond Sarmiento (USA) 46 63 64
Doubles
[3] Joshua Peck / A.J. Catanzariti (USA)
1st rd: lost to Gabriel Diallo (CAN) / Yasha Zemel (ISR) 60 76 (2)
Gabriel Diallo / Yasha Zemel (ISR)
1st rd: def [3] Joshua Peck (CAN) / A.J. Catanzariti (USA) 60 76 (2)
QF: def. Peter Kuszynski (CAN) / Nico Mostardi (USA) 61 64
SF: lost to Chad Kissell / Joshua Sheehy (USA) 62 64
Peter Kuszynski / Nico Mostardi (USA)
1st rd: def. [WC] Jack Anthrop / Alexander Bernard (USA) 64 64
QF: lost to Gabriel Diallo (CAN) / Yasha Zemel (ISR) 61 64
Singles qualifying
Alexandre Leblanc
1st rd: def. [2] Chad Kissell (USA) 67 62 [10-8]
Final rd: lost to [11] Ronald Hohmann (USA) 67 75 [10-4]
[16] Peter Kuszynski
1st rd: lost to Niroop Vallabhaneni (USA) 46 62 [10-6]
_________
_________
Soho Square
Sharm El-Sheikh, Egypt (ITF Men's and Women's 15K)
Men's Singles
[5] Kelsey Stevenson
1st rd: def [Q] Volodymyr Uzhylovskyi (UKR) 63 64
2nd rd: lost to Lo Chien Hsun (TPE) 76 (3 75

Men's Doubles
[2] Kelsey Stevenson / Francesco Vilardo (ITA)
1st rd: def Huang Tsung-Hao / Lo Chien Hsun (TPE) 64 75
QF: lost to Ben Jones / Daniel Little (GBR) 36 64 [10-5]
Women's Doubles
Maria Patrascu / Diana Maria Mihail (ROU)
1st rd: lost to [4] Lee So-Ra (KOR) / Wu Ho Ching (HKG) 63 75
Women's singles qualifying
[12] Maria Patrascu
1st rd: Bye
2nd rd: def Magdelief Hageman (NED) 76 62
Final rd: lost to [1] Li Zongyou (CHN) 62 62

Men's singles qualifying
Adam Hobbs
1st rd: lost to Yin Bang Shuo (TPE) 61 60
Jenner Stevenson
1st rd: lost to Jacques-Kai Inoue (JPN) 61 61
_______________
Dove Men Care


Cundinamarca, COL (ITF 15K)
Singles



Cadence Brace
1st rd: def Daniela Valentina Tijaro (COL) 61 62
2nd rd: lost to [4] Yuliana Monroy (COL) 63 75
Singles qualifying



Melissa Holmberg
1st rd: lost to Johana Montano (COL) 60 60
_______________
M15 and

W15

Heraklion
Heraklion, Greece (ITF 15K)
Women's Singles



[WC] Laura Vasilescu
1st rd: lost to [WC] Dimitra Pavlou (GRE) 64 61
Women's Singles qualifying
[15] Keira Blackbeard
1st rd: Bye
2nd rd lost to Ginevra Parentini Vallega Montebruno (ITA) 61 62

Men's Singles qualifying
Michel-Alexandre Fortin
1st rd: lost to [11] Dax Donders (NED) 63 62
Austin Hoole
1st rd: lost to Nikolay Nedelchev (BUL) 62 60
______________
Magic Tours


Monastir, Tunisia (ITF 15K)
Singles qualifying
Nifemi Akinbiyi
1st rd: lost to Irina Dshandshgava (AUT) 63 63
_______________
Copa Cochabamba


Cochabamba, Bolivia (ITF 15K)
Singles qualifying
Alex Ross
1st rd: Bye
2nd rd: lost to Jorge Andres Rodriguez (BOL) WALKOVER
_______________
_______________

–