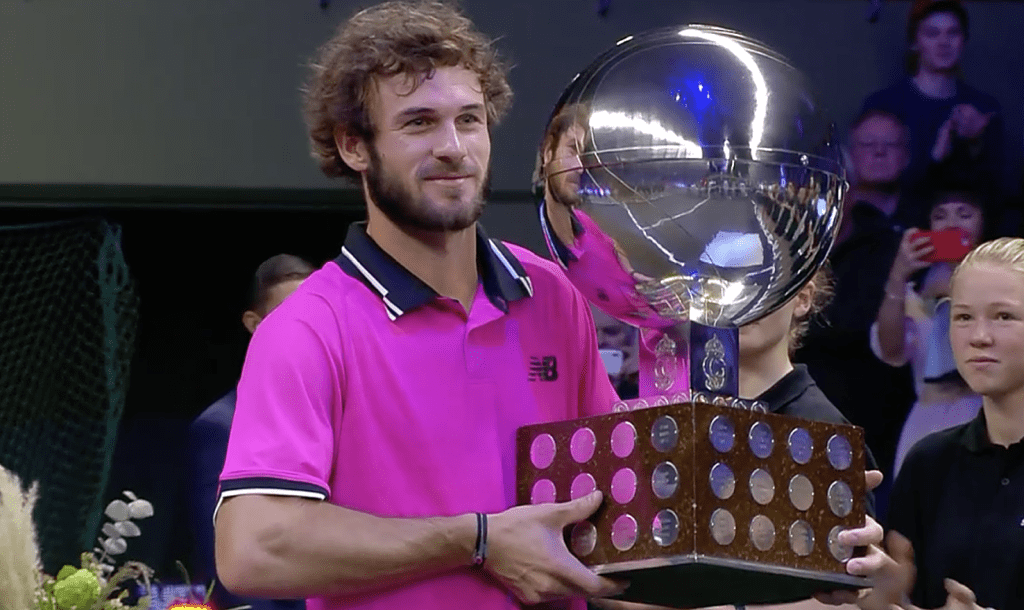 –
Things will change, because there are a lot of ranking points on offer at the WTA Tour Finals.
But for most of the ATP players, the season is over.
Even if the Challenger season continues.
So there are quite a few changes overall, if not so much at the top.
The biggest for Canadians is that Félix Auger-Aliassime moves up a spot with his semifinal effort in Stockholm. He's now a top-10 player.
He might have been good to stay there for the year-end. Except if Jannik Sinner (who is 158 points behind him) gets an opportunity to play in the Tour Finals as an alternate because of the abdominal injury suffered by his compatriot Matteo Berrettini, he could pass him.
For the complete, updated rankings, click here.
= (Career high)
ON THE UPSWING
Felix Auger-Aliassime
(CAN): No. 11 ======> No. 10 (Auger-Aliassime bowed out of the Davis Cup Finals to give himself extra time to heal an ongoing knee injury. But he still has a chance to finish in that spot, depending on what Sinner does).
Denis Shapovalov (CAN): No. 18 ======> No. 14 (The defending champion in Stockholm, Shapovalov felt as though he threw away the final. But he still gets back some of the ground he lost when those 2019 Stockholm points dropped off last week).
Frances Tiafoe (USA): No. 41 ======> No. 38 (So much to look forward to for Big 'Foe in 2022).
Tommy Paul (USA): No. 52 ======> No. 43 (A great season's end for Paul, who rises to a career high, earns his first career ATP Tour title in his first final and, like Tiafoe, has much to look forward to in 2022).
Botic van de Zandschulp (NED): No. 61 ======> No. 57 (He began the season at No. 159, and had to go through the qualifying at every Grand Slam – and made it (even though the AO was as a lucky loser). He won't have to worry about that any more. And he has banked nearly $850,000 after coming into the season with career earnings of about $165,000 in total since turning pro in 2013).
Tallon Griekspoor (NED): No. 73 ======> No. 65 (Another Dutchman – a year younger than Van de Zandschulp at 25 – also reaches a career high. After losing in the second of hte US Open in straight sets to Novak Djokovic, Griekspoor went down to Uruguay to play Davis Cup – and then, went on a tear. He has now won five consecutive Challengers and gone 25-0. The first three came on clay. The last two were on hard court. And in the fourth one, notably, he defeated Fernando Verdasco in the semis and Feliciano Lopez in the finals to win in Tenerife. What a run).
Jaume Munar (ESP): No. 89 ======> No. 83 (The 24-year-old, whose career high of No. 52 came in 2019, reached the semis of the Montevideo Challenger).
Daniel Altmaier (GER): No. 105 ======> No. 98 (The 23-year-old German has finally broken into the top 100 after making the final at the Knoxville Challenger, Notably, he defeated Jack Sock in the quarterfinals in a third-set tiebreak. It was his 27th tournament of the year. Beginning the season at No. 132, he didn't even play the Australian Open qualifying, and began the season playing Challengers on clay in Turkey).
Oscar Otte (GER): No. 125 ======> No. 116 (Otte, a 28-year-old who is another grinding foot soldier in the game, had some highlights at majors this season. He went from the qualifying (where it was so hot he vomited on the court in squeaking through his second-round qualifying match) to the fourth round of the main draw. He also qualified and pushed Alexander Zverev to five sets in the first round at Wimbledon. He's at a career high after winning two Challenger in the last three weeks – in Germany and last week in Ortisei, Italy. It ook him until the end of April to win his second match of the season.
Hugo Dellien (BOL): No. 130 ======> No. 120 (Dellienn won the Montevideo Challenger last week, over Juan Ignacio Londero in the final).
Christopher Eubanks (USA): No. 178 ======> No. 149 (The big-serving 25-year-old's career has ebbed and flowed. But he's back within two spots of his career high ranking with a win at the Knoxville Challenger).
Filip Peliwo (CAN): No. 409 ======> No. 389 (All that grinding on the ITF circuit has paid off for the Canadian, who breaks back into the top 200 with a semifinal at a $25K in Israel two weeks ago. He reached another semifinal last week. And when those points go on, he should move up another 15 spots).
ON THE DOWNSWING
Jannik Sinner (ITA): No. 10 ======> No. 11 (Sinner drops out of the top 10 after the early loss in Stockholm, where he was the top seed. But he might still have a shot at getting it back).
Aslan Karatsev (RUS): No. 15 ======> No. 17 (As quick as his rise was, it's easy to forget that a year ago at this time, Karatsev was playing late-season Challengers and small ATPs. He drops his points from reaching the Sofia semifinals last November).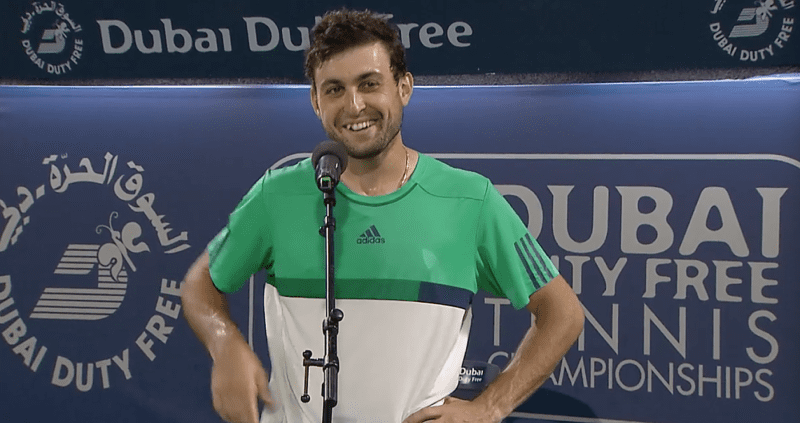 Sebastian Korda (USA): No. 39 ======> No. 41 (Korda drops out of the top 40 as he spent this week playing the exhibition Next-Gen Finals. But the $258,000 US he earned will take any sting away).
Marcos Giron (USA): No. 57 ======> No. 66 (Giron reached a career high last week. But this week he drops the points from winning a late-season Challenger in Houston, all the way back in 2019).
Adrian Mannarino (FRA): No. 66 ======> No. 72 (Mannarino traded in a semi from Sofia in 2020 for a first-round loss in Stockholm last week).
Richard Gasquet (FRA): No. 74 ======> No. 86 (Gasquet made the ATP Sofia semifinals a year ago. This year, he lost to young countryman Arthur Cazeaux in the second round of a Challenger. Hence the drop).
Emil Ruusuvuori (FIN): No. 79 ======> No. 92 (Some of the growing pains when you move up from Challengers to ATP are evident in the 22-year-old's ranking, after he lost in the first round of Stockholm to Pedro Martinez. He won a Challenger in his homeland in 2019, which means 80 points dropped off that he couldn't replace. He's actually slightly below where he was a year ago, which after all that grind has to be somewhat discouraging).
Denis Kudla (USA): No. 97 ======> No. 102 (Kudla didn't play Knoxvile last week. But back in 2019 he won a Challenger in Cary, N.C. the same week. And the resulting dropping of points kicks him out of the top 100).
Vasek Pospisil (CAN): No. 114 ======> No. 133 (Pospisil used the Challenger circuit to get his ranking back up after injury, a couple of years ago. He tried the same thing this year. But he lost in a third-set tiebreak in the first round to No. 349 Emilio Nava in Charlottesville. And then he lost a three-setter in the first round of the Knoxville Challenger last week, to No. 178 Christopher Eubanks (who ended up winning the tournament). Pospisil's points from making the Sofia ATP Final last November fall off. And so does his ranking. He's not playing the Champaign Challenger this week.
J.J. Wolf (USA): No. 152 ======> No. 184 (The man with the mullet won the Champaign Challenger in 2019, beating Sebastian Korda in a third-set tiebreak in the final. This year, he lost in the first round to Christian Harrison in Knoxville).
Ivo Karlovic (CRO): No. 231 ======> No. 274 (Karlovic reached the final of a late-season Challenger in Houston back in 2019. Those points finally drop off. He withdrew from the Champaign Challenger this week. So it's hard to know when and if, as he turns 43 in February, we'll see him again).
Alexis Galarneau (CAN): No. 321 ======> No. 375 (Galarneau had been at a career high the last couple of weeks. But some points from 2019 and 2020 – notably, a run to the quarterfinals at that Houston Challenger – where he lost in two tiebreaks to Karlovic in the quarterfinals) drop off and have him back to the drawing board in Champaign this week).
Thomaz Bellucci (BRA): No. 365 ======> No. 405 (The 33-year-old, ranked at No. 21 back in July 2010, has been through some things in recent years. He has played 17 tournaments this season. So far, he has won two matches – one in March, and one in June. In the interim he has fallen down from No. 281 to start the season.
The Canadians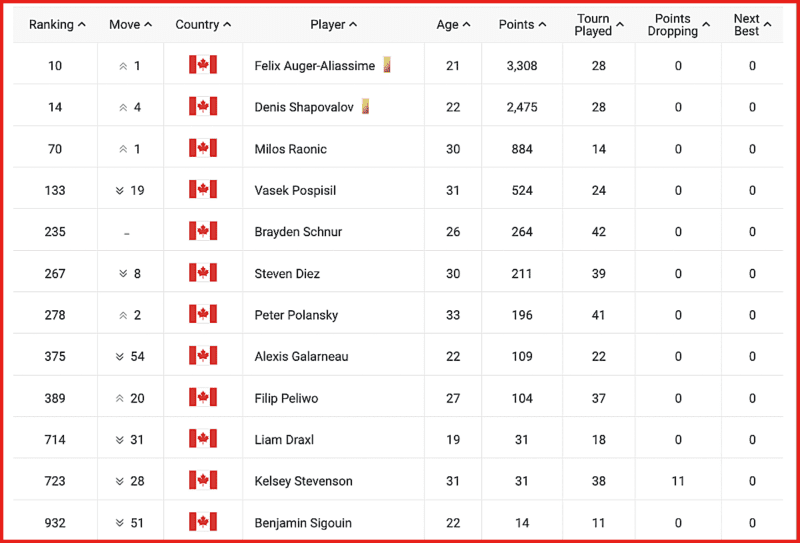 About Post Author