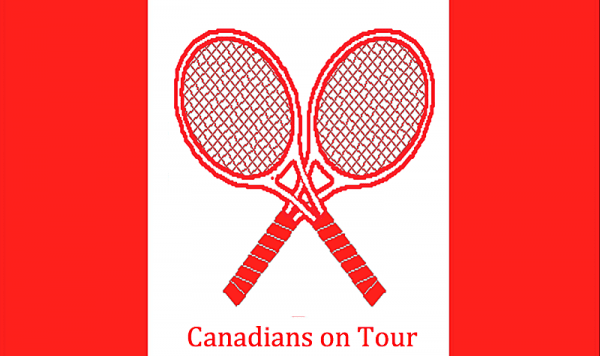 –
The Davis Cup Finals begin mid-week.
So there's no opportunity for the group of lower-ranked Canadians called into service after the withdrawal of the big guns to earn ranking points on the Challenger circuit.
On the plus side, Vasek Pospisil, Peter Polansky, Brayden Schnur and Steven Diez will be able to pick up a chunk of change that will help their quest in 2022.
Carol Zhao continues on a South American clay swing, while the lower-level ITFs feature plenty of Canadians, including Can-American Carston Branstine, who is back in action in Cairo and dropped a 3h48 minute marathon win over a qualifier in the second round.
*************************
Davis Cup Finals


Group Stage – Madrid, Spain

Vasek Pospisil
Brayden Schnur
Peter Polansky
Steven Diez

lost to Sweden 0-3
#2 Elias Ymer (SWE) def #2 Steven Diez (CAN) 64 62
#1 Mikael Ymer (SWE) def #1 Vasek Pospisil (CAN) 64 64
Andre Goransson / Robert Lindstedt (SWE) def Steven Diez Brayden Schnur / Vasek Pospisil (CAN) 76 64
vs Kakazkhstan (Sunday, 4 a.m.)
________________________________________
Puerto Vallarta Challenger
Puerta Vallarta, MEX. (ATP Tour Challenger)
Singles
[3] Alejandro Tabilo (CHI)
1st rd: def Adrian Menendez Maceiras (ESP) 63 62
2nd rd: def. Donald Young (USA) 62 61
QF: def. [8] Tatsuma Ito (JPN) 62 62
SF: def. Yosuke Watanuke (JPN) 63 62
F: vs. [2] Daniel Altmaier (GER)
Alexis Galarneau
1st rd: def [4] Ernesto Escobedo (USA) 75 67 (4) 75
2nd rd: lost to Kaichi Uchida (JPN) 64 62

[Q] Liam Draxl
1st rd: lost to [7] Wu Tung-Lin (CHN) 63 61
Doubles
Alexis Galarneau / Liam Draxl
1st rd: def [PR] Pedja Krstin (SRB) / Rubin Statham (NZL) 61 62
QF: def. Evan King / Hunter Reese (USA) 63 36 [10-2]
SF: lost to Gils Brouwer (NED) / Reese Stalder (USA) 64 64
Singles Qualifying
[8] Liam Draxl
1st rd: def [ALT] Dennis Novikov (USA) 63 61
Final rd: def. [3] Vasil Kirkov (USA) 51 retd
______________________________
Abierto Da Republica
Brazilia, Brazil (ITF $60K)
Singles



Carol Zhao
1st rd: def Chanelle Van Nguyen (USA) 26 61 61
2nd rd: def. [7] Marie Lourdes Carle (ARG) 60 46 63
QF: lost to [4] Gabriela Lee (ROU) 57 76 (9) 75
Milovice Indoor Open 2021
Milovice, Czech Republic (ITF $25K)
Singles



Katherine Sebov
1st rd: lost to [4] Jesika Maleckova (CZE) 36 62 64
Doubles



Katherine Sebov / Alice Robbe (FRA)
1st rd: lost to [4] Carole Monnet / Maria Timofeeva (RUS) 63 64
_________
Egypt ITF World Tennis Tour
Cairo, Egypt (ITF $15K)
Women's singles



Carson Branstine
1st rd: def [Q] Hla El-Sakka (EGY) 63 62
2nd rd: def. [Q] Youmi Zhuoma (CHN) 75 67 (4) 75
QF: def. [1] Rosa Vicens Mas (ESP) 63 64
SF: def Aliona Falei (BLR) 75 63
F: vs. Priska Madelyn Nugroho (INA)
_________

_________
_________
World Tennis Tour Cancun
Cancun, MEX (ITF Women's 15K)
Women's Singles
[7] Stacey Fung
1st rd: def Koral Koldobski (ISR) 61 62
2nd rd: vs. Alica Rusova (SRB) 76 (5) 61
QF: lost to [1] Marcela Zacarias (MEX) 64 36 64

Longi Noelly Nsimba
1st rd: lost to Joelle Kissell (USA) 62 06 63
Women's Doubles
Stacey Fung / Lia Karatantcheva (BUL)
1st rd: def Jessica Hinojosa Gomez / Maria Fernanda Navarro (MEX) 63 76 (3)
QF: def. [4] Tiphanie Fiquet (FRA) / Stephanie Kent (USA) 63 75
SF: vs. Minayami Akiyama / Miho Kuramochi (JPN)
Men's singles qualifying
[4] Christian Lakoseljac
1st rd: Bye
2nd rd: lost to Andres Chavez (BOL) 63 62 retd
_______________
M15 Guatemala


Guatemala, Guatemala (ITF 15K)
Singles



[7] Joshua Peck
1st rd: lost to [Q] Stefan Simeunovic (CAN) 63 46 62
Taha Baadi
1st rd: def [Q] Tennyson Whiting (USA) 62 76 (8)
2nd rd: def. [Q] Stefan Simeunovic (CAN) 76 (6) 64
QF: def Nicolas Buitrago (COL) 64 46 62
SF: lost to [4] Colin Sinclair (NMI) 76 (8) 76 (4)
[Q] Stefan Simeunovic
1st rd: def [7] Joshua Peck (CAN) 63 46 62
2nd rd: lost to Taha Baadi (CAN) 76 (6) 64
Doubles
[2] Joshua Peck / Peter Bertran (DOM)
1st rd: def Alejandro Hoyos Franco (COL) / Scott Fletcher (USA) 64 75
QF: lost to Matthew Foster-Estwick / Tommaso Carnevale Miino (ITA) WALKOVER
Taha Baadi / Jody McGinley (ANT)
1st rd: vs. Jeffrey Hsu (TPE) / Tennyson Whiting (USA)
QF: lost to [4] Brandon Perez / Ricardo Rodriguez-Pace (VEN) 46 64 [10-4]
Singles Qualifying
Stefan Simeunovic
1st rd: def Chen Ying-Ze (TPE) 64 76
Final rd: def. [7] Anshumat Srivastava (IND) 60 60
_______________
M15 and

W15

Heraklion
Heraklion, Greece (ITF 15K)
Women's Singles

[WC] Laura Vasilescu
1st rd: def. [Q] Karolina Novakova (CZE) 64 62
2nd rd: lost to [3] Martina Spigarelli (ITA) 63 63

Women's Singles qualifying
[10] Keira Blackbeard
1st rd: Bye
2nd rd: lost to Jana Stojanova (BUL) 62 60

Men's Singles qualifying
Michel-Alexandre Fortin
1st rd: lost to Elmer Moller (DEN) 62 63
Austin Hoole
1st rd: lost to [3] Charles Brown (GBR) 61 60
______________
Magic Tours


Monastir, Tunisia (ITF 15K)
Doubles
[WC] Nifemi Akinbiyi / Bianca Behulova (SVK)
1st rd: lost [4] Natsuho Arakawa / Lisa-Marie Rioux (JPN) WALKOVER

Singles qualifying
Nifemi Akinbiyi
1st rd: lost to [WC] Kira Pavlova (RUS) 63 61

_______________
–