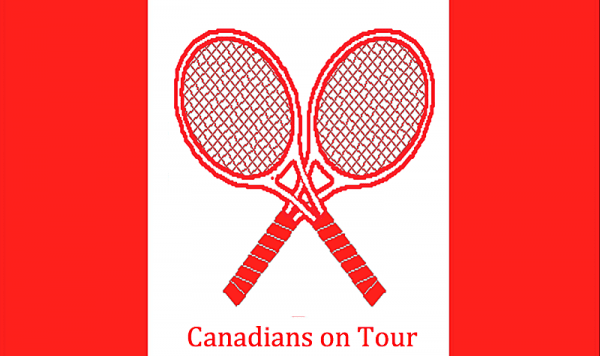 –
The main event is in Australia – and a few Canadians have survived into the second week.
The rest of the tennis planet is slowly waking up to the fact that it's 2022.
But Vasek Pospisil took a Challenger title in France. And Stacey Fung won the singles at an ITF in Cancun.
So it's a good start.
*************************
Australian Open
Melbourne, Australia (Grand Slam)
Men's singles



[9] Félix Auger-Aliassime
1st rd: def Emil Ruusuvuori (FIN)
2nd rd: def. Alejandro Davidovich Fokina (ESP) 76 (4) 67 (4) 76 (5) 76 (4)
3rd rd: def. [24] Dan Evans (GBR) 64 61 61
R16: def. [27] Marin Cilic (CRO) 26 76 (7) 62 76 (4)
QF: lost to [2] Daniil Medvedev (RUS) 67 (4) 36 76 (2) 75 64
[14] Denis Shapovalov
1st rd: def. Laslo Djere (SRB) 76 (3) 64 36 76 (3)
2nd rd: def. Soonwoo Kwon (KOR) 76 (3) 67 (3) 67 (6) 75 62
3rd rd: def [23] Reilly Opelka (USA) 76 (4) 46 63 64
R16: def. [3] Alexander Zverev (GER) 63 76 (5) 63
QF: lost to [6] Rafael Nadal (ESP) 63 64 46 36 63
Mixed doubles
Erin Routliffe (NZL) / Michael Venus (NZL)
1st rd: def. [WC] Lizette Cabrera / Alex Bolt (AUS) 67 (5) 75 [13-11]
2d rd: def. [4] Alexa Guarachi (CHI) / Tim Puetz (GER) 63 75
QF: lost to [5] Kristina Mladenovic (FRA) / Ivan Dodig (CRO) 64 62
Junior Girls' singles
[14] Victoria Mboko
1st rd: def. [Q] Elena Micic (AUS) 64 62
2nd rd: lost to Qavia Lopez (USA) 61 57 64
Kayla Cross
1st rd: def. Anastasiia Gureva (RUS) 63 64
2nd rd: lost to [1] Petra Marcinko (CRO) 62 62
Mia Kupres
1st rd: def. [12] Hanne Vandewinkel (BEL)
2nd rd: lost to Dominika Salkova (CZE) 64 46 62
Annabelle Xu
1st rd: def. [WC] Lily Fairclough (AUS)
2nd rd: lost to Carolina Kuhl (GER) 36 63 64
Junior Boys' Singles
Jaden Weekes
1st rd: def. [WC] Cooper Errey (AUS)
2nd rd: lost to [9] Rodrigo Pacheco Mendez (MEX) 75 62
Junior Girls' doubles
[6] Annabelle Xu (CAN) / Céline Naef (SUI)
1st rd: lost to Virginia Ferrara / Georgia Pedone (ITA) 60 46 [10-8]
Mia Kupres (CAN) / Ranah Akua Stoiber (GBR)
1st rd: def. Carolina Kuhl (GER) / Tijana Sretenovic (SRB) 46 63 [10-7]
2nd rd: lost to [1] Clervie Ngounoue (USA) / Diana Schnaider (RUS) 63 63
Kayla Cross / Victoria Mboko
1st rd: def. [5] Lucija Ciric Bagaris (CRO) / Sofia Costoulas (BEL) 76 (5) 63
2nd rd: def. Lucie Hlavickova / Dominika Salkova (CZE) 76 (6) 46 [10-4]
QF: def. Ekaterina Khayrutdinova (RUS) / Aruzhan Sagandikova (KAZ) 62 62
SF: vs. [2] Petra Marcinko (CRO) / Johanne Christine Svendsen (SWE) 76 (6) 26 [10-7]
F: vs. [1] Clervie Ngounoue (USA) / Diana Shnaider (RUS) 64 63
Junior Boys' doubles
Jaden Weekes (CAN) / Tanapatt Nirundown (THA)
1st rd: def [6] Olaf Pieczkowski / Borys Zgola (POL) 26 63 [10-8]
2nd rd: def. Ignacio Buse (PER) / Dinko Dinev (BUL) 61 61
QF: def. [1] Mili Poljicak (CRO) / Edas Butvilas (LTU) 63 76 (0)
SF: lost to Alex Michelsen (USA) / Adolfo Daniel Vallejo (PAR) 62 57 [10-5]
*************************
Open Quimper Bretagne Occidentale
Quimper, France (ATP Challenger)

Singles
[5] Vasek Pospisil
1st rd: vs Mathias Bourgue (FRA) 63 46 64
2nd rd: vs. Lukas Lacko (SVK) 64 63
QF: def. [Q] Tim Van Rijthoven (DEN) 76 (3) 64
SF: def. [Q] Hiroki Moriya (JPN) 62 63

F: def. Grégoire Barrere (FRA) 64 36 61
*************************
Tennis Ohio Championships
Columbus, Ohio (ATP Challenger)

Singles
Brayden Schnur
1st rd: lost to [4] Jurij Rodionov (AUT) 64 57 75
Doubles
Peter Polansky / Stefan Kozlov (USA)
Brayden Schnur / Roberto Quiroz (ECU)
1st rd: lost to Luca Margaroli (SUI) / Yasutaka Uchiyama (JPN) 63 76 (4)
Singles qualifying
Alexis Galarneau
1st rd: def. [11] Alexander Kovacevic (USA) 61 46 76 (3)
Final rd: lost to [5] Nicolas Mejia (COL) 36 76 (6) 76 (5)
[4] Peter Polansky
1st rd: def JC Aragone (USA) 63 63
Final rd: lost to lost to [8] Sebastian Fanselow (GER) 63 63
*************************
Midtown Weston 25K
Weston, Fla. (ITF $25K)
Singles
[5] Filip Peliwo
1st rd: lost to Federico Agustin Gomez (ARG) 61 63
[Q] Marko Stakusic
1st rd: lost to [WC] Michael Zheng (USA) 61 10 retd
Doubles
[4] Filip Peliwo / Ricardo Rodriguez (VEN)
1st rd: lost to Abraham Asaba (GHA) / Guy Orly Iradukunda (BDI) 46 60 [10-5]
Singles qualifying
[16] Marko Stakusic
1st rd: def Michael DeFelice (USA) WALKOVER
2nd rd: def. Corey Craig 63 62
Final rd: def [3] A.J. Catanzariti (USA) 46 75 [10-8]
[12] Stefan Simeunovic
1st rd: def Anton Semenov (RUS) 62 62
2nd rd: def Francisco Montana (USA) 62 61
Final rd: lost to [1] Noah Rubin (USA) 60 62
Stefano Liokossis
1st rd: def Brian Glassmoyer (USA) 60 60
2nd rd: lost to [8] Oscar Mesquida Berg (ESP) 60 61
Kirtan Patel
1st rd: lost to [2] Blu Baker (GBR) 64 62
Aleksandar Mitric
1st rd: lost to Luis Fernandez (USA) 62 62
*************************
World Tennis Tour Cancun 2022
Cancun, Mexico (ITF $15K)
Women's Singles
[8] Bianca Jolie Fernandez
1st rd: def [Q] Theadora Rabman (USA) 64 61
2nd rd: def. Paris Corley (USA) 64 61
QF: lost to [3] Stacey Fung (CAN) 62 64

[

3] Stacey Fung


1st rd: def. Maria Gabriela Rivera Corado (GUA) 62 62
2nd rd: vs. Sara Daavettila (USA) 63 63
QF: def [8] Bianca Jolie Fernandez (CAN) 62 64
SF: def. Jade Bornay (FRA) 63 61
F: def. [6] Julie Belgraver (FRA)

76 (1) 75



Men's singles
[Q] Sid Donarski
1st rd: lost to [5] Kyle Seelig (USA) 64 62
Women's Doubles
Longi Noelly Nsimba / Shelby Prince (USA)
1st rd: lost to [2] Mayuka Aikawa (JPN) / Denisa Hindova (CZE) 63 75
[WC] Anastasia Burobina / Yoana Moneva (BUL)
1st rd: lost to [WC] Isabelle Barrera Aguirre / Marika Jones (USA) 63 61
Women's Singles Qualifying
Anastasia Burobina
1st rd: lost to Magdalena Nuñez Pureco (MEX) 63 64

[5] Longi Noelly Nsimba
1st rd: Bye
2nd rd: def. Nikita Liebkind (FIN) 75 62
Final rd: lost to [11] Alessandrea Crump (USA) 06 63 [10-7]
Men's Singles Qualifying
Sid Donarski
1st rd: def Kiyan Santino Kasemi (GER) 75 60
2nd rd: def. [10] Marco Mosciatti (ITA) 67 (1) 61 [11-9]
Final rd: def [3] Nicolas Buitrago (COL) 62 62
Masood Eysa-Beigi
1st rd: lost to [WC] Ryan Johnson (USA) 61 61
Diego Lopato Miguel
1st rd: lost to Mikail Alimli (FRA) 60 63
*************************
Magic Hotel Tours
Monastir, Tunisia (ITF $25K)
Women's Singles
Katherine Sebov
1st rd: vs [7] Anna Siskova (CZE) 62 63
2nd rd: def Shalimar Talbi (BLR) 26 61 63
QF: lost to Maria Timofeeva (RUS) 16 64 61

Women's Doubles
[WC] Laura Vasilescu / Natalia Fehr (SUI)
1st rd: lost to Miriam Bianca Bulgaru / Ilona Georgiana Ghioroaie (ROU) 64 62

Women's Singles Qualifying
Laura Vasilescu
1st rd: lost to Rebeka Stolmar (HUN) 63 60
Men's Singles Qualifying
Austin Hoole
1st rd: lost to Zhuyuan Li (CHN) 62 62

*************************
Egypt Men's/Women's Futures
Cairo, Egypt (ITF $25K)
Women's Singles Qualifying
Ana Grubor
1st rd: Bye
2nd rd: lost to [7] Anita Wagner (BIH) 63 61

–
About Post Author