–
There were two WTA events last week – for a change. And one of them was a 1000 tournament, which grants significant ranking points.
And so, Doha champion Iga Swiatek was able to leap from No. 8 to No. 4 with her comprehensive victory in the final over Anett Kontaveit.
It another week in which a lot of old ranking points are dropping.
Here are the major ones: The Doha event for both 2020 and '21, the points from the 2020 Acapulco tournament (which used to be held jointly with the men, but no longer exists), and last year's Guadalajara points.
There are also seven $15K ITFs from 2020 that drop off.
That means, for those who have been tracking it, that almost all of Genie Bouchard's remaining ranking points disappear.
When she does return, she can use a protected ranking of No. 118. But that doesn't last forever – and doesn't even get her into the main draw of the two Grand Slams she'd be allowed to use it for. So the road back will be long.
(For the complete, updated WTA Tour rankings, click here).
ON THE UPSWING
Barbora Krejcikova (CZE): No. 3 ======> No. 2 (Krejcikova lost in the third round in Doha, but the net plus and Sabalenka's drop push her up to a career high. It's … something else, but she's the second-highest ranked player in the world).
Iga Swiatek (POL): No. 8 ======> No. 4 (Swiatek's run through the Dubai draw gets her to No. 4 in the world, which ties a career high first reached Sept. 27, 2021).
Anett Kontaveit (EST): No. 7 ======> No. 5 (Had Kontaveit beaten Swiatek on Saturday, she would have been the world No. 4. As it is, though, she still hits a career high).
Jelena Ostapenko (LAT): No. 13 ======> No. 12 (Another step up for Ostapenko, whose great run ended in the Doha semis).
Coco Gauff (USA): No. 23 ======> No. 19 (Gauff is back in the top 20 after a run to the quarterfinals in Doha. In a bigger move, she kid finally turns 18 in two weeks.
Sloane Stephens (USA): No. 57 ======> No. 39 (Stephens was being outplayed by Anna Kalinskaya when the Russian, suffering with a hip issue, ended up retiring. It was the break she needed, as she ended up winning the tournament.
Marie Bouzkova (CZE): No. 96 ======> No. 81 (Bouzkova's run to the Guadalajara final earned her 15 spots. It was the second time she's been the bridesmaid there. But her speech in fluent Spanish made her the winner with the crowd on the night.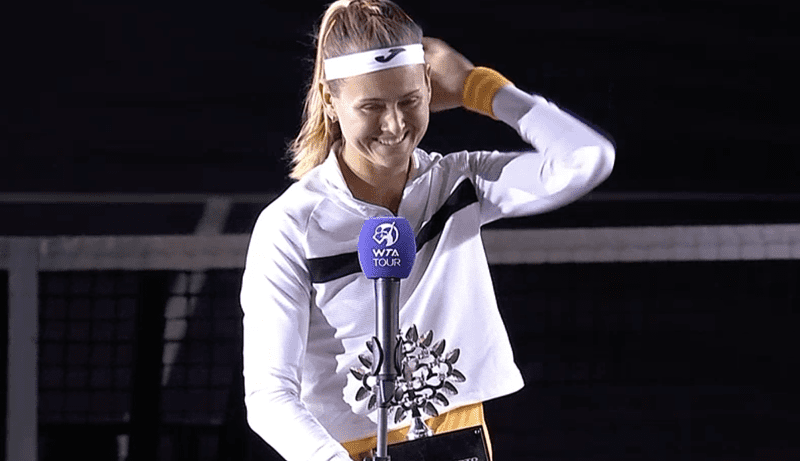 Anna Kalinskaya (USA): No. 100 ======> No. 86 (Kalinskaya beat some good up-and-coming players on her way to the Guadalajara semis, but ended up having to retire against Sloane Stephens. Still, she jumps to a new career high).
Wang Qiang (CHN): No. 144 ======> No. 116 (Wang, who is a former No. 12, makes a dent in a ranking sent plummeting after very little play in 2021. She reached the Guadalajara semis).
Hailey Baptiste (USA): No. 131 ======> No. 123 (Baptiste, 20, reaches a career high after qualifying and making the second round in Guadalajara).
Rebecca Marino (CAN): No. 153 ======> No. 142 (Marino made the final of a $25K in Cancun two weeks ago. She eschewed the qualifying in Guadalajara to play a $60K in Arcadia, Calif. next week).
Asia Muhammad (USA): No. 199 ======> No. 175 (Muhammad is playing a series of ITFs in Australia and successfully using that trip to raise her ranking).
Linda Fruhvirtova (CZE): No. 327 ======> No. 276 (Fruhvirtova wins a $25K ITF in Cancun, leaping more than 50 spots and beating her previous career-high ranking by one. She's still only 16; almost a year ago, she reached the quarterfinals of a WTA 250 in Charleston).
Anhzelika Isaeva (RUS): No. 668 ======> No. 390 (We don't know her, but the 21-year-old jumped … 278 spots in the rankings by going from the qualifying to the title at an ITF in Nur-Sultan. Opponent Greet Minnen of Belgium – far more highly ranked, to say the least – retired after the first in the final. That is definitely worth a shutout).
Sonay Kartal (GBR): No. 532 ======> No. 397 (Another big leap for the 20-year-old Brit we wrote a bit about last week, as the points from winning an ITF in Glasgow show up).
Daria Saville (AUS): No. 610 ======> No. 410 (She's competing on a special ranking just outside the top 100 after Achilles surgery. But her effort to get to the Guadalajara quarterfinals (including a win by retirement over No. 1 seed Emma Raducanu in the first round) allowed her to chop 200 spots off her real ranking).
ON THE DOWNSWING
Paula Badosa (ESP): No. 4 ======> No. 6 (Badosa's run at No. 4 did not last long, as she lost in the third round in Doha and slips behind Kontaveit).
Karolina Pliskova (CZE): No. 5 ======> No. 8 (Pliskova is not losing too much ground as a wrist injury has kept her on the shelf so far in 2022. She has a 1,000 point lead over Garbiñe Muguruza at No. 9).
Petra Kvitova (CZE): No. 21 ======> No. 31 (Kvitova drops a lot of points from winning Doha in 2021, after losing in the second round this year. She has points to defend in Miami, Stuttgart and Madrid, and could well arrive in Paris unseeded. That's assuming the left wrist injury that forced her to retire in Doha isn't too serious).
Sara Sorribes Tormo (ESP): No. 32 ======> No. 36 (The Spaniard replaces her 2021 Guadalajara title with a quarterfinal result, but still only drops four spots).
Ana Konjuh (CRO): No. 51 ======> No. 46 (It's been a loooooong road back from multiple injuries for the 24-year-old Croat, who lost in the second round in Doha. Still, she moves up four spots – imagine – a year ago in Dubai, she was outside the top 400).
Karolina Muchova (CZE): No. 62 ======> No. 73 (Muchova, who has been out since the US Open, drops her points from Qatar 2020)
Renata Zarazua (MEX): No. 121 ======> No. 143 (Zarazua made the Acapulco semifinal as a wild card in 2020. Finally, just now, the points fall off. She lost in the first round of Guadalajara last week).
Jennifer Brady (USA): No. 145 ======> No. 168 (On the shelf since last year's CIncinnati event, Brady's ranking drops because the points from her effort in Doha in 2020 fall off).
Christina McHale (USA): No. 146 ======> No. 171 (McHale lost in the first round of qualifying in Guadalajara, and again in the first round of qualifying in Monterrey over the weekend. She drops her quarterfinal Acapulco points from 2020. At 29, not great times).
Laura Siegemund (GER): No. 158 ======> No. 197 (Siegemund lost in the quarters of an ITF in Portugal, and again this weekend in the final round of Lyon qualifying. Out since the Olympics last summer, she returned at an ITF in Porto last week and in the final round of qualifying over the weekend in Lyon. She returns to the U.S. using a protected ranking inside the top 60 in Miami, and playing doubles at Indian Wells).
Elisabetta Cocciaretto (ITA): No. 164 ======> No. 232 (Cocciaretto drops the points from her run from the qualifying through to the semifinals at Guadalajara a year ago).
Katie Swan (GBR): No. 217 ======> No. 255 (The Brit WON the $25K ITF in Santo Domingo last week. But she drops 38 spots because of 50 points from a $25K in Orlando in 2021. She should bounce right back when those Santo Domino points are added.
Bethanie Mattek-Sands (USA): No. 514 ======> No. 594 (Mattek-Sands has yet to play this year, although we've heard no announcements. She's still at No. 19 in doubles, but has a lot of points coming off (a semi in Dubai and another semi at the Miami Open. Her last match was at Indian Wells last October).
Svetlana Kuznetsova (RUS): No. 177 ======> No. 833 (Also whither Kuznetsova, who hasn't played since last year's Chicago tournament after the US Open. All but 31 of her ranking points fall off with the disappearance of the fruits of her semifinal effort in Qatar – which was a 1000 that year – in 2020).
Eugenie Bouchard (CAN): No. 331 ======> No. 1356 (The points from Bouchard's finals appearance in Guadalara a year ago fall off, and with that, basically, her ranking. She now shows up on the WTA with her double ranking (No. 403) as the default. On the sunny side, she will be able to use a proteced ranking of No. 118 when she returns).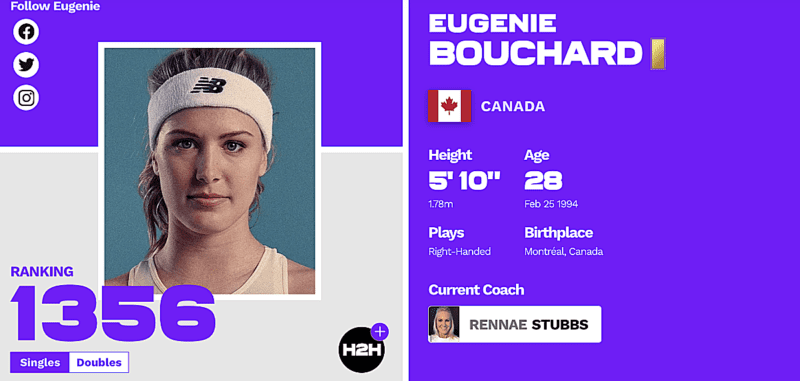 The CANADIANS
THE ROAD TO ???
About Post Author