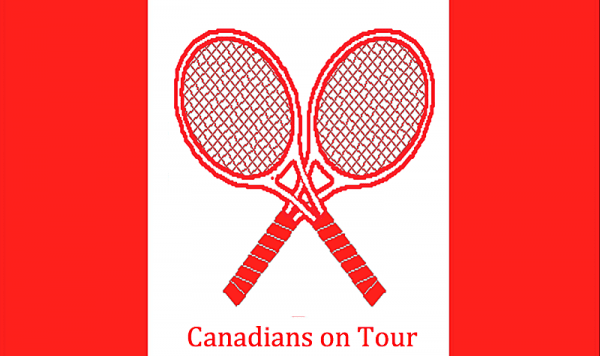 –
MIAMI, Fla. – The Masters 1000 circus begins again, with the second of back-to-back big events on the "Sunshine Swing"
Amd all of the Canadians will hope to do a little better in singles than they did in the California desert, as they hit the heat and humidity of Miami.
On the plus side, it's another haven for Canadian snowbirds – especially the Québécois types. And so another friendly atmosphere with plenty of support.
And there are plenty of other players in action this week, with the exceptions of Carol Zhao and Françoise Abanda (who seems to play very rarely these days).
*************************
Miami Open
Miami, Florida (

ATP

/

WTA

1000)

Men's singles
[7] Félix Auger-Aliassime
1st rd: Bye
2nd rd: lost to Miomir Kecmanovic (SRB) 64 62

[12] Denis Shapovalov
1st rd: Bye
2nd rd: lost to Lloyd Harris (RSA) 63 64

Women's singles
Leylah Fernandez
1st rd: Bye
2nd rd: lost to [PR] Karolina Muchova (CZE) 64 76 (3)

[Q] Rebecca Marino
1st rd: lost to Katerina Siniakova (CZE) 36 62 61
Men's doubles
Denis Shapovalov / Rohan Bopanna (IND)
1st rd: def Marcelo Arevalo (ESA) / Jean-Julien Rojer (NED) 67 (5) 62 [10-3]
2nd rd: vs. [1] Nikola Mektic / Mate Pavic (CRO)

Women's doubles
[6] Gabriela Dabrowski / Giuliana Olmos (MEX)
1st rd: def Lidziya Marozava / Sabrina Santamaria (USA) 61 63
2nd rd: vs. Laura Siegemund (GER) / Vera Zvonareva
Erin Routliffe (NZL) / Alicja Rosolska (POL)
1st rd: def Irina-Camelia Begu / Monica Niculescu (ROU) 76 (3) 76 (4)
2nd rd: def Asia Muhammad (USA) / Ena Shibahara (JPN) 63 76 (2)

Leylah Fernandez / Ingrid Neel (USA)
1st rd: lost to Kirsten Flipkens (BEL) / Sania Mirza (IND)
Women's singles qualifying
Rebecca Marino
1st rd: def. [PR] Kateryna Zavatska (UKR) 63 62
Final rd: def. Zhu Lin (CHN) 63 62
Men's singles qualifying
[20] Vasek Pospisil
1st rd: lost to Hugo Grenier (FRA) 64 76 (5)
*************************
Play In Challenger
Lille, France (ATP Challenger)

Singles
Alexis Galarneau
1st rd: def [WC] Sascha Gueymard Wayenburg (FRA) 16 64 62
2nd rd: def. [5] Grégoire Barrere (FRA) 64 62
QF: lost to [1] Ricardas Berankis (LTU) 64 63

Singles qualifying



Alexis Galarneau
1st rd: def [PR] Patrik Niklas-Salminen (FIN) 62 61
Final rd: def. [4] Alexey Vatutin 46 61 64

*************************
Flowback Challenger Biel
Biel, Switzerland (ATP Challenger)

Singles
Brayden Schnur
1st rd: lost to Evgeny Karlovskiy 67 (5) 63 75
*************************
Dove Men+Care Challenger Bolivia 2
Santa Cruz de la Sierra, Bolivia (ATP Challenger)

Singles
Steven Diez
1st rd: def [LL] Facundo Juarez (ARG) 60 76 (5)
2nd rd: lost to [2/WC] Pablo Cuevas (URU) 64 61
Doubles
Steven Diez / Facundo Juarez (ARG)
1st rd: lost to [2] Luis David Martinez (VEN) / Felipe Meligeni Rodriguez Alves (BRA) 63 61
*************************
Magic Tours
Monastir, Tunisia (ITF $15K)
Singles
[2] Filip Peliwo
1st rd: lost to [Q] Maik Steiner (GER) 62 60
Singles qualifying
Austin Hoole
1st rd: lost to Fabio Renato Schueler (NED) 61 60

Stefan Frljanic
1st rd: lost to Davide Ferrarolli (ITA) 63 76
*************************
Dove Men Care 2022
Medellin, Colombia (ITF $25K)
Singles
[Q] Bianca Jolie Fernandez
1st rd: def Amy Zhu (USA) 67 (4) 64 61
2nd rd: lost to [8] Hanna Chang (USA) 61 64
Doubles
[ALT] Bianca Jolie Fernandez / Daniela Vismane (LAT)
1st rd: lost to Ylena In-Albon (SUI) / Sinja Kraus (AUT) 75 64

Singles Qualifying
[4] Bianca Jolie Fernandez
1st rd: Bye
Final rd: def [15] Maraia Paula Manrique (COL) 61 62

*************************
The Campus Open
Quinta do Lago, Portugal (ITF $25K)
Singles Qualifying
[16] Sid Donarski
1st rd: def Andrew Stewart (POR) 62 10 retd
2nd rd: lost to Mario Monclus Martin (ESP) WALKOVER

Michel-Alexandre Fortin
1st rd: def Ivan Solans (ESP) 61 64
2nd rd: def. [13] Stepan Pecak (CZE) 46 76 (6) [10-6]
Final rd: lost to [1] Joshua Paris (GBR) 61 63

*************************
Egypt Men's Futures
Sharm El Sheikh, Egypt (ITF $15K)
Singles
Kelsey Stevenson
1st rd: lost to [Q] Loic Cloes (BEL) 64 63

Doubles
Kelsey Stevenson / Francis Casey Alcantara (PHI)
1st rd: def [4] Aleksandre Bakshi / Aleksandre Metreveli (GEO) 36 61 [10-7]
QF: def Kirill Kivattsev / Vitali Shvets WALKOVER
SF: def Marco Brugnerotto / Lorenzo Rottoli (ITA) 60 62
F: lost to Petr Bar Biryuokov / Marat Sharipov 67 (6) 63 [10-8]

*************************
M25 Opatija
Opatija, Croatia (ITF $25K)
Singles
[Q] Matthias Uwe Kask
1st rd: lost to Tomasso Compagnucci (ITA) 76 (4) 36 63

Singles qualifying
Matthias Uwe Kask
1st rd: def [WC] Christian Carassai (ITA) 62 60
2nd rd: def [7] Lorenzo Favero (ITA) 64 64
Final rd: def. [15] Filippo Giovannini (ITA) 62 64
*************************
Antalya Series
Antalya, Turkey (ITF $15K)
Singles qualifying
Anna Grubor
1st rd: lost to Melisa Senli (TUR) 76 (0) 64
*************************
Vilas Academy Calvia Open
Palmanova, Spain (ITF $15K)
Women's Singles qualifying
Keira Blackbeard
1st rd: lost to [WC] Helena Buchwald (GER) 60 62

About Post Author