–
Sunday was one of those days on the ATP Tour that will be remembered for a long time – both for accomplishment, and drama level.
In Barcelona, the clay heir apparent did what his predecessor Rafael Nadal did 17 years ago – win Barcelona and leap into the top 10 for the first in his career.
As it happened, Nadal beat Carlos Alcaraz's coach Juan Carlos Ferrero on that day back in 2005.
In Belgrade, there was a packed house in Novak Djokovic's club as he made the final, and used up his last ounce of energy just to nail down the second set against Andrey Rublev. He had nothing left in the third.
Afterwards, a trophy ceremony turned into something akin to an … early retirement ceremony as Djokovic honoured long-time members of his support staff.
It was … well, it was a little surreal.
For the complete, updated ATP Tour rankings, click here.
ON THE UPSWING
Carlos Alcaraz (ESP): No. 11 ========> No. 9 (It turns out the "next one" just needed a little breather after Miami, and so had an early exit in Monte Carlo. His effort to win a marathon in a rain-delayed semifinal Sunday – and then come back and absolutely routine Pablo Carreño Busta, will go down in the books).
Pablo Carreno Busta (ESP): No. 19 ========> No. 18 (A tremendous effort to get to the final, but Carreño Busta was no match for Alcaraz on the day).
Roger Federer (SUI): No. 42 ========> No. 41 (Lol).
Fabio Fognini (ITA): No. 62 ========> No. 50 (Fognini had a big drop as old, old points from Monte Carlo fell off last week. But at least he made a dent in it and got himself back to the top 50 by getting to the semis in Belgrade).
Emil Ruusuvuori (FIN): No. 73 ========> No. 63 (A career high for the 23-year-old from Finland after making the third round in Barcelona).
Brandon Nakashima (USA): No. 81 ========> No. 76 (Unlike his fellow young American Brooksby, Nakashima has made the move to Europe. And just by winning his first round in Barcelona against a Spanish wild card ranked No. 285, he gains five spots).
Marc-Andrea Huesler (SUI): No. 144 ========> No. 127 (The 25-year-old from Switzerland won his fifth career Challenger, his second in Mexico this year, moving him to another career high. He began the season at No. 186 and has done it without winning any main draw matches in the big Tour. All grind).
Christopher O'Connell (AUS): No. 147 ========> No. 129 (The stylish Aussie won the Challenger in Split, Croatia last week).
Michael Mmoh (USA): No. 198 ========> No. 179 (Michael Mmoh, in the same generation as the young crew of Americans now populating the top 50, was supposed to be among the best of them. But it hasn't happened; his career high (a brief foray into the top 100) came in Oct. 2018 when he was just 20. He's 24 now, and time is passing. He helped his cause some by reaching the final of the Tallahassee Challenger last week).
Juan Pablo Ficovich (ARG): No. 204 ========> No. 181 (The 25-year-old is at a career high after reaching the final in Aguascalientes).
Zsombor Piros (HUN): No. 221========> No. 189 (Piros, coached by his dad, reaches a career high and breaks into the top 200 with a run to the final of the Split Challenger. Now 22, Piros got to No. 3 in the ITF junior rankings in 2017, capping off his career with a title at the European Junior Champions that year after starting it as a finalist at both the Traralgon warmup and the Australian Open junior boys event. Most of the best of his generation have broken through long before this; but to each his own path).
Tung-Lin Wu  (TPE): No. 287 ========> No. 221 (The 23-year-old from Taipei gets close to the career high of No. 213 he reached two years ago, just before the pandemic hit. He wins the Tallahassee Challenger, and an opportunity to try to qualify at Roland Garros for the first time. He has squeezed into the AO qualies a couple of times, in 2020 and 2021 – when he got to the final round and almot made it – but never anywhere else).
Lukas Rosol (CZE): No. 261 ========> No. 249 (At 36, Rosol is still kicking around the Challenger circuit and made a little move last week).
Steven Diez (CAN): No. 297========> No. 277 (A nice jump of 20 points after a quarterfinal Challenger effort last week will do Diez's soul some good; his ranking has basically been in freefall for awhile now. It probably won't be enough to get him into Roland Garros qualifying, though, with the deadline today).
ON THE DOWNSWING
Aslan Karatsev: No. 30 ========> No. 33 (Karatsev is on the downside and might go into Roland Garros unseeded. But the way he's been playing, it might be kind of a moot point).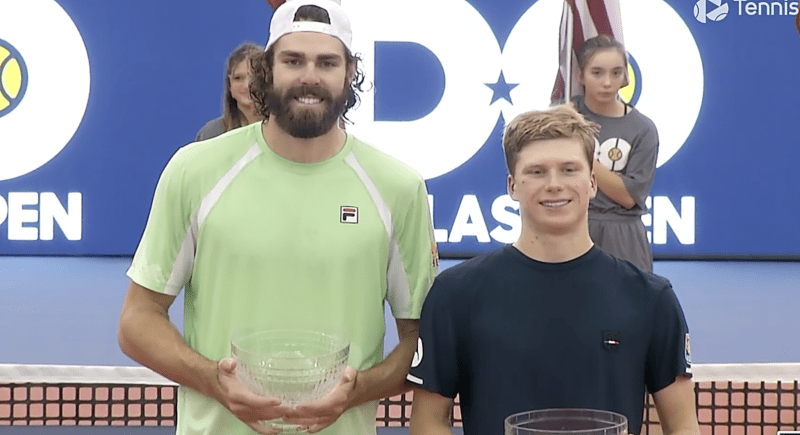 Jenson Brooksby (USA): No. 39 ========> No. 43 (Brooksby is taking his sweet time getting to Europe for the clay. In the meantime, his Challenger points from a year ago – in this case, a title in Tallahassee – are falling off. He didn't play any of the European clay last year until he went to Roland Garros and qualified. So it's definitely an opportunity lost to get himself seeded and out of the grasp of the top players in the early rounds).
David Goffin (BEL): No. 49 ========> No. 55 (Goffin lost to Filip Krajinovic in the first round of Belgrade, as third-round points from Barcelona a year ago fall off).
Kei Nishikori (JPN): No. 56========> No. 64 (Nishikori is still out, and still dropping).
Jan-Lennard Struff  (GER): No. 63 ========> No. 69 (Struff withdrew from Munich this week, too. So no immediately chance to get those ranking spots back).
Dominic Thiem (AUT): No. 54 ========> No. 93 (Thiem is trying, but he wasn't quite there in Belgrade. He's taken a wild card into Estoril this week to try to get some more matches under his belt. The 250 points that drop are the remaining 50 per cent left from his Barcelona title in 2019. Thiem has a semi in Madrid to defend in a couple of weeks – fully half the points he's got remaining on the board. If he loses early, that could drop him outside the top 160).
Nicolas Jarry (CHI): No. 126 ========> No. 140 (Jarry's trajectory has been nearly universally upward, as he has tried to climb all the way back up the rankings from scratch after a doping suspension. But he's been at it awhile now; his quarterfinal in Aguascalientes didn't balance out his title in Salinas, Ecuador a year ago. He has a final from Salinas a year ago, in a lower-level Challenger, to defend this week).
Pierre-Hugues Herbert (FRA): No. 142========> No. 157 (No doubt he'll be sniffing around the FFT for a singles wild card in Paris. But Herbert's refusal to be vaccinated has narrowed his competitive options this season. As a result, he has to try to maximize in the Challengers he's been able to play. And he's lost in the first round of three of his last four events).
Bjorn Fratangelo (USA): No. 176 ========> No. 201 (Fratangelo, 28, edges out of the top 200 after fighting so hard to get back into it. He drops his points from the Tallahassee final he lost to Brooksby a year ago).
Jeremy Chardy (FRA): No. 236 ========> No. 255 (Chardy hasn't played since the US Open, reportedly because of a bad vaccine reaction – that was nearly eight months ago. He does appear to be planning to play Roland Garros, which he has entered with a protected ranking).
Borna Coric  (CRO): No. 241========> No. 262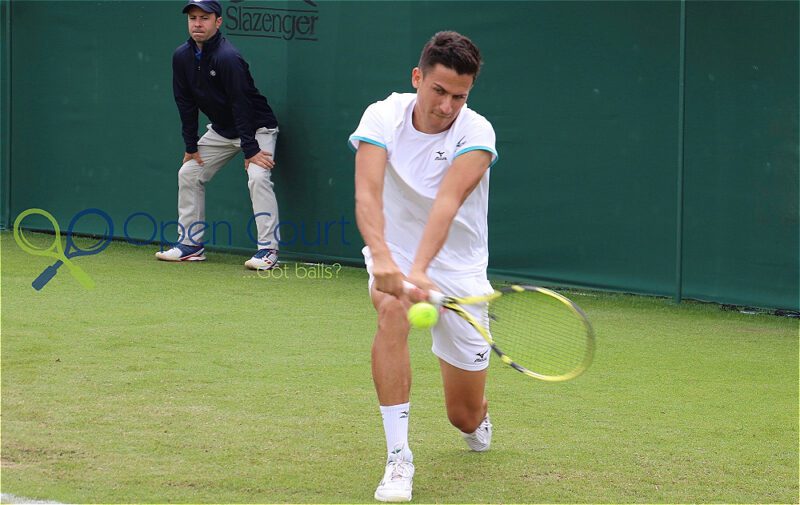 Attila Balazs (HUN): No. 242 ========> No. 264 (The 33-year-old Hungarian, who reached his career high of No. 76 the week before tennis shut down in March 2020, hasn't played since losing in the first round of the 2021 Australian Open. But he has entered Roland Garros with a protected ranking that should just squeeze him into the main draw. Balazs actually retired from the tour for several years because of constant injuries before he returned in 2016. Seems like his luck hasn't changed for good).
THE CANADIANS
ROAD TO TURIN
ROAD TO MILAN
About Post Author