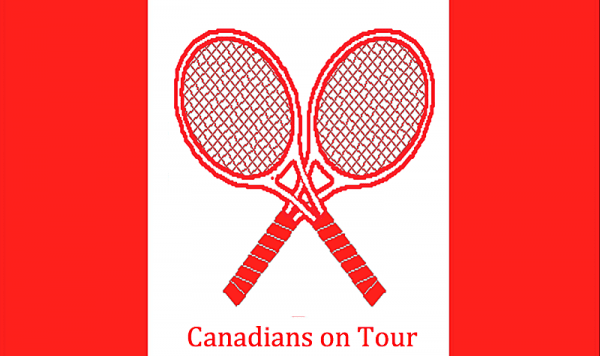 –
Madrid swings into full gear, as only a few singles and doubles matches were played on the Canadian side before the end of the tournament's "first week".
So we've carried over all the draws from last week.
Félix Auger-Aliassime and Denis Shapovalov don't exactly come in on a roll, and did a little – but not a ton, in Madrid.
But Gabriela Dabrowski and partner Giuliana Olmos won their first title together as a team in the women's doubles.
*************************
Mutua Madrid Open


Madrid, Spain (WTA/

ATP

1000)
Men's singles
[8] Félix Auger-Aliassime
1st rd: Bye
2nd rd: def Cristian Garin (CHI) 63 60
3rd rd: def. [10] Jannik Sinner (ITA) 61 62
SF: lost to [2] Alexander Zverev (GER) 63 75

[14] Denis Shapovalov
1st rd: def [LL] Ugo Humbert (FRA) 76 (1) 63
2nd rd: lost to [WC] Andy Murray (GBR) 61 36 62
Women's singles
[17] Leylah Fernandez
1st rd: def [Q] Andrea Petkovic (GER) 61 16 64
2nd rd: lost to Jil Teichmann (SUI) 64 64

[PR] Bianca Andreescu
1st rd: def Alison Riske (USA) 64 36 60
2nd rd: def. [6] Danielle Collins (USA) 61 61
3rd rd: lost to [12] Jessica Pegula (USA) 75 61

Men's doubles
Denis Shapovalov / Rohan Bopanna (IND)
1st rd: lost to [WC] Pablo Carreño Busta / Pedro Martinez (ESP) 67 (6) 63 [10-1]
Félix Auger-Aliassime / Grigor Dimitrov (BUL)
1st rd: def Maximo Gonzalez / Diego Schwartzman (ARG) 63 76 (8)
2nd rd: lost to [6] Robert Farah / Juan Sebastian Cabal (COL) WALKOVER
Women's doubles
[2] Gabriela Dabrowski / Giuliana Olmos (MEX)

1st rd: Bye
2nd rd: def. Han Xinyun (CHN) / Alexandra Panova 67 (3) 64 [10-8]
QF: def Ulrikke Eikeri (NOR) / Tereza Mihalikova (SVK) 63 62
SF: def Lyudmyla Kichenok (UKR) / Jelena Ostapenko (LAT) 57 61 [10-6]
F: vs. [3] Desirae Krawczyk (USA) / Demi Schuurs (NED) 76 (1) 57 [10-7]
Erin Routliffe (NZL) / Alicja Rosolska (POL)
1st rd: def Eri Hozumi / Makoto Ninomiya (JPN) 62 64
2nd rd: lost to [1] Zhang Shuai (CHN) / Storm Sanders (AUS) 62 64

Leylah Fernandez / Katerina Siniakova (CZE)
1st rd: def [5] Anna Danilina (KAZ) / Beatriz Haddad Maia (BRA) 67 (4) 76 (4) [10-7]
2nd rd: lost to Ulrikke Eikeri (NOR) / Tereza Mihalikova (SVK) 61 64
*************************
L'Open 35 de Saint-Malo
Saint-Malo, France (WTA 125)

Singles
Rebecca Marino
1st rd: def [6] Anna Kalinskaya 36 63 64
2nd rd: lost to Anna Blinkova 75 67 (2) 63
Doubles
Rebecca Marino / Magdalena Frech (POL)
1st rd: lost to [5] Beatriz Haddad Maia (BRA) / Mayar Sherif (EGY) 64 75
*************************
Daytona Beach Women's Open
Daytona Beach, Fla. (ITF $25K)
Singles
[8] Françoise Abanda
1st rd: def Kennedy Shaffer (USA) 64 76 (5)
2nd rd: def. Anastasia Nefedova (USA) 62 62
QF: def. [Q] Eleana Yu (USA) 60 26 76 (5)
SF: lost to [3] Katrina Scott (USA) 62 75
[Q] Bianca Jolie Fernandez
1st rd: lost to Ma YeXin (CHN) 61 60

Doubles
Bianca Jolie Fernandez / Jamilah Snells (USA)
1st rd: lost to Rachel Gailis / Qavia Lopez (USA) WALKOVER
Singles qualifying
[1] Bianca Jolie Fernandez
1st rd: def Meisha Kendall-Woseley (USA) 76 62
Final rd: def. Chelsea Fonenel (SUI) 62 62

[6] Cadence Brace
1st rd: lost to. [WC] Melissa Perman (USA) [ALT] Sayaka Ishii (JPN) WALKOVER
*************************
ITF Pola Giverola
Tossa de Mar, Spain (ITF $25K+H)
Singles
Carol Zhao
1st rd: def [WC] Lucie Cortez Llorca (ESP) 67 (5) 62 61
2nd rd: lost to Jenny Duerst (SUI) 62 75

Doubles
Carol Zhao / Jana Fett (CRO)
1st rd: lost to [2] Celia Cervino Ruiz / Yvonne Cavalle-Reimers (ESP) WALKOVER
Singles qualifying
Anna Grubor
1st rd: def. Mariya Pyrozhenko (UKR) 61 61
2nd rd: lost to [5] Mei Yamaguchi (JPN) 61 75

*************************
W25

and M25 Nottingham


Nottingham, UK (ITF $25K)
Men's singles
Filip Peliwo (POL)
1st rd: def [WC] Phoenix Weir (GBR) 62 63
2nd rd: lost to Stuart Parker (GBR) 63 67 (5) 63
Women's singles
Stacey Fung
1st rd: lost to Alice Robbe (FRA) 62 61
Men's doubles
Filip Peliwo (POL) / Stuart Parker (GBR)
1st rd: lost to Edan Leshem (ISR) / Leandro Reidi (SUI) 63 63
Women's doubles
Stacey Fung / Alexandra Osborne (AUS)
1st rd: def. [WC] Rebecca Hill / Nadia Rawson (GBR) 63 62
QF: lost to Fanni Stoller (HUN) / Yafan Wang (CHN) 63 57 [14-12]
*************************
Magic Tours
Monastir, Tunisia (

W-ITF $25K

–

M ITF $15K

)
Women's singles
[Q] Marina Stakusic
1st rd: def [4] Valeriya Strakhova (UKR) 61 42 retd
2nd rd: lost to Polina Kudermetova 61 26 62

Women's doubles
Marina Stakusic / Nifemi Akinbiyi
1st rd: lost to Xun Fang Ying / Yang Yidi (CHN) 64 63
Women's singles qualifying
[8] Marina Stakusic
1st rd: def Nifemi Akinbiyi (CAN) 62 63
Final rd: def. [2] Ayumi Morita (JPN) 46 63 [10-6]
Nifemi Akinbiyi (CAN)
1st rd: lost to [8] Marina Stakusic (CAN) 62 63
Men's singles qualifying
Masood Eisa-Beygi
1st rd: lost to Darrshan Suresh (MAS) 63 61
*************************
Antalya Series
Antalya, Turkey (ITF $15K)
Women's singles
[JE] Kayla Cross
1st rd: def Zoziya Kardava (GEO) 63 62
2nd rd: def. [2] Valentine Ryser (SUI) 64 57 63
QF: lost to Rina Saigo (JPN) 62 62

[JE] Mia Kupres
1st rd: lost to [5] Daria Lodikova 61 26 63

Women's singles qualifying
Elle Goranskaya
1st rd: lost to Anna Rahman (JPN) 60 62
Men's singles qualifying
Austin Hoole
1st rd: lost to Nikita Ianin 63 62
Women's doubles
Kayla Cross / Mia Kupres
1st rd: def Mariia Maksimova / Melissa Boyden (NED) 60 63
QF: lost to [3] Rina Saigo / Yukina Saigo (JPN) 16 61 [10-6]
*************************
About Post Author