–
A Masters 1000 typically leads to some big changes in the rankings.
And at the end of the Madrid Open, no one made a bigger move than 19-year-old Carlos Alcaraz.
After winning Miami, and Barcelona, he now has the most meaningful title of his career after beating Alexander Zverev in the final.
Going through Nadal, Djokovic and Zverev on consecutive days is something that … well can't say he'll never do it again. But there's nothing like the first time.
ON THE UPSWING
Carlos Alcaraz (ESP): No. 9 ========> No. 6
(To No. 6 with a bullet for the Madrid champion, and right to No. 2 in the race, right behind Rafael Nadal. To say that he will skip the Next Gen Finals this year is to state the obvious).
Hubert Hurkacz (POL): No. 14 ========> No. 12 (Hurkacz's forehand was absent when he met Novak Djokovic in the Madrid quarterfinals. Still, he moves up two spots).
Daniel Evans (GBR): No. 36 ========> No. 33 (Evans made the third round in Rome and looks good to maybe grab a seed in Paris, because he can only add to his total in Rome).
Jenson Brooksby (USA): No. 42 ========> No. 38 (The American moves up because others moved down, because he lost his opening match in Madrid, in his European clay-court debut this spring).
David Goffin (BEL): No. 60 ========> No. 48 (Getting close to where he should be and playing better tennis, too, after qualifying and making the third round in Madrid. Probably should have beaten Rafael Nadal, too; it just didn't happen for him).
Lorenzo Musetti (ITA): No. 63 ========> No. 51 (Back close to the top 50 – and a new career high after qualifying and making the third round in Madrid).
Benjamin Bonzi (FRA): No. 70 ========> No. 60 (The finalist at the Aix-en-Provence Challenger moves up 10).
Dusan Lajovic (SRB): No. 77 ========> No. 64 (Qualified and made the third round in Madrid. He qualified in Rome again, and will face Alex de Minaur in the first round. Still a long way from his career high of No. 23).
Andy Murray (GBR): No. 78 ========> No. 69 (Slowly putting more points onto his resumé and now inside the top 70, Murray had to pull out of a third-round clash with Djokovic because of an untimely bout of food poisoning).
Jack Draper (GBR): No. 121 ========> No. 106 (The big British lad reaches another career high, after he turned a wild card into Madrid into a third-round effort).
Jurij Rodionov (AUT): No. 157 ========> No. 130 (A new career high for the 22-year-old Austrian after winning teh Mauthausen Challenger).
Geoffrey Blancaneaux (FRA): No. 208 ========> No. 195 (Let's remember that this 23-year-old beat both Denis Shapovalov and Félix Auger-Aliassime on his way to the 2016 junior boys' title at Roland Garros. And only now, six years later, has he finally broken into the top 200 – a career high – after making the semifinals at a Challenger in Prague. It's tough out there).
ON THE DOWNSWING
Matteo Berrettini (ITA): No. 6 ========> No. 8
(Hand surgery means he's missing Rome, too. And you'd have to think he's in doubt for Roland Garros. Tough stretch for the Italian).
Casper Ruud (NOR): No. 7 ========> No. 10 (Points dropping from last year's semis in Madrid, and losing his opener this year – he was the only one of the top eight seeds not to make the quarterfinals – means Ruud is still in the top 10, but barely).
John Isner (USA): No. 23 ========> No. 27 (Isner lost in the second round of Madrid, as his quarterfinalist's points from last year come off).
Alexander Bublik (KAZ): No. 33 ========> No. 41 (Bublik went out in his Madrid opener, and drops his quarterfinal points from a year ago. He'll be unseeded in Paris, but as a "dangerous floater" he can be a danger to himself, as much as any opponent. 🙂 )
Cristian Garin (CHI): No. 39 ========> No. 45 (Given his previous success, there was reason to think the struggling Chilean might muster up a run in Madrid last week. But he barely showed up against Félix Auger-Aliassime in the third round. He's dropped 15 spots in just two weeks. On the plus side for him, he was to face Carlos Alcaraz in the second round of Rome. But the Madrid champion withdrew Sunday).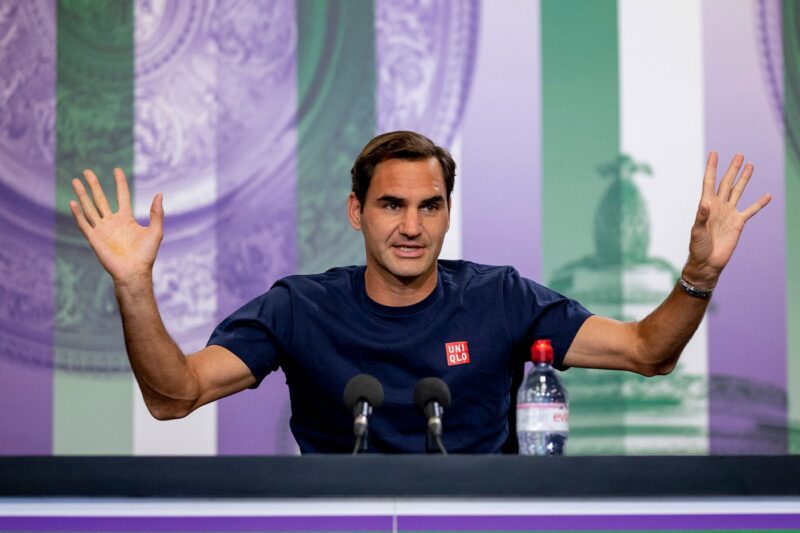 Roger Federer (SUI): No. 41 ========> No. 46 (Dropped 90 points from Madrid 2019. Still in the top 50, though, which is … something. Federer still has six events on his points breakdown – one of them a zero-pointed from this year's Australian Open. They include 600 points from his Wimbledon final of 2019, 250 points from his Halle win in 2019, and 180 from his fourth-round effort a year ago at Roland Garros).
Fabio Fognini (ITA): No. 51 ========> No. 56 (Hasn't been dangerous lately, and lost his opener in Madrid. Dominic Thiem will have a shot at him Monday in Rome – 57 if Bonzi wins).
Alexei Popyrin (AUS): No. 105 ========> No. 127 (His career high of No. 59 came ilast November. But Popyrin has been sort of a ghost in 2022 – he's lost in the first round nine times already. He had to qualify at the Aix-en-Provence Challenger last week, and lost in the first round. He's still on the Challenger circuit this week).
Dominic Thiem (AUT): No. 91 ========> No. 162 (His protected ranking will carry him a ways yet, but dropping 350 points from from last year's Madrid semifinal – so long ago, it must feel to him. He has 90 points from a third round in Rome from a year ago that will drop this week, and points from his 2020 quarterfinal at Roland Garros in a month. He has Fabio Fognini in the first round of Rome Monday).
Jérémy Chardy (FRA): No. 279 ========> No. 335 (Out since last year's US Open with that he has said was a bad reaction to the COVID vaccine, Chardy has just pulled out of Roland Garros, where he was entered with a protected ranking).
Stan Wawrinka (SUI): No. 246 ========> No. 361 (Wawrinka is on the comeback trail, and he gets Reilly Opelka in the first round of Rome. The 90 points from Madrid 2019 that he still had on his ranking drop off. And there aren't many other big chunks left).
THE CANADIANS
ROAD TO TURIN
ROAD TO MILAN
About Post Author