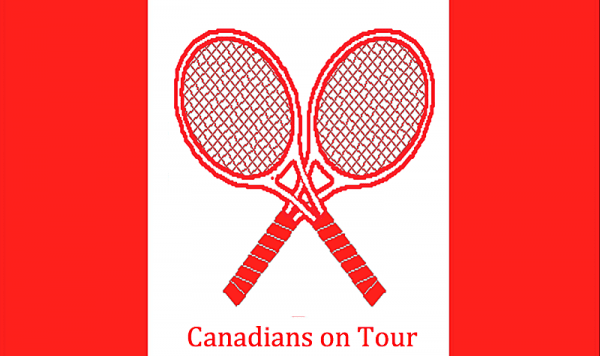 –
From one Masters 1000 straight to another as Shapovalov. Auger-Aliassime, Andreescu and Fernandez head to Rome.
All hope they'll have better fortune.
And there's a blockbuster from the get-go as Andreescu takes on Emma Raducanu – a battle of US Open champions born in Canada. 🙂
There are some stalwart ITF factories opening up this week – notably Cancun and Heraklion as a number of players hit the road with the spring weather.
And on the juniors side, the leadup to the Roland Garros juniors gets under way, with two Grade 1s and a Grade A coming up over the next three weeks.
The girls aren't playing the one this week – they'll be back at the Grade A in Milan next week.
But Jaden Weekes, the only Tennis Canada junior boy ranked highly enough to get into Paris, is playing his fourth European tourney in a row – the highest-grade one.
He'll get there straight off a win at a J2 in Prato, Italy this week, where he was the No. 1 seed. It's his fourth ITF junior title – and the highest-graded one.
*************************
Internazionali BNL d'Italia


Rome, Italy (WTA/

ATP

1000)
Men's singles
[8] Félix Auger-Aliassime
1st rd: Bye
2nd rd: def Alejandro Davidovich Fokina (ESP) 46 76 (2) 62
3rd rd: def. [LL] Marcos Giron (USA) 63 62
QF: lost to [1] Novak Djokovic (SRB) 75 76 (1)
[13] Denis Shapovalov
1st rd: def Lorenzo Sonego (ITA) 76 (5) 36 63
2nd rd: def. Nikoloz Basilashvili (GEO) 64 76 (5)
3rd rd: def. [3] Rafael Nadal (ESP) 16 75 62
QF: lost to [5] Casper Ruud (NOR) 76 (7) 75

Women's singles
Leylah Fernandez
1st rd: def [14] Anastasia Pavlyuchenkova 16 62 62
2nd rd: lost to Daria Kasatkina 46 63 76 (2)

[PR] Bianca Andreescu
1st rd: def [10] Emma Raducanu (GBR) 62 21 retd
2nd rd: def [LL] Nuria Parrizas Diaz (ESP) 63 76 (4)
3rd rd: def. [Q] Petra Martic (CRO) 64 64
QF: lost to [1] Iga Swiatek (POL) 76 (2) 60
Women's doubles
[2] Gabriela Dabrowski / Giuliana Olmos (MEX)
1st rd: Bye
2nd rd: def Anhelina Kalinina (KAZ) / Ekaterina Alexandrova 75 36 [10-7]
QF: def. [8] Shuko Aoyama (JPN) / Hao-Ching Chan (TPE) 75 26 [10-5]
SF: def [6] Sania Mirza (IND) / Lucie Hradecka (CZE) 61 62
F: lost to Veronika Kudermetova / Anastasia Pavlyuchenkova 16 64 [10-7]

Erin Routliffe (NZL) / Alicja Rosolska (POL)
1st rd: lost to [6] Lucie Hradecka (CZE) / Sania Mirza (IND) 61 62
*************************
Liqui Moly Open 2022
Karlsruhe, Germany (WTA 125)

Singles
Rebecca Marino
1st rd: def Viktoriya Tomova (BUL) 63 63
2nd rd: lost to [3] Anna Bondar (HUN) 63 62

Doubles
Julia Lohoff (GER) / Rebecca Marino (CAN)
QF: lost to [2] Greet Minnen (BEL) / Tereza Mihalikova (SVK) 75 75

*************************
Torneig Internacional Femení Solgironès
La Bisbal D'Emporda, Spain (ITF 100K

Singles qualifying



[9] Carol Zhao
1st rd: def Sofia Milatova (SVK) 61 60
Final rd: lost to [5] Daniele Vismane (LAT) 46 63 [`10-6]
*************************
Sarasota W25
Sarasota, Fla. (ITF $25K)
Singles
[Q] Cadence Brace
1st rd: def Ma YeXin (CHN) 63 62
2nd rd: lost to [WC] Samantha Crawford (USA) 46 76 (2) 76 (4)

Singles qualifying
[6] Cadence Brace
1st rd: def Taylor Marie Gales (USA) 60 60
2nd rd: def. [12] Zoe Hitt (USA) 61 62
*************************
W25

and M25 Nottingham


Nottingham, UK (ITF $25K)
Men's singles
[6] Filip Peliwo (POL)
1st rd: def [WC] Brandon Murphy (GBR) 16 62 63
2nd rd: lost to Charles Broom (GBR) 64 64

Women's singles
[Q] Stacey Fung
1st rd: lost to [Q] Mana Ayukawa (JPN) 63 36 63
Men's doubles
Filip Peliwo (POL) / Charles Broom (GBR)
1st rd: lost to [4] Ben Jones / Daniel Little (GBR) 75 62
Women's singles qualifying
[4] Stacey Fung
1st rd: def Kate Mansfield (USA) 61 60
Final rd: def. Andre Lukosiute (LTU) 76 (4) 63

*************************
M25 Heraklion
Heraklion, Greece (ITF $25K)
Men's singles
[8] Kelsey Stevenson
1st rd: def [Q] Tom Evans (AUS) 62 46 61
2nd rd: lost to Colin Markes (USA) 62 63
Men's doubles
[1] Kelsey Stevenson / Aaron Addison (AUS)
1st rd: def Matic Dimic / Sebastian Dominko (SLO) 63 36 [10-8]
QF: def. [WC] Ethan Cook / Timothy Grey (AUS) 64 67 (3) [10-2]
SF: def. [WC] Adrian Bodmer / Luca Castelnuovo (SUI) 63 75

F: def. Gabriel Donev / Simon Anthony Ivanov (BUL) 76 (3) 76 (4)
Men's singles qualifying
Thomas Sorensen
1st rd: lost to Sergei Lysov (AZE) 76 (4) 63
Steven McCartney
1st rd: lost to Ethan Cook (AUS) 64 60
*************************
Magic Tours
Monastir, Tunisia (ITF $15K)
Women's singles
Marina Stakusic
1st rd: lost to [4] Anna Ukolova 62 26 75

[Q] Keira Blackbeard
1st rd: lost to Chihiro Takayama (JPN) 61 62

[WC] Nifemi Akinbiyi
1st rd: lost to [6] Yang Yidi (CHN) 62 61
Women's doubles
Nifemi Akinbiyi / Rebecca Frant (ITA)
1st rd: lost to [4] Yang Yidi / Xun Fang Ying (CHN) 60 40 retd
Keira Blackbeard / Sampada Coster (USA)
1st rd: def. Caterina Odorizzi / Martina Peretti (ITA) 63 62
QF: lost to [4] Yang Yidi / Xun Fang Ying (CHN) 62 60
Men's doubles
[WC] Masood Eisa-Beygi / Farzan Amiri (USA)
1st rd: lost to Jayden Court / Alexander Crnokrak (AUS) 61 64
Women's singles qualifying
Keira Blackbeard
1st rd: Bye
Final rd: def. Kerstin Peckl (AUT) 63 61
Men's singles qualifying
Masood Eisa Beygi
1st rd: lost to Farzan Amiri (USA) 61 75
*************************
Doboj Open
Doboj, BIH (ITF $15K)
Doubles
[WC] Aleksa Vladicic / Srdjan Fundup (BIH)
1st rd: lost to [4] Bozo Barun / Alen Rogic Hazdalic (CRO) 60 64
Singles qualifying
Marko Stakusic
1st rd: def Luka Bojicic Ono (BRA) 61 61
2nd rd: lost to Jan Kupcic (SLO) 64 36 [10-8]
[WC] Aleksa Vladicic
1st rd: lost to Tino Kovacic (SLO) 61 61
*************************
Magic Tours
Monastir, Tunisia (ITF $25K)
Doubles
Michel-Alexandre Fortin / Mario Monclus Martin (ESP)
1st rd: def. Matas Vasiliauskas (LTU) / Egor Tsarapkin 75 64
QF: lost to [4] Christian Langmo (USA) / Luca Potenza (ITA) 63 75
Men's singles qualifying
[12] Michel-Alexandre Fortin
1st rd: Bye
2nd rd: def. Ignacio Benzal Alia (ESP) 76 (7) 75
Final rd: lost to [8] Joseph White (GBR) 63 60
*************************
XVI ITF World Tennis Tour Vila de Valldoreix
Valldoreix, Spain (ITF $15K)
Men's singles qualifying
Hugo Sylvestre
1st rd: lost to [3] Marcelo Zormann (BRA) 60 60
*************************
World Tennis Tour Cancun 2022
Cancun, Mexico (ITF $15K)
Men's singles qualifying
Aurel Ciocanu
1st rd: def Scott Cameron (USA) 61 60
2nd rd: lost to [3] Hillel Rousseau (HAI) 76 (6) 63
Diego Lopato Miguel
1st rd: lost to Rodolfo Jauregui Sainz de Rojas (MEX) 63 62
Women's singles qualifying
Melissa Holmberg
1st rd: Bye
2nd rd: lost to Ximena Negrete Hernandez (MEX) 60 60
*************************
Fortevillage ITF Trophy


Santa Margarita Di Pula (ITF $25K)
Singles
[Q] Anna Grubor
1st rd: lost to Angelica Moratelli (ITA) 62 62
Singles qualifying
Anna Grubor
1st rd: Bye
Final rd: def [11] Jade Haller (SUI) 26 62 [10-3]
*************************
Antalya Series
Antalya, Turkey (ITF $15K)
Women's singles qualifying
Elle Goranskaya
1st rd: lost to Defne Urbakan (TUR) 62 62

Men's singles qualifying
[WC] Austin Hoole
1st rd: lost to [9] Daiki Yoshimura (JPN) 60 60

*************************
JUNIORS
Torneo Internazionale Città di Santa Croce Mauro Sabatini
Santa Croce, Italy (ITF Junior Grade 1)
Boys Singles
[5] Jaden Weekes
1st rd: def Juan Manuel La Cerna (ARG) 64 75
2nd rd: def. Edward Winter (AUS) 75 63
QF: def. [4] Martin Antonio Vergara del Puerto (PAR) 62 61
SF: lost to [1] Bor Artnak (SLO) 76 (9) 61
Boys' singles qualifying
[7] Duncan Chan
1st rd: def [WC] Mattia Coloretti (ITA) 64 60
2nd rd: lost to Lorenzo Sciahbasi (ITA) 64 61
Boys' doubles
[1] Jaden Weekes / Bor Artnak (SLO)
1st rd: lost to Jonah Braswell (USA) / Martin Antonio Vergara del Puerto (PAR) 62 16 [11-9]
Duncan Chan / Rei Sakomoto (JPN)
1st rd: def. [WC] Jacopo Bilardo / Giammarco Gandolfi (ITA) 62 63
QF: vs. [2] Juan Manuel La Cerna / Lautaro Midon (ARG) 62 26 [10-7]
About Post Author