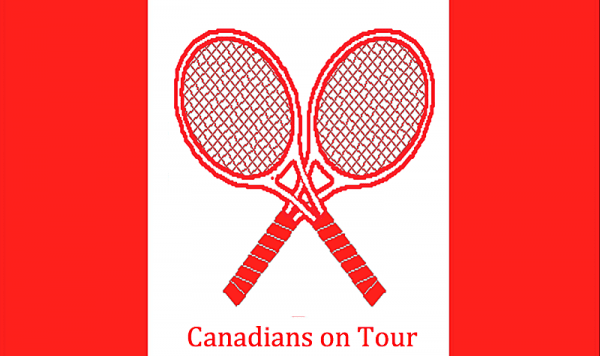 –
Bianca Andreescu joined the grass party, unseeded in the decimated field at the Berlin WTA tournament.
Félix Auger-Aliassime moved onto Halle, while Denis Shapovalov crossed into the U.K. to play the tournament at Queen's Club.
Not that these two are avoiding each other, or anything 🙂
And with school out and the weather good, there are Canadians spread out all over the place trying to make moves on the ITF circuit.
*************************
Terra Worthmann Open
Halle, Germany (ATP 500)

Singles
[4] Félix Auger-Aliassime
1st rd: def Marcos Giron (USA) 62 57 63
2nd rd: def. Mackenzie McDonald (USA) 76 (7) 61
QF: lost to [5] Hubert Hurkacz (POL) 76 (2) 76 (4)

Doubles
Félix Auger-Aliassime / Daniil Medvedev
1st rd: lost to [2] Marcelo Arevalo (ESA) / Jean-Julien Rojer (NED) 63 64

*************************
Bett1 Open
Berlin, Germany (WTA 500)

Singles
[PR] Bianca Andreescu
1st rd: def Katerina Siniakova (CZE) 64 46 64
2nd rd: lost to [4] Karolina Pliskova (CZE) 64 26 76 (7)

Doubles
[2] Gabriela Dabrowski / Giuliana Olmos (MEX)
1st rd: def Erin Routliffe (NZL) / Alicja Rosolska (POL) 46 75 [10-5]
QF: def. Kaitlyn Christian (USA) / Lidziya Marozava 64 62
SF: lost to Alizé Cornet (FRA) / Jil Teichmann (SUI) 63 75

Erin Routliffe (NZL) / Alicja Rosolska (POL)
1st rd: lost to [2] Gabriela Dabrowski (CAN) / Giuliana Olmos (MEX) 46 75 [10-5]

[WC] Bianca Andreescu / Sabine Lisicki (GER)
1st rd: def Xu Yifan / Yang Zhaoxuan (CHN) 75 64
QF: def. [3] Asia Muhammad (USA) / Ena Shibahara (JPN) 76 (4) 16 [10-7]
SF: lost to [1] Storm Sanders (AUS) / Katerina Siniakova (CZE) 61 63
*************************
Cinch Championships
London, GB (ATP 500)

Singles
[6] Denis Shapovalov
1st rd: lost to Tommy Paul (USA) 64 26 64

Doubles
[6] Denis Shapovalov / Rohan Bopanna (IND)
1st rd: def Pedro Martinez (ESP) / Diego Schwartzman (ARG) 76 (6) 64
QF: def [4] Juan Sebastian Cabal / Robert Farah (COL) 63 64
SF: lost to [WC] Lloyd Glasspool (GBR) / Harri Heliovaara (FIN) 75 67 (4) [10-4]

Singles qualifying
[6] Alejandro Tabilo (CHI)
1st rd: lost to Quentin Halys (FRA) 62 63

*************************
Rothesay Classic Birmingham
Nottingham, England (

WTA 250

)

Singles
[Q] Rebecca Marino
1st rd: lost to [1] Jelena Ostapenko (LAT) 62 57 63
Singles qualifying



[3] Rebecca Marino
1st rd: def Kimberly Birrell (AUS) 62 64
Final rd: def. [7] Christina Bucsa (ESP) 60 62
*************************
Ilkley Trophy
Ilkley, UK (ATP Challenger)

Singles
Vasek Pospisil
1st rd: def [WC] Aidan McHugh (GBR) 63 64
2nd rd: lost to Pierre-Hugues Herbert (FRA) 63 76 (2)
Doubles
Vasek Pospisil / Andreas Seppi (ITA)
1st rd: lost to [1] Fabrice Martin (FRA) / Hugo Nys (MON) 63 75
*************************
Internationaux de Tennis de Blois
Blois, France (ATP Challenger)
Singles qualifying



Alexis Galarneau
1st rd: lost to Luca Van Assche (FRA) 16 63 64
*************************
VIII Open ITF Arcadis Brezo Osuna
Madrid, Spain (

ITF $60K

)
Singles



Katherine Sebov
1st rd: Bye
2nd rd: def Ekaterina Yashina 63 62
3rd rd: def. Anastasia Tikhonova 63 46 75
QF: def [5] Carole Monnet (FRA) 75 46 63
SF: lost to Alexandra Eala (PHI) 62 61
*************************
Wichita Tennis Open
Wichita, KS (ITF $25K)
Singles
Liam Draxl
1st rd: def [4] Govind Nanda (USA) 64 64
2nd rd: def. Strong Kirchheimer (USA) 61 16 63
QF: def. [8] Felix Corwin (USA) 76 (4) 63
SF: vs. [2] Hsu Yu-Hsiou (TPE) 64 16 63
F: lost to Clément Chidekh (FRA) 62 62

Christian Lakoseljac
1st rd: def Sekou Bangoura (USA) 64 76
2nd rd: lost to [8] Felix Corwin (USA) 60 64
Gabriel Diallo
1st rd: lost to Clément Chidekh (FRA) 63 36 63
Taha Baadi
1st rd: lost to Ryan Shane (USA) 62 64
[Q] Joshua Lapadat
1st rd: lost to [6] Beibit Zhukayev (KAZ) 64 62

Doubles
Liam Draxl / Cleeve Harper
1st rd: vs. [2] Hsu Yu-Hsiou (TPE) / Yuta Shimizu (JPN) 61 retd
Taha Baadi / Shunsuke Mitsui (JPN)
1st rd: lost to [4] Abraham Asaba (GHA) / Sekou Bangoura (USA) 64 62
Singles qualifying
Joshua Lapadat
1st rd: def Wei Zhiyuan (CHN) 63 62
2nd rd: def. [6] David Fox (GBR) 62 64
Final rd: def [10] Kian Vakili (USA) 67 (40 62 [10-6]
Sasha Trkulja
1st rd: def Arman Zamani (USA) 63 61
2nd rd: def [5] Abraham Asaba (GHA) 64 64
Final rd: lost to [8] Isaac Becroft (NZL) 64 62
[2] Cleeve Harper
1st rd: Bye
2nd rd: lost to Alex Sklizovic (USA) 02 retd
*************************
W25 Sumter


Sumter, S.C. (

ITF $25K

)
Singles
Ariane Arseneault
1st rd: def Dalayne Hewitt (USA) 26 63 64
2nd rd: lost to [6] Ashlyn Krueger (USA) 64 26 63
[Q] Isabelle Boulais
1st rd: lost to [2] Sophie Chang (USA) 63 64

Doubles
Isabelle Boulais / Victoria Emma (USA)
1st rd: lost to [4] Kylie Collins / Peyton Stearns (USA) WALKOVER
Ariane Arseneault / Carolyn Ansari (USA)
1st rd: lost to Kennedy Shaffer / Amy Zhu (USA) 62 64
Singles qualifying
Isabelle Boulais
1st rd: def [5] Akilah James (USA) 63 62
Final rd: def [15] Mia Yamakita (USA) 60 60
*************************
ITF Santo Domingo
Santo Domingo, DR (ITF $25K)
Doubles
Razvan Baiant / Tommasso Carnevale-Miino (ITA)
1st rd: lost to Jake Bhangdia / Gabriel Evans (USA) 62 36 [10-7]
Men's singles qualifying
[10] Razvan Baiant
1st rd: Bye
2nd rd: def Nicolas Ancedy (FRA) 76 (6) 61
Final rd: lost to Matt Kiger (USA) 61 61

*************************
USTA Pro Circuit at the Barnes Tennis Center


San Diego, Calif. (ITF $15K)
Men's singles
Benjamin Sigouin
1st rd: def [6] Yang Tsung-Hua (TPE) 63 63
2nd rd: lost to Tadeas Paroulek (CZE) 63 62
Men's doubles
[4] Benjamin Sigouin / Siddhant Banthia (IND)
1st rd: lost to [WC] Keegan Smith / Ivan Thamma (USA) 36 60 [10-5]

Women's singles qualifying
Alexandra Vagramov
1st rd: lost to [8] Makenna Jones (USA) 60 62

Men's singles qualifying
[15] Aurel Ciocanu
1st rd: def. Mihnea Lorin Stefan Turcu (ROU) 61 64
Final rd: lost to [4] Max Basing (GBR) 61 64
*************************
M15 Copa Quito Bicentenario, Etapa 4
Quito, Ecuador (ITF $15K)
Singles
[Q] Juan Carlos Aguilar
1st rd: def. Kosuke Ogura (JPN) 76 (7) 64
2nd rd: def. [6] Alejandro Hojos Franco (COL) 62 67 (6) 63
QF: lost to Kiranpal Pannu (AUS) 63 10 retd
Doubles
Juan Carlos Aguilar / Mateo Barreiros Reyes (BRA)
1st rd: def. [WC] Roy Stepanov / Isaac Nortey (GHA) 76 (11) 64
QF: def [3] Alejandro Mendoza (BOL) / Andres Urrea (COL) 46 61 [10-8]
SF: lost to [2] Brandon Perez / Ricardo Rodriguez (VEN) WALKOVER
[WC] Roy Stepanov / Isaac Nortey (GHA)
1st rd: lost to Juan Carlos Aguilar (CAN) / Mateo Barreiros Reyes (BRA) 76 (11) 64
Singles qualifying
[3] Juan Carlos Aguilar
1st rd: def Mateo Matulovich (ARG) 63 63
2nd rd: def. Agustin Eduardo Cuellar Lorberg (BOL) 63 60
Final rd: def Alberto Odiseo Alvarado Borrospi (PER) 64 64

*************************
Carinthian Ladies Lakes Trophy
Poertschach, AUT (ITF $25K)
Singles qualifying
Ana Grubor
1st rd: lost to Sylvie Zund (LIE) 26 64 [10-7]

*************************
Magic Hotel Tours


Monastir, Tunisia (ITF $15K)
Singles
[Q] Dan Martin
1st rd: def [5] Jaimee Floyd Angele (FRA) WALKOVER
2nd rd: lost to Zhang Ze (CHN) 75 61

Singles qualifying



Dan Martin
1st rd: def Nicola Cigna (ITA) 63 64
2nd rd: def. [14] Mert Naci Turker (TUR) 64 64
Final rd: def. [8] Adam Jurajda (CZE) 64 60

*************************
About Post Author