–
Whether or not the LTA had any forewarning or not, Serena Williams is back for the grass – after almost a year away.
The 40-year-old American hasn't played a single match since suffering an injury in the first round of Wimbledon last year.
But after dropping a hint earlier this spring in a video at a corporate conference, she dropped the big one on Instagram Tuesday morning.
Wild card for doubles at Eastbourne
To its credit, the LTA seems to have pivoted quite quickly, as they may well have been caught off-guard by this announcement.
Of course, Williams is the GOAT. So you pivot.
The first move was to announce a few hours later that Williams will receive a wild card into Eastbourne.
Before you get too excited – it's a doubles wild card.
But the fun part is she's set to play with Ons Jabeur.
According to Jabeur (via Racquet Magazine), she "found out" before the French Open that this would be happening.
So despite the last-minute, out-of-the-blue nature of an announcement that according to reports took the LTA very much by surprise, it seems this return has been in the world for at least three weeks, or more.
According to AELTC board member Tim Henman, Williams requested the wild card a couple of weeks ago.
They got a quote someone made up for Williams:
"I am excited to return to the Rothesay International tournament in England and to be back on the grass – a surface that has been so good to me throughout my career. Eastbourne has a unique charm that you don't see anywhere else on Tour and I'm looking forward to playing in front of the fans again."
And also one from tournament director Gavin Fletcher.
"On behalf of everyone at the LTA we are delighted to warmly welcome Serena back to the Rothesay International and the fabulous setting of Devonshire Park, Eastbourne. This year's line-up is proving absolutely stellar, where having Serena here will be the icing on the cake and personally, I'm sure I speak for many in that we can't wait to see her play again."
All in all, they pivoted pretty quickly, it has to be said.
The stage awaits.

Our 7-time champion @serenawilliams will return to Wimbledon as a wild card this summer for her 21st appearance pic.twitter.com/7ddMAv7mOq

— Wimbledon (@Wimbledon) June 14, 2022
Wimbledon announces its 2022 wild cards
A short time after the Eastbourne announcement, Wimbledon announced (most of) its wild cards for this year's event.
They include Williams in singles.
There would be no point in Williams entering with a protected ranking, at least not if she's serious about returning. Because you only get to use that protected ranking for two Grand Slam tournaments. And with Wimbledon offering no ranking points this year, it would be wasted.
Of course, with Williams, rankings are beside the point. And she could get a wild card into any tournament she chooses to play.
The wild cards also include Dutchman Tim Van Rijthoven, whose run through to the title at 's-Hertogenbosch last week sent his ranking rocketing from outside the top 200, to well within the cutoff for this year's men's singles tournament at No. 106.
So they did the right thing there.
Williams, Van Rijthoven and Stan Wawrinka are three non-British wild cards this year. Not sure if that's a record, but it's fairly unusual.
Here are the wild cards so far.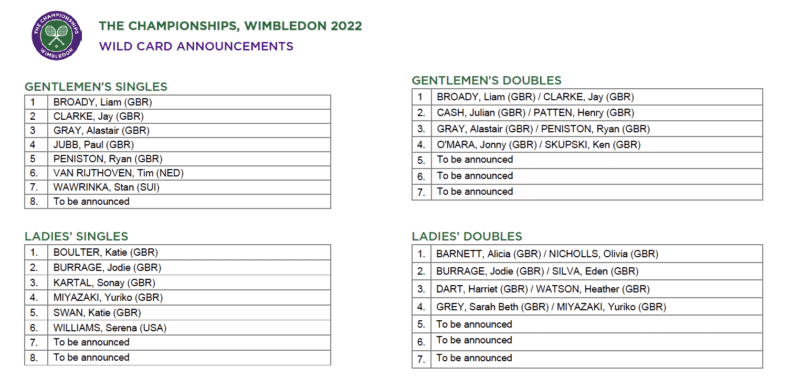 The fact that sister Venus is not a factor (either as a doubles partner or, so far, a singles wild card) is a pretty good indicator that this won't be a family affair.
Almost a year out for Williams
In recent months, we've seen how many top players who've been out with injury for awhile have struggled to come back to form.
And they are not to turn 41 this year, as Williams is.
Her last appearance on a tennis court was nearly a year ago, and it was tough to watch.
There have been few indications – until today – that Williams was actually training. Not that she's been off the radar – she has plenty of brands to promote and investments to take care of.
But as legendary as she is, she doesn't look in top shape.
If that slip at Wimbledon that led to the retirement had a lot to do with slippery grass, the fact was that she already had a huge wrap on that leg.
This was the first match for Williams since losing in the fourth round of Roland Garros to Rybakina. And she made it through six games.
Williams has played – even by her standards – fairly sparsely in recent years.
In 2021, she played the Australian swing in January. And she made a super run to the semifinals at the main event in Melbourne before bowing out to Naomi Osaka.
And then, she didn't play again until an opening loss to Nadia Podoroska in Rome in May.
The Wimbledon injury ended her season.
Not much tennis in 2020
In 2020, a season cut short by five months in its prime as tennis shut down with the pandemic, she played even less.
Williams won in Auckland to open the season, then lost in the third round of the Australian Open to Wang Qiang.
She went 1-1 in Fed Cup, beating Jelena Ostapenko and losing to Anastasija Sevastova.
Then, nothing until tennis returned, when she played a small event in Kentucky upon her return (beating her sister Venus, then losing to Shelby Rogers).
In the US Open bubble, she barely survived Arantxa Rus in her "Cincinnati" opener before losing to Maria Sakkari. Then she made another super run to the US Open semis – with basically every match after the first two a massive battle – and was beaten by Victoria Azarenka in a throwback match.
At the fall version of Roland Garros, she defeated Kristie Ahn in the first round – only to withdraw before her scheduled second-round match against Tsvetana Pironkova.
That 24th major title, which once seemed like an inevitability, has proven to be a heavy weight on her shoulders. And with the years, she has gone from losing in finals to losing earlier on in the tournaments.
That said, she's Serena Williams. She has won Wimbledon seven times and WTA tennis is … what it is at the moment.
The Wimbledon singles draw ceremony should be LIT
You'd expect the outing at Eastbourne to be a test of her ability to stay healthy in the competitive play she has lacked for so long.
But if she doesn't perform as she would expect herself to, or pulls something, it's unlikely we'd see her at Wimbledon.
Let's hope for the best-case scenario.
And you know that no matter her age, or rustiness level, no one is going to want to face her in the first round of Wimbledon.
Currently ranked No. 1208, Williams will be unseeded.
Will she draw world No. 1 Iga Swiatek in the first round?
Or, more dramatically, will she draw Simona Halep?
Williams's longtime coach Patrick Mouratoglou defected to Team Simona earlier this season. And (judging by the unfollows on Instagram, because there are people who follow this stuff), it wasn't super-civilized.
Imagine that.
But first, she has to get there.
About Post Author