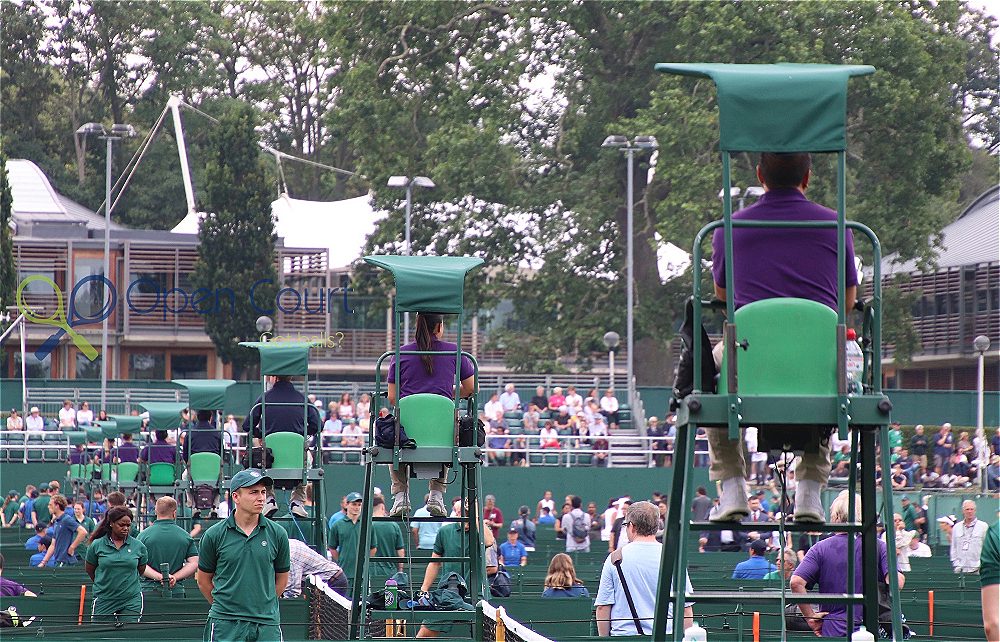 –
LONDON – The final round of qualifying was a go at the Bank of England Sport Ground in Roehampton. They managed to get everything completed despite some rain in the morning.
There were some Aussies – eight of them. Six of them made it through; the only ones who didn't were Priscilla Hon (who played another Aussie but must have been pretty badly injured to give her a walkover) and Rinky Hijikata.
There were 10 Americans (six of them women). They went 5-5.
*****************************
The Championships, Wimbledon
Qualifying, final round
Thursday, June 23, 2022
Final results
(Results in alphabetical order)
Men's qualifying




Final round



[7] Radu Albot (MDA) def Sebastian Ofner (AUT) 26 63 64 75

Enzo Couacaud (FRA) def Dimitar Kuzmanov (BUL) 62 67 (3) 63 62
Christian Harrison (USA) def Daniel Masur (GER) 46 63 57 64 61
(After seven surgeries, Harrison qualified at the 2018 edition, beating his good pal Brayden Schnur in the final. Open Court talked to him afterwards.It was the first time he'd made it on his own without a US Open wild card. On Thursday, he made it for the second time).

[6] Marc-Andrea Huesler (SUI) def Jason Jung (TPE) 75 64 36 36 62
[2] Jason Kubler (AUS) def [24] Elias Ymer (SWE) 63 62 64
Lukas Klein (AUT) def [26] Andreas Seppi (ITA) 61 67 (3) 76 (5) 76 (4)
Nicola Kuhn (GER) def Rinky Hijikata (AUS) 64 36 75 76 (4)
[32] Mikhail Kukushkin (KAZ) def Zsombor Piros (HUN) 76 (3) 62 46 76 (0)
Maximilian Marterer (GER) def Nicolas Moreno De Alboran (USA) 76 (2) 76 (11) 63
[23] Dennis Novak (AUT) def [3] Stefan Kozlov (USA) 75 64 57 36 63

[30] Max Purcell (AUS) def [13] Nuno Borges (POR) 36 76 (3) 64 76 (5)
Alexander Ritschard (SUI) def Duje Ajdukovic (CRO) 63 57 64
Lukas Rosol (CZE) def Renzo Olivo (ARG) 76 (5) 76 (4) 64

[14] Jack Sock (USA) def [21] Hugo Grenier (FRA) 75 75 64
Andrea Vavassori (ITA) def [4] Zdenek Kolar (CZE) 67 (5) 76 (4) 61 76 (5)
[1] Bernabe Zapata Miralles (ESP) def Salvatore Caruso (ITA) 64 67 (5) 63 63
Women's qualifying
Final round
Emina Bektas (USA) def [16] Fiona Ferro (FRA) 64 64
[3] Mirjam Bjorklund (SWE) def Maria Carle (ARG) 76 (2) 67 (5) 61
Louisa Chirico (USA) def Kathinka Von Deichmann (LIE) 63 67 (6) 61
Maja Chwalinska (POL) def [2] Coco Vandeweghe (USA) 36 63 64
[28] Fernanda Contreras Gomez (ESP) def Timea Babos (HUN) 63 16 62
Jana Fett (CRO) def Katarina Zavatska (UKR) 36 63 63
Jaimee Fourlis (AUS) def Jessika Ponchet (FRA) 64 64
Catherine Harrison (USA) def [15] Yue Yuan (CHN) 61 76 (3)
Zoe Hives (AUS) def Priscilla Hon (AUS) WALKOVER
[9] Mai Hontama (JPN) def Lulu Sun (SUI) 67 (9) 62 63
[5] Maddison Inglis (AUS) def Natalija Stevanovic (SRB) 76 (2) 26 62
[6] Katarzyna Kawa (POL) def [26] Leolia Jeanjean (FRA) 75 62
Christina McHale (USA) def [14] Lesley Pattinama Kerkhove (NED) 76 (3) 75
[21] Nastasja Schunk (GER) def Danielle Lao (USA) 61 63
[10] Astra Sharma (AUS) def [31] Victoria Jimenez Kasintseva (AND) 36 62 63
Yanina Wickmayer (BEL) def. [23] Su Jeong Jang (KOR) 61 64

About Post Author