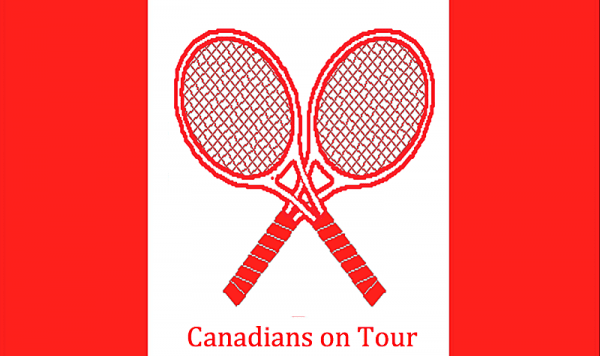 –
You'd be hard-pressed to find any North Americans on the WTA or ATP circuits this week.
That's because the tours have gone back to clay as the only option. And with the big North American hard-court swing coming up, it's the ideal opportunity to take a little breather and a vacay before gearing up for another six-plus weeks of grinding in the summer heat.
Nevertheless, there are plenty of Canadians in action – including Vasek Pospisil, but in Spain and not in the U.S.
And in Saskatoon, it's exciting that there's an actual event in Canada, to help with development. And the long list of Canadian women confirms that.
(Last week's final results at the bottom of the post).
*************************
Open Tenis Ciudad de Pozoblanco
Pozoblanco, Spain (ATP Challenger)
Singles
[5] Vasek Pospisil
1st rd: def Nicolas Alvarez Varona (ESP) 63 63
2nd rd: lost to Emilio Nava (USA) 16 76 (4) 62
*************************
Rajeev Ram Foundation Indy Challenger
Indianapolis, IN (ATP Challenger)
Singles
Alexis Galarneau
1st rd: def Yosuke Watanake (JPN) 63 63
2nd rd: lost to [WC] Alex Rybakov (USA) 64 57 63
Singles qualifying
Liam Draxl
1st rd: def [9] Zachary Svajda (USA) 76 (1) 63
Final rd: lost to [3] Brandon Holt (USA) 36 76 (4) 63

[ALT] Taha Baadi
1st rd: lost to [3] Brandon Holt (USA) 67 (3) 62 64
*************************
Women's Hospital Deaconess 2022 Classic
Evansville, IN (ITF $60K)
Singles
[4] Carol Zhao
1st rd: def [Q] Ava Markham (USA) 64 62
2nd rd: def. Emiliana Arango (COL) 64 64
QF: lost to Elizabeth Mandlik (USA) 75 63
Katherine Sebov
1st rd: def [1] Alycia Parks (USA) 62 60
2nd rd: def. Christina McHale (USA) 26 63 62
QF: lost to Catherine Harrison (USA) 63 62
*************************
Saskatoon Challenger
Saskatoon, Sask. (ITF $25K)
Singles
Victoria Mboko
1st rd: def [1] Valentini Grammatikopoulou (GRE) 67 (4) 61 63
2nd rd: def. [WC] Kayla Cross (CAN) 64 61
QF: def. [5] Stacey Fung (CAN) 62 63

SF: vs. [6] Elysia Bolton (USA) 62 62
F: def Madison Sieg (USA) 62 60
[5] Stacey Fung
1st rd: def Carson Branstine (CAN) 62 57 64
2nd rd: def. Clara Vlasselaer (BEL) 63 63
QF: lost to Victoria Mboko (CAN) 62 63
Marina Stakusic
1st rd: def [2] Elvina Kalieva (USA) 64 61
2nd rd: def. [Q] Hibah Shaikh (USA) 63 63
QF: lost to Madison Sieg (USA) 57 64 76 (4)
[Q] Teah Chavez
1st rd: def Kendra Bunch (USA) 63 75
2nd rd: def. [8] Dabin Kim (KOR) 75 75
QF: lost to [3] Hurricane Tyra Black (USA) 62 60
[WC] Isabelle Boulais
1st rd: def Sabastiani Leon (USA) 62 63
2nd rd: lost to [4] Jessie Aney (USA) 64 67 (5) 62
[WC] Kayla Cross
1st rd: def Cadence Brace (CAN) 64 57 64
2nd rd: lost to Victoria Mboko (CAN) 64 61
Carson Branstine
1st rd: lost to [5] Stacey Fung (CAN) 62 57 64
Mia Kupres
1st rd: lost to Madison Sieg (USA) 46 61 63
[WC] Martyna Ostrzygalo
1st rd: lost to [7] Ena Shibahara (USA) 76 (1) 63
Cadence Brace
1st rd: lost to [WC] Kayla Cross (CAN) 64 57 64
[Q] Anya Chavez
1st rd: lost to [3] Hurricane Tyra Black (USA) 60 60
[Q] Natasha Sengphrachanh
1st rd: lost to [6] Elysia Bolton (USA) 46 63 61
[WC] Naomi Xu
1st rd: lost to Clara Vlasselaer (BEL) 61 06 61
Doubles
Kayla Cross / Marina Stakusic


1st rd: def. [2] Dabin Kim (KOR) / Naho Sato (JPN) 76 (2) 63
QF: def Daria Kuczer (POL) / Hibah Shaikh (USA) 46 76 (4) [10-6]
SF: def Cadence Brace / Mia Kupres (CAN) 62 60

F: def. Kendra Bunch (USA) / Katarina Kozarov (SRB) 63 76 (4)
[4] Elysia Bolton (USA) / Carson Branstine
1st rd: def Sarah Barry / Micheline Aubuchon (USA) 62 62
QF: def [WC] Naomi Xu (CAN) / Isabelle Chhiv (USA) 64 61
SF: lost to Kendra Bunch (USA) / Katarina Kozarov (SRB) 57 63 [10-6]
Cadence Brace / Mia Kupres
1st rd: def. Xie Anlin / Tricia Mar (USA) 62 62
QF: def. Arisha Ladhani (CAN) / Savanna Ly-Nguyen (VIE) 16 61 [10-7]
SF: lost to Kayla Cross / Marina Stakusic (CAN) 62 60
Arisha Ladhani / Savanna Ly-Nguyen (VIE)
1st rd: def. [3] Sabastiani Leon / Hurricane Tyra Black (USA) 16 76 (6) [10-6]
QF: lost to Cadence Brace / Mia Kupres (CAN) 16 61 [10-7]
[WC] Naomi Xu / Isabelle Chhiv (USA)
1st rd: def. Janet Imbo Nloga / Samantha Imbo Nloga (USA) 60 61
QF: lost to [4] Elysia Bolton (USA) / Carson Branstine (CAN) 64 61
Sarah Barry / Micheline Aubuchon (USA)
1st rd: lost to [4] Elysia Bolton (USA) / Carson Branstine (CAN) 62 62
Isabelle Boulais / Danielle Wilson (USA)
1st rd: lost to Katherine Hui / Madison Sieg (USA) 63 61
Xie Anlin / Tricia Mar (USA)
1st rd: lost to Cadence Brace / Mia Kupres (CAN) 62 62
[WC] Teah Chavez / Martyna Ostrzygalo
1st rd: lost to Daria Kuczer (POL) / Hibah Shaikh (USA) 62 16 [10-2]
Singles qualifying
Anya Chavez
1st rd: def Isabella Marton (CAN) 67 (1) 61 [10-7]
Final rd: def. [1] Tricia Mar (USA) 67 (5) 61 [11-9]
Natasha Sengphrachanh
1st rd: def. [13] Janet Imbo Nloga (USA) 60 60
Final rd def. [6] Zora Hudson (USA) 61 62
Teah Chavez
1st rd: def [12] Nifemi Akinbiyi (CAN) 75 63
Final rd: def. [4] Arisha Ladhani (CAN) 46 62 [10-4]
[3] Ana Grubor
1st rd: Bye
Final rd: lost to [9] Hibah Shaikh (USA) 62 60
[4] Arisha Ladhani
1st rd: Bye
Final rd: lost to Teah Chavez (CAN) 46 62 [10-4]
[11] Anlin Xie
1st rd: def Sarah Barry (CAN) 62 46 [10-3]
Final rd: lost to [8] Isabella Chhiv (USA) 64 62
Matea Roki
1st rd: def [14] Samantha Imbo Nloga (USA) 76 (5) 61
Final rd: lost to [7] Danielle Wilson (USA) 36 63 [10-3]
[12] Nifemi Akinbiyi
1st rd: lost to Teah Chavez (CAN) 75 63
Sarah Barry
1st rd: lost to [11] Xie Anlin (CAN) 62 46 [10-3]
Jana Van Niekerk
1st rd: lost to Althea Hudson (USA) 57 63 [10-4]
Isabella Marton
1st rd: lost to Anya Chavez (CAN) 67 (1) 61 [10-7]
*************************
Figueira Da Foz International Ladies Open 2022
Figueira Da Foz, Portugal (ITF $25K+H)
Doubles
[ALT] Bianca Jolie Fernandez / Arina Arifullina
1st rd: def Bojana Marinkovic (SRB) / Junri Namigata (JPN) 64 63
QF: lost to [3] Alexandra Bozovic (AUS) / Francisca Jorge (POR) 60 64
Singles qualifying



[13] Bianca Jolie Fernandez
1st rd: def [WC] Matilde Agra (POR) 60 61
Final rd: lost to [1] Anna Brogan (GBR) 60 36 [10-8]

*************************
Fighting Illini Open
Champaign, Ill. (ITF $25K)
Singles
[Q] Justin Boulais
1st rd: lost to [Q] Stefan Dostanic (USA) 64 36 64
[Q] Cleeve Harper
1st rd: lost to [5] Peter Bertran (DOM) 46 61 61
Doubles
Justin Boulais / James Kent Trotter (JPN)
1st rd: def Cannon Kingsley / James Tracy (USA) 64 46 [10-5]
QF: def. [1] Peter Bertran (DOM) / Osgar O'Hoisin (IRL) 76 (4) 36 [10-5]
SF: def Eduardo Nava / Nathan Ponwith (USA) 75 76 (6)
F: lost to Stefan Dostanic (USA) / Johannus Monday (GBR) 76 (4) 63
Singles qualifying
[9] Cleeve Harper
1st rd: def Gus Tettamble (USA) 63 60
Final rd: def [4/WC] Perry Gregg (USA) 63 32 retd
Justin Boulais
1st rd: def [10] Stefan Simeunovic (CAN) 62 62
Final rd: def. Micah Braswell (USA) 62 75
[7] Christian Lakoseljac
1st rd: lost to Micah Braswell (USA) 64 64
[10] Stefan Simeunovic
1st rd: lost to Justin Boulais (CAN) 62 62
Tom Dynka
1st rd: lost to [15] A.trice Pickens (USA) 61 62
*************************
Internacionais de Ténis de Idanha-a-Nova


Idanha-a-Nova, Portugal (ITF $25K)
Singles
[1] Filip Peliwo (POL)
1st rd: def [Q] Guilherme Sousa Severin (POR) 62 61
2nd rd: def Kody Pearson (AUS) 61 63
QF: def [WC] Francisco Rocha (POR) 64 64
SF: lost to [4] Ben Patael (ISR) 63 63
Kelsey Stevenson
1st rd: lost to [WC] Francisco Rocha (POR) 67 (0) 76 (1) 64
Doubles
[4] Kelsey Stevenson / Ray Ho (TPE)
1st rd: def. Rio Noguchi (JPN) / Alexandros Skorilas (GRE) 64 64
QF: def Diego Fernandez Flores (CHI) / Adria Vallejo Ferrer (ESP) 62 63
SF: lost to Martim Leote Prata / Duarte Vale (POR) 64 76 (4)
*************************
World Tennis Tour Cancun 2022
Cancun, Mexico (ITF $15K)
Singles
[Q] Vanessa Wong
1st rd: def Alexa Pitt (USA) 75 75
2nd rd: def [8] Jade Bornay (FRA) 36 64 62
QF: def. Alicia Herrero Linana (ESP) 64 76 (2)
SF: lost to Sophia Biolay (FRA) 46 61 63
Doubles
[WC] Vanessa Wong / Hikaru Sato (JPN)
1st rd: def [2] Rushri Wijesundera (USA) / Nadia Echeverria Alam (VEN) 57 62 [10-3]
QF: def Victoria Gomez (ESP) / Zhu Jiayun (CHN) 63 10 retd
SF: def. [4] Mika Dagan Fruchtman (ISR) / Noel Saidenova 64 62
F: def. [1] Alicia Herrero Linana (ESP) / Melany Krywoj (ARG) 62 64
Singles qualifying
Vanessa Wong
1st rd: def. Renata Bucco Paolasso (ARG) 61 61
Final rd: def [1] Katya Ramirez (MEX) 62 61

*************************
M15 Gubbio
Gubbio, Italy (ITF $15K)
Singles qualifying
[14] Razvan Baiant
1st rd: lost to [WC] Gilberto Casucci (ITA) 64 64
*************************
Magic Hotel Tours
Monastir, Tunisia (ITF $15K)
Doubles
[WC] Macyang Li / Chirag Duhan (IND)
1st rd: lost to [2] Maximus Jones (THA) / Zheng Baolui (CHN) 64 64
Singles qualifying
[11] Aurel Ciocanu
1st rd: def Antonio Matteo Iaquinto (DOM) 64 61
2nd rd: def Zubin Omar (USA) 64 63
Final rd: lost to [3] Leonardo Rossi (ITA) 61 60
*************************
About Post Author