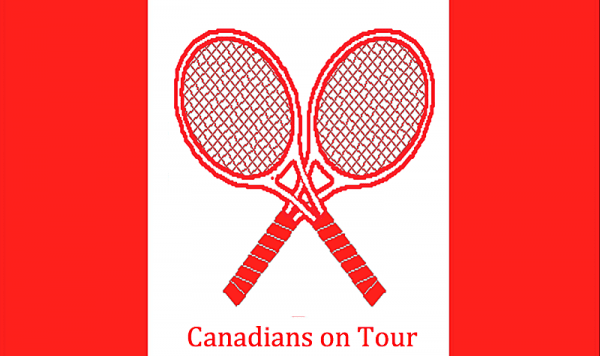 –
The ATP and WTA sides of the Canadian equation are a no-go this week, although many of the top guns will be back in action next week.
But the men's Challenger in Winnipeg offered a lot of new, as well as 32-year-old Vasek Pospisil, who was the No. 3 seed but went down to cramp in a first-round loss to Enzo Couacaud.
The great news was that Alexis Galarneau was into the finals after upsetting No. 1 seed Liam Broady in a quarterfinal marathon. Unfortunately, that meant he can't play the qualifying at the ATP 500 Citi Open this week. But that's a first-world problem as he was looking for the title.
It was tight, but he came up just short against Emilio Gomez.
And the little known Kelsey Stevenson, who spends all his time playing small Futures events in the various European factories and in Asia, wins the doubles final with Billy Harris.
(Last week's final results at the bottom of the post).
***********************************
Winnipeg National Bank Challenger
Winnipeg, MB (ATP Challenger)
Singles
Alexis Galarneau
1st rd: def Ulises Blanch (USA) 46 76 (6) 62
2nd rd: def [6] Wu Tung-Lin (TPE) 63 76 (5)
QF: def [1] Liam Broady (GBR) 76 (5) 67 (1) 63
QF: def [Q] Evan Zhu (USA) 63 75
F: lost to [2] Emilio Gomez (ECU) 63 76 (4)
[3] Vasek Pospisil
1st rd: lost to Enzo Couacaud (FRA) 67 (4) 63 40 retd
[WC] Liam Draxl
1st rd: lost to [Q] Evan Zhu (USA) 26 75 61
[WC] Gabriel Diallo
1st rd: lost to Tu Li (AUS) 61 75
[Q] Juan Carlos Aguilar
1st rd: lost to [7] Gijs Brouwer (NED) 62 63
[WC] Jaden Weekes
1st rd: lost to [1] Liam Broady (GBR) 75 63
Doubles
Kelsey Stevenson / Billy Harris (GBR)
1st rd: def Hady Habib (LIB) / Tu Li (AUS) 46 76 (7) [14-12]
QF: def [4] Nicolas Mejia (COL) / Roberto Quiroz (ECU) 63 63
SF: def Govind Nanda / Zachary Svajda (USA) 63 64
F: def. [1] Max Schnur (USA) / John-Patrick Smith (AUS) 26 76 (9) [10-8]
Liam Draxl / Alexis Galarneau
1st rd: def. Taha Baadi (CAN) / Alafia Ayeni (USA) 64 63
QF: lost to Toshihide Matsui / Kaito Uesugi (JPN) 63 57 [10-5]
Rinky Hijikata (AUS) / Benjamin Sigouin
1st rd: def. [WC] Marko Stakusic / Jaden Weekes (CAN) 64 76 (7)
QF: lost to [1] Max Schnur (USA) / John-Patrick Smith (AUS) WALKOVER
Taha Baadi / Alafia Ayeni (USA)
1st rd: lost to Liam Draxl / Alexis Galarneau 64 63
Juan Carlos Aguilar / Gabriel Diallo (CAN)
1st rd: lot to [2] Evan King (USA) / Ruben Gonzalez (PHI) 64 62
[WC] Marko Stakusic / Jaden Weekes
1st rd: lost to Rinky Hijikata (AUS) / Benjamin Sigouin (CAN) 64 76 (7)
Singles qualifying
[12/WC] Juan Carlos Aguilar
1st rd: def. [ALT] Andres Urrea (COL) 60 61
Final rd: def [2] Sho Shimabukuro (JPN) 75 36 76 (6)
[10] Taha Baadi
1st rd: def. Marko Stakusic (CAN) 64 64
Final rd: lost to [4] Evan Zhu (USA) 16 76 (4) 61
[11] Benjamin Sigouin
1st rd: def Sid Donarski (CAN) 62 62
Final rd: lost to [6] Govind Nanda (USA) 61 61
Marko Stakusic
1st rd: lost to [10] Taha Baadi (CAN) 64 64
Sid Donarski
1st rd: lost to [11] Benjamin Sigouin (CAN) 62 62
***********************************
Edwardsville Futures
Edwardsville, Ill. (ITF $25K)
Singles qualifying
[4] Christian Lakoseljac
1st rd: def Alex Sklizovic (USA) 60 62
Final rd: lost to [12] Alexander Petrov (USA) 61 62

Stefan Simeunovic
1st rd: def [WC] Nishanth Basavareddy (USA) 76 60
Final rd: lost to [2] James Kent Trotter (JPN) 76 (7) 61

Tom Dynka
1st rd: lost to [8] Francisco Pini (ARG) 60 60
Stefano Liokossis
1st rd: lost to [2] James Kent Trotter (JPN) 61 60
*************************
Magic Hotel Tours
Monastir, Tunisia (ITF $15K)
Singles qualifying
[11] Aurel Ciocanu
1st rd: def Eduardo Lodovico Cattaneo (ITA) 61 63
2nd rd: def [10] Stefan Vujic (AUS) 61 46 [10-6]
Final rd: lost to Michael Francis Eala (PHI) 63 64
*************************
About Post Author