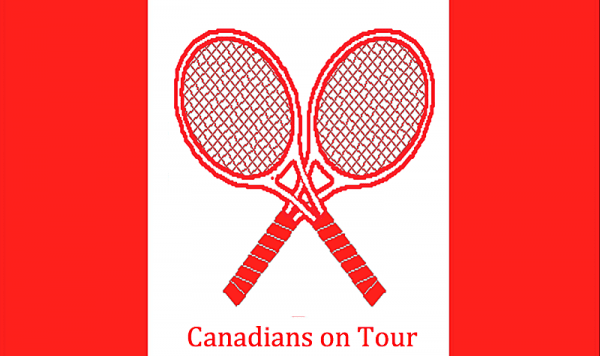 –
MONTREAL – Finally, the biggest week in Canadian tennis is here.
The National Bank Open in Toronto hosts the women, and the Omnium Banque Nationale in Montreal hosts the men.
Most of the familiar faces, and some young up-and-comers, are taking part.
And as Milos Raonic, Genie Bouchard, Peter Polansky and Françoise Abanda are MIA, it really is a changing of the guard.
The highlights were a doubles title for Justin Boulais at a $25K ITF in Ohio, and a singles final for Filip Peliwo at a $15K in Helsinki, Finland.
(Last week's final results at the bottom of the post).
***********************************
National Bank Open
Toronto, Canada (

WTA 1000

)
Singles
[13] Leylah Fernandez
1st rd: def [Q] Storm Sanders (AUS) 64 67 (2) 63
2nd rd: lost to Beatriz Haddad Maia (BRA) 76 (4) 61

Bianca Andreescu
1st rd: def [11] Daria Kasatkina 76 (5) 64
2nd rd: def Alizé Cornet (FRA) 63 46 63
3rd rd: lost to Zheng Qinwen (CHN) 75 57 62
[WC] Rebecca Marino
1st rd: lost to Zheng Qinwen (CHN) 36 76 (5) 64
[WC] Carol Zhao
1st rd: lost to Amanda Anisimova (USA) 61 63
[WC] Katherine Sebov
1st rd: lost to Yulia Putintseva (KAZ) 36 62 75
Doubles

[2] Gabriela Dabrowski / Giuliana Olmos (MEX)
1st rd: Bye
2nd rd: def Asia Muhammad (USA) / Ena Shibahara (JPN) 75 63
QF: def. [8] Alexa Guarachi (CHI) / Andreja Klepac (SLO) 26 62 [10-0]
SF: lost to Nicole Melichar-Martinez (USA) / Ellen Perez (AUS) 76 (5) 63
[WC] Bianca Fernandez / Leylah Fernandez
1st rd: def Kirsten Flipkens (BEL) / Sara Sorribes Tormo (ESP) 64 61
2nd rd: lost to [8] Alexa Guarachi (CHI) / Andreja Klepac (SLO) 61 62
Alicja Rosolska (POL) / Erin Routliffe (NZL)
1st rd: lost to Nicole Melichar-Martinez (USA) / Ellen Perez (AUS) 76 (1) 61
[WC] Kayla Cross / Victoria Mboko
1st rd: lost to Asia Muhammad (USA) / Ena Shibahara (JPN) 63 57 [10-8]
[WC] Rebecca Marino / Carol Zhao
1st rd: lost to [8] Alexa Guarachi (CHI) / Andreja Klepac (SLO) 63 63
Singles qualifying
[WC] Marina Stakusic
1st rd: def. [9] Wang Xinyu (CHN) 61 retd
2nd rd: lost to [8] Tereza Martincova (CZE) 64 46 61
[WC] Kayla Cross
1st rd: lost to [2] Nuria Parrizas Diaz (ESP) 76 (2) 60
[WC] Victoria Mboko
1st rd: lost to [10] Claire Liu (USA) 36 64 64

***********************************
Omnium Banque Nationale
Montreal, Canada (ATP 1000)
Singles



[6] Félix Auger-Aliassime
1st rd: Bye
2nd rd: def [SE] Yoshihito Nishioka (JPN) 76 (6) 64
3rd rd: def [9] Cameron Norrie (GBR) 63 64
QF: lost to [4] Casper Ruud (NOR) 61 62

Denis Shapovalov
1st rd: lost to Alex de Minaur (AUS) 75 76 (4)
[WC] Alexis Galarneau
1st rd: lost to [15] Grigor Dimitrov (BUL) 64 75
[WC] Vasek Pospisil
1st rd: lost to Tommy Paul (USA) 64 64
Doubles
Denis Shapovalov / Karen Khachanov
1st rd: lost to Rohan Bopanna (IND) / Matwe Middelkoop (NED) 76 (5) 46 [10-6]

[WC] Vasek Pospisil / Jannik Sinner
1st rd: lost to Benjamin Bonzi / Gaël Monfils (FRA) 46 62 [10-8]
[WC] Liam Draxl / Cleeve Harper
1st rd: lost to Simone Bolelli / Fabio Fognini (ITA) 64 61
[WC] Marko Stakusic / Jaden Weekes
Singles qualifying
[WC] Gabriel Diallo
1st rd: def. [4] James Duckworth (AUS) 63 76 (5)
Final rd: lost to [8] Hugo Gaston (FRA) 62 21 retd

[WC] Liam Draxl
1st rd: lost to [14] Taro Daniel (JPN) 64 62
[WC] Jaden Weekes
1st rd: lost to [10] Daniel Altmaier (GER) 63 64
[WC] Juan Carlos Aguilar
1st rd: lost to [6] Arthur Rinderknech (FRA) 63 67 (8) 64
[ALT] Steven Diez
1st rd: lost to [13] Alexei Popyrin (AUS) 63 76 (4)
[ALT] Kelsey Stevenson
1st rd: lost to [2] Fabio Fognini (ITA) 63 61
***********************************
ITF M25 Columbus
Columbus, OH (ITF $25K)
Singles
[WC] Justin Boulais
1st rd: def Taha Baadi (CAN) 60 63
2nd rd: lost to [1] Rinky Hijikata (AUS) 61 62

Taha Baadi
1st rd: lost to [WC] Justin Boulais (CAN) 60 63
Dan Martin
1st rd: lost to Gianni Ross (USA) 64 61
Doubles
[3] Justin Boulais / James Kent Trotter (JPN)
1st rd: def Joey Dillon / Varun Luthra (USA) 60 60
QF: def Brian Battistone / Samuel Battistone (USA) 61 61
SF: def [2] Abraham Asaba (GHA) / George Goldhoff (USA) 76 (6) 63
F: def. [1] Purav Raja / Divij Sharan (IND) 61 62
Dan Martin / Wyatt DeMulling (USA)
1st rd: def Alexander Bernard / Reece Yabukov (USA) 57 63 [10-7]
QF: lost to [2] Abraham Asaba (GHA) / George Goldhoff (USA) 62 75
Taha Baadi / Osgar O'Hoisin (IRL)
1st rd: lost to Patrick Fletchall / Preseley Thieneman (USA) 62 64
Singles qualifying
Chaz Doherty
1st rd: lost to Tyler Bowers (USA) 60 63

*************************
W60 Disa Gran Canaria


San Bartolome, Gran Canaria
Singles qualifying
Ana Grubor
1st rd: lost to [11] Kanako Morisaki (JPN) 62 36 [10-5]

*************************
Leipzig Open 2022

Leipzig, Germany (ITF $25K+H)
Doubles
Maria Patrascu / Caterine Odorizzi (ITA)
1st rd: lost to Laura Isabel Putz (GER) / Lisa-Marie Rioux (JPN) 60 60
Singles qualifying
[4] Maria Patrascu
1st rd: Bye
2nd rd: def Elisabeth Junge-Ilges (GER) 61 62
Final rd: lost to [11] Sara Mueller (GER) 64 64
M15 Helsinki


Helsinki, Finland (ITF $15K)
Singles
[3] Filip Peliwo (POL)
1st rd: def Siim Troost (EST) 61 61
2nd rd: def. Axel Nefve (USA) 62 57 62
QF: def. Iiro Vasa (FIN) 64 76 (0)
sf; def. [1] Terence Atmane (FRA) 62 76 (5)
F: lost to [2] Charles Broom (GBR) 46 64 61
*************************
World Tennis Tour Cancun 2022

Cancun, Mexico (ITF $15K)
Singles qualifying
Diego Lopato-Miguel
1st rd: vs Jacob Olar (USA)
*************************
Tbilisi Open

Tbilisi, Georgia (ITF $25K)
Singles qualifying
Michel-Alexandre Fortin
1st rd: def David Totikashvili (GEO) 64 36 [10-7]
Final rd: lost to Maxim Shin (UZB) 60 62

*************************
Morocco Tennis Tour

Agadir, Morocco (ITF $25K)
Singles qualifying
Emiliano Jorquera
1st rd: lost to Carlo Venturini (SUI) 64 62
*************************
Vitality Open Tour


Cirtea de Arges, Romania

(ITF $15K)

Singles qualifying



[8] Razvan Baiant
1st rd: lost to [WC] Eric David Verdes (ROU) 75 61
*************************
Magic Tours

Monastir, Tunisia (ITF $15K)
Singles qualifying
Emiliano Jorquera
1st rd: lost to [14] Derrick Chen (GBR) 62 62

*************************
About Post Author