–
With a 500 in Washington, D.C. and a 250 in Los Cabos, where world No. 1 Daniil Medvedev, Félix Auger-Aliassime and Cameron Norrie were on hand – there were plenty of opportunities.
The Citi Open was the more significant challenge, though – Medvedev needed just four wins to take the title in Mexico.
Still, he needed to do well there to eliminate the mathetical change that Alexander Zverev would take over the No. 1 spot in the rankings. Which would create some noise.
Meanwhile, Nick Kyrgios had to win six singles matches to take that title. And added to that, a lot of doubles to do the D.C. double.
Notably – if you thought all the points from 2019 that were frozen because of COVID were completely gone, this week's update proves that … is not the case.
(For the full, updated ATP Tour rankings, click here).
ON THE UPSWING
Hubert Hurkacz (POL): No. 11===========> No. 10 (Hurkacz lost to Emil Ruusuvuori in the first round in D.C. But Jannik Sinner didn't play it, thus coughing up 500 points and dropping down)
Frances Tiafoe (USA): No. 27 ===========> No. 23 (Tiafoe took a tough, tough loss to Kyrgios in the D.C. quarterfinals. But he still jumps up four spots to a new career high).
Holger Rune (DEN): No. 28 ===========> No. 26 (Rune lost in the third round of D.C. to JJ Wolf. He didn't behave overly well. But he still moves up two spots to another career best).
Nick Kyrgios (AUS): No. 63 ===========> No. 37 (Kyrgios pulled off an impiressive feat in Washington, winning the singles and the doubles. Another 20 points or so might well get it done for him to be seeded at the US Open. Although his opponents are probably watching that a lot more closely than he is. Noteworthy: had he gotten points at Wimbledon, he'd be in the top 20 in singles. He's also up to a career-high No. 22 in doubles rankings – just five ranking points out of the top 20 there).
Yoshihito Nishioka (JPN): No. 96 ===========> No. 54 (What an effort for the 26-year-old Japanese player, who rises by making the final in D.C. He defeated some quality players on the way, too. He gets into Montreal as a special exempt and meets Benoit Paire for the right to play an opponent he's tortured a few times: Félix Auger-Aliassime).
Mikael Ymer (SWE): No. 115 ===========> No. 77 (A great effort by Ymer, who was worried enough that his back wouldn't hold up that he withdrew from the doubles qualifying last weekend. He made the semis in singles).
J.J. Wolf (USA): No. 99 ===========> No. 84 (The no-mullet is working for Wolf, who upset Denis Shapovalov along the road to a quarterfinal at the Citi Open. Last week was a high and a top-100 debut. This week is another career high.
Benoit Paire (FRA): No. 112 ===========> No. 104 (It's been awhile since Benoit Paire's ranking went north instead of south. So a third round in D.C. is worth celebrating. And on the weekend, he qualified in Montreal).
Emilio Gomez (ECU): No. 121 ===========> No. 114 (It's been a good two weeks on the Challenger circuit for Gomez, who won in Winnipeg and lost in the Lexington final and hits another career high this week. He's getting close to territory where he can dispense with the Slam qualifying, as well. Which will help the wallet and the confidence).
Juncheng Shang (CHN): No. 344 ===========> No. 241 (Another gargantuan leap for the 17-year-old IMG product, who won the Challenger in Lexington over Emilio Gomez in the final and is at yet another career high).
ON THE DOWNSWING
Jannik Sinner (ITA): No. 10 ===========> No. 12 (They're looking big picture with Sinner, and so he didn't play D.C. and didn't defend the 500 points he earned last year by winning there).
Gael Monfils (FRA): No. 20 ===========> No. 25 (Monfils has been out since losing to Novak Djokovic in the second round of Madrid in May, although he's in Montreal this week and with the withdrawal of Reilly Opelka after the draw, is the No. 17 seed. But he drops 180 points from … the Canadian event all the way back in 2019. Finally).
Jenson Brooksby (USA): No. 37 ===========> No. 46 (It seemed like a bad first-round loss at the time for Brooksby, who drops 190 points from from his semifinal effort in D.C. last year, and some leftovers from a 25K back in 2019. But then Yoshihito Nishioka went all the way to the final).
Fabio Fognini (ITA): No. 55 ===========> No. 60 (The veteran Italian drops the remaining points from his Rogers Cup quarterfinal in 2019. But he did qualify in Montreal, so we'll see what he can do this week).
Mackenzie McDonald (USA): No. 48 ===========> No. 72 (Ruusuvuori inflicted some D.C. pain on McDonald, too, ousting him in the first round when he made the final in D.C. a year ago).
John Millman (AUS): No. 76 ===========> No. 93 (Millman got to Mexico and wouldn't you know it, he has COVID. Means he'll miss Montreal this week as well. He drops his 2021 quarterfinal points from D.C., and will drop another 45 from last year's Canadian event next Monday).
Steve Johnson (USA): No. 92 ===========> No. 118 (Johnson's ranking has been ping-ponging around a bit. But he drops a lot – out of the top 100, after losing to Félix Auger-Aliassime in the Los Cabos quarterfinals. John made the quarters at the higher-level tournament in D.C. a year ago).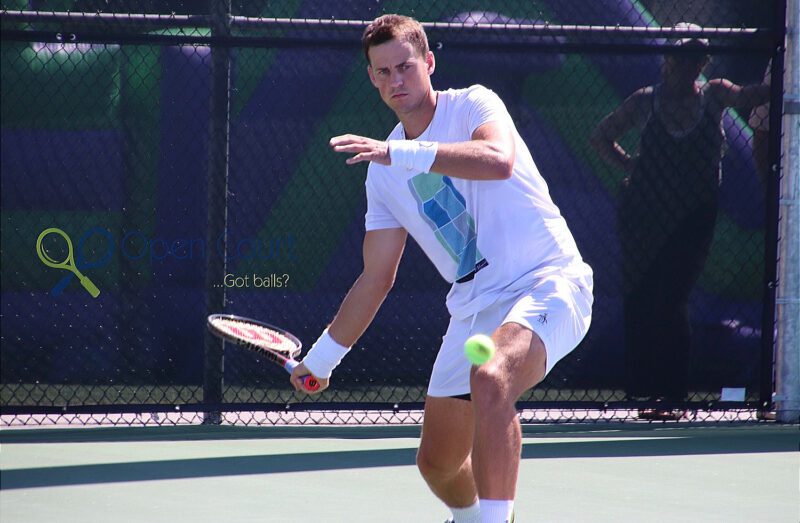 Vasek Pospisil (CAN): No. 141 ===========> No. 147 (Pospisil has a wild card into Montreal this week, where he'll face the speedy J.J. Wolf).
Dominic Thiem (AUT): No. 172 ===========> No. 232 (No sooner did he get back into the top 200 but Thiem is out again, dropping 90 points from his 2019 quarterfinal in Canada. He's not playing Montreal).
Kei Nishikori (JPN): No. 160 ===========> No. 297 (Is he coming back soon? He did get a wild card into D.C. last week. But his return has been pushed back again. He loses 180 points from last year's D.C. semifinal. He doesn't have a ton left, to be honest. He's defending 45 from last year's Canadian event, 90 from last year's US Open third round, and another 25 from a second-round effort last fall at Indian Wells.
Stan Wawrinka (SUI): No. 288===========> No. 322 (Three in a row for the veterans on the injury comeback trail. But Wawrinka's comeback is sort of idling at the moment. And getting Ruusuvuori in the first round of Montreal isn't a huge help. His points from a third-round result in Canada in 2019 are now gone).
Tennys Sandgren (USA): No. 342 ===========> No. 380 (Sandgren's decision not to get vaccinated has cost him a lot. But when he has played, it hasn't gone particularly well. He's at a Challenger in Chicago this week).
Steven Diez (CAN): No. 422 ===========> No. 443 (Diez lost in the first round of the Lexington Challenger last week to qualifier Ryan Harrison, another player who is dealing with tough times. Diez didn't get a wild card into the Montreal qualifying. But in the end he got in as an alternate – and lost in the first round).
THE CANADIANS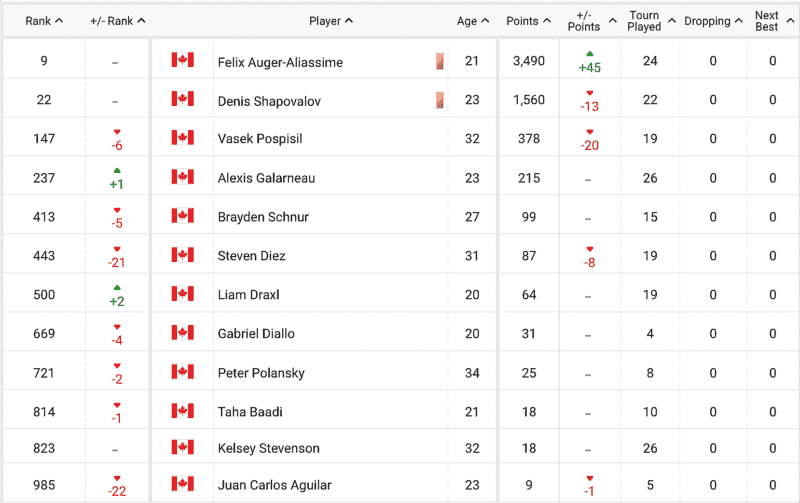 ROAD TO TURIN
ROAD TO MILAN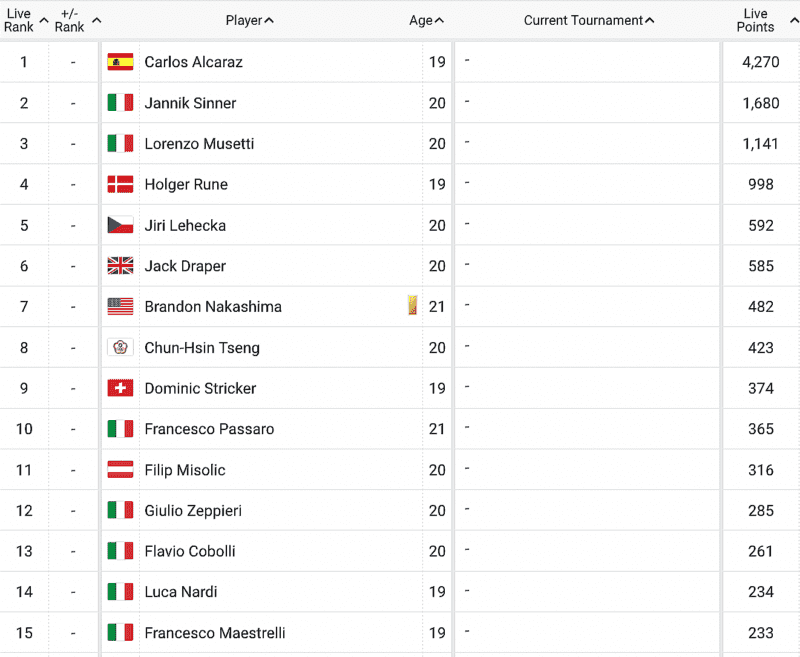 About Post Author