–
A 500 in San Jose and a 250 in Washington, D.C. in which the best players went out fairly early.
So that means opportunities for lower-ranked players to make some points.
In D.C., it was Liudmila Samsonova (who had to miss Wimbledon) over Kaia Kanepi.
And in San Jose, Shelby Rogers took on defending finalist and No. 7 seed Daria Kasatkina. And although she lost, she's up to a career best.
(For the complete rankings picture, click here).
ON THE UPSWING
Paula Badosa (ESP): No. 4 ==========> No. 3 (Badosa went down in the San Jose semifinals, after she was all but out in the second round against young Elisabeth Mandlik. But the points she earned mean she's tied on points with Maria Sakkari, but gets the No. 3 spot as she drops Sakkari to No. 4).
Daria Kasatkina (RUS): No. 12 ==========> No. 9 (Back into the top 10 for Kasatkina, who went one better from the San Jose final a year ago to take it all in 2022. But this time, she's INSIDE the top 10, at a career-high No. 9. Her previous high was No. 10, where she spent the bulk of the 2018 offseason).
Leylah Fernandez (CAN): No. 14 ==========> No. 13 (Another career high for Fernandez, with the drop out of the top 10 of Danielle Collins. She faces qualifier Storm Sanders in the first round in Toronto Monday).
Shelby Rogers (USA): No. 45 ==========> No. 30 (Rogers gets to a career high with her San Jose final. And perhaps more pertinent going forward, she should be seeded at the US Open. And who does she get in the first round in Toronto? Veronika Kudermetova, whom she defeated in the San Jose semis Saturday).
Liudmila Samsonova (RUS): No. 60 ==========> No. 42 (Samsonova, who had her ups and downs this year, gets closer to her career high of No. 25 by winning the title in Washington, D.C.).
Daria Saville (AUS): No. 88 ==========> No. 73 (An upset of top seed Jessica Pegula in D.C. ended up as a run to the semifinals for Saville).
Wang Xiyu (CHN): No. 95 ==========> No. 76 (Wang, who was the top seed in qualifying but had to get into the main draw as a lucky loser, made it all the way to the semifinals and is at a new career high).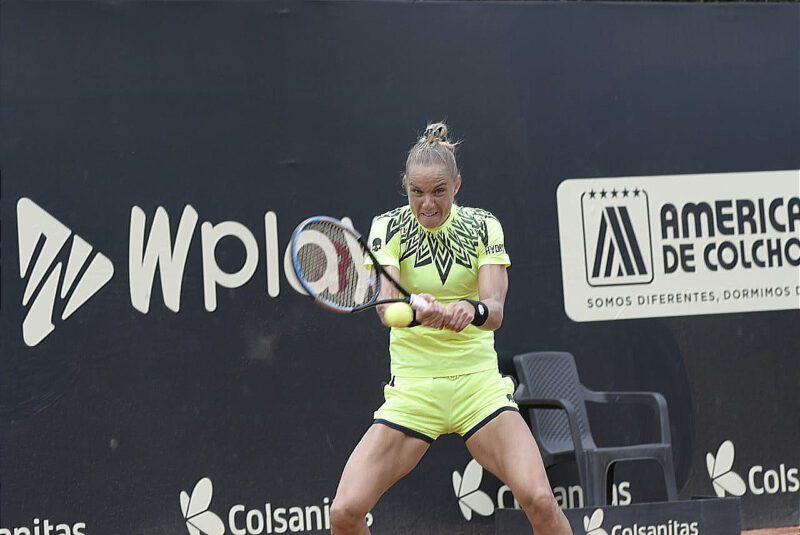 Arantxa Rus (NED): No. 84 ==========> No. 77 (Rus opted for a couple of ITFs in the Canary Islands, where she had some points to defend, over taking her chances in North America for now. It paid off last week, when she won a title. She has another this week).
Panna Udvardy (HUN): No. 93 ==========> No. 80 (A career high for the 23-year-old Hungarian, who made it to the final of the WTA 125 in Iasi, Romania).
Rebecca Marino (CAN): No. 111 ==========> No. 96 (Back into the top 100 with an impressive effort in D.C.
Caroline Dolehide (USA): No. 168 ==========> No. 144 (Dolehide got to the second round of San Jose as a lucky loser).
Katie Swan (GBR): No. 234 ==========> No. 173 (Swan is back into the top 200 after winning the ITF in Lexington, KY last week).
Elisabeth Mandlik (USA): No. 240 ==========> No. 182 (Into the top 200 with a rocket for 21-year-old Mandlink, the daughter of former champion Hana Mandlikova. She qualified and made the second round in San Jose. And with a little more experience she may well have beaten Paula Badosa and done even more. As it was, she served for the match; but in the end Badosa pulled it out).
Taylor Townsend (USA): No. 316 ==========> No. 246 (Mama took another great step in her comeback by qualifying and winning a round in San Jose. She's at the Concord WTA 125 this week).
Polina Kudermetova (RUS): No. 329 ==========> No. 287 (While sister Veronika moved up to a career high of No. 18 this week in San Jose, her 19-year-old sister got to the final of the ITF in San Bartolome and reached another career high).
Mirra Andreeva (RUS): No. 611 ==========> No. 445 (Watch out for this 15-year-old, who qualified and won an ITF in El Espinar, and moved up 166 places in the rankings to another career high).
ON THE DOWNSWING
Danielle Collins (USA): No. 9 ==========> No. 17 (Collins has been off, and she drops her points from the San Jose title a year ago. She also has withdrawn from Toronto – the only top-25 player who won't make the date).
Elena Rybakina (KAZ): No. 23 ==========> No. 27 (Rybakina, who exited San Jose in the first round, drops four spots because of her quarterfinal a year ago. The Wimbledon champion should be a lot higher than that but of course there were no points there).
Elise Mertens (BEL): No. 30 ==========> No. 37 (Mertens could end up unseeded in New York, after being upset in the first round of D.C. She was a semifinalist in San Jose last year. It wasn't so long ago that she was a regular feature in the top 25.
Mayar Sherif (EGY): No. 47 ==========> No. 60 (The Egyptian hit a career high of No. 44 But after losing in the first round in D.C., and dropping 150 points from her effort to get to the final of a pop-up event in Cluj-Napoca, Romania last summer …, she's headed in the wrong direction. She has more points to defend in a week's time, from a $60K final last year. Sherif also had some injury issues during the summer that cost her some time. This was her first tournament back since she gave Tamara Zidansek a walkover in the second round of Roland Garros).
Aleksandra Krunic (SRB): No. 72 ==========> No. 89 (Krunic didn't play last week. and so didn't defend the 125 points she had on her resumé from qualifying and making the semifinal at the Cluj-Napoca tournament).
Andrea Petkovic (GER): No. 68 ==========> No. 100 (Petkovic, beaten by Canadian Rebecca Marino in the second round in D.C., drops 250 points from winning the Cluj tournament a year ago. She also lost in the first round of Toronto qualifying over the weekend, so no way to make it up there).
Magdalena Frech (POL): No. 82 ==========> No. 107 (Out of the top 100, from her career high last week, after losing in the first round of an ITF in Poland. A year ago, she won the WTA 125 in Concord, Mass. So she might be able to make up those points this week).
Ana Konjuh (CRO): No. 87 ==========> No. 120 (Konjuh drops her points from a great run a year ago in San Jose, where she went from the qualifying to the semis. And the young lady keeps having bad luck with her health. She had a fall and fractured her fibula just before Roland Garros, and had to have surgery. No word on her return date).
Mihaela Buzarnescu (ROU): No. 133 ==========> No. 176 (The Romanian lost in the first round of the WTA 125 in Romania, but drops points from last year's WTA event there, when she made the semis).
Vera Zvonareva (RUS): No. 183 ==========> No. 231 (We don't know where the 37-year-old is. She comes back, and plays. And then she's gone for awhile. And it's all very under the radar. Zvonareva hasn't played since qualifying and making the third round in Miami back in March. But last week, she was defending semifinal points from the WTA 125 in Concord, Mass.)
THE CANADIANS
We should also add that Erin Routliffe, the Canadian who represents New Zealand, rises into the top 30 in doubles for the first time (at No. 29) after winning the Citi Open with Jessica Pegula.
THE ROAD TO ….
A lot of moves in the road to … somewhere as Daria Kasatkina shoots up to No. 3 in the race.
About Post Author