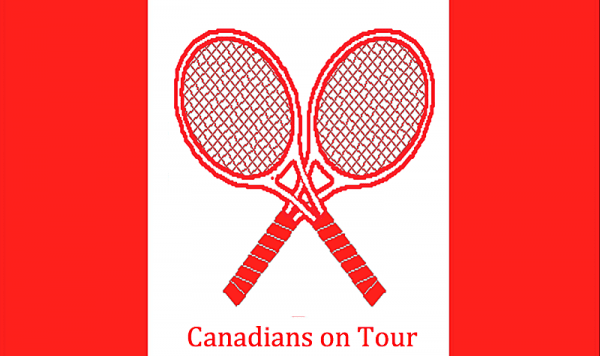 –
The travelling circus from Montreal moves onto Cincinnati, with the same cast – and some new additions who are just starting their North American hard-court swing next week.
Except for Bianca Andreescu, who withdrew after the draw was made with the "change of schedule" reason.
And in Vancouver, upgraded to a WTA 125 on the women's side and combined with a men's Challenger, former world No. 5 Eugenie Bouchard, after a few false starts on her comeback, is finally in a draw and will play her first match since March, 2021 and shoulder surgery.
But the one champion is a Canadian now playing for Poland, as Filip Peliwo wins an ITF in Great Britain.
(Last week's final results at the bottom of the post).
***********************************
Western & Southern Open
Cincinnati, OH (

WTA 1000

)
Singles
[13] Leylah Fernandez
1st rd: lost to Ekaterina Alexandrova 64 75

[PR] Bianca Andreescu (Change of schedule)

Doubles
[5] Gabriela Dabrowski / Giuliana Olmos (MEX)
1st rd: def Alizé Cornet (FRA) / Jil Teichmann (SUI) 57 64 [10-7]
2nd rd: def Irina-Camelia Begu (ROU) / Martina Trevisan (ITA) 61 64
QF: lost to [1] Veronika Kudermetova / Elise Mertens (BEL) 62 16 [10-3]
Erin Routliffe (NZL) / Alicja Rosolska (POL)
1st rd: lost to Laura Siegemund (GER) / Marie Bouzkova (CZE) 63 67 (7) [10-7]
***********************************
Western & Southern Open
Cincinnati, OH (ATP 1000)
Singles



[6] Félix Auger-Aliassime
1st rd: Bye
2nd rd: vs Alex de Minaur (AUS) 63 62
3rd rd: def. [10] Jannik Sinner (ITA)
QF: lost to [PR] Borna Coric (CRO) 64 64

Denis Shapovalov
1st rd: def [16] Grigor Dimitrov (BUL) 76 (4) 63
2nd rd: def Tommy Paul (USA) 36 64 63
3rd rd: lost to [1] Daniil Medvedev 75 75
Doubles
Denis Shapovalov / Karen Khachanov
1st rd: def Rohan Bopanna (IND) / Matwe Middelkoop (NED) 76 (6) 67 (12) [10-6]
2nd rd: def Jamie Murray (GBR) / Bruno Soares (BRA) 76 (8) 36 [10-3]
QF: lost to [1] Rajeev Ram (GBR) / Joe Salisbury (GBR) 61 76 (6)

***********************************
Odlum Brown VanOpen
Vancouver, B.C. (

WTA 125

/

ATP Challenger

)
Women's singles
[WC] Cadence Brace
1st rd: def. [3] Claire Liu (USA) 63 63
2nd rd: lost to [Q] Valentini Grammatikopoulou (GRE) 75 62
[6] Rebecca Marino
1st rd: lost to Emma Navarro (USA) 36 64 76 (7)

[WC] Eugenie Bouchard
1st rd: lost to Arielle Hartono (NED) 62 62
[WC] Carol Zhao
1st rd: lost to Chloe Paquet (FRA) 64 62
[WC] Marina Stakusic
1st rd: lost to [Q] Priscilla Hon (AUS) 63 63
Men's singles
Vasek Pospisil
1st rd: def. Felipe Meligeni Alves (BRA) 75 63
2nd rd: def Jordan Thompson (AUS) 36 62 63
QF: def. [ALT] Gilles Simon (FRA) 61 75
SF: lost to [3] Arthur Rinderknech (FRA) 64 64
[WC] Alexis Galarneau
1st rd: def. [1] Yoshihito Nishioka (JPN) 57 64 retd
2nd rd: lost to Fernando Verdasco (ESP) 26 64 62
[WC] Gabriel Diallo
1st rd: def. Zizou Bergs (BEL) 46 62 76 (5)
2nd rd: lost to [6] Ricardas Berankis (LTU) 64 61
Women's doubles
Rebecca Marino / Heather Watson (GBR)
1st rd: def Ingrid Gamarra Martins (BRA) / Emily Webley-Smith (GBR) 64 61
QF: lost to [3] Nao Hibino (JPN) / Oksana Kalashnikova (GEO) 64 63
[WC] Eugenie Bouchard / Kayla Cross
1st rd: def Lucia Bronzetti / Elisabetta Cocciaretto (ITA) 61 67 (3) [10-4]
QF: lost to [1] Miyu Kato (JPN) / Asia Muhammad (USA) 61 63
Men's doubles
[WC] Alexis Galarneau / Benjamin Sigouin
1st rd: def. [4] Robert Galloway / Alex Lawson (USA) 63 36 [10-7]
QF: lost to Yuki Bhambri / Saketh Myneni (IND) 64 64
[WC] Liam Draxl / Cleeve Harper
1st rd: lost to [2] Sander Gille (BEL) / Max Schnur (USA) 60 62
Men's singles qualifying



[WC] Marko Stakusic
1st rd: def [7] Michael Pervolarakis (GRE) 63 64
Final rd: lost to [3] Laurent Lokoli (FRA) 63 62
[10] Liam Draxl
1st rd: lost to [ALT] Luke Saville (AUS) 57 61 63
[WC] Benjamin Sigouin
1st rd: lost to [8] Govind Nanda (USA) 75 30 retd

[WC] Cleeve Harper
1st rd: lost to [5] Ulises Blanch (USA) 62 76 (1)
[ALT] Juan Carlos Aguilar
1st rd: lost to [3] Laurent Lokoli (FRA) 64 61
[WC] Chih Chi Huang
1st rd: lost to [2] Paul Jubb (GBR) 64 75
Women's singles qualifying



[WC] Kayla Cross
1st rd: lost to [2] Asia Muhammad (USA) 61 62
[WC] Bianca Fernandez
1st rd: lost to [7] Kurumi Nara (JPN) 62 36 62
***********************************
Kozerki Open
Grodzisk Mazowiecki, Poland (ATP Challenger)
Singles qualifying
[8] Steven Diez
1st rd: def [ALT] Sanjar Fayziev (UZB) 63 62
Final rd: lost to [4] Thiago Seyboth Wild (BRA) 64 64

*************************
M25 Aldershot


Aldershot, Great Britain (ITF $25K)



Singles



[3] Filip Peliwo (POL)
1st rd: def Sahar Simon (ISR) 63 62
2nd rd: def [WC] Patrick Brady (GBR) 61 64
QF: def. [8] Robert Strombachs (GER) 76 (3) 64
SF: def. [5] Antoine Hoang (FRA) 62 36 63
F: def. [1] Leandro Reidi (SUI) 64 76 (5)

*************************
Erwitte Open
Erwitte, Germany (ITF $15K)
Singles



Maria Patrascu
1st rd: lost to [3] Anna Klasen (GER) 46 63 63

Ana Grubor
1st rd: def. [Q] Sarah Kanduth (AUT) 62 61
2nd rd: lost to Katharina Hering (GER) 64 64
Doubles
Maria Patrascu / Kelly Marie Richter (GER)
1st rd: def Franziska Koehler (GER) / Lais Schroeder (BRA) 62 62
QF: lost to [4] Laura Boehner / Fabienne Gettwart (GER) 63 61
*************************
World Tennis Tour Cancun 2022

Cancun, Mexico (

Men's

and

Women's

ITF $15K)
Singles
[LL] Xie Anlin
1st rd: lost to Anna Paula Neffa de Los Rios (PAR) 76 (2) 63
Women's singles qualifying
[12] Xie Anlin
1st rd: vs. Layla Bryant (USA) 61 61
2nd rd: def Nifemi Akinbiyi (CAN) 75 46 [10-4]
Final rd: lost to [3] Kariann Pierre-Louis (USA) 36 61 [10-8]
Nifemi Akinbiyi
1st rd: vs. Naroa Aranzabal (ESP) 63 63
2nd rd: lost to [12] Xie Anlin (CAN) 75 46 [10-4]
Sandra Dynka
1st rd: lost to [6] Ximena Santies (MEX) 63 60
Men's singles qualifying
Tom Dynka
1st rd: lost to Ricardo Reyna (MEX) 46 63 [10-6]
*************************
Oliver Foundation USTA 15K

Memphis, Tennessee (ITF $15K)
Singles
Christian Lakoseljac
1st rd: lost to [6] Shunsuke Mitsui (JPN) 62 64
[Q] Luka Vukovic
1st rd: lost to [8] Fnu Nidunjianzan (CHN) 63 62

Singles qualifying
Luka Vukovic
1st rd: def Sathi Reddy Chirala (IND) WALKOVER
Final rd: def [3] Leo Vithoontien (JPN) 64 61
Christopher Heck
1st rd: lost to Finn Reynolds (NZL) 63 63
*************************
Oltenia Trophy


Craiova, Romania

(ITF $15K)

Doubles
Razvan Baiant / Tom Evans (AUS)
1st rd: lost to Patrick Grigoriu / Calin Manda (ROU) 62 16 [10-8]
Singles qualifying



[8] Razvan Baiant
1st rd: vs George Cosma (ROU) 61 46 [11-9]
2nd rd: lost to Filiberto Fumagalli (ITA) 67 62 [10-8]

*************************
Magic Tours

Monastir, Tunisia (ITF $15K)
Singles qualifying
Emiliano Jorquera
1st rd: def Brendan Baar (USA) 63 76
2nd rd: lost to Matthew Summers (GBR) 62 62

*************************
About Post Author