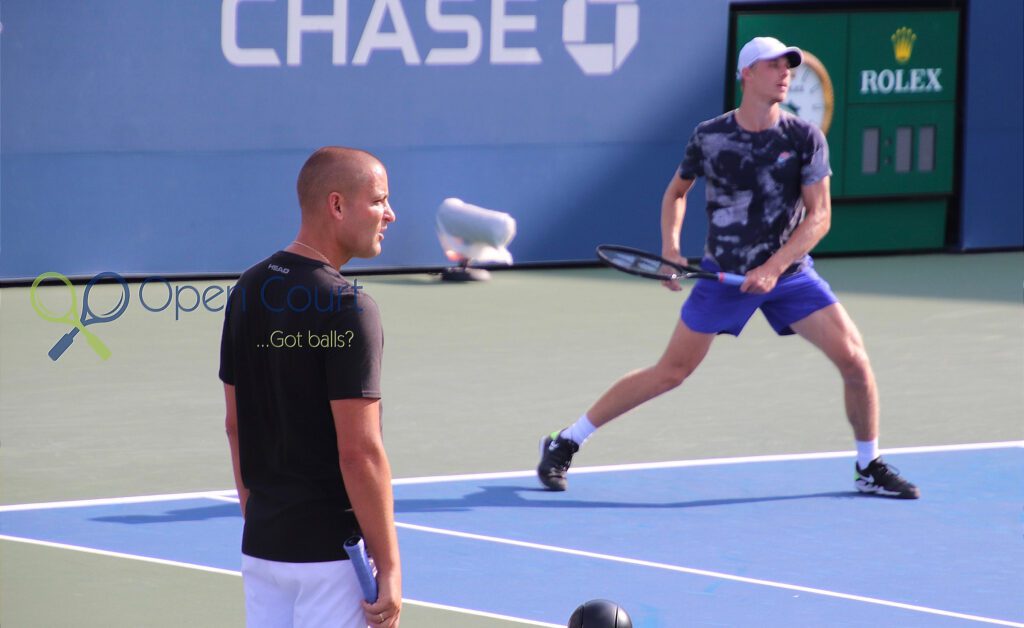 –
FLUSHING MEADOWS, NY – What was once, now is again for Team Shapovalov.
The 23-year-old Canadian, who ended his collaboration with coach Mikhail Youzhny at the end of last year, is back with him.
At least for this US Open. We don't know more than that. But we'll effort on the details.
(UPDATE: I crossed paths with Boris Sobkin just a bit ago and asked him about it. He said it was a trial during the US Open. I said, "It's good news!". He replied – HE WAS JOKING, PEOPLE – that it was definitely good news for Shapovalov. He wasn't sure it was good news for Youhzny! LOLOLOL)
The US Open seems to be a happy place for these two; it's where their relationship began a trial basis just before the 2019 US Open.
It ended at the end of last season. And since then Shapovalov has been trying on different coaching suits, looking for the one with the tailored fit.
Peter Polansky, who is his current coach, remains on hand.
Here's what they looked like late Thursday afternoon on the Grandstand, practicing with another struggling player, Aslan Karatsev.
Karatsev and Sobkin carry on
Meanwhile, Karatsev and the venerable Boris Sobkin carry on in their collaboration, which began this spring on a trial basis.
As it happens, Sobkin was Youzhny's career-long coach, basically, when he played.
He also knows Shapovalov's mother Tessa, which was sort of how that Shapovalov-Youzhny collaboration got set up in the first place.
So to have them all on the same court definitely had a sort of family feel.
Eddy the Trainer on hand
'Eddie' Prommon, the physio who came in with Youzhny but hasn't always been around the last few months, is also on hand.
So the band is getting back together, with the addition of Polansky and with the return of physical trainer Yutaka Nakamura.
Is this the magic formula? Time will tell.
Seeming Prommon in for the long haul supporting Shapovalov's girlfriend, Mirjam Bjorklund, during her first-round qualifying match did set off some bells.
(More than two hours later, they were still hanging in there on a very hot day).
Shapovalov will play Marc-Andrea Huesler of Switzerland in the first round.
That's not a terrible draw, to be honest.
Although he was noticeably annoyed with himself when he missed (quite a few) routine groundies during Thursday's practice.
About Post Author