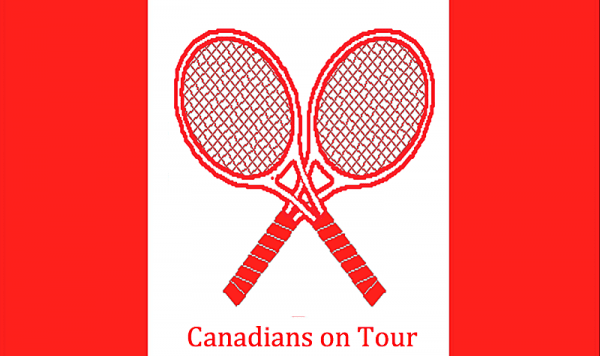 –
Two doubles titles this week – including a bit win at the Tokyo 500 by Gabriela Dabrowski and her partner Giuliana Olmos.
That puts them atop the WTA doubles race to Texas. And it's the second consecutive title for Dabrowski, who won with Luisa Stefani in Chennai last week.
As well, newly-minted Canadian Juan Carlos Aguilar wins in doubles at the $15K ITF in Lubbock, Texas. With Can-American Carston Branstine in the women's singles final.
Here is next week's lineup:
(Last week's final results at the bottom of the post).
***********************************
Hana Bank Korea Open
Seoul, Korea (WTA 250)

Singles

[8] Rebecca Marino
1st rd: def. [Q] Jana Fett (CRO 61 62
2nd rd: lost to Victoria Jimenez Kasintseva (AND) 64 62

[PR] Genie Bouchard
1st rd: lost to [7] Tatjana Maria (GER) 76 (5) 76 (5)

***********************************
Toray Pan Pacific Open
Tokyo, Japan (WTA 500)

Singles qualifying
[3] Carol Zhao
1st rd: def. Giuliana Olmos (MEX) 64 62
Final rd: lost to [10] You Xiaodi (CHN) 61 75
Doubles
[2] Gabriela Dabrowski / Giuliana Olmos (MEX)
1st rd: def Luisa Stefani (BRA) / Ena Shibahara (JPN) 63 61
QF: def. Sophie Chang (USA) / Katarzyna Kawa (POL) 62 64
SF: def. [3] Desirae Krawczyk (USA) / Demi Schuurs (NED) 76 (4) 63
F: def. [4] Nicole Melichar-Martinez (USA) / Ellen Perez (AUS) 64 64
Carol Zhao / Nao Hibino (JPN)
1st rd: lost to Sophie Chang (USA) / Katarzyna Kawa (POL) 75 63
Erin Routliffe / Alicja Rosolska (POL)
1st rd: lost to [3] Desirae Krawczyk (USA) / Demi Schuurs (NED) 75 63
***********************************
San Diego Open
San Diego, Calif. (ATP 250)

Singles
[6] Alejandro Tabilo (CHI)
1st rd: def Steve Johnson (USA) 75 62
2nd rd: lost to Constant Lestienne (FRA) 61 63
***********************************
Sibiu Open
Sibiu, Romania (ATP Challenger)
Singles
[Q] Steven Diez
1st rd: def Mirza Basic (BIH) 61 63
2nd rd: lost to [1] Federico Coria (ARG) 76 (4) 64

Singles qualifying
[6] Steven Diez
1st rd: def Davide Galoppini (ITA) 62 60
Final rd: def. [12] Maks Kasnikowski (POL) 57 75 63

***********************************
Tennis Ohio Championships
Columbus, Ohio

(ATP Challenger)
Singles



Gabriel Diallo
1st rd: def Yasutaka Uchiyama (JPN) [LL] Storm Kirchheimer (USA) 64 63
2nd rd: vs. Aidan McHugh (GBR) 75 67 (6) 75
QF: lost to [1] Jordan Thompson (AUS) 62 61
[WC] Justin Boulais
1st rd: vs. [WC] James Tracy (USA) 75 76 (4)
2nd rd: lost to [8] Rinky Hijikata (AUS) 64 64
Alexis Galarneau
1st rd: lost to [ALT] Nick Chappell (USA) 16 61 63
Doubles
Justin Boulais / James Trotter (JPN)
1st rd: def. [WC] Preston Stearns / Reece Yakubov (USA) 57 62 [10-4]
QF: lost to Charles Broom (GBR) / Constantin Frantzen (GER) 67 (5) 76 (3) [14-12]
***********************************
W60 Berkeley
Berkeley, Calif. (ITF $60K)

Singles
[Q] Jessica Luisa Alsola
1st rd: lost to [WC] Johanne Christine Svendsen (DEN) 62 63

Doubles
[WC] Jessica Luisa Alsola / Valentina Ivanov (NZL)
1st rd: def Maria Mateas (USA) / Rebeca Pereira (BRA) 75 63
QF: def. [3] Whitney Osuigwe (USA) / Renata Zarazua (MEX) 63 75
SF: lost to Elvina Kalieva / Peyton Stearns (USA) 63 64
Singles qualifying
[WC] Jessica Luisa Alsola
1st rd: def [13] Maria Kozyreva (RUS) `16 62 [10-8]
Final rd: def [5] Hiroko Kuwata (JPN) 75 60
***********************************
West Texas Pro Tennis Open
Lubbock, Texas (ITF

Men's

&

Women's

$15K)
Women's singles
[8] Carson Branstine
1st rd: def Anita Sahdiieva (UKR) 63 62
2nd rd: def. Avelina Sayfetdinova (RUS) 46 63 75
QF: def. Raquel Gonzalez Vilar (ESP) 64 62
SF: def. [1] Martyna Kubka (POL) 64 57 75
F: lost to [7] Liv Hovde (USA) 76 (2) 61

Men's singles
[7] Juan Carlos Aguilar
1st rd: lost to Chad Kissell (USA) 75 63
Women's doubles
[WC] Carson Branstine / Tatiana Makarova (RUS)
1st rd: def Kelly Keller / Brandy Walker (USA) 61 63
QF: lost to [3] Ayumi Miyamoto / Lisa-Marie Rioux (JPN) 64 63
Men's doubles
Juan Carlos Aguilar / Pranav Kumar (USA)
1st rd: def. [1] Alex Michelsen (USA) / Patrick Zahraj (GER) 36 61 [10-6]
QF: def. [WC] Franco Ribero (ARG) / Tyler Stewart (USA) 63 76 (5)
SF: def. [WC] Lucas Brown / Aidan Kim (USA) 63 75
F: def. Kristof Minarik (SVK) / Alexander Richards (USA) 63 75
Men's singles qualifying
[15] Stefano Liokossis
1st rd: lost to Ryoma Matsushita (JPN) 36 64 [10-8]
*************************
Egyptian

Women's

/

Men's

Futures
Sharm El Sheikh, Egypt (ITF $15K)
Women's singles
Arisha Ladhani
1st rd: def [WC] Sandy Sharaf (EGY) 61 60
2nd rd: lost to Nino Natsvlishvili (GEO) 60 62
Men's singles
[WC] Zelimir Rudan
1st rd: lost to [Q] Lee Junhyun (KOR) 75 64
Men's doubles
[WC] Stefan Simeunovic / Ignacio Martinez (USA)
1st rd: def. [WC] Ritabrata Sarkar (IND) / Denis Robin Wolf (GER) 61 30 retd
QF: lost to [3] Alexander Zgirovsky / Aliaksandr Lianonenka (BLR) 61 67 (3) [14-12]
Women's doubles
[3] Arisha Ladhani / Sravya Shivani Chilakalapudi (IND)
1st rd: def Ekaterina Kuznetsova / Nikol Mishieva (RUS) 60 retd
QF: def. Sarah Adegoke (NGR) / Anna Borovinskaya (USA) 60 64
SF: lost to [2] Yasmin Ezzat (EGY) / Aliona Falei (BLR) 63 26 [10-5]
Men's singles qualifying
[14] Stefan Simeunovic
1st rd: Bye
2nd rd: def Cristian Campese (ITA) 62 61
Final rd: lost to Lee Junhyun (KOR) 62 75

*************************
World Tennis Tour Cancun 2022

Cancun, Mexico (ITF $15K

Men's

&

Women's

)
Women's singles



Louise Kwong
1st rd: lost to [1] Thaisa Grana Pedretti (BRA) 60 60

[JE] Mia Kupres
1st rd: def Kirsten-Andrea Weedon (GUA) 63 61
2nd rd: lost to [1] Thaisa Grana Pedretti (BRA) 75 61

Women's doubles
Love-Star Alexis / Erika Sandor-Zur (USA)
1st rd: lost to Emma Mazzoni / Juliette Mazzoni (FRA) WALKOVER
[WC] Sarah Barry / Kassandra Davesne (FRA)
1st rd: lost to [3] Ana Candiotto / Thisa Grana Pedretti (BRA) 60 61
Women's singles qualifying
Love-Star Alexis
1st rd: def. [11] Julia Keranovic (SWE) 75 60
2nd rd: lost to Solymar Colling (USA) 60 63
Sarah Barry
1st rd: def Fernanda Guadalupe Regalado Macias (MEX) 62 63
2nd rd: lost to [5] Ximena Senties (MEX) 63 75
Men's singles qualifying
[WC] Luke Young
1st rd: lost to Andrew Rogers (USA) 61 64
***********************************
M15 Fayetteville

Fayetteville, Ark. (ITF $15K)
Singles
Marko Stakusic
1st rd: lost to [Q] Warren Wood (USA) 16 61 64
Doubles
Marko Stakusic / Osgar O'Hoisin (IRL)
1st rd: lost to Adrien Burdet (SUI) / Melvin Manuel (FRA) 62 26 [10-2]
***********************************
About Post Author