–
With this being a Davis Cup week, there isn't a lot of movement at the top of rankings as players are either representing their countries, or taking a break after the US Open.
But with so many Challengers going on, there are some interesting moves in the rankings we thought we should highlight.
There are no changes in the top 50.
ON THE UPSWING
Corentin Moutet (FRA): No. 84 ========> No. 64 (Moutet won the Challenger in Szczecin, Poland last week).
Radu Albot (MDA): No. 108 ========> No. 92 (Albot wins the Istanbul Challenger, and returns to the top 100).
Ugo Humbert (FRA): No. 139 ========> No. 110 (The 24-year-old, ranked a career-high No. 25 just over a year ago, is 7-18 this year. But he moves up after beating Dominic Thiem to win the Challenger in Rennes. Humbert gets a wild card into this week's ATP Tour event in Metz).
Dennis Novak (AUT): No. 136 ========> No. 111 (Novak, 29, made the Szczecin final and moves up 25 spots).
Michael Mmoh (USA): No. 154 ========> No. 133 (Mmoh, 24 makes a nice jump after winning the Cary Challenger on Sunday, beating Dominik Koepfer
Dominik Koepfer (GER): No. 184========> No. 165 (Koepfer, ranked a career high No. 50 in May 2021 but 3-9 at the ATP Tour level this year, moves up 29 spots by making the Cary Challenger final).
Dominic Thiem (AUT): No. 216 ========> No. 182 (Slow but steady as Thiem gets back to the top 200 with an effort to get to the final in Rennes. He plays another challenger this week, where he'll meet Richard Gasquet in the first round).
Lukas Rosol (CZE): No. 305 ========> No. 239 (The 37-year-old, who is still kicking as are fellow 30-somethings Fernando Verdasco and Ernests Gulbis, moves up a nice chunk after making the Istanbul Challenger final).
Steven Diez (CAN): No. 423========> No. 398 (Diez gets back into the top 400 after merely winning one round of qualifying in Rennes. He has won his first round of qualifying in this week's Challenger in Romania as well).
Leo Borg (SWE): No. 680 ========> No. 582 (The 19-year-old son of Bjorn makes the final at an ITF in Cairo and leaps nearly 100 spots).
ON THE DOWNSWING
Benjamin Bonzi (FRA): No. 53 ========> No. 61 (Bonzi played Davis Cup this week, and so sacrifices his 80 points earned a year ago at Rennes – the fourth of four consecutive Challenger titles that vaulted him into the top 100).
James Duckworth (AUS): No. 70 ========> No. 83 (Duckworth lost in the first round of the Istanbul Challenger, while dropping the points winning it a year ago. He's looking at another 150 points to defend this week, from the ATP 250 in Kazakhstan a year ago).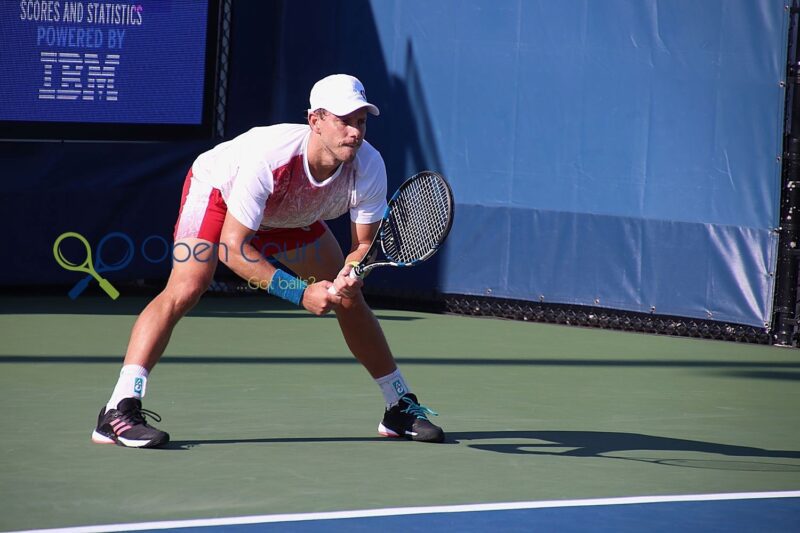 Kamil Majchrzak (POL): No. 101 ========> No. 118 (Majchrzak, tasked with a big role this weekend as Poland was without Hubert Hurkacz in its Davis Cup playoff, sacrifices the 75 points he got for reaching the Challenger final in Szczecin a yar ago. He literally took one for the team).
Borna Gojo (POL): No. 164 ========> No. 183 (Gojo is another who chose country over ranking, as he played a big role in Croatia's performance at Davis Cup last weekend. And so, he was unable to defend his Istanbul semifinal from a year ago. But take a look below at what he did a year ago in the Davis Cup FINAL finals – then ranked No. 276. So clearly it's a place where he shines.
Zdenek Kolar (CZE): No. 156========> No. 226 (Idle this week, Kolar drops 70 spots after the points from his Challenger title in Szczecin fall off. The Czech has lost in the first round of nine of the 10 tournament's he's played since qualifying and reaching the second round at Roland Garros).
Bjorn Fratangelo (USA): No. 211 ========> No. 254 (Fratangelo drops his points from a final in Cary, NC a year ago … He hasn't won much lately, but did combine with ladylove Madison Keys for mixed at the US Open).
THE CANADIANS
THE ROAD TO TURIN
About Post Author