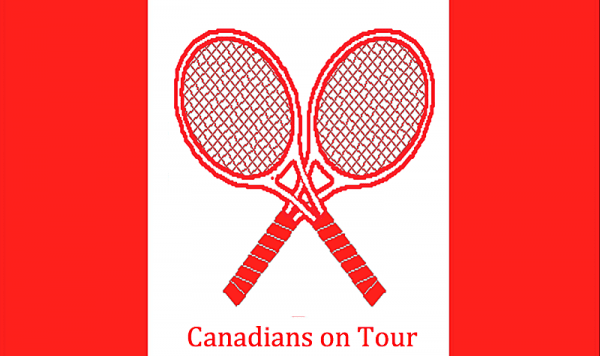 –
Denis Shapovalov was back in action this week, not having played Davis Cup or Laver Cup.
And the break seems to have done him some good, as he reached the final in Seoul only to lose to the "super-annoying" Yoshihito Nishioka (his words, said in jest, and very accurate).
Vasek Pospisil was looking for a main-draw spot at the Tel Aviv event, and had a great week. He qualified and gave Novak Djokovic all he could handle as he ultimately bowed out in the quarterfinals.
And Alexis Galarneau was in Charleston for a Challenger – only to have it cancelled early on because of Hurricane Ian.
In Cancun, at a $15K ITF, Louise Kwong won the doubles title.
(Last week's final results at the bottom of the post).
***********************************
Eugene Korea Open Tennis Championships
Seoul, Korea (ATP 250)

Singles



[4] Denis Shapovalov
1st rd: Bye
2nd rd: def Jaume Munar (ESP) 75 64
QF: def Radu Albot (MDA) 62 62
SF: def. [8] Jenson Brooksby (USA) 75 64
F: lost to Yoshihito Nishioka (JPN) 64 76 (5)

***********************************
Tallinn Open
Tallinn, Estonia (WTA 250)
Doubles
Erin Routliffe (NZL) / Anett Kontaveit (EST)
1st rd: lost to [1] Nicole Melichar-Martinez (USA) / Laura Siegemund (GER) 36 75 [10-6]

***********************************
Tel Aviv Watergen Open
Tel Aviv, Israel (ATP 250)

Singles
[LL] Vasek Pospisil
1st rd: def. [8] Tallon Griekspoor (NED) 46 76 (3) 75
2nd rd: def. [Q] Eden Leshem (ISR) 63 62
QF: lost to [1] Novak Djokovic (SRB) 76 (5) 63

Singles qualifying



[2] Vasek Pospisil
1st rd: def Illya Marchenko (UKR) 76 (5) 62
2nd rd: lost to [ALT] Marius Copil (ROU) 75 64

***********************************
LTP Men's Open
Charleston, S.C.

(ATP Challenger)
(Cancelled because of Hurricane Ian)
Singles



Alexis Galarneau
1st rd: lost to [1] Jordan Thompson (AUS) 61 64
Doubles
Alexis Galarneau / Ruben Gonzales (PHI)
1st rd: def Martin Damm / Ryan Harrison (USA) [ALT] Abraham Asaba (GHA) / Aidan Mayo (USA) 76 (6) 62
QF: vs. [2] Andrew Harris / Luke Saville (AUS)

***********************************
Open D'Orleans
Orléans, France (ATP Challenger)
Singles qualifying



Filip Peliwo (POL)
1st rd: lost to [1] Lukas Rosol (CZE) 63 75
***********************************
Central Coast Pro Tennis Open
Templeton, Calif. (ITF $60K)
Singles
[Q] Katherine Sebov
1st rd: lost to Marcela Zacarias (MEX) 33 retd

Singles qualifying
[1] Katherine Sebov
1st rd: def Katherine Hui (USA) 61 64
Final rd: def. [15/WC] Raveena Kingsley (USA) 76 (3) 63

***********************************
West Texas Pro Tennis Open
Albuquerque, NM (ITF $15K)
Singles
Ben Sigouin
1st rd: lost to [Q] Maxwell McKennon (USA) 67 (6) 63 63

[Q] Christian Lakoseljac
1st rd: def [5] Huang Haoyuan (CHN) 67 (3) 61 64
2nd rd: def. [Q] Wang Chukang (CHN) 63 63
QF: lost to [3] Osgar O'Hoisin (IRL) 61 76 (4)

[Q] Stefano Liokossis
1st rd: lost to [6] Connor Farren (USA) 63 61
Doubles
[1] Ben Sigouin / Osgar O'Hoisin (IRL)
1st rd: lost to. [WC] Rafael Abdul Salam (VEN) / Georgia Samaha (USA) 64 57 [10-3]
Singles qualifying
[1] Christian Lakoseljac
1st rd: def Codrin Miller (USA) 60 60
2nd rd: def [WC] Giorgio Samaha (USA) 76 76

[14] Stefano Liokossis
1st rd: def. Abasi Abukusumo (USA) 63 63
2nd rd: def [3] Nico Mostardi (USA) 36 64 [10-8]
[WC] Aram Noroozian
1st rd: lost to [9] Michael Shabaz (USA) 63 64
***********************************
Egyptian Men's Futures
Sharm El Sheikh, Egypt (ITF $15K)
Singles
[WC] Zelmir Rudan
1st rd: def Saba Purtseladze (GEO) 67 (5) 10 retd
2nd rd: lost to [3] Marcello Serafini (ITA) 63 64
Doubles
[WC] Zelmir Rudan / Ignacio Martinez (USA)
1st rd: lost to Leonardo Rossi / Lorenzo Vatteroni (ITA) 63 60
Men's singles qualifying
[15] Stefan Simeunovic
1st rd: def Dennis Dragomirov (GER) 63 61
2nd rd: def. Andrea Meduri (ITA) 64 61
Final rd: lost to [1] Sebastian Sorger (AUT) 64 62

Yehya Ismail
1st rd: lost to Zheng Baolui (CHN) 61 60
***********************************
World Tennis Tour Cancun 2022

Cancun, Mexico (ITF $15K

Men's

&

Women's

)
Women's singles



Louise Kwong
1st rd: def Ana Maria Becerra (COL) 64 63
2nd rd: lost to Kaitlin Quevedo (USA) 61 61
[WC] Sarah Barry
1st rd: lost to Emma Mazzoni (FRA) 46 61 64
Women's doubles
[2] Louise Kwong / Anna Ulyashchenko (USA)
1st rd: def. [WC] Mayu Crossley / Ena Koike (JPN) 76 (4) 62
QF: def. Britney Chu / Marika Jones (USA) 60 64
SF: def. [3] Maria Gabriela Rivera Corado / Kirsten-Andrea Weedon (GUA) 64 62

F: def. Jessica Hinojosa Gomez (MEX) / Kaitlin Quevedo (USA) 64 64
Men's singles qualifying
Riaan DuToit
1st rd: def Gianluca Mondini (ESA) 62 61
2nd rd: def. [9] Jean-Christian Morandais (GLP) 63 76
Final rd: lost to Hamish Stewart (GBR) 63 62

Luke Young
1st rd: lost to Su Yu-Hsiang (TPE) 64 62
***********************************
About Post Author