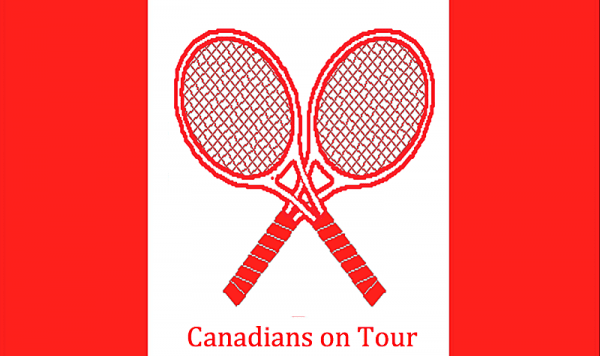 –
A big week on the Canuckian front as four players – Félix Auger-Aliassime in Antwerp, Steven Diez in Girona, Filip Peliwo in Glasgow and Katherine Sebov in Saguenay – all reached singles finals.
The Canadian effort in Guadalajara had some great moments, some not so great ones.
But the Canadian representation on the WTA side the last couple of weeks has been great to see.
(Last week's final results at the bottom of the post).
***********************************
Guadalajara Open Akron
Guadalajara, Mexico (WTA 1000)

Singles

Bianca Andreescu
1st rd: def Jil Teichmann (SUI) 62 64
2nd rd: def [16] Petra Kvitova (CZE) 36 62 60
3rd rd: lost to [3] Jessica Pegula (USA) 64 64

[Q] Rebecca Marino
1st rd: def. Ann Li (USA) 62 76 (2)
2nd rd: lost to [6] Caroline Garcia (FRA) 67 (2) 63 76 (5)
Leylah Fernandez
1st rd: lost to [10] Belinda Bencic (SUI) 75 67 (10) 63
[WC] Eugenie Bouchard
1st rd: def [Q] Kayla Day (USA) 75 63
2nd rd: lost to [12] Jelena Ostapenko (LAT) 75 26 61

Doubles
[4] Gabriela Dabrowski / Giuliana Olmos (MEX)
1st rd: Bye
2nd rd: def Nadiia Kichenok (UKR) / Kimberley Zimmerman (BEL) 60 63
QF: lost to [8] Xu Yifan / Wang Zhaoxuan (CHN) 75 57 [10-8]

Erin Routliffe (NZL) / Alicja Rosolska (POL)
1st rd: def Kaitlyn Christian (USA) / Lidziya Marozava (BLR) 62 36 [10-3]
2nd rd: lost to [1] Katerina Siniakova / Barbora Krejcikova (CZE)

Singles qualifying
Rebecca Marino
1st rd: def Sachia Vickery (USA) 26 62 61
Final rd: def. Elvina Kalieva (USA) 75 26 63
Carol Zhao
1st rd: lost to [5] Elisabetta Cocciaretto (ITA) 63 61

***********************************
European Open
Antwerp, Belgium (ATP 250)

Singles
[2] Félix Auger-Aliassime

1st rd: Bye
2nd rd: def [LL] Manuel Guinard (FRA) 63 63
QF: def. [5] Dan Evans (GBR) 46 76 (2) 62
SF: def. Richard Gasquet (FRA) 76 (2) 76 (3)
F: def. Sebastian Korda (USA) 63 64
***********************************
Stockholm Open
Stockholm, Sweden (WTA 250)
Singles
[4] Denis Shapovalov
1st rd: Bye
2nd rd: def [Q] Antoine Bellier (SUI) 64 75
QF: lost to [5] Alex de Minaur (AUS) 62 76 (5)

***********************************
Challenger Hamburg
Hamburg, Germany (ATP Challenger)
Doubles
Kelsey Stevenson / Billy Harris (GBR)
1st rd: lost to [WC] Tim Sandkaulen / Henri Squire 36 63 [10-8]
Singles qualifying



[ALT] Kelsey Stevenson
1st rd: lost to [11] Matteo Martineau (FRA) 63 63

***********************************
Challenger Banque Nationale de Saguenay
Saguenay, Québec (ITF $60K)

Singles



Katherine Sebov
1st rd: vs Maria Fernanda Navarro (ESP) 62 61
2nd rd: def. [1] Moyuka Ichijima (JPN) 63 16 63
QF: def. [5] Eudice Chong (HKG) 61 62
SF: def [3] Arianne Hartono (NED) 64 36 63
F: lost to Karman Kaur Thandi (IND) 36 64 63

[SE] Stacey Fung
1st rd: lost to [WC] Cadence Brace (CAN) 76 (4) 63
[WC] Cadence Brace
1st rd: def [SE] Stacey Fung (CAN) 76 (4) 63
2nd rd: lost to [3] Arianna Hartono (NED) 62 61
[WC] Marina Stakusic
1st rd: def [6] Emina Bektas (USA) 63 67 (6) 76 (4)
2nd rd: def. Victoria Duval (USA) 60 36 61
QF: lost to [3] Arianne Hartono (NED) 61 62
[Q] Kayla Cross
1st rd: lost to Olivia Tjandramulia (AUS) 62 67 (3) 62
[WC] Ana Grubor
1st rd: lost to [4] Catherine Harrison (USA) 75 63
[WC] Jada Bui
1st rd: lot to [7] Lulu Sun (SUI) 61 67 (7) 62
Doubles
Katherine Sebov / Sarah Beth Grey (GBR)
1st rd: def. [ALT] Shria Atturu / Brittany Collens (USA) 62 60
QF: def [3] Eudice Chong (HKG) / Moyuka Uchijima (JPN) 16 76 (5) [10-8]
SF: lost to [1] Catherine Harrison (USA) / Yanina Wickmayer (BEL) 63 46 [10-8]
Stacey Fung / Alica Rusova (SVK)
1st rd: lost to Sabastiani Leon (USA) / Ena Shibahara (JPN) 46 61 [10-5]
Louise Kwong / Anna Ulyashchenko (USA)
1st rd: vs. [3] Eudice Chong (HKG) / Moyuka Uchijima (JPN) 62 63
Kayla Cross / Johanna Christina Svenden (DEN)
1st rd: lost to Katarina Jokic (SRB) / Taylor Ng (USA) 76 (7) 62
[WC] Raphaelle Leroux / Xie Anlin
1st rd: lost to [4] Liang En Shuo (TPE) / Anna Siskova (CZE) 76 (3) 60
[WC] Clémence Mercier / Neda Rhimakhani
1st rd: lost to Elysia Bolton (AUS) / Francesca Di Lorenzo (USA) 76 (3) 61
***********************************
Mercer Tennis Classic
Macon, Ga. (ITF $60K)
Singles
[Q] Bianca Jolie Fernandez
1st rd: lost to [3] Lisa Zaar (SWE) 63 61
[Q] Ariana Arseneault
1st rd: def [Q] Carolyn Ansari (ITA) 62 62
2nd rd: lost to Nadia Podoroska (ARG) 62 63

Doubles
Bianca Jolie Fernandez / Olivia Lincer (POL)
1st rd: lost to Elizabeth Danailova (BUL) / Lucie Petruzelova (CZE) 76 (4) 61

Ariana Arseneault / Carolyn Ansari (USA)
1st rd: def. Liga Dekmeijere (LAT) / Fanny Norin (SWE) 61 61
QF: def. [4] Thaisa Pedretti (BRA) / Nadia Podoroska (ARG) WALKOVER
SF: lost to [1] Anna Rogers / Christina Rosca (USA) 63 63
Singles qualifying
[9] Bianca Jolie Fernandez
1st rd: def. Mia Yamakita (USA) 61 46 [11-9]
Final rd: def Shatoo Mohamad (USA) 62 64
[11] Ariana Arseneault
1st rd: def. Fanny Norin (SWE) 64 62
Final rd: def [WC] Teodora Ristic (SRB) 62 75
***********************************
ITF M25.000$ CIUTAT DE GIRONA

Girona, Spain (ITF $25K)
Singles
[7] Steven Diez
1st rd: def [WC] Nil Regas Luis (ESP) 62 60
2nd rd: def [Q] Xavi Matas Ortega (ESP) 64 61
QF: def. Javier Barranco Cosano (ESP) 62 64
SF: def Alejandro Moro Canas (ESP) 64 36 64
F: lost to [2] Oriol Roca Batalla (ESP) 63 63

***********************************
Glasgow $25K Pro-Series


Glasgow, Scotland (ITF $25K)
Singles
[2] Filip Peliwo (POL)
1st rd: def [Q] Eric Morris (USA) 60 63
2nd rd: def [Q] Sean Hodkin (GBR) 61 64
QF: def. Anton Matusevich (GBR) 16 64 75
SF: def [WC] George Loffhagen (GBR) 62 46 76 (6)
F: lost to [1] Aidan McHugh (GBR) 76 (4) 64

***********************************
Fort Worth Pro Tennis Classic

Fort Worth, TX (ITF $25K)
Singles
[Q] Carson Branstine
1st rd: def. [Q] Noel Saidenova (RUS) 57 75 62
2nd rd: lost to [8] Ashley Lahey (USA) 64 62

Doubles
Carson Branstine / Ashley Lahey (USA)
1st rd: vs. Martha Matoula (GRE) / Martha Okalova (SVK) 62 63
QF: def. Reese Brantmeier / Sara Daavettila (USA) 63 64
SF: lost to [1] Allura Zamarripa / Maribella Zamarripa (USA) 64 75
Singles qualifying



[3] Carson Branstine
1st rd: def. Maya Dutta (USA) 63 61
FInal rd: def. Jade Otway (NZL) 63 64
***********************************
Loule Open
Loule, Portugal (ITF $25K)
Doubles
Laura Vasilescu / Milla Sequeira (POR)
1st rd: lost to [4] Caljsa Wilda Hennemann (SWE) / Ku Yeonwoo (KOR) 63 62
Singles qualifying



Laura Vasilescu
1st rd: def Cristina Rodriguez Duenas (ESP) 64 62
2nd rd: lost to [6] Mrta Huqi Gonzalez Encinas (ESP) 60 60

***********************************
M15 Nana Heraklion
Heraklion, Greece (Men's & Women's ITF $15K)
Men's singles qualifying
Stefan Simeunovic
1st rd: def. [9] Daniel Paty (CZE) 62 16 [16-14]
2nd rd: def. Raphael Calzi (LUX) 75 62
FInal rd: lost to [4] Dax Donders (NED) 61 41 retd
Women's singles qualifying
Keira Blackbeard
1st rd: lost to Anna Schubries (GER) 76 (2) 40 retd
***********************************
Egypt Men's Future


Sharm El Sheikh, Egypt (ITF $15K)
Singles qualifying
Christopher Heck
1st rd: def Rishabdev Raman (IND) 46 63 [10-7]
2nd rd: lost to [2] Alex Kuperstein (USA) 63 60

***********************************
Antalya Series


Antalya, Turkey (ITF $15K)
Singles qualifying
[WC] Ghouse Ali Faisal
1st rd: lost to Adan Heinonen (SWE) 63 61

***********************************
About Post Author