–
What would you do if a rival took it upon herself to poach a valued member of your team, in the middle of a crucial, comeback season?
That was the situation facing Canadian Bianca Andreescu this spring, when her physical trainer Abdul Sillah came to her with – at least for women's tennis – a radical notion.
Sillah, a well-respected trainer who had Naomi Osaka in the best shape of her life, during the best period of the Japanese star's career, had been working with Andreescu for about a year.
But now, he wanted the Canadian to share him.
It seems Osaka, at sea and at somewhat of a career crossroads, had no qualms in reaching out to Sillah – a man who was there for her greatest successes, but whom she let go and was now working for a rival and fellow major champion.
What followed was a Great Experiment that, with the benefit of hindsight, was a failure.
Particularly for Andreescu.
And, as 2022 wraps up, she will be dealing with the consequences of it.
A concept better in theory that in practice
It was hard to fathom how anyone would think this Great Experiment could work.
But Sillah did. Genuinely.
"I've seen these men, coaches. I've seen how much damage has been done to a lot of these young ladies. For me, anyway, nobody seems to care. I'm a man of faith. I always believe God brings folks in your life for reason. And it was no coincidence that you have two top players and I've worked with both of them at different times. And now you have another one coming back that needs help," Sillah told Open Court at the US Open.
"When Bianca came to me, Bianca was broken. She was struggling. And I didn't care about tennis, I care about the human being. So how am I going to help build this human being back to be whole? My mission was to see if we can collaborate together. Because imagine if two top players who are very outspoken work as partners, training partners, offseason and become friends?
"They go through things that you and I can never relate to. And deal with a situation where you have these men who are not gonna relate to it, either. And I believe some of most of these coaches are trying to isolate a lot of these players," he added.
It was a lovely theory. Revolutionary, really.
And Sillah had seen it work with other athletes he's worked with. The women train together, he said. They share coaches.
But the world of women's tennis?
Different planet.
"It sounds like it but that, to me, that is we've gone wrong. How did tennis become like this? We created this. We've made it an unhealthy competitive environment for them. I just want to spark the flame to change it," Sillah said. "I live on trust and loyalty. That's what I've always preached. And if I'm willing to sacrifice my life for someone, I expect you to do the same thing for somebody else. Right? 'm willing to put myself on the line and say, 'Okay, you trust me, I trust you'. And if someone needs help, we're supposed to help them. We cannot think selfishly."
Andreescu all in on Sillah's philosophy
The back story on this is that before Osaka and/or her team reached out to Sillah, Andreescu had been putting the pieces back together after a couple of difficult years.
She was building a team around her that would bring back her best – both in terms of her health and her tennis – as she gingerly returned to the sport after injury, the pandemic and a break to preserve her mental health.
She had added coach Sven Groeneveld, an experienced campaigner who had worked with many top players.
She had a personal physio/osteopath, Mathias Neugebauer, with her.
In March, 2021, we broke the news that Andreescu had added Sillah, who had worked with Osaka for several years and with Serena Williams before that.
Andreescu looked at Sillah as more than just a fitness trainer. His zen-like philosophy resonated strongly with her from the start.
"He's one of the biggest inspirations in my life. He's a teacher; he has taught me so much. Even last year, when I was going through a really hard time, he was really there for me. And he was really helping me learn about what's going on," Andreescu told Open Court just before Roland Garros.
Beyond that, it was clear as time went on in 2022 that Andreescu was in the shape of her life. And, it seemed, she was doing a much better job of staying healthy.
Since that had been a huge challenge even going back to her junior days, it was a crucial piece of the puzzle as she rebuilt herself.
It was all falling into place.
The Great Experiment
The Great Experiment would be tested out during the most crucial part of the season for Andreescu – the North American summer hard-court season.
We're told Sillah endeavoured to get the two women together for dinners this spring to start building a relationship.
Those dinners never ended up taking place, with Osaka reportedly not buying in. Although, logistically, she was around very little during the clay-court season.
Faced with the potential disruption within a team that clearly seemed to be working, Andreescu didn't really have much choice but to go along.
Given the enormous regard in which she held Sillah, half of him – she had to think – was better than no part at all.
The wrinkle was that Andreescu didn't appear to have shared this with those around her devoted to helping her navigate her career.
As Sillah told Open Court, it was a private conversation, a private agreement between the two.
She may well have anticipated what the reaction would be.
And as you can imagine, there was fairly universal pushback against it once the Great Experiment was revealed.
Debut in San Jose
The Great Experiment, agreed upon between Sillah and Andreescu for a six-week trial period, officially began in San Jose.
It was the first tournament for Andreescu in her all-important summer hard-court season. And Osaka was returning after a long absence due to an Achilles' problem.
As it happened, the two were playing their first-round matches back-to-back.
Already, there was evidence that the "collaboration" was going to have major challenges.
Sillah says he knows Andreescu likes to have her people in the player box during matches; we can all recall her heading over to the box, to be consoled by Sillah after she was forced to retire during the 2021 Miami Open final against Ashleigh Barty.
But he wasn't there much that day; with Osaka coming up next, she needed to warm up for her own match.
Sillah was there at the end – hopping over the fence and onto the court to carry Andreescu's bag off, after a back issue contributed to a straight-set loss to Shelby Rogers in the first round.
And then, he was with Andreescu to deal with that issue. So he wasn't there much for Osaka in her player's box, for her return.
The Great Experiment was off to an awkward start.
Andreescu was then off to Toronto to heal up and tackle the busiest, most stressful week of her season as she returned "home" for the first time since her Rogers Cup triumph in 2019.
She was trying to get her aching back healthy, as well as deal with an non-stop schedule of media and promotional obligations.
Sillah remained in San Jose with Osaka. Who, as it happened, also came up with back problems.
From Toronto to Cincinnati
When Andreescu decided that taking an extra week at home to heal up and prepare for the US Open was a better option than Cincinnati, Sillah … went to Cincinnati with Osaka.
At this point, It was fairly clear to most observers that the Great Experiment wasn't going to work.
Working with two high-profile female tennis players who both needed a lot of TLC at this stage of their respective careers was turning out to be far too ambitious a project.
In the end, whether it was internal pressure from her team or the fact that Andreescu realized this herself, she gave Sillah an ultimatum.
"I honestly believe she listened to the wrong advice, and that's where the wheels fell off. Because for me, if I'm going to listen to advisors, someone that I believe actually has my best interests at heart, it would not be the people that have not been around," he said. "It would be the people who have been around and are willing to do so much for one person. That's who I would listen to – not people who are going to tell you what you want to hear."
Sillah said he didn't choose; Andreescu did.
"She decided to go in a different direction. She said, 'This is not for me. And I can't do this, I'm not going to go this route'," Sillah said. "That's not something I wanted her to do. I told her the door is going to be open. Because at the end of the day, I know there's going to be some serious damage on the path that she's on.
"I trusted and believed in what we had worked on and where we were, and believed in her that she was able to meet the challenge. I trusted and had faith in that because of how far she had come and the work that she's been putting in mentally, and spiritually and emotionally and physically. So it wasn't something that I didn't think she was capable of."
A little precedent
We've seen this sort of thing before.
Monica Puig, now retired, experienced a similar issue a few years ago when her coach Kamau Murray suddenly (right before the US Open), decided to dump her and go back to his previous player, Sloane Stephens.
Stephens was a player Murray had had a long relationship with. But the American didn't think Murray was the right man for the job earlier in the year.
And that's when Puig came into the picture.
And suddenly … Stephens thought he was the right man for the job again.
Puig was a little more open about how much it hurt.
But Andreescu didn't want to talk about it. Even months later.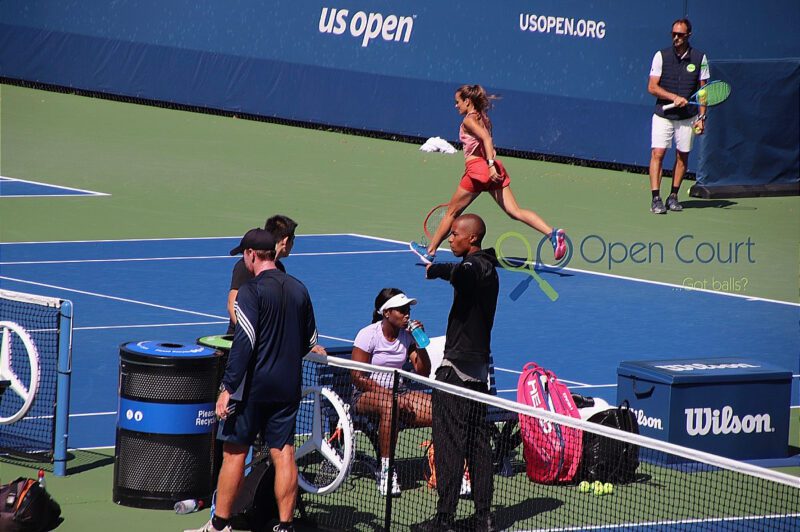 We reached out to the Canadian every possible way over the summer and fall – through the WTA, through her management. It wasn't a story we wanted to write without getting her view of it; out of respect for her, it was only fair to make every effort.
We reached out after San Jose. No to avail. We tried speak to her face-to-face at the US Open, only to be put off by her and dismissed by the WTA handler who was with her.
Finally, in San Diego, we were able to ask her directly about it. Despite an attempted intervention by another WTA staffer, at least the question got asked.
She just doesn't want to go there.
Why? That's unclear. She didn't do anything wrong, other than perhaps make a poor decision from a good place, that ended up backfiring.
Which all of us can relate to.
"I was sort of naïve about it"
Sillah said Osaka didn't see the situation as unhealthy. He didn't know if Andreescu did. When they talked, he didn't get that impression.
"It came out at the last minute, and it took me by surprise," he said.
He thought he knew Andreescu well enough by then that she could handle the Great Experiment.
"But I was wrong. I was wrong on that," he told Open Court. "Like you said, I was I was sort of naive about it. Right? And that's on me. I went in eyes wide shut. I've always said I trust her abilities. And I trust her. And I mean, I'm shocked that I'm not there (at the US Open) with her. The truth. I'm shocked, because I wasn't expecting it.
"I figure there will be words out there saying I abandoned one for the other, but I don't call it that. Everybody is going to define it differently," Sillah said. "I'm a human being, doing what I feel is right for every human being who crosses my path. People are going to say whatever they want, and I can't help that every human being has their own way of looking at things."
A chain of events
In the end, the Great Experiment seems to have set off a chain of events that has led to where Andreescu is now, as the 2022 season comes to an end.
What was once a tight-knit team that seemed to be building back better now has to be reimagined – again.
After Wimbledon, Neugebauer decided not to rejoin the team for the summer hard-court season and went home.
It's unclear if the Great Experiment was a factor.
But one thing was clear: with the decision to agree to share Sillah with Osaka and the decision not to involve others in that decision, a tight-knit unit began to break down.
The final piece fell a few days ago when Groeneveld made the announcement that he would not extend their coaching collaboration in 2023.
So as the season ends, the Canadian – universally acknowledged as one of the most talented players in the game – is just outside the top 50.
She has a nice window until the end of next April, which is when she began her 2022 season. There are no points to defend during those first months of 2023.
In the meantime, though, it's nearly November. There are still the Billie Jean King Cup finals, if indeed Andreescu is on board. And after that, there is precious little time before the preseason begins.
And Andreescu must rebuild again.
She needs to quickly find a new coach she can connect with – never an easy task, and there aren't many really good ones around.
Those tight timelines can often lead to sub-optimal choices. And then you lose even more time.
She also needs to find a permanent physio and trainer.
The good news is that overall, the 22-year-old has appeared to be in a far better place mentally than she was in 2021.
And she has had patches of tennis played at such a high level, she knows she can still do it.
But the Great Experiment, on some level, cost her much of a year.
No Winners in the Great Experiment
On the other side of it, Osaka may have won the battle for Sillah. But she has been losing the war.
Wim Fissette, her highly-respected coach, left in July.
She still hasn't replaced him.
And Osaka appears no more certain now of where her tennis career is headed than she did when she reached out to try to poach Sillah in the first place.
Since losing in the first round of Roland Garros and struggling with an Achilles injury, Osaka has played just seven matches. Of those, she has won just one completed match – the first one of the Great Experiment, against Zheng Qinwen in San Jose.
She retired against Kaia Kanepi in Toronto. She was beaten by Zhang Shuai in the first round of Cincinnati, and by Danielle Collins in the first round of the US Open.
Osaka showed up in Tokyo a few weeks later; you suspect, given she represents Japan and her endorsement portfolio is massive there, that she didn't have much choice.
After winning her first round when opponent Daria Saville shredded her ACL in the second game of the match, she then withdrew from her second-round match against Beatriz Haddad Maia because of abdominal pain.
And hasn't been seen since.
In the Great Experiment, it seems, nobody won.
About Post Author