–
MELBOURNE, Australia – Gabriel Diallo and Tennis Canada coach Martin Laurendeau were walking into Melbourne Park Wednesday morning, shortly after 10 a.m.
It was two days after Diallo made his Grand Slam debut in the qualifying for this year's Australian Open. And already he's back to work.
The 20-year-old is at a career-best No. 222 at the moment, leagues beyond where he was a year ago at this time, which was … No. 993.
His 2022 season opened quite a few eyes. And even if Tennis Canada dumped an uncoordinated 14-year-old who was in the process of growing to to be 6-foot-7 back in the day, they seem to be on board now.
Diallo is bypassing his final year at the University of Kentucky (he has four courses remaining). And it feels as though it's the right time to do it.
(Another Canadian junior, the more highly-touted Jaden Weekes, is starting at Kentucky this winter and is essentially Diallo's replacement).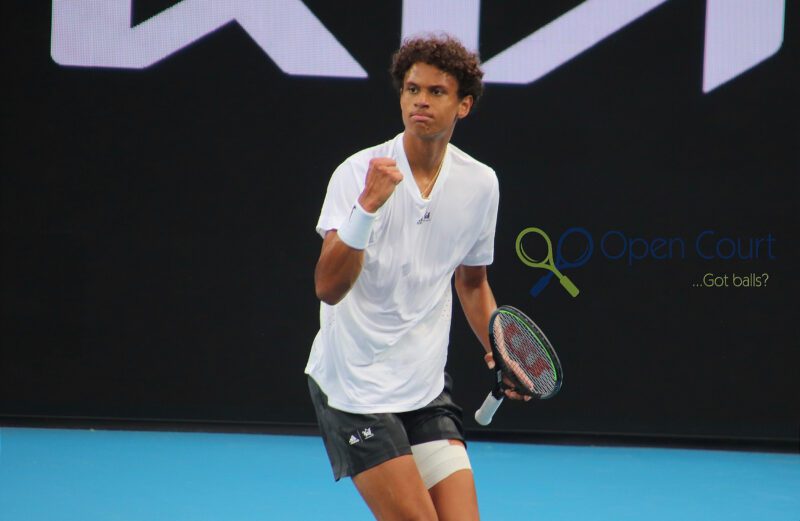 Beaten by the more experienced Vukic
Diallo went down in straight sets to Aleksandar Vukic Monday, a 26-year-old currently ranked No. 129 who just turned pro four years ago after graduating with a finance degree from the University of Illinois who was solid and has far more experience.
The final score was 6-3, 6-4.
Here's what it looked like.
(Vukic shocked rising phenom Carlos Alcaraz in that fall edition of Roland Garros in 2020 – beating him 4-6, 6-5 (5), 6-3 in the first round of qualifying before making his first Grand Slam main draw outside of Australia).
Vukic is unheralded. But despite having spent the time in college he's getting close to the top 100 and is a fine role model for Diallo to follow.
And the biggest takeaway from this match, played during a very cool Melbourne late afternoon in blustery conditions, is how much Diallo has progressed since last summer.
And how it's clear he's playing the right way for his size and strengths.
Diallo's serve is already pretty big. As he builds some muscle on his tall, lanky body, it's only going to get better with the terrific trajectory he has.
He's moving better. And, notably, he's developing a game style that is sure to serve him well – especially against the better movers and more consistent groundstrokers on the pro tour, which are many and varied.
Diallo took every opportunity to come to the net and finish points off after creating those chances with his serve and his forehand.
Some of his volleys were top-class. Some were more awkward. But the more he does it, the more comfortable he is going to be.
These early pro days are the time to keep working on that game style in pressure situation, and absorb any losses that might come from that. He has time. And from the looks of it he's looking at the big picture, the long term.
There's plenty to be positive about.
About Post Author