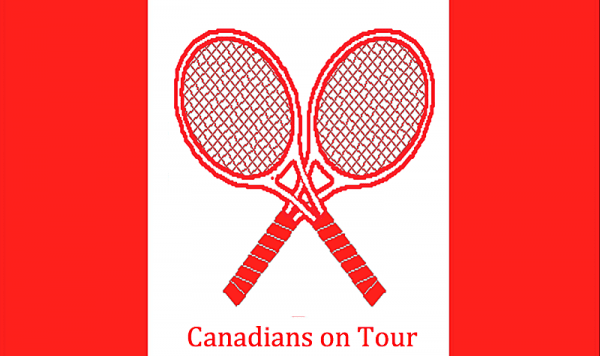 –
MELBOURNE, Australia – A little more action this week with seven Canadians in the main draw at the Australian Open – six on their own rankings, and one qualifier.
As well, a number of other players are starting their seasons at smaller events.
Notably – Françoise Abanda played her second straight tournament, in the qualifying in Boca Raton. She made it to the main draw
The group of young Canadian women were supposed to come Down Under and play the AO juniors. But apparently plans changed and now they are going to be playing small pro events.
The final tally was doubles finals in Ithaca, Guadeloupe and Boca Raton.
***********************************
Australian Open
Melbourne, Australia (

Grand Slam

)
Men's singles



[6] Félix Auger-Aliassime
1st rd: def Vasek Pospisil (CAN) 16 76 (4) 76 (3) 63
2nd rd: def. Alex Molcan (SVK) 36 36 63 62 62
3rd rd: def. [28] Francisco Cerundolo (ARG) 63 36 61 64
4th rd: lost to Jiri Lehecka (CZE) 46 63 76 (2) 76 (3)

[20] Denis Shapovalov
1st rd: def Dusan Lajovic (SRB) 64 46 64 61
2nd rd: def Taro Daniel (JPN) 63 76 (3) 75
3rd rd:l ost to [10] Hubert Hurkacz (POL) 76 (3) 64 16 46 63

Vasek Pospisil
1st rd: lost to [6] Félix Auger-Aliassime (CAN) 16 76 (4) 76 (3) 63

Women's singles
Leylah Fernandez
1st rd: def Alizé Cornet (FRA) 75 62
2nd rd: lost to [4] Caroline Garcia (FRA) 76 (5) 75

Bianca Andreescu
1st rd: def [26] Marie Bouzkova (CZE) 62 64
2nd rd: lost to [Q] Cristina Bucsa (ESP) 26 76 (7) 64
Rebecca Marino
1st rd: lost to Zhu Lin (CHN) 62 64
[Q] Katherine Sebov
1st rd: lost to [4] Caroline Garcia (FRA) 63 60
Women's doubles
[4] Gabriela Dabrowski / Giuliana Olmos (MEX)
1st rd: def. Irina-Camelia Begu (ROU) / Shelby Rogers (USA) 46 62 62
2nd rd: def. Belinda Bencic / Jil Teichmann (SUI) 46 62 64
3rd rd: vs Caroline Dolehide (USA) / Anna Kalinskaya (RUS)
[14] Erin Routliffe (NZL) / Alicja Rosolska (POL)
1st rd: lost to Anna Bondar (HUN) / Greet Minnen (BEL) 64 61
Leylah Fernandez / Bethanie Mattek-Sands (USA)
1st rd: lost to [7] Beatriz Haddad Maia (BRA) / Zhang Shuai (CHN) 67 (5) 64 63
Rebecca Marino / Madison Brengle (USA)
1st rd: vs. Belinda Bencic / Jil Teichmann (SUI) 62 62
***********************************
Bangkok Open 3
Nonthaburi, Thailand (ATP Challenger)

Doubles



[4] Kelsey Stevenson / Luca Sanchez (FRA)
1st rd: vs. Oleksandr Ovcharenko (UKR) / Stefano Travaglia (ITA) 76 (3) 61
QF: lost to Nicholas David Ionel (ROU) / Kacper Zuk (POL) 64 63

***********************************
Brasil Tennis Challenger
Piracicaba, Brazil (ATP Challenger)

Singles



[1] Alejandro Tabilo (CHI)
1st rd: def [WC] Pedro Boscardin Dias (BRA) 62 63
2nd rd: def. Origi Roca Batalla (ESP) 63 64
QF: lost to Andrea Collarini (ARG) 76 (6) 64
***********************************
W25 Boca Raton
Boca Raton, Fla. (Women's ITF $25K)
Singles
[Q] Françoise Abanda
1st rd: lost to [5] Chiara Scholl (USA) 62 62
Doubles
Françoise Abanda / Anastasia Sysoeva (RUS)
1st rd: def. Taly Licht (USA) / Amanda Carolina Nava Elkin (MEX) 62 76 (1)
QF: def. [2] Oaka Georgeta Simion (ROU) / Fanni Stollar (HUN) WALKOVER
SF: lost to [4] Tiphanie Fiquet (FRA) / Ashley Lahey (USA) 63 61
Kayla Cross / Renata Zarazua (MEX)
1st rd: def. Dasha Ivanova (USA) / Gabriela Andrea Knutson (CZE) 63 61
QF: def. [3] Marine Partaud (FRA) / Chiara Scholl (USA) WALKOVER
SF: def. [1] Adrienn Nagy (HUN) / Sofia Sewing (USA) 62 64
F: lost to [4] Tiphanie Fiquet (FRA) / Ashley Lahey (USA) 46 61 [10-4]
Singles qualifying



[2] Kayla Cross
1st rd: vs Shelby Prince (USA) 60 60
Final rd: lost to [15] Lexington Reed (USA) 76 (4) 26 [10-8]

[3] Françoise Abanda
1st rd: def Brianda Rebeca Navarro (USA) 61 61
Final rd: def. [14] Madison Bourgiguon (USA) 61 76 (4)

***********************************
Sheffield 25K Pro Series
Sheffield, UK (ITF 25k)

Men's singles



[5] Filip Peliwo (POL)
1st rd: lost to Mercello Serafini (ITA) 75 76 (6)
***********************************
Tournoi International Féminin de la Ville de Petit-Bourg
Petit-Bourg, Guadeloupe (Women's ITF $25K)
Singles
[5] Bianca Jolie Fernandez
1st rd: def Ella Roanes (FRA) 60 61
2nd rd: lost to Anna Ulyashchenko (USA) 62 46 61
[7] Ana Grubor
1st rd: def Fiona Codino (FRA) 64 61
2nd rd: def. Natacha Schou (DEN) 64 36 75
QF: lost to Sarah Iliev (FRA) 61 62
[Q] Matea Roki
1st rd: lost to [3] Margaux Rouvroy (FRA) 62 60
Doubles
[2] Bianca Jolie Fernandez / Anna Ulyashchenko (USA)
1st rd: Bye
QF: def. Leslie Rose / Madison Rose (USA) 61 60
SF: def. Valeria Koussenkova (ESP) / Alexandra Riley (USA) 62 63
F: lost to [1] Jenny Duerst (SUI) / Fanny Ostlund (SWE) 64 36 [10-4]
Petra Januskova / Tara Malik (USA)
1st rd: Walkover
QF: lost to [3] Astrid Cirotte / Margaux Rouvroy (FRA) 63 64
***********************************
2nd Qatar Men's ITF World Tennis Tour 2023
Doha, Qatar (ITF 25k)

Singles qualifying
[10] Zelimar Rudan
1st rd: def Abdullah Khan (PAK) 61 63
Final rd: lost to [3] Aleksandra Bakshi (GEO) 61 62
***********************************
Grossman Family M15 at Cornell University
Ithaca, NY (ITF 15k)

Singles
[Q] Marko Stakusic
1st rd: lost to [JR] Ozan Baris (USA) 63 64
Doubles
[1] Mac Kiger (USA) / Benjamin Sigouin
1st rd: def. Roy Smith / Drew Van Orderlain (USA) 63 62
2nd rd: def. Jack McCarthy (AUS) / Vladislav Melnic (ROU) 76 (5) 64
SF: def. Andrei Duarte (COL) / Ronald Hohmann (USA) 75 63
F: lost to [2] Nick Chappell / Nathan Ponwith (USA) 62 64
Aurel Ciocanu / Roy Stepanov
1st rd: def. Kyle Seelig / Adit Sinha (USA) 62 46 [10-5]
SF: lost to [2] Nick Chappell / Nathan Ponwith (USA) 64 64
Samuel Paquette / Petar Teodorovic (SRB)
1st rd: lost to [2] Nick Chappell / Nathan Ponwith (USA) 64 63
Marko Stakusic / Ozan Baris (USA)
1st rd: lost to [4] Chad Kissell / Josjua Sheehy (USA) WALKOVER
Singles, qualifying
[1] Marko Stakusic
1st rd: def [WC] Jordan Reznik (USA) 67 (5) 61 [10-4]
Final rd: def. Roman Postolka (CZE) 64 36 [16-14]
[3] Benjamin Sigouin
1st rd: def Marko Mesarovic (USA) 64 76 (3)
Final rd: lost to [13] Christopher Bulus (NGR) 63 76 (5)
[5] Jonathan Sorbo
1st rd: def [WC] Muhammas Dossani (USA) 75 46 [10-5]
Final rd: lost to [16] Drew Van Orderlain (USA) 61 67 (2) [10-4]
[11] Stefano Liokossis
1st rd: lost to Roman Postolka (CZE) 62 63
Aurel Ciocanu
1st rd: lost to [16] Drew Van Orderlain (USA) 61 61
Aleksandrar Mitric
1st rd: lost to [4] Ronald Johmann (USA) 76 (3) 76 (3)
[WC] Samuel Paquette
1st rd: lost to [6] Ishaan Ravichander (USA) 76 (1) 61
************************************
About Post Author