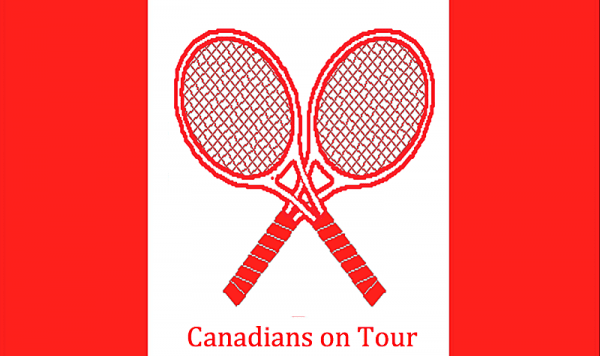 –
MELBOURNE, Australia – The Canadian survivors into the second week of the Australian Open were few.
Félix Auger-Aliassime made it the fourth round of the men's singles before being disappointed, and Gabriela is into the third round of the women's doubles (and still alive).
But as those players were eliminated, others moved on to other, smaller events around the planet this week.
Ben Sigouin, after a few finals in recent months, wins the doubles at the $15K in Edmond, Oklahoma.
Here are last week's final results; we'll include Aus Open results only for those who made it to "this week", and add in the junior results.
***********************************
Australian Open
Melbourne, Australia (

Grand Slam

)
Men's singles



[6] Félix Auger-Aliassime
1st rd: def Vasek Pospisil (CAN) 16 76 (4) 76 (3) 63
2nd rd: def. Alex Molcan (SVK) 36 36 63 62 62
3rd rd: def. [28] Francisco Cerundolo (ARG) 63 36 61 64
4th rd: lost to Jiri Lehecka (CZE) 46 63 76 (2) 76 (3)
Women's doubles
[4] Gabriela Dabrowski / Giuliana Olmos (MEX)
1st rd: def. Irina-Camelia Begu (ROU) / Shelby Rogers (USA) 46 62 62
2nd rd: def. Belinda Bencic / Jil Teichmann (SUI) 46 62 64
3rd rd: lost to Caroline Dolehide (USA) / Anna Kalinskaya (RUS) 75 62
Girls' singles, first round
[Q] Ellie Daniels
1st rd: lost to [LL] Elizara Yaneva (BUL) 61 75
Boys' singles, first round
Keegan Rice
1st rd: lost to [8] Cooper Williams (USA) 64 63
Girls' doubles



Ellie Daniels / Maria Daviana Ciubotaru (ROU)
1st rd: lost to [2] Mirra Andreeva / Alina Korneeva (RUS) 60 64
Boys' doubles



Keegan Rice / Hoyoung Roh (KOR)
1st rd: def. [WC] Thomas Gadecki / Hugh Winter (AUS) 46 61 [10-6]
2nd rd: lost to [1] Alexander Blockx (BEL) / Joao Fonseco (BRA) 63 46 [10-3]
Quad Wheelchair singles, first round
Donald Ramphadi (RSA) def. Rob Shaw (CAN) 76 (7) 36 61
Quad Wheelchair doubles, first round
[1] Nils Vink / Sam Schroder (NED) def. Heath Davidson (AUS) / Rob Shaw (CAN) 60 61
***********************************
Open Quimper Bretagne Occidentale
Quimper, France (ATP Challenger – €145,000)

Singles
[3] Vasek Pospisil
1st rd: lost to Gijs Brouwer (NED) 36 63 63
***********************************
Challenger Dove Men+Care Conception
Concepción, Chile (ATP Challenger – $130,000)

Singles



[2] Alejandro Tabilo (CHI)
1st rd: def [ALT] Mariano Navone (ARG) 16 76 (0) 61
2nd rd: def Luciano Darderi (ITA) 64 75
QF: lost to [8] Timofey Skatov (KAZ) 64 36 75

***********************************
Sunderland W60 Pro Series
Sunderland, UK (ITF $60,000)

Singles qualifying



Ana Grubor
1st rd: lost to [7] Lucia Cortez Llorca 64 63

***********************************
Orlando W25
Orlando, Fla. (Women's ITF $25K)
Singles
[Q] Kayla Cross
1st rd: vs [Q] Dasha Ivanova (USA) 62 64
2nd rd: lost to [4] Kayla Day (USA) 63 60

Doubles
Bianca Jolie Fernandez / Victoria Hu
1st rd: lost to [3] Adrienn Nagy (HUN) / Sofia Sewing (USA) 63 76 (4)

Kayla Cross / Katherine Hui (USA)
1st rd: lost to Jada Myii Hart / Rasheeda McAdoo (USA) 61 64

Singles qualifying
Françoise Abanda
1st rd: lost to [8] Dasha Ivanova (USA) 60 retd

[14] Kayla Cross
1st rd: def. [WC] Carolina Bohrer Martins (BRA) 60 63
Final rd: def. Victoria Osuigwe (USA) 62 63
[15] Bianca Jolie Fernandez
1st rd: def. [WC] Basant Kaur (USA) 62 62
Final rd: lost to [2] Johanna Christine Svendsen (DEN) 63 64
***********************************
Sunderland M25 Pro Series
Sunderland UK (ITF 25k)

Men's singles



[4] Filip Peliwo (POL)
1st rd: lost to [Q] George Houghton (GBR) 76 (2) 76 (2)

***********************************
Edmond Open
Edmund, Okla. (ITF 15K)
Singles
Marko Stakusic
1st rd: lost to [Q] Gabi Adrian Boitan (ROU) 64 62
Benjamin Sigouin
1st rd: lost to [4] Alex Michelsen (USA) 75 63
Jonathan Sorbo
1st rd: lost to [Q] Alexander Visser (USA) 62 61
[Q] Aurel Ciocanu
1st rd: def [Q] Stefan Cooper (GBR) 63 63
2nd rd: lost to Warren Wood (USA) 76 (6) 64

Doubles
[2] Benjamin Sigouin / Mac Kiger (USA)
1st rd: def. Henry Barrett (USA) / Lucas Renard (SWE) 63 64
QF: def. Aidan Kim / Alex Michelsen (USA) 46 63 [12-10]
SF: def. [4] Nick Chappell (USA) / Osgar O'Hoisin (IRL) 63 63

F: def. Collin Altamirano (USA) / Gabi Adrian Boitan (ROU) 76 (7) 64
Aurel Ciocanu / Arman Zamani (USA)
1st rd: vs. Evan Sharygin / Hank Trondson (USA) 64 64
QF: lost to [3] George Goldhoff / Joshua Sheehy (USA) 26 63 [10-3]
Singles qualifying
[5] Aurel Ciocanu
1st rd: def Nebyou Minassie (ETH) 61 61
Final rd: def. [14] Satyajit Simhadri (USA) 62 75
***********************************
Egypt Men's Future
Cairo Egypt (ITF 15K)
Singles qualifying
[9] Zelimir Rudan
1st rd: def Attila Boros Sr. 60 60
2nd rd: def. Caspar Schuetze (GER) 76 (2) 36 [10-6]
Final rd: lost to [2] Edouard Villoslada (FRA) 63 62
Ghouse Ali Faisal
1st rd: lost to toprak Avcibasi (TUR) 64 62
************************************
About Post Author