–
INDIAN WELLS – As tennis turns to the desert for the next two weeks, some notable results (and titles) over the weekend on the WTA Tour.
And some rankings moves as well.
There are no changes in the top 20.
Also noteworthy is Cana-Kiwi Erin Routliffe's doubles title at the WTA tournament in Austin. She moves up two spots in the rankings, to No. 32.
ON THE UPSWING
Donna Vekic (CRO): No. 31 ========> No. 23 (Vekic takes down the very talented Caroline Garcia to win the WTA event in Monterry and return to the top 25 – finally, after so many injuries the last few years. It's her fourth career title, her first since 2021 andher second since 2017).
Danielle Collins (USA): No. 38 ========> No. 31 (A good result in Austin – the semis – gives Collins a good bump. But it comes too late for her to get seeded at Indian Wells and get a first-round bye. Which makes her a pretty dangerous floater. She made the semifinals in Austin).
Lin Zhu (CHN): No. 41 ========> No. 33 (A career high for Zhu, after her semifinal effort in Austin. Again, a little too late to get seeded in the desert. She is 11-3 on the season).
Elise Mertens (BEL): No. 42 ========> No. 37 (A badly-needed bump for Mertens, who is not a player who should ever be ranked outside the top 40).
Marta Kostyuk (UKR: No. 52 ========> No. 40 (A tough day against a Russian in the Austin final. But Kostyuk, still only 20 – hard to imagine, it feels like she's been around forever) wins her first WTA Tour title and moves to a career high. She's 15-6 on the year).
Varvara Gracheva (RUS): No. 88 ========> No. 66 (Gracheva reached her first WTA final Sunday, losing to the Ukrainian Kostyuk. But she'll still have to make the quick transition and be on the challenging courts at Indian Wells for a first-round qualifying match on Monday).
Katie Volynets (USA): No. 92 ========> No. 74 (A career high for the 21-year-old from Northern California, who got a wild card into the main draw at Indian Wells – and would have been in on her own ranking, were they to use today's rankings. She made the Austin semifinals, taking with No. 28 Anastasia Potapova in the second round).
Ysaline Bonaventure (BEL): No. 96 ========> No. 84 (A career high, at 28, for the Belgian who reached the Merida quarterfinals)
Sara Errani (ITA): No. 107 ========> No. 97 (The 35-year-old is still chugging away, her career high of No. 5 nearly a decade ago. She won a $60K in Arcadia, Calif. this past week, over Arantxa Rus in a walkover in the final. She, too, was stuck on that cusp of not being able to break into the top 100, after she worked her way back after a doping suspension. The last time Errani made it – before Monday – was back in Oct. 2018).
Anna-Lena Friedsam (GER): No. 108 ========> No. 99 (The 29-year-old was ranked a career-best NO. 45 back in 2016. But she had injuries, and didn't seem to get too far during the period she used a protected ranking. But she has persevered and finally gets back into the top 100 after making the quarterfinals in Austin. She was outside the top 1000 late in 2017, got up inside the top 400 in a year. But for the last few years she just wasn't able to break that top-100 barrier, which she last did in early 2017. Monday, she did it).
Polina Kudermetova (RUS): No. 167 ========> No. 146 (Veronika's little sister, 19, won the $60K ITF in Kazakhstan last week. She's 10-3 on the season, and that includes three wins in the Australian Open qualifying to make the main draw there).
Caroline Dolehide (USA): No. 206 ========> No. 167 (Dolehide, who is ranked No. 35 in doubles, really needs a new profile pic on her WTA page. She has transformed herself in recent years. And Dolehide had a great week last week, qualifying in Monterrey and reaching the quarterfinals. She shocked No. 69 Jule Niemeier 6-1, 6-0 in the first round of the main draw. She has a wild card into the Indian Wells qualifying).
Jaqueline Cristian (ROU): No. 266 ========> No. 202 (Cristian decided not to use her protected ranking to travel all the way to Indian Wells. But last week, she won a $60K ITF in Trnava, Slovakia to give her ranking a nice bump. Among the players she defeated were Tamara Zidansek and Clara Tauson. It would have been a pretty quick turnaround – and a long trip – to get here).
Stacey Fung (CAN): No. 408 ========> No. 337 (Fung's points from winning the ITF tournament in Santo Domingo two weeks ago come on, and give her a nice bump in the rankings).
ON THE DOWNSWING
Shuai Zhang (CHN): No. 23 ========> No. 27 (Zhang played the Lyon tournament a year ago, which was held the first week of march. And she won it, too, over Caroline Garcia in the semis and Dayana Yastremska in the final). But she was idle last week, so the points drop. All in all, it's not too bad; wnning that tournament a year ago bumped her from No. 64 to No. 41 in the rankings; her drop was not commensurate).
Leylah Fernandez (CAN): No. 32 ========> No. 49 (A tough drop for Fernandez, who made the decision to play higher-level tournaments and do the Middle East swing, instead of defending her two-time title in Monterrey. So those points fall off, and Fernandez is in the top 50 still. But barely).
Sorana Cirstea (ROU): No. 71 ========> No. 83 (Cirstea had a GREAT BIG ball at practice at Indian Wells Sunday. We don't know why. She was a semifinalist in Lyon a year ago, and so doesn't defend those points).
Nuria Parrizas Diaz (ESP): No. 78 ========> No. 88 (The Spaniard was a semifinalist a year ago in Monterrey, but lost in the second round this year. So she lost some ground. But with a good draw at Indian Wells in Miami, she can make up some; she lost in the first round of both a year ago – to Shelby Rogers in a third-set tiebreak in the desert).
Sara Sorribes Tormo (ESP): No. 85 ========> No. 96 (A year ago, Sorribes Tormo was just coming off her career-best singles ranking of No. 32. Sorribes Tormo has been out since last October. And her points from Monterrrey last year fall off, leaving her just barely in the top 100. She also has third-round points from Indian Wells in 2022 that are about to disappear. In January, she had her foot in a boot. A couple of weeks ago, she was back practicing on the clay, so there are better days to come).
Camila Osorio (COL): No. 70 ========> No. 100 (Osorio was a finalist in Monterrey last year, losing in a third-set tiebreak to Fernandez (and beating Elina Svitolina in a third-set tiebreak in the quarterfinals. She lost in the first round this year, retiring against Mayar Sherif).
Dayana Yastremska (UKR): No. 103 ========> No. 142 (Tough drop for Yastremska, who received a main-draw wild card into Indian Wells. A year ago, having fled Ukraine, she got a wild card into the WTA tournament in Lyon and went all the way to the final. It's been complicated of late).
THE CANADIANS
ROAD TO ????
DOUBLES RACE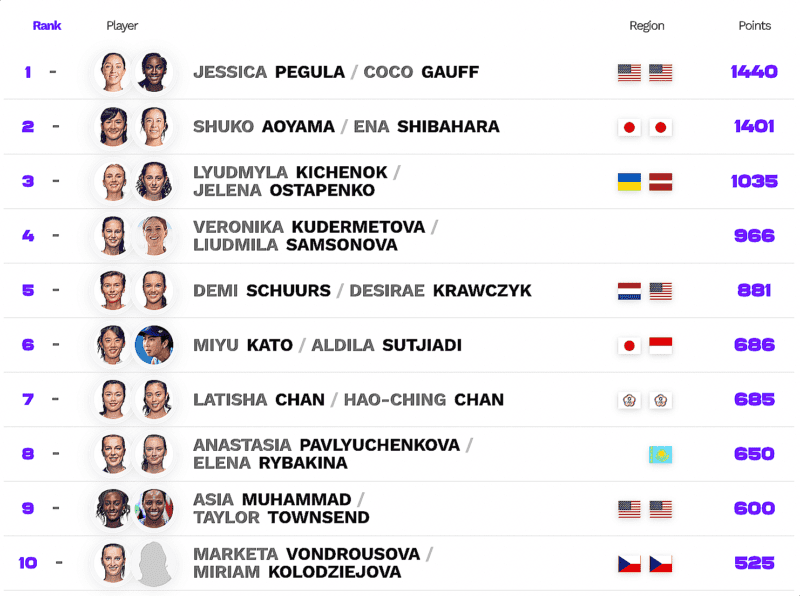 About Post Author