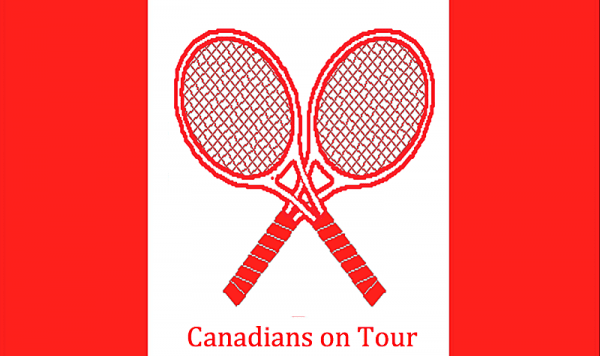 –
Just like that, all this hard-court business is basically over.
And the Tour are moving to the first steps in the spring clay-court season.
And there is the WTA Charleston event, which is really on American-style green/grey Har-Tru, but counts. Leylah Fernandez and qualifier Katherine Sebov are on board there.
Genie Bouchard took a wild card (and some $$$) to go all the way down to Colombia for the WTA 250 in Bogotá, which is being played at 8,600 feet of altitude on red clay.
Bouchard hasn't played since the Australian Open. Should be a good challenge.
And a late withdrawal just before qualifying began got Carol Zhao into the main draw.
***********************************
Credit One Charleston Open
Charleston, S.C. (

WTA 500

)
Singles



Leylah Fernandez
1st rd: def [PR] Evgeniya Rodina (RUS) 63 62
2nd rd: lost to [12] Paula Badosa (ESP) 75 76 (6)
[Q] Katherine Sebov
1st rd: def Lauren Davis (USA) 46 61 62
2nd rd: lost to [9] Belinda Bencic (SUI) 60 63
Singles qualifying



[14] Katherine Sebov
1st rd: def Gabriela Ce (BRA) 62 61
Final rd: def[WC] Francesca Di Lorenzo (USA) 64 62

Doubles
Leylah Fernandez / Taylor Townsend (USA)
1st rd: def Katarzyna Kawa / Alicja Rosolska (POL) 64 63
QF: lost to [3] Caroline Dolehide (USA) / Storm Hunter (AUS) 60 46 [11-9]
Erin Routliffe (NZL) / Alexa Guarachi (CHI)
1st rd: lost to [1] Giuliana Olmos (MEX) / Ena Shibahara (JPN) 75 62
***********************************
Copa Colsanitas
Bogotá, Colombia (WTA 250)
Singles
[WC] Genie Bouchard
1st rd: def Ylena In-Albon (SUI) 63 62
2nd rd: lost to [4] Kamilla Rakhimova (RUS) 60 67 (7) 64
Carol Zhao
1st rd: def. Maria Carlé (ARG) 46 75 76 (6)
2nd rd: lost to Francesca Jones (GBR) 62 61
***********************************
US Men's Clay Court Championship
Houston, TX (ATP 250)

Singles qualifying



[6] Alejandro Tabilo (CHI)
1st rd: lost to Aleksandar Vukic (AUS) 64 75
***********************************
Open Città della Disfida
Barletta, Italy (ATP Challenger €73K)

Singles
Steven Diez
1st rd: def Filip Cristian Jianu (ROU) 76 (5) 61
2nd rd: def. [LL] Salvatore Caruso (ITA) 62 64
QF: lost to Nicholas David Ionel (ROU) 61 62

Doubles
[ALT] Steven Diez (CAN) / Nicholas David Ionel (ROU) def. [ALT] Maks Kasnikowski (POL) / James McCabe (AUS) 61 57 [10-4]
QF: def. [4] Constantin Frantzen (GER) / Luke Johnson (GBR) 64 64
SF: lost to Zdenek Kolar (CZE) / Denys Molchanov (UKR) 63 64
Singles qualifying
[9] Filip Peliwo (POL)
1st rd: lost to Jacopo Berrettini (ITA) 64 60
***********************************
San Luis Open


San Luis Potosi, Mex. (ATP Challenger €$80K)

Singles
[LL] Alexis Galarneau
1st rd: def [2] Antoine Bellier (SUI) 62 64
2nd rd: lost to Terence Atmane (FRA) 75 46 64
Doubles
Alexis Galarneau / Alex Lawson (USA)
1st rd: lost to [1] Ruben Gonzalez (PHI) / Evan King (USA) 62 63
Singles qualifying
[1/ALT] Alexis Galarneau
1st rd: vs [ALT] Federico Zeballos (BOL) 63 62
Final rd: lost to Patrick Kypson (USA) 64 63
***********************************
W25 Jackson, MS

Jackson, Miss. (ITF 25K)
Singles
Victoria Mboko
1st rd: lost to Victoria Hu (USA) 61 76 (4)
[Q] Kayla Cross
1st rd: lost to [3] Daniela Vismane (LAT) 60 63
Doubles
[3] Kayla Cross / Rasheeda McAdoo (USA)
1st rd: def Raveena Kingsley (USA) / Deniza Marcinkevica (LAT) 64 62
QF: lost to Dia Evtimova (BUL) / Oana Georgeta Simion (ROU) 63 61
Singles qualifying
[1] Kayla Cross
1st rd: Bye
Final rd: def [10] Zoe Hitt (USA) 62 61
***********************************
Fortevillage ITF Trophy

Santa Margarita di Pula, Italy (ITF 25K)
Doubles
Bianca Jolie Fernandez / Versace Gatti (ITA)
1st rd: lost to Chiara Scholl (USA) / Anita Wagner (BIH) 36 62 [12-10]
Singles qualifying
[16] Bianca Jolie Fernandez
1st rd: lost to Matilde Mariani (ITA) 64 75
***********************************
M15/W15 Singapore

Singapore (ITF 15K)
Singles
Kelsey Stevenson
1st rd: lost to [Q] Han Seon Yong (KOR) 26 64 62
Doubles
[1] Kelsey Stevenson / Ray Ho (KOR)
1st rd: lost to [WC] Justin Barki (INA) / Igor Sisling (NED) 64 64
***********************************
Egypt 10 Sharm El Sheikh Future

Sharm El Sheikh, Egypt (ITF 15K)
Women's singles



Ana Grubor
1st rd: lost to [JE] Taylah Preston (AUS) 62 61
Men's qualifying singles
[12] Razvan Baiant
1st rd: lost to Irakli Tsurtsumia (GEO) 36 63 [10-4]
***********************************
M15 Copa Royal Tenis Club Etapa 1

Santo Domingo de los Tsachilas, ECU (ITF 15K)
Singles



Juan Carlos Aguilar
1st rd: lost to [7] Victor Lilov (USA) 76 (4) 62
Doubles
[2] Juan Carlos Aguilar / Ezekiel Clark (USA)
1st rd: vs. Luis Britto / Paulo Andre Saraiva Dos Santos (BRA) 62 63
QF: def Nicolas Buitrago (COL) / Kosuke Ogura (JPN) 62 75
SF: vs. [4] Andres Andrade / Alvaro Guillen Meza (ECU)
***********************************
Magic Hotel Tours

Monastir, Tunisia (ITF 15K)
Women's singles
[Q] Natasha Sengphrachanh
1st rd: def [Q] Wang Jiaqi (CHN) 64 63
2nd rd: lost to [6] Flavie Brugnone (FRA) 61 26 63
Women's singles qualifying
[3] Natasha Sengphrachanh
1st rd: Bye
2nd rd: def. Liana Cammilleri (GER) 61 62
Final rd: def [14] YunaOhashi (JPN) 64 63
Trinity Ly
1st rd: lost to Oceanne Lopez (BEL) 75 67 [11-9]
Men's singles qualifying
William Bartram
1st rd: lost to [6] Jonas Schaer (SUI) 63 64
***********************************
Antalya Series

Antalya, Turkey (ITF 15K)
Singles qualifying
Keira Blackbeard
1st rd: lost to [7] Lamis Alhussein Abdel Aziz (EGY) 61 62
************************************
About Post Author