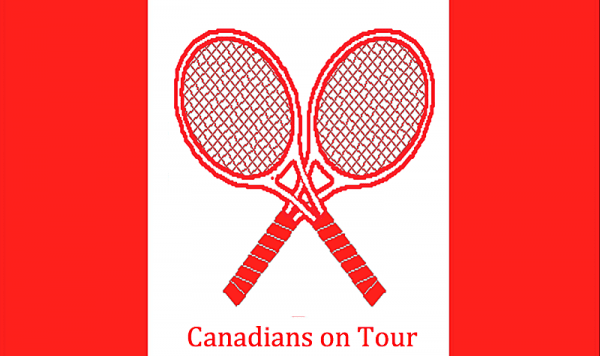 –
The disappointment of the week is that both Félix Auger-Aliassime (knee) and Denis Shapovalov begged off the big Monte Carlo Masters 1000.
So no Canadian content at the biggest event of the week.
There are no WTA Tour events on the docket this week, as it's a BJK Cup week.
Canada hosts Belgium in Vancouver, with the injured Bianca Andreescu restricted to cheerleading duties.
But plenty of other Canadians at the Challenger level will be plying their trade. And there was one winner: Juan Carlos Aguilar, in doubles at a $15K on clay in Ecuador
***********************************
Billie Jean King Cup Playoffs

Canada 3, Belgium 2 (final)
Vancouver. B.C.
Leylah Fernandez
Rebecca Marino
Gabriela Dabrowski
Katherine Sebov
Friday, April 14
1. #1 Leylah Fernandez (CAN) def #2 Yanina Wickmayer (BEL) 60 63
2. #1 Ysaline Bonaventure (BEL) def #2 Rebecca Marino (CAN) 46 64 64
Sunday, April 15
1. #1 Leylah Fernandez (CAN) vs. #1 Ysaline Bonaventure (BEL) 46 75 62
2. #2 Yanina Wickmayer Greet Minnen (BEL) def #2 Rebecca Marino Katherine Sebov (CAN) 63 36 63
3. Leylah Fernandez / Gabriela Dabrowski (CAN) def Kirsten Flipkens / Greet Minnen (BEL) 61 62
***********************************
MexTenis Leon Open


Leon, Mex. (ATP Challenger $80K)

Singles
Alexis Galarneau
1st rd: lost to Thiago Agustin Tirante (ARG) 26 75 62
Doubles
Alexis Galarneau / Ajeet Rai (NZL)
1st rd: lost to [PR] Skander Mansouri (TUN) / Rubin Statham (NZL) 36 62 [11-9]
***********************************
Elisabeth Moore Sarasota Open
Sarasota, Fla. (ATP Challenger $150K)
Singles



[ALT] Gabriel Diallo
1st rd: def Facundo Diaz Acosta (ARG) 36 62 76 (5)
2nd rd: def. [ALT] Mitchell Krueger (USA) 62 64
QF: lost to [5] Daniel Altmaier (GER) 52 retd
Doubles
[WC] Gabriel Diallo / Mitchell Krueger (USA)
***********************************
Il Open Comunidad de Madrid
Madrid, Spain (ATP Challenger €73K)
Singles qualifying



[4] Steven Diez
1st rd: def Kenny De Schepper (FRA) 67 (3) 76 (8) 64
Final rd: lost to [8] Billy Harris (GBR) 60 67 (2) 63
***********************************
Split Open
Split, Croatia (ATP Challenger €73K)
Singles qualifying
Filip Peliwo (POL)
1st rd: lost to [5] Nerman Fatic (BIH) 64 60
***********************************
MNO Tennis

Boca Raton, Fla. (ITF 25K)
Singles
[Q] Kayla Cross
1st rd: lost to Gabriela Lee (ROU) 61 75
Singles qualifying
Kayla Cross
1st rd: def. [6] Seone Mendez (AUS) 63 21 retd
Final rd: def [WC] Mayu Crossley (JPN) 75 63
[13] Victoria Mboko
1st rd: def Lauren Proctor (USA) 57 62 [11-9]
Final rd: lost to [5] Hanna Chang (USA) 64 75
***********************************
Fortevillage ITF Trophy

Santa Margarita di Pula, Italy (ITF 25K)
Doubles
Bianca Jolie Fernandez / Versace Gatti (ITA)
1st rd: lost to Matilde Paoletti / Lisa Pigato (ITA) 63 60
Singles qualifying
[13] Bianca Jolie Fernandez
1st rd: def Eleni Kordolaimi (GRE) 75 75
Final rd: lost to [8] Stefania Rubini (ITA) 61 63
***********************************
Egypt 11 Sharm El Sheikh Future
Sharm El Sheikh, Egypt (ITF 25K)
Women's singles



Stacey Fung
1st rd: def Nahia Berecoechea (FRA) 76 (8) 75
2nd rd: lost to [6] Emina Bektas (USA) 26 61 63
Men's qualifying singles
Razvan Baiant
1st rd: def Vasilios Caripi (RSA) 62 64
2nd rd: lost to [9] Illya Beloborodko (UKR) 62 61
***********************************
M15 Copa Royal Tenis Club Etapa 2

Santo Domingo de los Tsachilas, ECU (ITF 15K)
Singles



Juan Carlos Aguilar
1st rd: def [Q] Francisco Tomas Geschwind (ARG) 62 62
2nd rd: lost to [7] Victor Lilov (USA) 64 61
Doubles
[2] Juan Carlos Aguilar / Ezekiel Clark (USA)
1st rd: def Matteo Barreiros Reyes (BRA) / Victor Lilov (USA) WALKOVER
QF: def [WC] Patricio Alvarado (ECU) / Miguel Angel Cabrera (CHI) 64 63
SF: def Ignacio Antonio Becessa Otarola / aniel Antonio Nunez (CHI) 75 63
F: def. Luis Britto / Paulo Andre Saraiva dos Santos (BRA) 63 75
***********************************
Indonesia National Championships

Jakarta, Indonesia (ITF 25K)
Doubles
[2] Kelsey Stevenson / Parikshit Somani (IND)
1st rd: lost to Tomohiro Masabayashi / Naoki Tajima (JPN) 36 64 [14-12]
Singles qualifying



[9] Kelsey Stevenson
1st rd: Bye
2nd rd: lost to Corban Crowther (AUS) 75 63
***********************************
Magic Hotel Tours

Monastir, Tunisia (ITF 15K)
Women's singles qualifying
[3] Natasha Sengphrachanh
1st rd: Bye
2nd rd: def. Gina Kondos (USA) 61 75
Final rd: lost to [9] Helena Mohamed (FRA) 62 64

Trinity Ly
1st rd: lost to Honami Sodeyama (JPN) 60 61
Men's singles qualifying
William Bartram
1st rd: lost to Amaan Siddiqui (IND) 61 61
***********************************
City of Sunrise Pro Tennis Classic

Sunrise, Fla. (ITF 15K)
Doubles
[1] Benjamin Sigouin / Mac Kiger (USA)
1st rd: lost to [WC] Pablo Paternostro / Felipe Pinzon Moreno (USA) 63 63
Singles qualifying
[4] Ben Siguouin
1st rd: lost to Raoul Theophilo Bruno de la Vega (BRA) 62 60
************************************
About Post Author