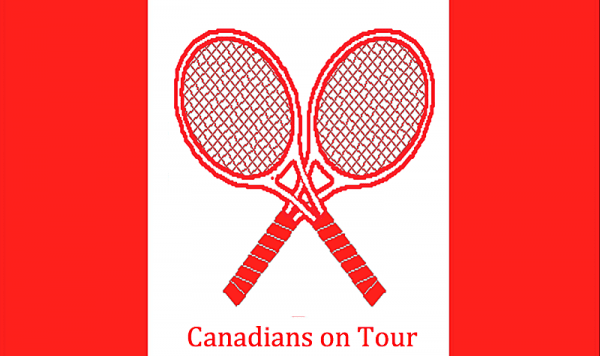 –
The extended draws in Madrid mean that the playing opportunities during the second week are pretty slim – no WTA or ATP Tour events, and the Challenger tournaments are absolutely stacked with players who lost early in Madrid, or in qualifying there.
The Canadians are all out of singles, so we've carried over the doubles participants in Madrid, as that tournament enters its second week.
Genie Bouchard, who qualified and won a round in Madrid, was entered in a $100K ITF in Germany this week. But she was a late withdrawal on Friday.
Stacey Fung of Vancouver was the big winner – taking the title at a $40K in Georgia, the biggest title of her career.
***********************************
Mutua Madrid Open

Barcelona, Spain (

ATP 1000

/

WTA 1000

)
Women's doubles
[6] Gabriela Dabrowski / Luisa Stefani (BRA)
1st rd: def Sofia Kenin (USA) / Magda Linette (POL) 46 62 [10-7]
2nd rd: def [WC] Erika Andreeva / Mirra Andreeva (RUS) 63 75
QF: lost to [1] Coco Gauff / Jessica Pegula (USA) 64 36 [10-5]
Leylah Fernandez / Taylor Townsend (USA)
1st rd: def. [2] Lyudmyla Kichenok (UKR) / Jelena Ostapenko (LAT) 62 64
2nd rd: def. Oksana Kalashnikova (GEO) / Yana Sizikova (RUS) 63 75
QF: def [PR] Hsieh Su-Wei (TPE) / Barbora Strycova (CZE) 64 75
SF: lost to Victoria Azarenka (BLR) / Beatriz Haddad Haia (BRA) 64 06 [10-6]
Erin Routliffe / Alexa Guarachi (CHI)
1st rd: lost to [1] Coco Gauff / Jessica Pegula (USA) 76 (5) 76 (1)
Men's doubles
Félix Auger-Aliassime / Denis Shapovalov
1st rd: def Juan Sebastian Cabal / Robert Farah (COL) 76 (5) 76 (2)
2nd rd: def [6] Lloyd Glasspool (GBR) / Harri Heliovarra (FIN) 64 62
QF: lost to [4] Marcelo Arevalo (ESA) / Jean-Julien Rojer (NED) 46 62 [12-10]
***********************************
***********************************
Catalonia Open WTA 125
Reus, Spain (WTA 125)
Doubles
[2] Erin Routliffe (NZL)

/ Alexa Guarachi (CHI)
1st rd: Bye
QF: def. Marina Bassols Ribera / Leyre Romero Gormaz (ESP) 75 67 (5) [10-7]
SF: def Arantxa Rus (NED) / Angela Fita Boluda (ESP) 63 46 [10-6]
F: lost to [1] Storm Hunter / Ellen Perez (AUS) 61 76 (8)
***********************************
Gwangjul Open Challenger
Gwangju, South Korea (ATP Challenger $80K)
Singles

Gabriel Diallo
1st rd: lost to [6] Rinky Hijikata (AUS) 62 64
Doubles
Gabriel Diallo / Aleksandar Vukic (AUS)
1st rd: lost to [2] Evan King / Reese Stalder (USA) 64 64
***********************************
Sardegna Open
Cagliari, Italy (ATP Challenger €200K)
Singles
[Q] Steven Diez
1st rd: lost to [ALT] Josef Kovalik (SVK) 76 (2) 64
Singles qualifying
[3] Steven Diez
1st rd: Bye
Final rd: def. [8/ALT] Alexander Erler (AUT) [ALT] Nicolas Barrientos (COL) 60 46 63
***********************************
Finemark Women's Pro Tennis Championship
Bonita Springs, Fla. (ITF $100K)
Singles
[Q] Cadence Brace
1st rd: lost to Jamie Loeb (USA) 62 61
Singles qualifying
Cadence Brace
1st rd: def [WC] Zhou Muduo (CHN) 61 62
2nd rd: def Katarina Kozarov (SRB) 63 62

***********************************
Kangaroo Cup Int'l Ladies Open
Gifu, Japan (ITF $80K)
Singles
[4] Carol Zhao
1st rd: lost to [Q] Lee Ya-Hsuan (TPE) 76 (4) 62
***********************************
Tbilisi Open
Tbilisi, Georgia (ITF $40K)
Singles
Stacey Fung
1st rd: def [Q] Paulina Bakhmutkina (RUS) 61 62
2nd rd: def. [Q] Maria Zokyreva (RUS) 62 46 64
QF: def. Sahaka Yamalapalli (IND) 60 64
SF: def. [3] Ankina Raina (IND) 62 62
F: def. [5] Vitalia Diatchenko (RUS) 64 retd
Doubles
Stacey Fung / Maria Kozyreva (RUS)
1st rd: def Anna Bochoradze / Natali Jaiani (GEO) 60 63
QF: def Aysegul Mert (TUR) / Sahaja Yamalapalli (IND) 75 61
SF: lost to [1] Ekaterine Gorgodze (GEO) / Ankita Raina (IND) 64 36 [10-5]
***********************************
Fortevillage ITF Trophy
Santa Margherita di Pula, ITA (ITF $25K)
Singles
Bianca Jolie Fernandez
1st rd: def [LL] Alice Gubertini (ITA) 36 62 76 (11)
2nd rd: def. [5] Dea Herdzela (BIH) 63 12 retd
QF: lost to [1] Victoria Jimenez Kasintseva (AND) 62 36 63
Doubles
[3] Bianca Jolie Fernandez / Chiara Scholl (USA)
1st rd: Bye
QF: lost to Anastasia Abbagnato / Virginia Ferrara (ITA) 57 75 [10-7]
***********************************
M15 Orange Park, Fla

.
Orange Park, Fla. (Men's ITF 15K)
Doubles
[2] Roy Stepanov (ISR) / Vasil Kirkov (USA)
1st rd: def Miguel Angel Cabrera (CHI) / Oren Vasser (USA) 64 63
QF: def Aidan Kim / Bruno Kuzuhara (USA) 64 36 [10-7]
SF: def Timothy Phung (USA) / Huzaifa Abdul Rehman (PAK) 62 63
F: vs. [3] Elio Jose Ribeiro Lago (ITA) / Ricardo Rodriguez Pace (VEN)
***********************************
M15 Kursumlijska Banja

Kursumlijska Banka, Serbia (

Men's

ITF 15K)
Singles qualifying
[3] Marko Stakusic
1st rd: Bye
2nd rd: lost to [WC] Sasa Markovic (SRB) 64 21 retd

***********************************
Osijek Open

Osijek, Croatia (ITF 15K)
Singles qualifying
Leo Lukic
1st rd: lost to Stepan Mruzek (CZE) 61 62
************************************
About Post Author