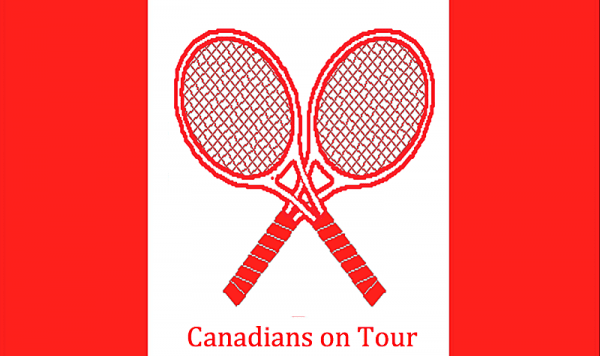 –
ROLAND GARROS – The clay season is over (although some clay events remain) as the tennis focus turns to the grass.
There were already smaller grass events last week. But the ATP and WTA Tours begin in earnest this week in 's-Hertogenbosch, Stuttgart, et al.
Genie Bouchard had been entered this week, but she has withdrawn as has Félix Auger-Aliassime, who was dealing with a host of issues through the end of the clay-court season.
Is Milos Raonic really back? He met Miomir Kecmanovic in the first round of 's-Hertogenbosch – and won in straight sets. But the return ended against Jordan Thompson Thursday as he had his serve broken a few times in the second set, notably – after having every opportunity to win the first, and letting it slip away.
And it's clear that school is out, because a whole group of new players have joined the circus for the summer season.
***********************************
Boss Open

Stuttgart, Germany (ATP 250)
Singles
Denis Shapovalov
1st rd: lost to [Q] Marton Fucsovics (HUN) 36 64 64
***********************************
Libema Open

's-Hertogenbosch, Netherlands (

ATP & WTA 250

)
Men's singles



[PR] Milos Raonic
1st rd: def Miomir Kecmanovic (SRB) 63 64
2nd rd: lost to Jordan Thompson (AUS) 76 (4) 61
Women's singles
[6] Bianca Andreescu
1st rd: def. [Q] Zeynep Sonmez (TUR) 64 64
2nd rd: lost to Viktoria (Tomova) Hruncakova (SVK) 76 (6) 63
[Q] Carol Zhao
1st rd: def Ysaline Bonaventure (BEL) 76 (3) 76 (4)
2nd rd: lost to [1] Veronika Kudermetova (RUS) 61 63
Women's doubles
Erin Routliffe (NZL) / Ashlyn Krueger (USA)
1st rd: lost to [1] Elise Mertens (BEL) / Demi Schuurs (NED) 62 62
Women's qualifying singles
Carol Zhao
1st rd: def Lexie Stevens (NED) 61 64
Final rd: def. [11] Kristina Dmitruk (RUS) 61 63
***********************************
Rothesay Open

Nottingham, UK (ATP Challenger €145K /

WTA 250

)

Men's singles



Gabriel Diallo
1st rd: def Enzo Couacaud (FRA) 63 63
2nd rd: def. [Q] Alex Michelsen (USA) 36 75 63
QF: lost to [Q] Arthur Cazaux (FRA) 76 (2) 75
Women's singles
Rebecca Marino
1st rd: lost to [Q] Harriet Dart (GBR) 64 62
***********************************
Caribbean Open

Palmas Del Mar, PR (ATP Challenger $80K)
Singles
[8] Alexis Galarneau
1st rd: def Patrick Kypson (USA) 63 60
2nd rd: def. Joao Lucas Reis Da Silva (BRA) 76 (2) 60
QF: lost to [Q] Michael Zheng (USA) 63 06 63
[WC] Liam Draxl
1st rd: def Wu Tung-Lin (TPE) 36 75 76 (4)
2nd rd: def. [Q] Colin Sinclair (NMI) 76 (0) 63
QF: lost to Beibit Zhukayev (KAZ) 64 63
Steven Diez
1st rd: lost to [Q] Michael Zheng (USA) 63 60
Doubles
Steven Diez / Alexis Galarneau
1st rd: lost to [2] JiSun Nam (KOR) / Artem Sitak (NZL) 64 75
Kelsey Stevenson / Calum Puttergill (AUS)
1st rd: lost to Rithvik Cougary Bollipalli (IND) / Colin Sinclair (NMI) 76 (2) 46 [10-7]
***********************************
Engie Open Biarritz Pays Basque

Biarritz, France (ITF $60K)
Singles
[Q] Victoria Mboko
1st rd: def. Weronika Falkowska (POL) 26 75 60
2nd rd: lost to [4] Timea Babos (HUN) 63 26 76 (4)
Singles qualifying



[13] Victoria Mboko
1st rd: def [WC] Shanice Roignot (FRA) 61 62
2nd rd: def [4] Manon Léonard (FRA) 06 62 64
[12] Kayla Cross
1st rd: lost to [WC] Tiantsoa Sarah Rakotomanga Rajanah (FRA) 60 61
Doubles
Kayla Cross / Victoria Mboko
1st rd: def [WC] Victoria Muntean / Anna Ureke (FRA) 75 75
QF: lost to [2] Quinn Gleason (USA) / Elixane Lechemia (FRA) 62 63
***********************************
Palmetto Pro Open

Sumter, S.C. (ITF $60K)
Singles
[1] Stacey Fung
1st rd: def Melany Solange Krywoj (ARG) 62 62
2nd rd: def. [WC] Victoria Osuigwe (USA) 63 61
QF: lost to [8] Yuliia Starodubtseva (UKR) 62 76 (4)
[Q] Layne Sleeth
1st rd: lost to Mccartney Kessler (USA) 60 61
Doubles
Layne Sleeth / Kariann Pierre-Louis (USA)
1st rd: def. [WC] Emma Lella / McKenna Schaefbauer (USA) 60 61
QF: lost to [1] Maria Mateas / Anna Rogers (USA) 63 62
Singles qualifying
[9] Layne Sleeth
1st rd: def Katja Wiersholm (USA) 60 62
Final rd: def [2] Sowjanya Bavisetti (IND) 61 61
***********************************
IX Open Arcadis Brezo Osuna

Madrid, Spain (ITF $60K)
Singles qualifying
[15] Ana Grubor
1st rd: lost to Lucia Peyre (ARG) 62 62
***********************************
Cheyenne Mountain Resort Women's Pro Tennis Classic

Colorado Springs, CO (ITF $25K)
Singles
[1] Cadence Brace
1st rd: lost to Jessica Luisa Alsola (CAN) 62 61
Jessica Luisa Alsola
1st rd: def. [1] Cadence Brace (CAN) 62 61
2nd rd: def Zoe Hitt (USA) 63 61
QF: lost to Allie Kiick (USA) 62 63
[Q] Xie Anlin
1st rd: lost to Danielle Wilson (USA) 63 64
Doubles
Jessica Luisa Alsola / Xie Anlin
1st rd: lost to Jenna DeFalco / Gabriella Price (USA) 64 36 [10-6]
Singles qualifying
[2] Xie Anlin
1st rd: def. Yashika Venu (IND) 61 60
2nd rd: def [12] Brenda Yoris (USA) 60 62
***********************************
Wichita Men's $25K

Wichita, KS (ITF $25K)
Singles
Taha Baadi
1st rd: lost to Bruno Kuzuhara (USA) 75 75
[Q] Nicaise Muamba
1st rd: def. [WC] Adam Neff (USA) 64 57 63
2nd rd: lost to [8] Cannon Kingsley (USA) 67 (7) 63 50 retd

Doubles
[2] Ben Sigouin / Mac Kiger (USA)
1st rd: def. Luke Bracks (USA) / Alejandro Jacome Jaramillo (ECU) 62 60
QF: lost to Ozan Baris / Garrett Johns (USA) 62 61
Singles qualifying
[14] Nicaise Muamba
1st rd: def Lawrence Sciglitano (AUS) 64 76 (5)
Final rd: def. [WC] Cooper Woestendick (USA) 75 61
[4] Joshua Lapadat
1st rd: lost to Gabrielius Guzauskas (USA) 64 36 [15-13]
[7] Jonathan Sorbo
1st rd: lost to Wyatt DeMulling (USA) 62 75
Sasha Trkulja
1st rd: lost to [13/WC] Ryan Fishback (USA) 62 64
***********************************
Future All In Grasse
Grasse, France (ITF $25K)
Singles qualifying
Nihaal Dhaliwal
1st rd: def Takahiro Kubo (JPN) 16 76 (5) [13-11]
2nd rd: lost to [13] Mikail Alimli (FRA) 61 60
***********************************
Magic Tour by FTT
Monastir, Tunisia (ITF $15K)
Singles
[1] Filip Peliwo (POL)
1st rd: def [Q] Bruno Oliveira (BRA) 64 62
2nd rd: def. Andrea Bacaloni (ITA) 61 61
QF: lost to [Q] Kalman Boyd (USA) 63 61
Juan Carlos Aguilar
1st rd: def [Q] Tomas Antonio Serrano Luis (POR) 75 63
2nd rd: lost to Noah Lopez (SUI) 63 62
Dan Martin
1st rd: lost to Pietro Marino (ITA) 26 62 63
Doubles
Dan Martin / Vladislav Melnic (ROU)
1st rd: lost to Gilbert Klier Junior / Christian Oliveira (BRA) 63 63
Filip Peliwo (POL) / Cyril Vandermeersch (FRA)
1st rd: def. Thomas Braithwaite / Tom Evans (AUS) 64 46 [10-8]
QF: lost to [1] Alexander Merino (PER) / Christoph Negritu (GER) 64 62
***********************************
ITF Women's Asia/Oceania 2023
Nakhon Si Thammerat, Thailand (ITF $15K)
Singles



Natasha Sengphrachanh
1st rd: lost to Vivian Yang (NZL) 75 61
***********************************
W15 Kursumlijska Banja
Kursumlijska, Serbia (ITF

Men's

and

Women's

$15K)
Women's singles
Mia Kupres
1st rd: lost to Paula Arias Manjon (ESP) 63 64
Men's singles
[Q] Marko Stakusic
1st rd: lost to [8] Lautaro Midon (ARG) 63 62
Women's doubles
[3] Mia Kupres / Aysegul Mert (TUR)
1st rd: def. Selina Atay (TUR) / Mia Popovic (USA) 63 62
QF: vs. [WC] Zoe Crimmel (USA) / Nina Zabrdac (SRB) ***NOT COMPLETED***
Keira Blackbeard / Alessandra Pezzulla (ITA)
1st rd: lost to [1] Bojana Marinkovic (SRB) / Aleksandra Pospelova (RUS) WALKOVER
Men's singles qualifying
[3] Marko Stakusic
1st rd: Bye
2nd rd: def. Dmitrii Vasilev (RUS) 61 62
Final rd: vs. Marko Maksimovic (SRB) 62 64
***********************************
W15 Tianjin
Tianjin, China (ITF $15K)
Singles
[JE] Naomi Xu
1st rd: lost to [1] Yao Xinxin (CHN) 63 75
Singles qualifying
Annabelle Xu
1st rd: lost to Han Jiatong (CHN) 26 63 [10-5]
***********************************
Barnes Tennis Center Open
San Diego, Calif. (ITF $15K)
Singles qualifying
[14] Samantha Horwood
1st rd: def Cydnee Wilkinson (USA) 60 61
Final rd: lost to Chanel Simmonds (RSA) 63 62
***********************************
Tehran Cup
Tehran, Iran (ITF $15K)
Singles qualifying
Shayan Zarrabian
1st rd: lost to Ilia Jafar (IRI) 62 61
***********************************
About Post Author