–
ROLAND GARROS – Novak Djokovic is back to No. 1 in the world, with his 23rd career major championship in the bag in three tight sets against Casper Ruud on Sunday in Paris.
No one has more – he stands alone atop the men's tennis mountain.
The shocker at the other end is seeing Rafael Nadal not only out of the top 20 (first time in 18 years), but out of the top 100 (first time in 20 years) with his 2023 season likely now ended after arthroscopic surgery on his hip.
But in addition to Djokovic, there were plenty of players who wrapped up this clay-court season at career-best rankings. We've outlined some of them below.
(For the full, updated ATP rankings for Monday, click here).
ON THE UPSWING
Novak Djokovic (SRB): No. 3 ========> No. 1 (Not much more can be said about the history-making exploits of Novak Djokovic at this year's Roland Garros – the tournament he said that has been the hardest to compete at and win through his entire career).
Francisco Cerundolo (ARG): No. 23 ========> No. 20 (Cerundolo's fourth-round effort in Paris moves him into the top 20 for the first time in his career. Now let's see what he can do off his favorite surface, as tennis moves to grass and hard courts).
Alexander Zverev (GER): No. 27 ========> No. 23 (After what happened a year ago, it was impressive that Zverev was able to get to the Roland Garros semifinals. Unfortunately a thigh injury suffered the day before in practice hampered him, and will take him out of Stuttgart this week).
Jan-Lennard Struff (GER): No. 28 ========> No. 24 (A long injury absence. And here's 33-year-old Jan-Lennard Struff at a career high, and in the top 25 for the first time in his career, even though he lost in the first round in Paris).
Yoshihito Nishioka (JPN): No. 33 ========> No. 27 (The 27-year-old from Japan made his fourth round at Roland Garros count, moving to a career-high ranking).
Denis Shapovalov (CAN): No. 32 ========> No. 29 (A third-round finish earns the Canadian three spots. He's in Stuttgart this week).
Nicolas Jarry (CHI): No. 35 ========> No. 30 (A fourth round puts Jarry, who had a great clay-court season, at a career high and in the top 30 for the first time).
Tomas Martin Etcheverry (ARG): No. 49 ========> No. 32 (A career high for the Argentine, a quarterfinalist in Paris and one of the better young clay-courters around. He began the season ranked No. 79).
Aslan Karatsev (RUS): No. 62 ========> No. 48 (He came from nowhere to get to No. 14 in the world. Then he dropped off into the abyss. But here's 29-year-old Karatsev again, through the qualifying and into the second round in Paris, back in the top 50).
Zhizhen Zhang (CHN): No. 71 ========> No. 56 (Another career high after a third-round effort in Paris).
Juan Pablo Varillas (PER): No. 94 ========> No. 61 (He didn't get into the main draw in Paris by much. But after making the fourth round he's just four points out of the top 60, and a career best).
Matteo Arnaldi (ITA): No. 106 ========> No. 72 (A busy fortnight for the 22-year-old, who lost in the second round at Roland Garros but then went to a Challenger in Heilbronn the second week – and won it, moving him to a career high).
Sebastian Ofner (AUT): No. 118 ========> No. 81 (Already at a career high coming in, Ofner qualified and reached the fourth round at Roland Garros, moving him up to a newer and better career high ranking at age 27. He's also now the No. 1 player from Austria, jumping over Dominic Thiem).
Thanasi Kokkinakis (AUS): No. 108 ========> No. 88 (Kokkinakis had a classic with Stan Wawrinka, won in five sets, on his day to the third round in Paris).
Thiago Seyboth Wild (BRA): No. 172 ========> No. 130 (He's a ways from his career high of No. 106 still. But the Brazilian player went from the qualifying to the third round at Roland Garros).
Gabriel Diallo (CAN): No. 146 ========> No. 139 (Another career high for the 21-year-old Canadian after making the Surbiton quarterfinals. He also made his Roland Garros debut in the qualifying, losing in the first round. Let's see what he can produce on grass).
Alexis Galarneau (CAN): No. 259 ========> No. 224 (Galarneau adds points from a quarterfinal at the Little Rock Challenger, and the semis at the Tyler Challenger. Unfortunately a bit too late to squeeze into the Wimbledon qualifying).
Mikhail Kukushkin (KAZ): No. 296 ========> No. 252 (236 if he wins). Kukushkin, who beat Galarneau in Tyler, isn't the only guy in his mid-30s still grinding out there. The former No. 39 made the Little Rock quarters, and is into the Tyler Challenger final (wins it).
Gael Monfils (FRA): No. 394 ========> No. 311 (Monfils winning a round in Paris – in rather dramatic fashion, you'll recall, was worth 83 spots in the rankings in the area he finds himself in).
Lucas Pouille (FRA): No. 675 ========> No. 402 (Pouille, who has struggled with a lot of things in recent years, was a feel-good story at this year's Roland Garros. He qualified and won his first round, too – against Rodionov, the same guy he beat in qualifying).
ON THE DOWNSWING
Felix Auger-Aliassime (CAN): No. 10 ========> No. 11 (Auger-Aliassime's first-round exit at the hands of Fabio Fognini in Paris cost him a spot in the rankings – not so bad, but it's a spot that knocks him out of the top 10 after 28 consecutive weeks there. He also withdrew from the 's-Hertogenbosch grass-court event this week).
Bernabe Zapata Miralles (ESP): No. 38 ========> No. 50 (From a career high, the 26-year-old dropped down some after losing in the first round of Roland Garros. But he's still in the top 50).
Marin Cilic (CRO): No. 22 ========> No. 65 (Cilic, dealing with a knee injury, announced he wasn't ready to come back this week on the grass. But he said he's not far. Meanwhile, his points from last year's semifinal effort in Paris drop off, dropping him out of the top 60).
Jason Kubler (AUS): No. 69 ========> No. 97 (Kubler had a lot of points riding this fortnight, as he qualified and made the second round at Roland Garros – then raced to Little Rock and won the Challenger there and then made the final the next week at one in Orlando. He lost in the second round this year in Paris and made the quarterfinals on grass in Surbiton the second week. But overall it's a big loss. He also a big chunk coming up to defend at Wimbledon, where he qualified and made th fourth round a year ago beating Dan Evans and Jack Sock along the way).
Rafael Nadal (ESP): No. 15 ========> No. 136 (It's meaningless in the sense that Nadal will be able to play whatever he wants to when and if he comes back from his hip problem. Still, it's a shocker to see his ranking down that low. He last was out of the top 20 in April 2005; he last was out of the top 100 in April, 2003).
Nikoloz Basilashvili (GEO): No. 218 ========> No. 263 (Basilashvili did show up at the French Open qualifying, but he went down in a hurry to 21-year-old Italian Giulio Zeppieri, and his ranking is sinking like a stone).
Gilles Simon (FRA): No. 211 ========> No. 317 (Simon is retired. But his name is still on the list. So the points from his wondrous final RG – in which he made the third round and enjoyed every stressful second – fall off).
Sam Querrey (USA): No. 444 ========> No. 529 (Querrey, 35, is retired and off playing pickleball. But he's still on the list).
THE CANADIANS
DOUBLES RANKINGS
American Austin Krajicek is the new world No. 1 in doubles, after he and Ivan Dodig won Roland Garros.
ROAD TO TURIN
ROAD TO THE MIDDLE EAST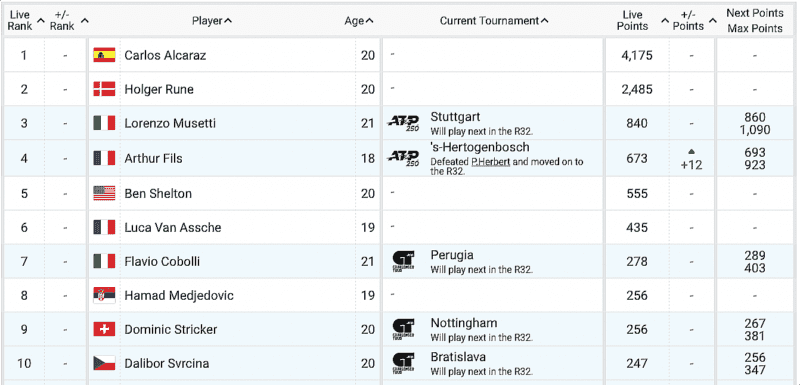 About Post Author