–
As Genie Bouchard, Carol Zhao and Katherine Sebov begin their quest to make the 2023 WImbledon main draw Tuesday at Roehampton, we take a look back at their first steps on the hallowed lawns of the All-England Club.
It must be crazy to them, how long ago it was when they first played the juniors. They likely thought they would eventually be regulars in the women's draws a few years later, and for a decade or more.
It hasn't quite worked out that way. The roads have had some potholes.
Genie Bouchard: 2019, 2010, 2011 and 2012
Bouchard, now 29, stayed in the juniors a long time. She was 15 when she qualified and lost to Kristina Mladenovic in the first round of the 2009 junior event. She played in 2010, and in 2011 (quarterfinals).
And in 2012, at 18 1/2, she finally bagged her Slam, beating Elina Svitolina in the final.
Bouchard also won the junior doubles in 2011 and 2012.
Of course, Bouchard has known success at Wimbledon. Just two years after winning the juniors – nine years ago, at age 20 – she made the women's singles final.
It turned out to be the highlight of her career, at least so far.
Here's what she looked like in the latter three editions of the juniors.
And here's her potential draw this week in the qualifying.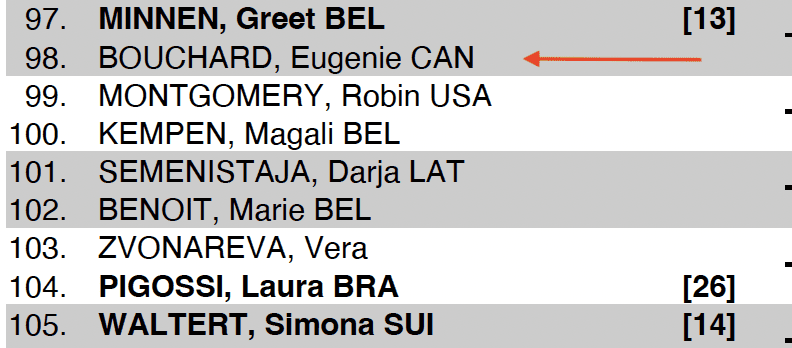 Carol Zhao: 2012 and 2013
Zhao, now 28, played junior Wimbledon in 2012 and 2013.
She didn't make big moves there. But in 2012, she made the final at Roehampton, at the same location as the qualifying is taking place this week.
It's bittersweet, in a sense, to see how well the Canadian girls were doing back then.
Zhao beat Françoise Abanda in that Roehampton semifinal, and lost to Bouchard in three sets. That year, Abanda made the singles and doubles semifinals at the big event.
This year, there isn't a single Canadian girl in the junior girls' event.
You would think – 11 years on – there would have been a lot of little 5- and 6-year-olds who would have jumped on the tennis train, inspired by how well these teenagers were doing. But while there were a few who came through the junior girls a year ago (and are still of junior age, but no longer playing junior events), there hasn't been anything close to what those three produced in all the years since.
Here's what Zhao looked like in 2012, and also in 2018 when she tried the women's qualifying for the first time (and the only time, until this week).
You can see the big wrap around her right elbow and forearm during the 2018 qualifying. She had a cortisone shot in that area that week, after her first-round defeat. That issue plagued her for several years just as she was rising, and really dealt her career a pretty tough blow.
Here is Zhao's draw this week.
Katherine Sebov: 2014 and 2015
On the heels of the Canadian Big 3 came Katherine Sebov, who wasn't fully a part of the Canadian development program back then, but did have some coaching help from Tennis Canada.
Sebov didn't get into the top 10 in the juniors as the others did. But she reached No. 22 pretty much going her own way.
She played junior Wimbledon in 2014 and 2015, but didn't do all that much. She did, however, qualify and get to the quarters at the Roehampton tournament in 2015.
Eight years on, she returns there – the first time the now 24-year-old has even attempted to qualify for the women's draw at Wimbledon.
Here's what she looked like back in the day.
And here is her draw.
About Post Author