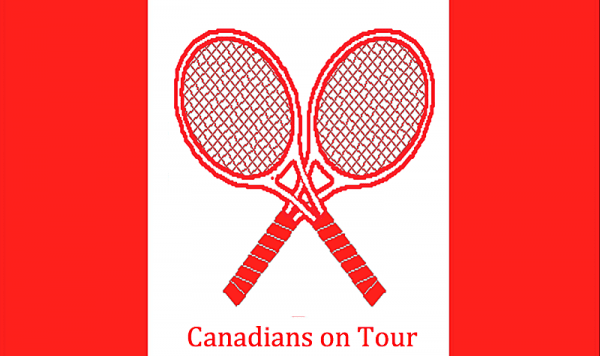 –
The third Grand Slam tournament of the season gets under way this week, with four women and three men into the main draw in singles.
As well, three more are playing doubles (Leylah Fernandez is playing both).
The draws, overall, couldn't have gone much better for the Canucks.
Others are hitting the Challenger circuit, and a number of ITF tournaments around the planet. But the numbers aren't nearly the same as they were a couple of weeks ago.
There is just one Canadian in the main draw on either the boys' or girls' side at Roehampton, the big grass tuneup for junior Wimbledon.
On the Challenger side, Chilean-Canadian Alejandro Tabilo wins in Karlsruhe, Germany.
***********************************
Wimbledon

London, U.K. (Grand Slam)
Ladies' singles
Bianca Andreescu
1st rd: def Anna Bondar (HUN) 63 36 62
2nd rd: def. [26] Anhelina Kalinina (UKR) 62 46 76 [10-7]
3rd rd: lost to [6] Ons Jabeur (TUN) 36 63 64
Leylah Fernandez
1st rd: def Kateryna Baindl (UKR) 64 46 64
2nd rd: lost to [5] Caroline Garcia (FRA) 36 64 76 [10-6]
Rebecca Marino
1st rd: lost to [29] Irina-Camelia Begu (ROU) 62 36 62
[Q] Carol Zhao
1st rd: lost to [LL] Tamara Korpatsch (GER) 16 64 62
Gentlemen's singles

[11] Félix Auger-Aliassime
1st rd: lost to Filip Krajinovic (SRB) [LL] Michael Mmoh (USA) 76 (4) 67 (4) 76 (4) 64
[26] Denis Shapovalov
1st rd: def [Q] Radu Albot (MDA) 57 64 62 62
2nd rd: vs. Grégoire Barrere (FRA) 63 64 76 (7)
3rd rd: def [WC] Liam Broady (GBR) 46 62 75 75
4th rd: lost to Roman Safiullin (RUS) 36 63 61 63

[PR] Milos Raonic
1st rd: def [Q] Dennis Novak (AUT) 67 (5) 64 76 (5) 61
2nd rd: lost to [16] Tommy Paul (USA) 64 76 (4) 67 (4) 64
Ladies' doubles
[6] Leylah Fernandez / Taylor Townsend (USA)
1st rd: def. Alycia Parks / Peyton Stearns (USA) 61 63
2nd rd: lost to Luisa Stefani (BRA) / Caroline Garcia (FRA) 64 67 (6) 63
Gabriela Dabrowski / Aleksandra Krunic (SRB)
1st rd: lost to Lauren Davis (USA) / Rosalie Van der Hoek (NED) 64 60
Erin Routliffe (NZL) / Alexa Guarachi (CHI)
1st rd: lost to Irina-Camelia Begu (ROU) / Anhelina Kalinina (UKR) 67 (2) 76 (6) 62
Mixed doubles
[4] Leylah Fernandez / Wesley Koolhof (NED)
1st rd: def Fabrice Martin (FRA) / Hao-Ching Chan (TPE) 75 75
2nd rd: vs. [WC] Jonny O'Mara / Olivia Nicholls (GBR)
[6] Gabriela Dabrowski / Rohan Bopanna (IND)
1st rd: lost to Ivan Dodig (CRO) / Latisha Chan (TPE) 67 (5) 63 64
[WC] Bianca Andreescu / Michael Venus (NZL)
Erin Routliffe (NZL) / Jason Kubler (AUS)
1st rd: lost to Marcelo Arevalo (ESA) / Marta Kostyuk (UKR) 75 62
Boys' singles
Keegan Rice
1st rd: def. [WC] Benjamin Gusic Wan (GBR) 60 62
2nd rd: vs. [16] Alejandro Melero Kretzer (ESP)
***********************************
J300 Roehampton

Roehampton, UK (ITF Juniors)

Boys' singles
Keegan Rice
1st rd: def. Kevin Edengren (SWE) 75 64
2nd rd: lost to Henry Searle (GBR) 62 64
Boys' doubles
Keegan Rice / Meecah Bigun (USA)
1st rd: lost to Paul Barbier Gazeu (FRA) / Filippo Romano (ITA) 63 75
Duncan Chan / Abel Forger (NED)
1st rd: lost to Henry Jefferson / Charlie Robertson (GBR) 46 63 [10-4]
Boys' singles qualifying
Duncan Chen
1st rd: lost to [7] Maxwell Exsted (USA) 64 64
***********************************
Cranbrook Tennis Classic

Bloomfield Hills, Mich. (ATP Challenger $80K)
Singles
Alexis Galarneau
1st rd: def Eliot Spizzirri (USA) 76 (3) 63
2nd rd: lost to [Q] Mukund Sasikumar (IND) 46 62 75
Doubles
Kelsey Stevenson / Scott Duncan (GBR)
1st rd: def Mukund Sasikumar (IND) / Li Tu (AUS) WALKOVER
QF: lost to Tristan Schoolkate / Adam Walton (AUS) 63 76 (2)
[3] Benjamin Sigouin / Yuta Shimizu (JPN)
1st rd: lost to Alafia Ayeni / Ezekiel Clark (USA) 76 (5) 62
Singles qualifying
[ALT] Justin Boulais
1st rd: def. [7] Nick Chappell (USA) 46 75 64
Final rd: lost to [1] Omar Jasika (AUS) 63 75
***********************************
Internationaux de Tennis de Troyes

Troyes, France (ATP Challenger €73K)
Singles
Steven Diez
1st rd: def [2] Evgeny Donskoy (RUS) 64 62
2nd rd: lost to Viktor Durasovic (NOR) 36 63 61
Doubles
Steven Diez / Viktor Durasovic (NOR)
1st rd: def Valerio Aboian / Gonzalo Villanueva (ARG) 67 (1) 63 [10-5]
QF: lost to [1] Manuel Guinard / Grégoire Jacq (FRA) 75 61
***********************************
***********************************
Tennis Open Karlsruhe

Karlsruhe, Germany (ATP Challenger €73K)
Singles
[8] Alejandro Tabilo (CHI)
1st rd: def [WC] Henri Squire (GER) 75 61
2nd rd: def. [WC] Liam Gavrielides (GER) 61 61
QF: def. Leandro Riedi (SUI) 61 36 75
SF: def. [6] Timofey Skatov (KAZ) 64 61
F: def. [4] Giulio Zeppieri (ITA) 26 10 retd
***********************************
M25 Punta Cana

Santo Domingo, DR (ITF $25K)
Singles
Cadence Brace
1st rd: lost to Fanny Ostlund (SWE) 62 62
Doubles
Cadence Brace / Jasmin Jebawy (GER)
[ALT] Summer Curtis / Julia Ronney (USA)
1st rd: def. [WC] Lucia Gabriela Serrano / Andanin Vilas (ARG) 60 62
QF: lost to [1] Ekaterina Makarova (RUS) / Fanny Ostlund (SWE) 60 62
Singles qualifying
Summer Curtis
1st rd: Bye
2nd rd: lost to [4] Wasmine Kabbaj (MAR) 62 61
***********************************
Magic Tour by FTT

Monastir, Tunisia (ITF $15K)
Singles
[1] Filip Peliwo
1st rd: def [Q] Pablo Trochu (FRA) 64 63
2nd rd: def. Samir Hamza Reguig (ALG) 61 60
QF: lost to [Q] Kalman L. Boyd (USA) 75 61
Singles qualifying
Alvin Nicholas Tudorica
1st rd: lost to [8] Pablo Trochu (FRA) 61 62
***********************************
***********************************
W15 & M15 Lakewood
Lakewood, Calif. (ITF $15K)
Men's singles
[JE] Jaden Weekes
1st rd: lost to [8] Gage Brymer (USA) 76 (5) 75
Men's doubles
[3] Jaden Weekes / Jelani Sarr (USA)
1st rd: def Trent Aaron / Brian Battistone (USA) 62 62
QF: lost to Ryan Seggerman / Patrik Trhac (USA) 63 76 (4)
Women's singles qualifying
[11] Alessia Cau
1st rd: def [WC] Anna Pallencaoe (USA) 60 62
Final rd: lost to [1] Emily Gelber (USA) 62 46 [12-10]

***********************************
W15 Tianjin
Tianjin, China (ITF $15K)
Singles
[Q] Annabelle Xu
1st rd: def Xu Jiayu (CHN) 63 46 64
2nd rd: def. [8] Liu Yanni (CHN) 62 36 61
QF: lost to [Q] Li Jiayou (CHN) 62 60
Singles qualifying
Annabelle Xu
1st rd: Bye
2nd rd: def [2] Hou Yanan (CHN) 21 retd
Final rd: def. [11] Zhang Jin (CHN) 63 61
***********************************
About Post Author