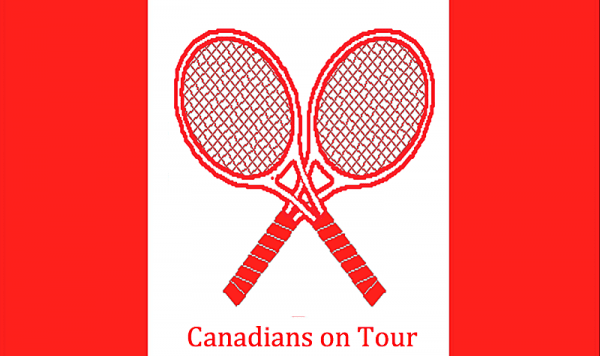 –
Even though Wimbledon is still in full swing (with no middle Sunday of rest), the rest of the tennis world carries on, with those who have been eliminated, and those who never made it in the first place.
Only Denis Shapovalov remains alive in singles. But there are three Canadians in the mixed doubles and Leylah Fernandez in the women's doubles.
So we're rolling over those who are still alive.
Elsewhere, lots of other action as the competitive season in Canada gets under way.
The winneres are Victoria Mboko, 16, who won the Saskatoon Challenger for the second time (and didn't drop a set). And Joshua Lapadat in doubles in Laval.
***********************************
Wimbledon

London, U.K. (Grand Slam)
Gentlemen's singles
[26] Denis Shapovalov
1st rd: def [Q] Radu Albot (MDA) 57 64 62 62
2nd rd: vs. Grégoire Barrere (FRA) 63 64 76 (7)
3rd rd: def [WC] Liam Broady (GBR) 46 62 75 75
4th rd: lost to Roman Safiullin (RUS) 36 63 61 63

Ladies' doubles
[6] Leylah Fernandez / Taylor Townsend (USA)
1st rd: def. Alycia Parks / Peyton Stearns (USA) 61 63
2nd rd: lost to Luisa Stefani (BRA) / Caroline Garcia (FRA) 64 67 (6) 63
Mixed doubles
[4] Leylah Fernandez / Wesley Koolhof (NED)
1st rd: def. Fabrice Martin (FRA) / Hao-Ching Chan (TPE) 75 75
2nd rd: lost to [WC] Jonny O'Mara / Olivia Nicholls (GBR) 64 36 62
[6] Gabriela Dabrowski / Rohan Bopanna (IND)
1st rd: lost to Ivan Dodig (CRO) / Latisha Chan (TPE) 67 (5) 63 64
[WC] Bianca Andreescu / Michael Venus (NZL)
[ALT] Erin Routliffe (NZL) / Jason Kubler (AUS)
1st rd: lost to Marcelo Arevalo (ESA) / Marta Kostyuk (UKR) 75 62
Boys' singles
Keegan Rice
1st rd: def. [WC] Benjamin Gusic Wan (GBR) 60 62
2nd rd: lost to [16] Alejandro Melero Kretzer (ESP) 64 63
Boys' doubles
Keegan Rice / Duncan Chan
1st rd: lost to [8] Henry Searle (GBR) / Tomasz Berkieta (POL) 64 64
***********************************
Chicago Men's Challenger

Chicago, Ill. (ATP Challenger $80K)
Singles
Alexis Galarneau
1st rd: lost to [WC] Kei Nishikori (JPN) 76 (3) 61
Doubles
Benjamin Sigouin (CAN) / Yuta Shimizu (JPN)
1st rd: def Kelsey Stevenson (CAN) / Scott Duncan (GBR) 62 75
QF: lost to [1] Yunseong Chung (KOR) / Andrew Harris (AUS) 26 63 [12-10]
Kelsey Stevenson / Scott Duncan (GBR)
1st rd: lost to Benjamin Sigouin (CAN) / Yuta Shimizu (JPN) 62 75
***********************************
Concord Iasi Open

Iasi, Romania (ATP Challenger €118K)
Singles
[ALT] Steven Diez
1st rd: def [Q] Alex Marti Pujolras (ESP) 61 61
2nd rd: def. Juan Pablo Ficovich (ARG) 63 64
QF: def. [Q] Kalin Ivanovski (MKD) 64 63
SF: lost to [6] Hugo Gaston (FRA) 64 64
Doubles
Steven Diez / Miljan Zekic (SRB)
Roy Stepanov (ISR) / Tennyson Whiting (USA)
1st rd: def [4] Luca Margaroli (SUI) / Michail Pervolarakis (GRE) 46 76 (0) [10-7]
QF: lost to Dragos Nicolae Madara (SWE) / Brandon Walkin (AUS) 63 64
***********************************
***********************************
San Benedetto Tennis Cup

San Benedetto Del Tronto, Italy (ATP Challenger €118K)
Singles
[7] Alejandro Tabilo (CHI)
1st rd: def Genaro Alberto Olivieri (ITA) 75 63
2nd rd: def. Ricardas Berankis (LTU) 61 76 (5)
QF: def. Kimmer Coppejans (BEL) 36 76 (4) 76 (6)
SF: lost to [8] Benoit Paire (FRA) 64 61
***********************************
Saskatoon Challenger

Saskatoon, Sask. (ITF $60K)
Singles
Victoria Mboko
1st rd: def. [4] Sachia Vickery (USA) 62 20 retd
2nd rd: def. Elysia Bolton (AUS) 63 63
QF: def. [8] Renata Zarazua (MEX) 61 62
SF: def Grace Min (USA) 61 61
F: def. [3] Emina Bektas (USA) 64 64
[6] Stacey Fung
1st rd: def [WC] Layne Sleeth (CAN) 62 61
2nd rd: def. Mccartney Kessler (USA) 61 64
QF: lost to [3] Emina Bektas (USA) 64 64
Kayla Cross
1st rd: def. [Q] Alexia Jacobs (CAN) 76 (3) 63
2nd rd: def. [5] Himeno Sakatsume (JPN) 64 63
QF: lost to Grace Min (USA) 52 retd
[WC] Mia Kupres
1st rd: def. [Q] Eryn Cayateno (USA) 63 75
2nd rd: lost to [8] Renata Zarazua (MEX) 63 61
[WC] Orly Ogilvy
1st rd: lost to Katarina Kozarov (SRB) 60 61
[Q] Alexia Jacobs
1st rd: lost to Kayla Cross (CAN) 76 (3) 63
[Q] Louise Kwong
1st rd: lost to [5] HImeno Sakatsume (JPN) 61 64
[Q] Rhea Verma
1st rd: lost to [3] Emina Bektas (USA) 60 61
[Q] Iulia Bucea
1st rd: lost to Elysia Bolton (AUS) 21 retd
[Q] Dasha Plekhanova
1st rd: lost to [8] Renata Zarazua (MEX) 64 64
Bianca Jolie Fernandez
1st rd: lost to [7] Karman Kaur Thandi (IND) 64 64
[WC] Martyna Ostrzygalo
1st rd: lost to Mccartney Kessler (USA) 36 60 60
[WC] Layne Sleeth
1st rd: lost to [6] Stacey Fung (CAN) 62 61
Doubles
Stacey Fung / Karman Kaur Thandi (IND)
1st rd: def. Savanna Ly-Nguyen (VIE) / Martina Osalova (SVK) 62 62
QF: def. [1] Victoria Hu (USA) / Renata Zarazua (MEX) 76 (5) 64
SF: def. Carmen Corley / Ivana Corley (USA) 64 57 [11-9]
F: lost to Abigail Renchell / Alana Smith (USA) 46 64 [10-7]
Bianca Jolie Fernandez / Mia Kupres
1st rd: def Alexia Jacobs / Scarlett Nicholson (CAN) 62 75
QF: def [2] Elysia Bolton (AUS) / Eryn Cayateno (USA) 16 62 [11-9]
SF: lost to Abigail Renchell / Alana Smith (USA) 26 76 (2) [10-6]
Kayla Cross / Victoria Mboko
1st rd: def. lost to Abigail Renchell / Alana Smith (USA) 76 (5) 62
Louise Kwong / Anna Ulyashchenko (USA)
1st rd: lost to [3] Katarina Kozarov (SRB) / Ava Markham (USA) 62 67 (2) [10-3]
Orly Ogilvy / Martyna Ostrzygalo
1st rd: lost to [4] Jessica Failla / Mccartney Kessler (USA) 62 62
Alessia Cau / Teah Chavez
1st rd: lost to [1] Victoria Hu (USA) / Renata Zarazua (MEX) 64 60
Alexia Jacobs / Scarlett Nicholson
1st rd: lost to Bianca Jolie Fernandez / Mia Kupres (CAN) 62 75
Layne Sleeth / Kariann Pierre-Louis (USA)
1st rd: lost to [2] Elysia Bolton (AUS) / Eryn Cayateno (USA) 63 75
Singles qualifying
[13] Louise Kwong
1st rd: def Nifemi Akinbiyi (CAN) 75 75
Final rd: def. [6] Anna Ulyaschchenko (USA) 76 (4) 76 (3)
[14] Dasha Plekhanova
1st rd: def Scarlett Nicholson (CAN) WALKOVER
Final rd: def [6] Savanna Ly-Nguyen (VIE) 62 76 (5)
[16] Iulia Bucea
1st rd: def Emma Lella (USA) 75 63
Final rd: def [3] Gabriella Price (USA) 75 63
Rhea Verma
1st rd: def [15] Xie Anlin (CAN) 75 64
FInal rd: def [4] Ana Grubor (CAN) 61 61
Alexia Jacobs
1st rd: def [11] Abigail Renchell (USA) 75 76 (5)
Final rd: def. [7] Kariann Pierre-Louis (USA) 63 61
[4] Ana Grubor
1st rd: Bye
Final rd: lost to Rhea Verma (CAN) 61 61
[10] Teah Chavez
1st rd: def Trinity Ly (CAN) 61 60
Final rd: lost to [2] Eryn Cayetano (USA) 64 64
[WC] Alessia Cau
1st rd: lost to [6] Anna Ulyaschchenko (USA) 62 76 (4)
Nifemi Akinbiyi
1st rd: lost to [13] Louise Kwong (USA) 64 64
[15] Xie Anlin
1st rd: lost to Rhea Verma (CAN) 75 64
Scarlett Nicholson
1st rd: lost to [14] Dasha Plekhanova (CAN) WALKOVER
Trinity Ly
1st rd: lost to [10] Teah Chavez (CAN) 61 60
WinnieWing Yee Choi
1st rd: lost to [12] Ivana Corley (USA) 62 75
***********************************
M25 Laval


Laval, Quebec (ITF $25K)
Singles
[WC] Brayden Schnur
1st rd: lost to [4] Tristan McCormick (USA) 76 (2) 67 (5) – retd
[5] Liam Draxl
1st rd: def Jody Maginley (ANT) 64 64
2nd rd: vs. [WC] Sasha Rozin (CAN) 64 63
QF: def [3] Philip Sekulic (AUS) 76 (5) 64
SF: lost to [6] Blaise Bicknell (JAM) 62 63
[8] Taha Baadi
1st rd: def Joshua Lapadat (USA) 16 64 75
2nd rd: lost to Leo Vithoontien (JPN) 57 64 64
[LL] Benjamin Thomas George
1st rd: def. [Q] Daniel Milavsky (USA) 46 62 64
2nd rd: lost to [6] Blaise Bicknell (JAM) 62 61

Jaden Weekes
1st rd: def [Q] J J Mercer (USA) 61 62
2nd rd: lost to [7] James Tracy (USA) 64 62

[WC] Sasha Rozin
1st rd: def Nick Lagaev (CAN) 64 64
2nd rd: lost to [5] Liam Draxl (CAN) 64 63
[WC] You Junghee
1st rd: def Jonathan Sorbo (CAN) 57 63 62
2nd rd: lost to [3] Philip Sekulic (AUS) 63 64
[Q] Nicaise Muamba
1st rd: def [Q] Maxime St-Hilaire (CAN) 64 76 (5)
2nd rd: lost to [4] Tristan McCormick (USA) 75 76 (8)
[Q] Maxime St-Hilaire
1st rd: lost to [Q] Nicaise Muamba (CAN) 64 76 (5)
Joshua Lapadat
1st rd: lost to [8] Taha Baadi (CAN) 16 64 75
Marko Stakusic
1st rd: lost to Evan Bynoe (USA) 60 62
Jonathan Sorbo
1st rd: lost to [WC] You Junghee (CAN) 57 63 62
Nick Lagaev
1st rd: lost to [WC] Sasha Rozin (CAN) 64 64
[WC] Alexandre Bergeron
1st rd: lost to [2] Alexandr Cozbinov (MDA) 62 61
[Q] Niels Peter Van Noord
1st rd: lost to [6] Blaise Bicknell (JAM) 63 64
[Q] Kuang Qing Xu
1st rd: lost to [3] Phillip Sekulic (AUS) 63 63
[Q] Adam Faragcao (CAN)
1st rd: lost to [7] James Tracy (USA) 63 63
[Q] Sasha Trkulja
1st rd: lost to [1] Alafia Ayeni (USA) 64 63
Doubles
[4] Joshua Lapadat / J Mercer (USA)
1st rd: def Adam Faragcao / Sasha Rozin (CAN) 61 61
QF: def Taha Baadi / Nicaise Muamba (CAN) 63 63
SF: def [2] Jody Maginley (ANT) / Justin Roberts (BAH) 64 63
F: def. Liam Draxl / Jonathan Sorbo (CAN) 41 retd
Liam Draxl / Jonathan Sorbo
1st rd: def. Matvey Greschner / David Saye (USA) 63 61
QF: def. Nick Lagaev (CAN) / Daniel Milavsky (USA) 62 36 [11-9]
SF: vs. [1] Tristan McCormick / James Tracy (USA) 62 46 [10-4]
F: lost to [4] Joshua Lapadat (CAN) / J Mercer (USA) 41 retd
Taha Baadi / Nicaise Muamba
1st rd: def Igor Danich (RUS) / Benjamin Thomas George (CAN) 63 62
QF: lost to [4] Joshua Lapadat (CAN) / J Mercer (USA) 63 63
Nick Lagaev / Daniel Milavsky (USA)
1st rd: def. [3] Marko Stakusic / Jaden Weekes (CAN) 76 (2) 64
QF: lost to Liam Draxl / Jonathan Sorbo (CAN) 62 36 [11-9]
Sid Donarski / You Junghee
1st rd: def. Alexandre Bergeron / Numa Lemieux-Monette (CAN) 61 61
2nd rd: lost to [1] Tristan McCormick / James Tracy (USA) 60 63
Aurel Ciocanu / Kuang Qing Xu
1st rd: def Evan Bynoe (USA) / Leo Withoontien (JPN) 64 36 [10-5]
QF: lost to [2] Jody Maginley (ANT) / Justin Roberts (BAH) WALKOVER
Alexandre Bergeron / Numa Lemieux-Monette
1st rd: lost to Sid Donarski / You Junghee (CAN) 61 61
Adam Faragcao / Sasha Rozin
1st rd: lost to [4] Joshua Lapadat / J Mercer (USA) 61 61
Stefano Liokossis / Henry Barrett (USA)
1st rd: lost to [1] Tristan McCormick / James Tracy (USA) 61 60
[3] Marko Stakusic / Jaden Weekes
1st rd: lost to Nick Lagaev / Daniel Milavsky (USA) 76 (2) 64
Benjamin Thomas George / Igor Danich (RUS)
1st rd: lost to Taha Baadi / Nicaise Muamba (CAN) 63 62
Jean-Christophe L Baril / Eloi Roux
1st rd: lost to [4] Jody Maginley (ANT) / Justin Roberts (BAH) 64 63
Singles qualifying
[1] Nicaise Muamba
1st rd: def [WC] Hubert Theriault (CAN) 62 61
Final rd: def Jean-Christophe L Baril (CAN) 63 62
[7] Kuang Qing Xu
1st rd: def. Zakaria Achour 63 60
Final rd: def Anirudh Rao (USA) 61 62
[10] Sasha Trkulja
1st rd: def Alexandr Achour (CAN) 62 61
Final rd: def. [8] Benjamin Thomas George (CAN) 63 36 [10-8]
[WC] Adam Faragcao (CAN)
1st rd: def [6] Sid Donarski (CAN) 75 63
Final rd: def [11] Andre Szilvassy (CAN) 61 62
Niels Peter Van Noord
1st rd: def [3] Tommaso Carnevale-Milno (ITA) 62 36 [10-8]
Final rd: def Thomas Drapeau (CAN) 64 64
Maxime St-Hilaire
1st rd: def [2] Stefano Liokossis (CAN) 64 60
Final rd: def. [WC] Eloi Roux (CAN) 60 64
[8] Benjamin Thomas George
1st rd: def Numa Lemieux-Monette (CAN) 63 75
Final rd: lost to [10] Sasha Trkulja (CAN) 63 36 [10-8]
[11] Andre Szilvassy
1st rd: def [WC] Christophe Clément (CAN) 64 46 [10-8]
Final rd: lost to [WC] Adam Faragcao (CAN) 61 62
Jean-Christophe L Baril (CAN)
1st rd: def. [WC] Alexandre Grondin (CAN) 61 retd
Final rd: lost to [1] Nicaise Muamba (CAN) 63 62
Thomas Drapeau
1st rd: def. Leo Fortier-Gariépy (CAN) 63 64
Final rd: lost to Niels Peter Van Noord (CAN) 64 64
[WC] Eloi Roux
1st rd: def. Steven McCartney (CAN) 63 62
Final rd: lost to Maxime St-Hilaire (CAN) 60 64
[2] Stefano Liokossis
1st rd: lost to Maxime St-Hilaire (CAN) 64 60
[6] Sid Donarski
1st rd: lost to [WC] Adam Faragcao (CAN) 75 63
Numa Lemieux-Monette
1st rd: lost to [8] Benjamin Thomas George (CAN) 63 75
Steven McCartney
1st rd: lost to [WC] Eloi Roux (CAN) 63 62
[WC] Christophe Clément (CAN)
Lost to [11] Andre Szilvassy (CAN) 64 46 [10-8]
Leo Fortier-Gariépy
1st rd: lost to Thomas Drapeau (CAN) 63 64
Yanael Lundqvist
1st rd: lost to [9] J Mercer (USA) 61 62
Zakaria Achour
1st rd: lost to [7] Kuang Qing Xu (CAN) 63 60
Alexandr Achour
1st rd: lost to [10] Sasha Trkulja (CAN) 62 61
***********************************
Dallas Summer Series
Dallas, TX (ITF $25K)
Singles
[Q] Chih Chi Huang
1st rd: def [Q] Brayden Michna (USA) 64 61
2nd rd: lost to [7] Blake Ellis (AUS) 64 64
Singles qualifying
[3/WC] Chih Chi Huang
1st rd: Bye
Final rd: def [12] Jibril Nettles (USA) 64 64
***********************************
W25 Vilas Academy Punta Cana

Punta Cana, DR (ITF $25K)
Doubles
Summer Curtis / Julia Ronney (USA)
1st rd: lost to [4] Jasmin Jebawy (GER) / Yuliana Monroy (COL) 62 61
Love-Star Alexis / Hana Gamracy
1st rd: lost to Loudes Ayala (ARG) / Ani Vangelova (BUL) 61 61
Singles qualifying
Hana Gamracy
1st rd: Bye
2nd rd: def [14] Nidhitra Rajmohan (IND) 60 60
FInal rd: lost to [1] Ani Vangelova (BUL) 64 60
Summer Curtis
1st rd: lost to Jenna Dean (USA) 61 36 [10-8]
Elle Goranskaya
1st rd: lost to Andrea De los Rios (USA) 60 61
Love-Star Alexis
1st rd: Bye
2nd rd: lost to [9] Alicia Herrero Linana (ESP) 60 60
***********************************
Magic Tour by FTT

Monastir, Tunisia (ITF $15K)
Singles
[Q] Alvin Nicholas Tudorica
1st rd: def [Q] Martin Borislouk (BLR) 36 76 (0) 63
2nd rd: lost to [8] Boris Butulija (SRB) 62 62
Singles qualifying
Alvin Nicholas Tudorica
1st rd: def [6] Joao Marcos Nusdeo (BRA) 62 62
2nd rd: def S Mert Ozdemir (TUR) 64 60
Final rd: def. [16] Ioannis Xilas (GRE) 60 61
***********************************
About Post Author