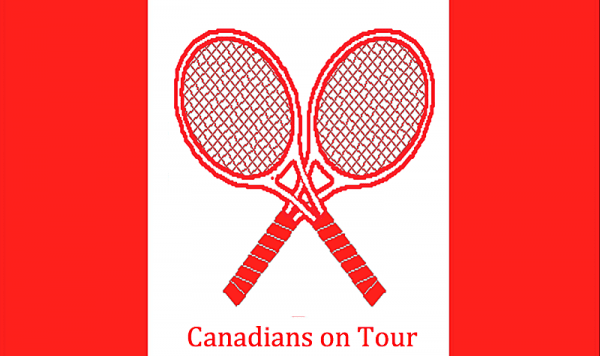 –
The Canadian tennis scene switched to Granby, Quebec, where there's a $130,000 men's Challenger and a $100,000 women's ITF tournament on site this week.
And Quebecer Alexis Galarneau wins the men's title, with Katherine Sebov making the final.
A year ago, the women's portion was a WTA 250, which obviously led to a higher level of field. But that was a one-off. Still, Rebecca Marino and Katherine Sebov were on the entry list.
On the men's side, Vasek Pospisil and Galarneau, as well as Brayden Schnur were in the draw.
In Newport, a one-off grass-court event in the U.S., Gabriel Diallo got into the main draw.
And Peter Polansky, who had been Denis Shapovalov's coach for the first part of the year, returned with a protected ranking of No. 336 in the qualifying, but fell in the first round.
***********************************
Infosys Hall of Fame Open

Newport, RI (ATP 250)
Singles
Gabriel Diallo
1st rd: lost to [WC] Kevin Anderson (RSA) 63 62
Singles qualifying
[PR] Peter Polansky
1st rd: lost to [4] Skander Mansouri (TUN) 62 75
***********************************
Championnats Banque Nationale de Granby

Granby, Québec (ATP Challenger $130K)
Men's singles
[7] Alexis Galarneau
1st rd: def Omar Jasika (AUS) 63 16 63
2nd rd: def. [R] Thai-Son Kwiatkowski (USA) 62 76 (6)
QF: def. [ALT] Tristan Schoolkate (AUS) 64 63
SF: def Tung-Lin Wu (TPE) 76 (4) 63
F: def. [Q] Philip Sekulic (AUS) 64 36 63

[WC] Justin Boulais
1st rd: def. [Q] Blaise Bicknell (JAM) 60 46 64
2nd rd: def. Mark Lajal (EST) 64 16 76 (5)
QF: lost to [Q] Philip Sekulic (AUS) 63 62
[4] Vasek Pospisil
1st rd: lost to Adam Walton (AUS) 67 (7) 76 (1) 61
[WC] Brayden Schnur
Women's singles
[5] Katherine Sebov
1st rd: def [Q] Savanna Ly-Nguyen (VIE) 64 63
2nd rd: def [WC] Annabelle Xu (CAN) 63 76 (3)
QF def [4] Emina Bektas (USA) 32 retd
SF: def [1] Rebecca Marino (CAN) 46 64 62
F: lost to [3] Kayla Day (USA) 64 26 75
[1] Rebecca Marino
1st rd: def. [Q] Rhea Verma (CAN) 76 (3) 61
2nd rd: def Jessica Failla (USA) 62 60
QF: def Marina Stakusic (CAN) 62 64
SF: lost to [5] Katherine Sebov (CAN) 46 64 62
Marina Stakusic
1st rd: def [Q] Ayana Akli (USA) 64 60
2nd rd: def. [Q] Ava Markham (USA) 62 60
QF: lost to [1] Rebecca Marino (CAN) 62 64
Cadence Brace
1st rd: vs. [8] Marcela Zacarias (MEX)
2nd rd: def. [Q] Ana Paula Neffa De Los Rios (PAR) 61 63
QF: lost to [3] Kayla Day (USA) 62 64
[WC] Bianca Jolie Fernandez
1st rd: def. [Q] Jaeda Daniel (USA) 62 46 64
2nd rd: lost to [3] Kayla Day (USA) 63 63
[WC] Annabelle Xu
1st rd: def [Q] Carmen Corley (USA) 64 75
2nd rd: lost to [5] Katherine Sebov (CAN) 63 76 (3)
Victoria Mboko
1st rd: def Jamie Loeb (USA) 75 61
2nd rd: lost to [2] Ashlyn Krueger (USA) 62 63
[Q] Rhea Verma
1st rd: lost to [1] Rebecca Marino (CAN) 76 (3) 61
Kayla Cross
1st rd: lost to [2] Ashlyn Krueger (USA) 63 64
[WC] Mia Kupres
1st rd: lost to Makenna Jones (USA) 76 (4) 06 63
Stacey Fung
1st rd: lost to [Q] Ana Paula Neffa De Los Rios (PAR) 36 21 retd
[WC] Layne Sleeth
1st rd: lost to [6] Himeno Sakatsume (JPN) 46 61 62
Men's doubles
[ALT] Justin Boulais / James Trotter
1st rd: def. [WC] Taha Baadi / Nicaise Muamba (CAN) 75 61
QF: def. [3] Purav Raja / Divij Sharan (IND) 46 76 (5) [10-5]
SF: lost to Tristan Schoolkate / Adam Walton (AUS) 60 63
Kelsey Stevenson / Scott Duncan (GBR)
1st rd: def [1] Ruben Gonzales (PHI) / Alex Lawson (USA) 63 64
QF: lost to Tristan Schoolkate / Adam Walton (AUS) 62 62
Benjamin Sigouin / Mac Kiger (USA)
1st rd: lost to [ALT] Nick Chappell / Colin Markes (USA) 16 63 [12-10]
[WC] Taha Baadi / Nicaise Muamba
1st rd: lost to [ALT] Justin Boulais (CAN) / James Trotter (JPN) 75 61
[WC] Brayden Schnur / Marko Stakusic
Women's doubles
Layne Sleeth / Kariann Pierre-Louis (USA)
1st rd: def Rebecca Marino / Stacey Fung (CAN) WALKOVER
QF: def [4] Jaeda Daniel / Jessica Failla (USA) 61 75
SF: lost to Carmen Corley / Ivana Corley (USA) 63 57 [10-6]
Kayla Cross / Victoria Mboko
1st rd: def Louise Kwong / Anna Ulyashchenko (USA) 62 57 [10-7]
QF: lost to [2] Marcela Zacarias / Renata Zarazua (MEX) 36 60 [10-8]
Nadia Lagaev / Raphaelle Leroux
1st rd: lost to [1] Makenna Jones / Jamie Loeb (USA) 60 63
Scarlett Nicholson / Orly Ogilvy
1st rd: lost to [4] Jaeda Daniel / Jessica Failla (USA) 75 62
Louise Kwong / Anna Ulyashchenko (USA)
1st rd: lost to Kayla Cross / Victoria Mboko (CAN) 62 57 [10-7]
[3] Bianca Jolie Fernandez / Victoria Hu (USA)
1st rd: lost to Gabriella Price / Katrina Scott (USA) 57 60 [10-8]
Rebecca Marino / Stacey Fung
1st rd: lost to Layne Sleeth (CAN) / Kariann Pierre-Louis (USA) WALKOVER
Martyna Ostrzygalo / Rhea Verma
1st rd: lost to [2] Marcela Zacarias / Renata Zarazua (MEX) 62 61
Women's singles qualifying
Rhea Verma
1st rd: def [8] Martyna Ostrzygalo (CAN) 76 (0) 63
Final rd: def. [16] Zoe Hitt (USA) 63 61
Louise Kwong
1st rd: vs. [5] Sabastiani Leon (USA) 67 (3) 61 75
Final rd: lost to [14] Ana Paula Neffa De Los Rios (PAR) 63 46 64
Dasha Plekhanova
1st rd: vs. [1] Alana Smith (USA) 16 63 41 retd
2nd rd: lost to [9] Ava Markham (USA) 57 64 10 retd
Xie Anlin
1st rd: lost to [3] Jaeda Daniel (USA) 46 75 63
[WC] Raphaelle Leroux
1st rd: lost to [11] Kariann Pierre-Louis (USA) 60 16 64
[WC] Nadia Lagaev
1st rd: lost to [14] Ana Paula Neffa De Los Rios (PAR) 75 76 (3)
Catherine Gagnon
1st rd: lost to [12] Anna Ulyashchenko (USA) 64 63
Mariya Dobreva
1st rd: lost to [16] Zoe Hitt (USA) 75 62
[WC] Scarlett Nicholson
1st rd: lost to [2] Martina Okalova (SVK) 61 61
[WC] Emma Dong
1st rd: lost to [13] Carmen Corley (USA) 62 62
[7] Ana Grubor
1st rd: lost to Meisha Kendall-Woseley (USA) 06 62 61
[8] Martyna Ostrzygalo
1st rd: lost to Rhea Verma (CAN) 76 (0) 63
[WC] Isabelle Boulais
1st rd: lost to [15] Ayana Akli (USA) 62 61
Nifemi Akinbiyi
1st rd: lost to [6] Gabriella Price (USA) 60 62
Orly Ogilvy
1st rd: lost to [10] Savanna Ly-Nguyen (VIE) 63 62
Men's singles qualifying
[WC] Dan Martin
1st rd: lost to [10] Alexandr Cozbinov (MDA) 16 64 61
[WC] Keegan Rice
1st rd: lost to [4] Nick Chappell (USA) 61 63
[WC] Marko Stakusic
1st rd: lost to [7] Nathan Ponwith (USA) 64 64
[WC] Jaden Weekes
1st rd: lost to [12] Ezekiel Clark (USA) 75 26 75
***********************************
BCR Iasi Open

Iasi, Romania (WTA 125)
Singles
Carol Zhao
1st rd: lost to [5] Simona Waltert (SUI) 64 62
***********************************
Van Mossel KIA Dutch Open

Amersfoort, NED (ATP Challenger €73K)
Singles
Steven Diez
1st rd: lost to [5] Maximilian Marterer (GER) 63 64
***********************************
***********************************
Citta di Trieste Challenger

Trieste, Italy (ATP Challenger €118K)
Singles
[5] Alejandro Tabilo (CHI)
Doubles
Roy Stepanov (ISR) / Tennyson Whiting (USA)
1st rd: vs. Luciano Darderi / Alessandro Giannessi (ITA) 63 76 (5)
***********************************
Open de Tenis Ciudad de Pozoblanco

Pozoblanco, Spain (ATP Challenger €73K)
Singles
[Q] Filip Peliwo (POL)
1st rd: lost to Yanki Erel (TUR) 61 61
Singles qualifying
[2] Filip Peliwo (POL)
1st rd: def [WC] Miguel Cejudo (ESP) 60 61
Final rd: def. [WC] Dali Blanch (USA) 36 62 61
***********************************
Fighting Illini Open
Champaign, Ill (ITF $25K)
Singles
[Q] Chih Chi Huang
1st rd: lost to Shunsuke Mitsui (JPN) 63 retd
Doubles
Chih Chi Huang / Sebastian Gorzny (USA)
1st rd: def Kareem Al Allaf (USA) / Peter Bertran (DOM) 63 76 (4)
QF: lost to Hunter Heck (USA) / Karlis Ozolins (LAT) WALKOVER
Singles qualifying
[7] Chih Chi Huang
1st rd: def Gus Tettamble (USA) 62 63
Final rd: def [10] Max Sheldon (USA) 75 46 [10-6]

***********************************
M15 Rochester

Rochester, NY (ITF $15K)
Singles
[4] Juan Carlos Aguilar
1st rd: def Jonathan Sorbo (CAN) 64 62
2nd rd: lost to [Q] Nicholas Heng (USA) 63 64
Jonathan Sorbo
1st rd: lost to [4] Juan Carlos Aguilar (CAN) 64 62
[Q] Benjamin Thomas George
1st rd: lost to [3] Kosuke Ogura (JPN) 75 41 retd
Doubles
[1] Juan Carlos Aguilar

/ Ignacio Monzon (ARG)
1st rd: def Darian King (BAR) / Justin Roberts (BAH) 60 62
QF: def [WC] Jordan Benjamin / Connor Bruce (USA) 63 46 [10-4]
SF: def Nick Lagaev (CAN) / Patrick Maloney (USA) 75 62
F: def Miguel Angel Cabrera (CHI) / Tyler Stice (USA) 76 (3) 76 (4)
[3] Peter Kuszynski / Jesse Flores (CRC)
1st rd: def Evan Bynoe (USA) / Leo Vithoontien (JPN) 76 (5) 76 (3)
QF: vs. Alex Bancila / William Grant (USA) 76 (1) 46 [10-4]
SF: lost to Miguel Angel Cabrera (CHI) / Tyler Stice (USA) 36 62 [10-5]
Nick Lagaev / Patrick Maloney (USA)
1st rd: def Henry Barrett (USA) / Kosuke Ogura (JPN) 62 62
QF: def. [4] Andrei Duarte (COL) / Ryan Fishback (USA) 62 62
SF lost to [1] Juan Carlos Aguilar (CAN) / Ignacio Monzon (ARG) 75 62
[ALT] Stefano Liokossis (CAN) / Elijah Poritzky (USA)
1st rd: lost to [2] A.J. Catanzariti (USA) / Jody Maginley (ANT) 76 (4) 61
Singles qualifying
Benjamin Thomas George
1st rd: def. [6] Elijah Poritzky (USA) 64 26 [11-9]
Final rd: def[11] Vakili Kian (USA) 20 retd
[15] Stefan Simeunovic
1st rd: def. [WC] Ronan O'Dwyer (USA) 61 62
Final rd: lost to [3] Dragos Constantin Ignat (ROU) 62 64
[8] Nick Lagaev
1st rd: lost to Alex Bancila (USA) 62 26 [10-8]
[10] Stefano Liokossis
1st rd: lost to Luke Phillips (USA) 62 61
Andre Szilvassy
1st rd: lost to [9] Nicholas Heng (USA) 62 46 [10-8]
Sasha Trkulja
1st rd: lost to [16] David Krasner (USA) 62 61
Peter Kuszynski
1st rd: lost to [14] Miguel Angel Cabrera (CHI) 64 61
***********************************
About Post Author